Working Cydia Impactor Alternatives in 2023

qbap |
Research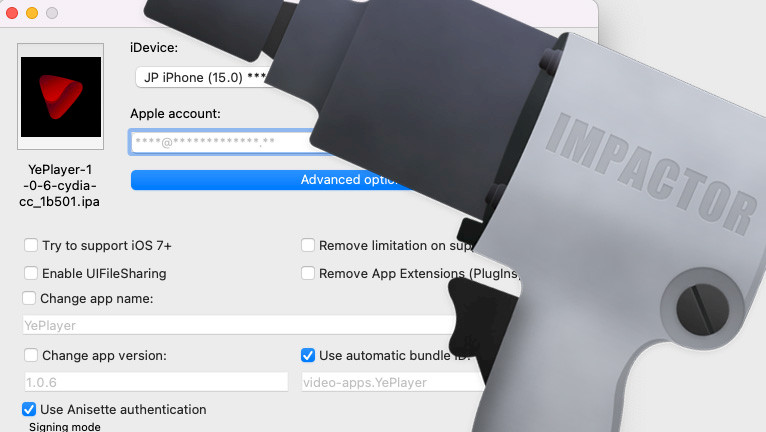 Cydia Impactor was the only solution to install IPA files on iOS devices. Unfortunately, the development was frozen and no updates were released recently to fix signing issues with Apple servers. Therefore I created a list of the best Cydia Impactor alternatives in 2023.
Best Cydia Impactor Alternatives
Cydia Impactor is a free Desktop software used during the last years mostly to install jailbreak tools like unc0ver, Phoenix, H3lix, etc. It allowed to sign and install IPA files on iOS devices with an Apple ID. Impactor doesn't work anymore but there are a few solutions that actually do.
I didn't include IPA signing tools like AltSigner, LightiningSign, nullxImpactor, or AltDeploy because they are also not working. None of the apps above are under development.
AltStore
Behind AltStore is Riley Testut, the first person that managed to bypass the IPA signing issue and allow users again to install IPA files on iOS devices. AltStore is a free iOS app to sign IPA files directly from your device without the need to jailbreak your iPhone.
Use AltServer to install IPA files with your Apple ID over WiFi, re-sign apps in the background to prevent them from expiring, and handle all app updates through AltStore installed on your iPhone or iPad. All operations require running AltServer on the same WiFi network as your device.
With a free certificate (only Apple ID + password),you can install up to 3 apps that will work for 7 days without revoking. AltServer can re-sign all apps to prevent them from expiring. AltStore works with iOS 12.2, iOS 13, iOS 14, and the latest iOS 15.
What's more, AltStore can deactivate installed apps allowing you to switch between apps (max 10) without the 3-app limit. This way it's possible to install up to 10 apps on your iOS device and switch between them when needed. It's the first working Cydia Impactor alternative.
Official website: altstore.io
Sideloadly
Sideloadly developed by iOSGods is always my first choice when I need a solid solution to install IPA files on my iPhone (mostly jailbreak tools). It uses the same technology as AltStore, and it's I my opinion more user-friendly. This IPA signing tool was released for Windows and macOS.
This is an excellent Cydia Impactor alternative that can install apps on iPhone or iPad no matter if you are jailbroken or not. Sideloadly is packed with a lot of useful features including Wi-Fi Sideloading, tweak injection, multiple install options, changing the app name, and more.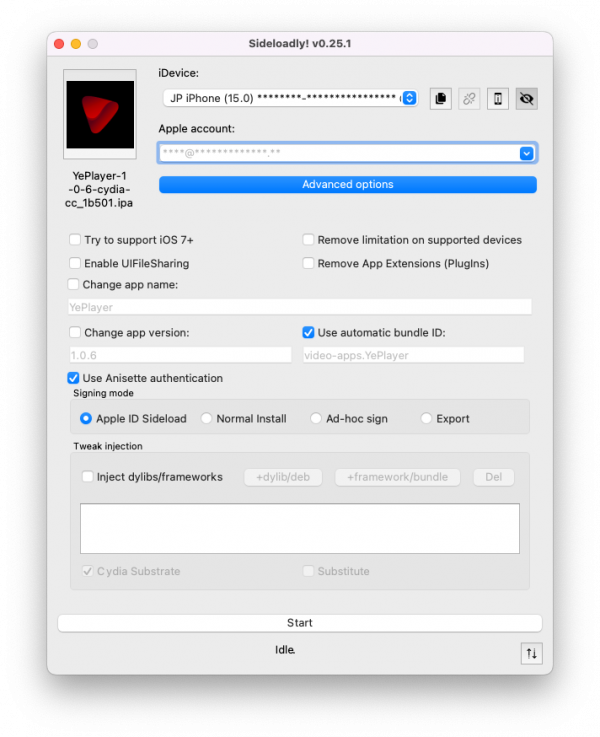 The latest version of Sideloadly comes with multiple install options. The default method uses your Apple Developer Account to sign. Normal Install can sideload only unencrypted and unmodified IPA files. Ad-hoc sign works on jailbroken devices with installed AppSync Unified from Cydia and can sideload unencrypted and modified IPA files.
One of the most important features of the app is support for the latest iOS 15 versions, and what's more, it works since version 7. For iTunes installation is required for Windows users!
Official website: sideloadly.io
AltServer Linux
AltServer is the tool to install AltStore on your device. Officially AltServer doesn't support Linux but because the app was released as an open-source project a fork was made by NyaMisty to allow Linux users to sign and install IPA files. AltServer Linux works only using a USB connection.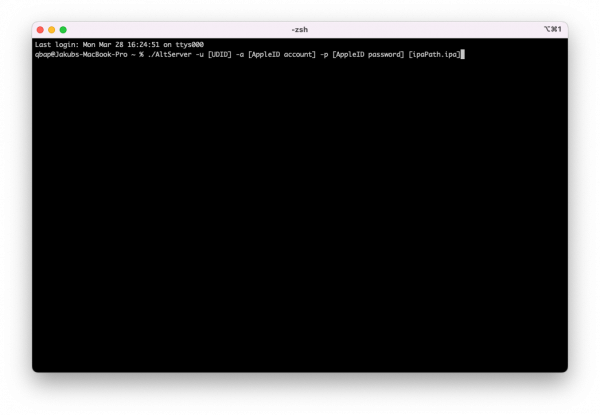 Using AltServer Linux you can install on your iPhone IPA packages and all popular jailbreak tools. This is a terminal app that can be used only from a console, but for most Linux users this is not a big issue. AltSercer Linux runs on a normal Linux host, working through usbmuxd.
This Cydia Impactor alternative for Linux works also with the latest version of iOS 15. It is regularly updated to provide new features and support for new firmware releases.
Official website: NyaMisty GitHub
3uTools
3uTools is another Cydia alternative for Windows that allows you to install IPA files on iPhone, iPod, or iPad. Like all other mentioned tools also 3uTools uses AltServer libraries to do it. The software can also install a popular jailbreak app with a compatibility detection feature.
What's more, 3uTools is the all-in-one software to manage files (photos, multimedia, data),download apps, save wallpapers or ringtones, flash iOS devices, jailbreak, and more. Apple ID two-factor authentication is supported. Sideload Taurine, Odyssey, Phoenix, etc.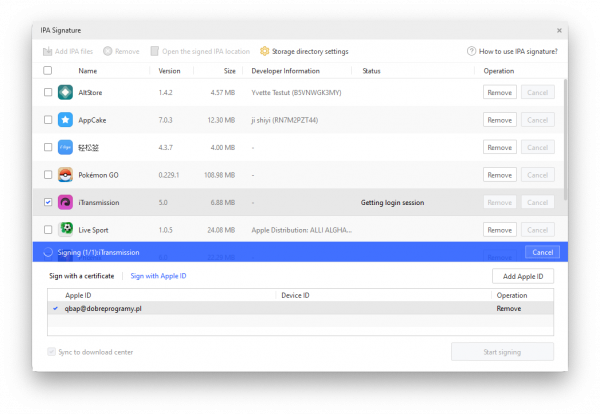 3uTools can also auto-match available firmware for iOS devices. Flash firmware in normal mode, DFU mode, and recovery mode is supported. More advanced features include SHSH backup, disable iOS updates, baseband upgrade or downgrade, etc. iOS 15 is also supported.
The software can be also used as an iTunes replacement. It offers modules to back up iPhone, clean useless files taking space on your device, migrate data between devices, compress photos, view real-time logs, delete invalid icons, fake the GPS locations, and save blobs.
Official website: 3u.com
i4Tools
i4Tools is the original project behind 3uTools released for the Chinese market. It offers the same features that the app mentioned above and it's more often updated. This Cydia alternative also uses the open-source technology created by Riley Testut. iTunes is required on Windows.
The application was released for Windows and macOS. It offers a one-click jailbreak tool simplifies the process of installing Cydia on your device. i4Tools can jailbreak using checkra1n, Taurine, Odyssey, Phoenix, unc0ver, etc. Various versions for sideloading are available.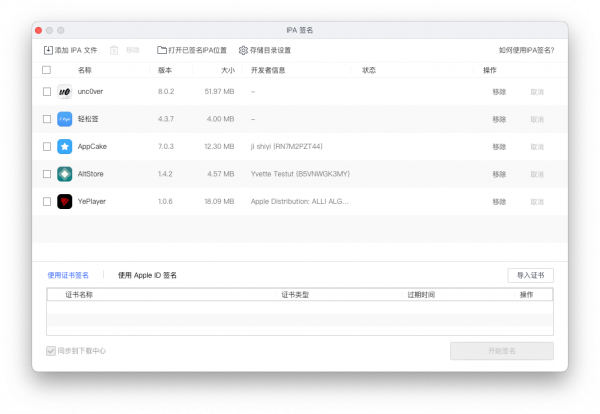 Use this software to activate Virtual Location with support to open street maps, record your iPhone screen from a computer, and sign and install any IPA files on your device.
To sign IPA files using i4Tools it's better to turn off the Apple ID two-factor authentication. The developer says that the software works with both turns on and turn off but during the latest tests, it seems that two-factor authentication disables sideloading files.
Official website: i4.cn
TutuApp for PC
TutuApp for iOS is a very popular third-party service allowing you to install apps and games not available in the official App Store. It uses public certificates to install apps directly on your device without the need to own a computer, but the certificates get often revoked by Apple.
Because most of the time all 3rd-party App Stores are facing issues with getting new certificates developers behind TutuApp created a new Cydia Impactor alternative to install tweaked apps and hacked games on your iDevice. It's based on AltStore and it requires a PC.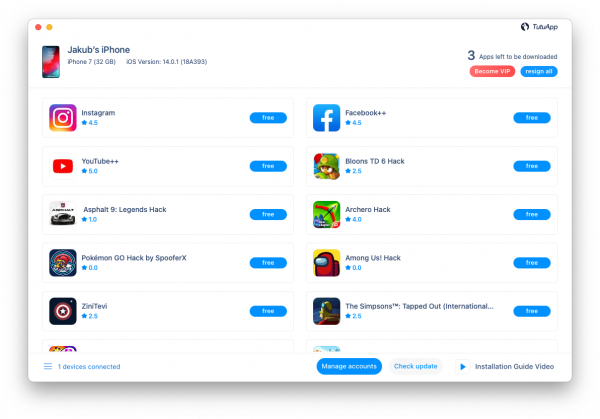 TutuApp for Mac allows you to download IPA files for popular apps and game hacks and sign them with a free and private certificate connected with your Apple ID. This way you can install up to three apps without revoking. They will work on your device for 7-days.
The application supports multiple Apple ID accounts and iDevices. This is really handy because when you are using a free certificate it's required to resing all installed apps after 7-days. What's more, you can switch quickly between accounts without providing all data. TutuApp IPA Installer can resign all apps automatically by recognizing your iPhone.
ReProvision
ReProvision Reborn is the real on-device IPA signing tool for iOS devices. It's a Cydia Impactor alternative running directly on iOS 13, iOS 14, and iOS 15 devices without the need to own a Desktop. Jailbreak is required to install Reprovision. Use this tool to sign and re-sign automatically apps.
This is the number one software that I recommend everyone install on their device just after jailbreak. This app is the insurance to make no important app get revoked and stop working. I don't think I need to mention how important it is for jailbreak tools.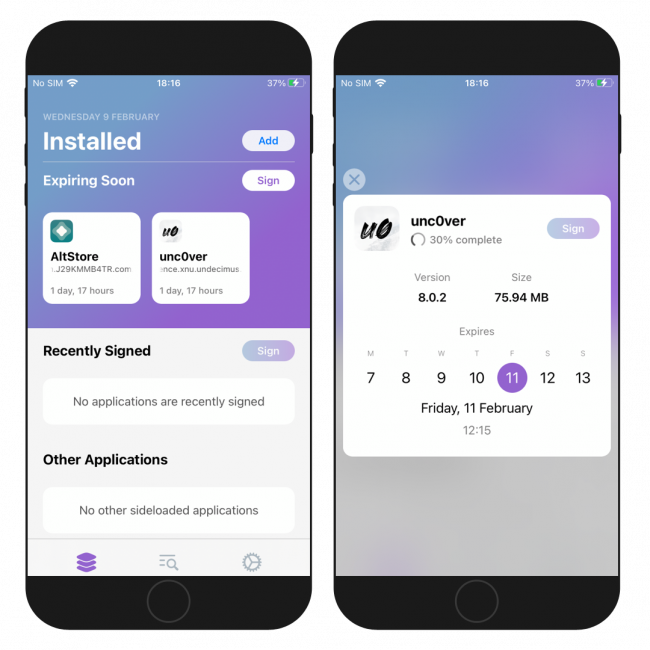 ReProvision supports free and paid development Apple accounts. The credentials are sent to Apple's iTunes Connect API for authentication. With free development account, you can install a max of 3 apps. Every 7 days after signing, ReProvision will repeat the process automatically.
Soh Satoh gives an excellent gift to the jailbreak community by resurrecting the popular ReProvision app that had been left in the dust by the original developer.
TrollStore
TrollStore is an iOS app designed to sign and install IPA files without revokes on iOS 14 and iOS 15. It uses the CoreTrust bypass by Linus Henze and it supports all iDevices running on 14.0 up to 14.8.1 and iOS 15 up to iOS 15.1.1. TrollStore doesn't require jailbreak like PermasigneriOS.
Using the TrollStore for iOS you can install any app permasigned. What's more, it is possible to install apps with otherwise illegal entitlements or ones that bundle a root helper binary, all thanks to the CoreTrust bug discovered by Linus Henze. All features work on stock iOS.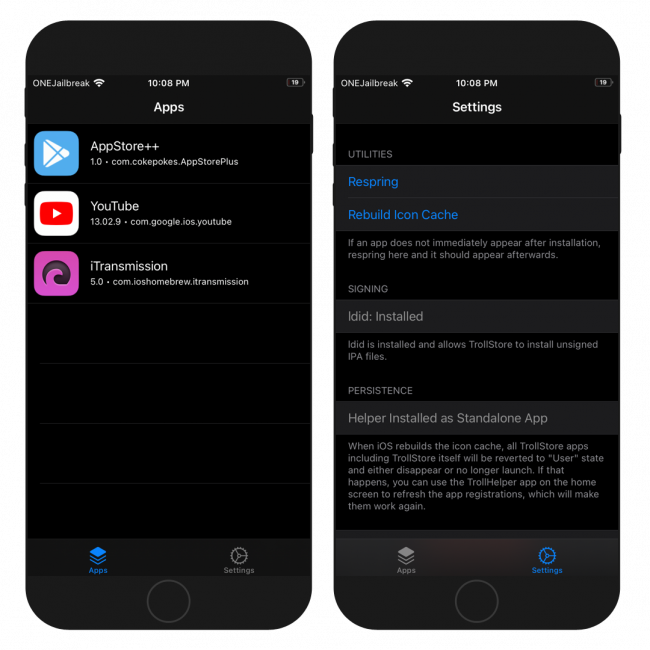 TrollStore future updates should work up to iOS 15.4., but the Installer currently only supports iOS up to 15.1.1 as it uses multicast_bytecopy. When the Fugu15 install method is public, it should be possible to implement it and use it by TrollStore to support iOS 15 up to iOS 15.4.1.
Apps installed via the CoreTrust bypass bug will stay signed permanently on your iPhone even after 7-days or after restarting the device. TrollStore delivers for iOS 15 the long-awaited feature to install custom IPA files with ++ hacks without revokes or any free certificate limitations.
AppCake
AppCake, developed from 2008 since today, is an iOS app allowing you to install unsigned IPA files on Apple devices. It works on both, jailbroken and non-jailbreak devices. This app is also listing premium games and applications that can be installed for free bypassing the AppStore.
The store is developed by iPhoneCake and provided by iPASTORE. AppCake 7 app works with iOS 13, iOS 14, and iOS 15. On jailbroken devices, it is also an excellent Cydia Impactor alternative that can install IPA without revokes and certificates expiring.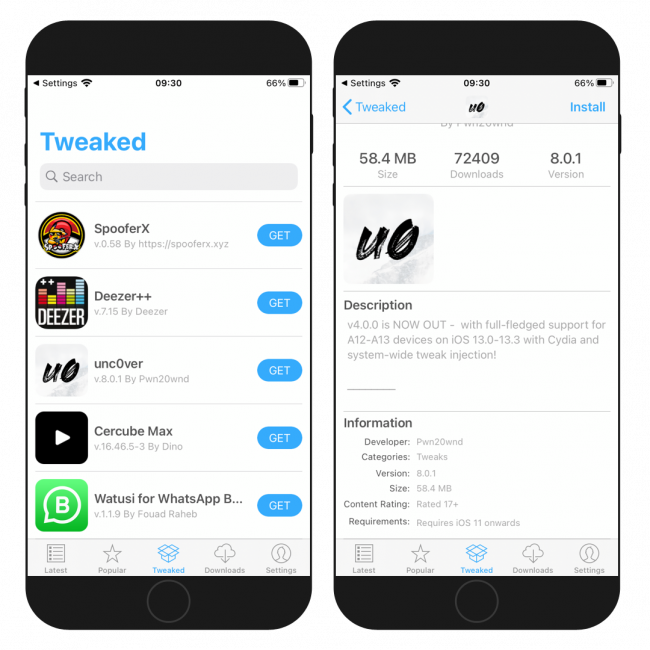 Build-in file manager allows you to check download progress and manage all IPA files. What's more, the web server provides access to your AppCake files from any browser. Use this feature to download and upload IPA files from the Desktop to your iPhone or iPad.
On jailbroken devices, it's required to install an additional package AppSync Unified next to the App Store. It runs in the background and installs unsigned, fake-signed, or ad-hoc signed IPA packages on an iPhone and iPad. This way it's possible to run cracked and modified apps.
Panda Helper Lite
Panda Helper Lite is an AppStore alternative offering access to apps, games, and tweaks not available in the stock store. It is used mostly to install game hacks, jailbreak tools, and so-called ++ apps offering modifications (like removing ads, and adding new features) to popular iOS apps.
As with all other 3rd-party stores also Panda Helper Lite uses an Enterprise Certificate to sign and install apps on iOS devices. If you are not jailbroken there is a big chance that you can't install any apps because the certificate was revoked by Apple.
On a jailbroken device you can install the app through a web link available on top of this page or via the official pandahelper repository. Panda Helper Lite requires you to install AppSync Unified tweak to ​​​​​​install apps without revokes. It works on all jailbroken iOS 10 - iOS 14 devices.
Panda Helper is more than just a not working store with listed apps and games. Time changes and the store allows you to download IPA files that can be installed with Desktop tools like AltStore or Sideloadly. When you don't own a computer there is also a revoke-free jailbreak version.
Esign
Esign is an on-device IPA signing tool for iOS allowing you to sign apps with your own or globally available certificates and install them on your iPhone or iPad. Basically, this is a Cydia Impactor alternative with support for iOS 11 up to iOS 15. Install IPA files without a computer.
Once installed on your iOS, Esign app will be available from the Home Screen. From the file tab, you can easily import files, unzip archives, install IPA files, import to App Library, and open the selected file in the built-in HEX editor. On jailbroken devices, you can install IPA without signing.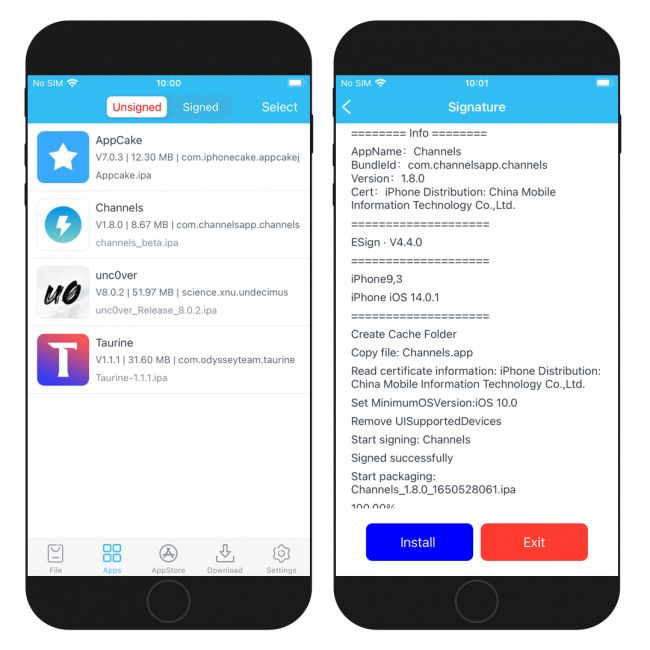 To install IPA files Esign can sign them directly on your iOS device with a p12 certificate and mobileprovision file. It offers access to globally available certificates that are used by most of the 3-rd party AppStores therefore the certificate will get revoked on short notice.
What's more, Esign app can remove from IPAs all plug-ins, all watch apps, set min iOS version to 10, remove UISupportedDevices, remove URLScheme, add support for documents browser, fix the white icon, auto modify jailbreak dependencies, and allow to run multiple instances of an app.
Official website: esign.yyyue.xyz
GBox
GBox is an on-device IPA signing tool to install jailbreak tools, apps, games, and tweaked apps on your iPhone or iPad without using a PC. With this iOS app, you can import your own signing certificates or use globally available ones to sign and install IPA files. No jailbreak is required.
Basically, this is a Cydia Impactor alternative with support for iOS 10 up to iOS 15 that works directly on your device. Once installed, GBox for iOS will be available from the Home Screen. It allows you to install almost all IPA files including those big ones with over 500 MB.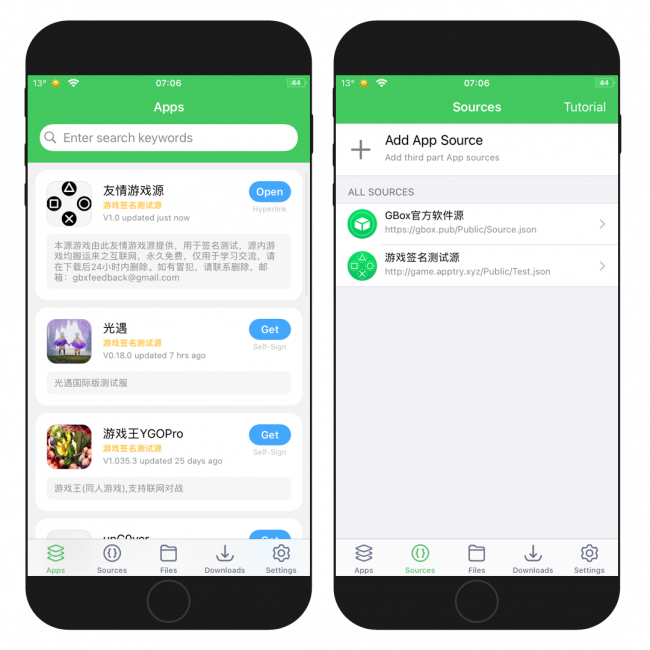 Import your own IPA files to GBox on iOS from any application or import the built-in sources to quickly access links to popular jailbreak tools like unc0ver, Taurine, Odyssey, and various console emulators such as Delta, RetroArch, Happy Chick, DolphiniOS, PPSSPP, and iNDS.
GBox works on both jailbroken and non-jailbreak devices running iOS 10, iOS 11, iOS 12, iOS 13, iOS 14, and iOS 15. On top of that, it supports Anti-Revoke tweaks allowing you to install apps and games by disabling certificate revokes check on your jailbroken device.
Official website: gbox.run
PermasigneriOS
PermasigneriOS is a free iOS app allowing you to sign permanently IPA files on your jailbroken iDevice. Once an app is signed with PermasigneriOS and installed on your device it will work without any time limitations or even after a restart. It works on iOS 14 and will support iOS 15.
Using the CoreTrust bypass PermasigneriOS can sign IPA files permanently for jailbroken iDevices running on iOS 14.0 up to iOS 14.8.1. It means that even after returning iOS to stock (restarting your device) the signed app will still work on your iPhone or iPad.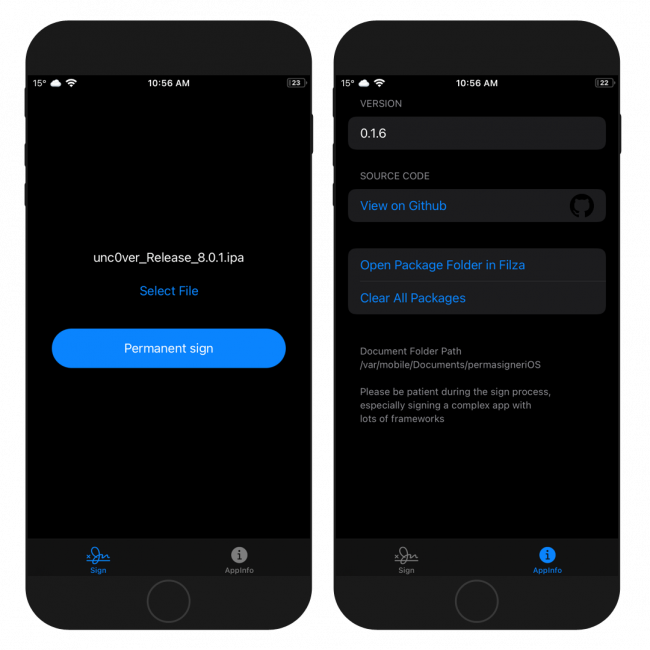 This signing bug will work also on jailbreaks released for iOS 15 - iOS 15.4.1. For now, you can't use it on iOS 15 because once an app is signed it must be installed from a jailbroken environment. This is a great on-device Cydia Impactor alternative for iOS.
Unlike Reprovision Reborn, PermasigneriOS signs apps permanently on jailbroken devices without using your 7-day revoke-free certificate or the 3 apps limit. This way you can install as many apps as you like on your device without those limitations. Only iOS 14 is supported.
Bullfrog Assistant
Bullfrog Assistant is a free iOS app allowing you to sign IPA files directly on your iPhone or iPad using the free Apple certificate. This tool is a great alternative for Sideloadly or AltStore and on top of that, it doesn't require a connection to a computer to install IPA files.
The application works without jailbreak and supports also the latest iOS 16 running on iPhone 14. Using Bullfrog Assistant for iOS you can install all kinds of IPA files including jailbreak tools such as unc0ver, tweaked apps like Spotify++, and every other app you can imagine.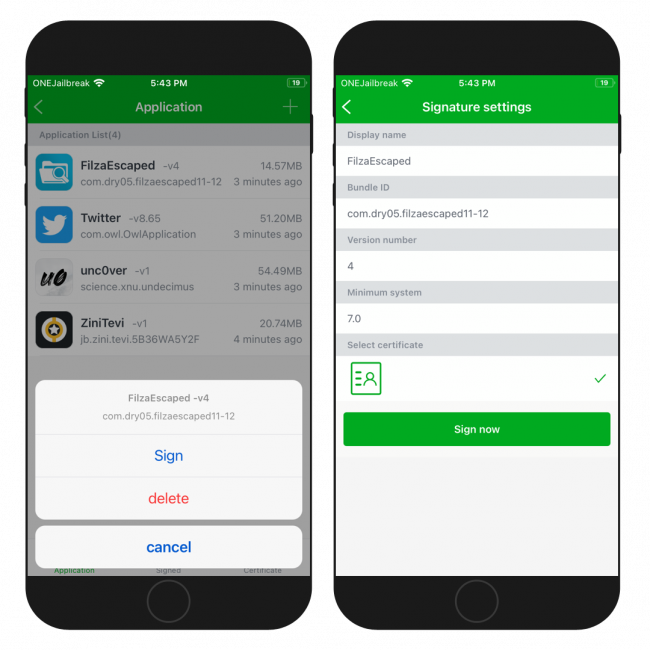 This tool stands out from third-party App Stores in that it can sign IPAs using your personal certificate connected to your Apple ID and password. It works in a similar way to ReProvision Reborn for jailbroken devices but it works on jailed devices and doesn't require a jailbreak.
Bullfrog Assistant supports iOS 12, iOS 13, iOS 14, iOS 15, and iOS 16. It allows you to import IPA files located on your iCloud, download IPAs from a URL, or browse the Web for IPA libraries. Once an app is imported you can sign, install it, and change some signature settings.
iOS App Signer
iOS App Signer is a free software to sign IPA, DEB, APP, xcarchive packages and installs them on your iPhone, iPad, or iPod Touch. (Re)sign apps and bundle them into IPA files for iOS. To sign the application, you're going to need paid dev account, macOS 10.9+, and Xcode 7 or newer.
Official website: iosappsigner.com
Xcode
Xcode is the development platform to create iOS apps. It is available for macOS and can be used not only to develop, build IPA files, and publish apps on the AppStore, but also to sideload IPA on your iPhone. Xcode 13 adds powerful new team development features, perfect for working with Xcode Cloud as well as with GitHub, Bitbucket, and GitLab collaboration features.
Post a comment