unc0ver Jailbreak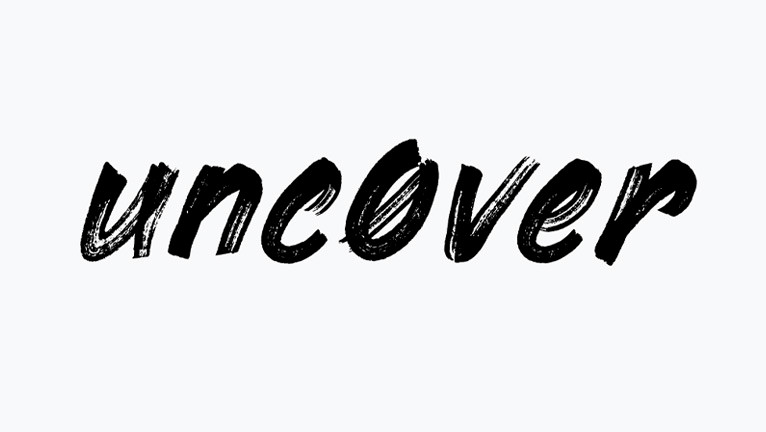 Undoubtedly, unc0ver is the most advanced jailbreak tool available for iOS 11 through iOS 14. This article will guide you through the process of installing the unc0ver app on your iPhone or iPad, which will allow you to install Cydia. Although the conventional method mandates the use of a PC, there exists an alternative route: the Direct Install option via Safari, provides a convenient and efficient way to liberate your iOS device.
Install unc0ver IPA
What is unc0ver?
unc0ver jailbreak app offers a streamlined solution for exploiting iOS 14, enabling you to effortlessly install Cydia on your iPhone or iPad. This user-friendly application automatically identifies your device's specifics, including its name, model, processor type, iOS version, and kernel version. By analyzing this information, unc0ver precisely determines the suitable exploit needed for the jailbreaking process, ensuring a seamless and hassle-free experience.
Once you've successfully jailbroken your iPhone using unc0ver, several changes will be made by default. For instance, iOS auto-updates will be blocked, Cydia and OpenSSH will be installed, and app revokes will be disabled. With the Cydia package manager, you can easily access the best repositories with various tweaks. Additionally, there are other options available.
In addition to Cydia, unc0ver jailbreak also installs an SSH server by default. This feature enables you to connect to your iDevice using a terminal and SSH client. The jailbreak also has the capability to set a nonce generator. However, it is important to note that since this is a semi-untethered jailbreak, you will need to reapply the jailbreak every time you restart your iPhone.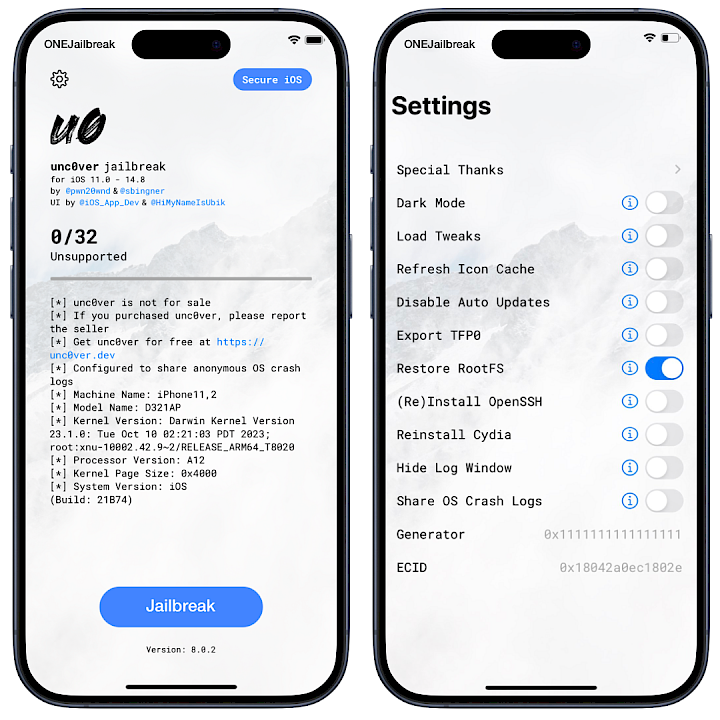 unc0ver jailbreak iOS 11 to iOS 14.8
To enable you to take full advantage of your already jailbroken devices, unc0ver jailbreak uses Substitute, a powerful tweak injection system. With the newly designed tweak injection system in Substitute 2.0, unc0ver and checkra1n jailbreaks on iOS 11 through iOS 14 are now able to achieve unprecedented app loading speeds. This system permits the loading of a large number of tweaks, allowing for maximum customization with minimal overhead.
Note: Unfortunately, unc0ver jailbreak is no longer under active maintenance, and it appears unlikely that it will receive updates to support future iOS 15 or iOS 16.
unc0ver comes loaded with a plethora of useful settings. For instance, the "Restore RootFS" option allows you to effectively uninstall the jailbreak without losing any user data. In case Cydia stops working correctly, you can use the "Reinstall Cydia" option, thereby resolving the issue.
The app provides a variety of additional options, including dark mode, tweak loading, icon cache refreshing, TFP0 exporting, and OpenSSH server reinstallation. Moreover, you can enable the log window to observe the processes taking place in the background while jailbreaking.
Determining which devices and firmware are supported by unc0ver can be a bit complicated, as it depends on a variety of variables. However, once installed, unc0ver jailbreak will automatically detect whether your device is supported or not. It supports all releases of iOS 14 – iOS 14.8.
On October 26, 2021, iOS 14.8.1 was released to address a critical security vulnerability. This update specifically resolves a significant issue wherein an application could potentially execute arbitrary code with kernel privileges, posing a potential security threat.
While such vulnerabilities are often exploited in the context of jailbreaking, it's noteworthy that the unc0ver jailbreak tool has not been updated to jailbreak iOS 14.8.1.
Additionally, it is crucial to highlight that any subsequent iOS releases, such as iOS 15, iOS 16, and iOS 17, remain unsupported by the unc0ver jailbreak as well. Users are strongly advised to stay away from websites claiming to distribute unc0ver for iOS 17 or unc0ver black.
unc0ver app for iOS 15
Currently, unc0ver jailbreak does not support iOS 15, as it has not received any updates to support the latest version of the iOS operating system. Although there are some exploits available to access read and write privileges, at present, there is no jailbreak that supports any iOS 15 version. Moreover, the developer of the unc0ver project seems to have abandoned the project, as there have been no recent updates from them for several months.
unc0ver Jailbreak for iOS 11.0 - iOS 12.4 was initially released as an open-source project, with all files listed on the GitHub Repository. If you are using a macOS, building the project is a straightforward process. The source code was first released on July 12, 2019, and has not been updated to the latest releases of unc0ver with support for iOS 13 or iOS 14.
As long as you have the standard libraries for Xcode projects, you should be able to proceed without any issues. Approximately 55% of the code is written in C, and 42% in Objective-C. The source code is under the BSD 3-Clause License. However, it seems unlikely that the source code will ever be released to the public for newer iOS releases.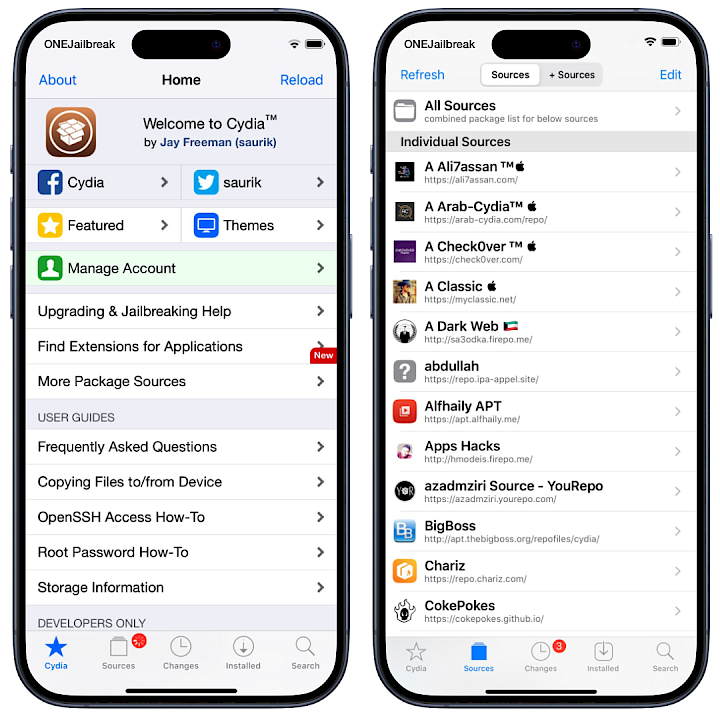 Supported devices
| | |
| --- | --- |
| SoC | Device |
| A6 | iPhone 5, iPhone 5C |
| A7 | iPhone 5S, iPad Air, iPad Mini 2, iPad Mini 3 |
| A8 | iPhone 6, iPhone 6 Plus, iPad Mini 4 |
| A9 | iPhone 6S, iPhone 6S Plus, iPhone SE |
| A10 | iPhone 7 and iPhone 7 Plus |
| A11 | iPhone 8, iPhone 8 Plus, and iPhone X |
| A12 | iPhone XS, iPhone XS Max, iPhone XR |
| A13 | iPhone 11, iPhone 11 Pro, iPhone 11 Pro Max |
unc0ver jailbreak will not work with iPhone 15, iPhone 15 Pro, iPhone 14, iPhone 13 Mini, iPhone 13, iPhone 13 Pro, iPhone 13 Pro Max, iPhone 12, iPhone 12 Pro, iPhone 12 Mini, iPhone 12 Pro Max iPhone 11 Pro, iPhone 11, iPhone 11 Pro Max, iPhone XR, iPhone XS Max, and iPhone XS.
How to install unc0ver IPA
unc0ver jailbreak is distributed as an IPA package that can be easily sideloaded on your device running iOS 11 – iOS 14. Download unc0ver IPA and install the app with your favorite IPA installer such as Sideloadly (recommended), SideStore, AltStore, Gbox, Esign, or Bullfrog Assistant.
Install unc0ver IPA using Sideloadly
If you possess a PC or macOS, the most user-friendly method for installing the unc0ver IPA on your iDevices is through sideloading using the Sideloadly app. This software stands out for its straightforward functionality, allowing you to seamlessly sideload the files. It operates by utilizing a free developer-based certificate associated with your Apple ID to sign the app.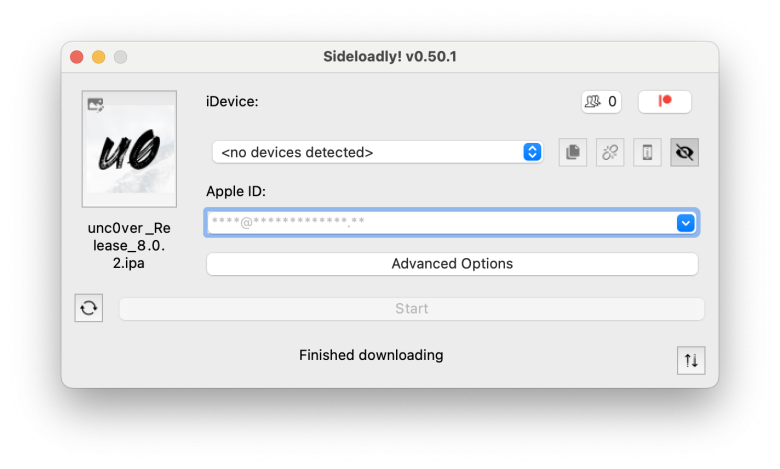 Step 1. Download the latest unc0ver IPA, the iOS 11 – iOS 14.8 jailbreak tool.
Step 2. Install Sideloadly for Windows or macOS.
Step 3. Sideload unc0ver IPA by following the guide Installing IPA on iPhone.
Step 4. Open unc0ver App from your Home Screen.
Step 5. Check if your iPhone is supported.
Step 6. Tap on Jailbreak to start the jailbreak iOS 14 process.
Step 7. Please wait for the iOS 14 iDevice to be jailbroken.
Step 8. Respring your device to apply all settings and enable tweaks support.
Step 9. Open Cydia app from the Home Screen.
Step 10. Upgrade all packages to the latest version.
Info: The complimentary certificate permits you to sign the IPA for a duration of 7 days. Nevertheless, after jailbreak, you can re-sign unc0ver app on-device automatically.
Install unc0ver IPA using Bullfrog Assistant
If you lack access to a PC or Mac, an alternative option is to utilize an IPA installer such as Bullfrog Assistant to sideload the unc0ver jailbreak onto your iDevice. This installer not only facilitates the sideloading process but also ensures continuous signing, keeping the jailbreak application valid at all times on your iOS 12 – iOS 14 iPhone or iPad.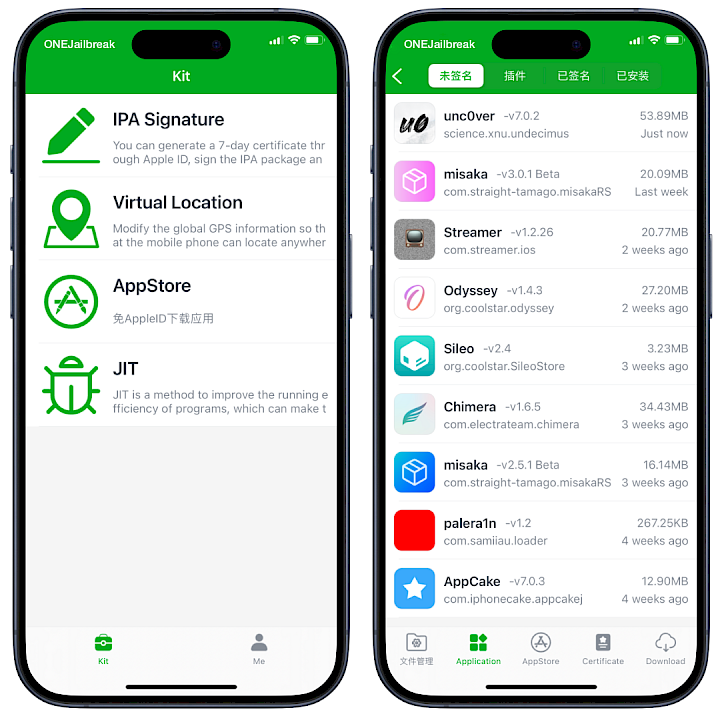 Step 1. Download Bullfrog Assistant installer for Windows or Mac.
Step 2. Connect the iPhone to your PC or Mac.
Step 3. Open Bullfrog Assistant Installer for Desktop.
Step 4. Click on the big and only installation button.
Step 5. Open the Bullfrog Assistant app from the Home Screen.
Step 6. Add and trust the api.ios222.com profile on your iDevice.
Step 7. Open the Certificate tab and tap on + button.
Step 8. Select Personal certificate from the available options.
Step 9. Provide your Apple ID and password (enter your 2-factor-authentication code).
Step 10. Reopen Bullfrog Assistant and install the VPN configuration.
Step 11. Download unc0ver IPA file to iCloud and send it to BullfrogAssistant.
Step 12. Tap on the imported app to sign it.
Info: To sign IPA files directly on your device, Bullfrog Assistant utilizes a unique approach that involves the use of a simulated VPN. This virtual private network effectively tricks the device connected to a Mac into signing apps seamlessly.
Install unc0ver IPA using TrollStore
unc0ver IPA can also be sideloaded onto your device through TrollStore, compatible with iOS 14 to iOS 14.8. Although this method is exclusive to iOS 14, its standout feature is the permanent installation of the jailbreak. Particularly for A12-A15 devices, it eliminates the need for a PC during the sideloading process. Repeat the steps to install u0Launcher on iOS 14.6 – iOS 14.8.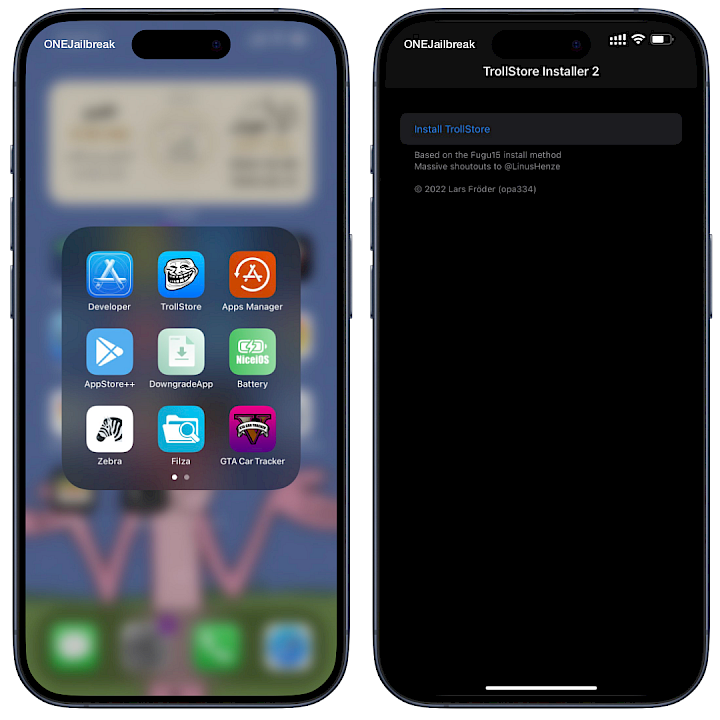 Step 1. Install TrollStore for A12-A15 devices from Safari Mobile.
Step 2. Open GTA Car Tracker from your Home Screen.
Step 3. Tap Install TrollStore to download the app on iOS 14.
Step 4. Reopen the GTA Car Tracker app and tap Register Persistence Helper.
Step 5. Download unc0ver IPA and save it to iCloud.
Step 6. Open the TrollStore app from the Home Screen.
Step 7. Press the + on the top right.
Step 8. Import the unc0ver .ipa file to TrollStore.
Step 9. Tap install to sideload the unc0ver IPA permanently.
Step 10. Access the unv0ver app from the Home Screen.
Tip: For iOS 14.0 – iOS 14.3 it's recommended to use unc0ver v6.1.1, and for iOS 14.6 – iOS 14.8 download the latest unv0ver 8.0.2 with u0Launcher (is required to open unc0ver).
Install unc0ver IPA using Direct Install
unc0ver jailbreak can be installed on iOS 11 through iOS 14 via a Direct Install link. This approach enables you to sideload the app directly from the Safari browser by utilizing a direct link to a signed version of the jailbreak. It's important to note that the effectiveness of this method may be compromised as Apple occasionally revokes certificates, hindering such installations.
Step 1. Tap on "unc0ver Direct Install" on top of this page.
Step 2. On the prompt tap install.
Step 3. Open the Settings app and navigate to the General section.
Step 4. Tap on VPN & Device Management and install the new profile.
Step 5. Open the unc0ver app from the Home Screen to jailbreak.
Info: If the unc0ver Direct Install encounters issues, attempting it again might prove successful. Certificates are regularly updated to restore the service. However, for a reliable IPA signing solution for the unc0ver jailbreak, use one of the methods mentioned earlier.
Re-sing unc0ver IPA using ReProvision
After successfully installing unc0ver and jailbreaking your device, consider adding ReProvision Reborn to your toolkit. This straightforward tool automates the process of re-signing the unc0ver app every 7 days, ensuring its continued functionality and preventing potential revocation issues. ReProvision Reborn is an on-device IPA installer for jailbreak environments.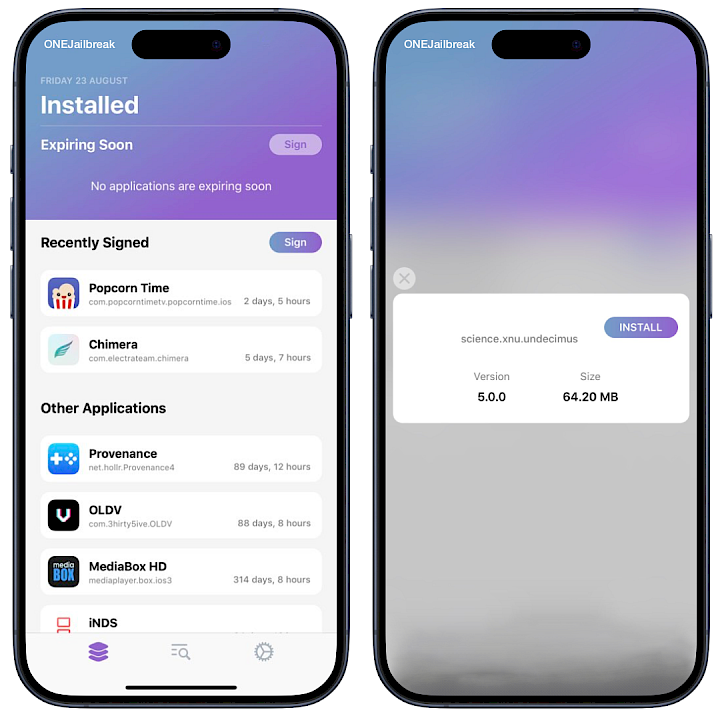 Step 1. Install ReProvision Reborn on your jailbroken device.
Step 2. Download unc0ver IPA and send the file to ReProvision Reborn.
Step 3. ReProvision Reborn will automatically open the IPA file.
Step 4. Tap on the Install button to sign and install.
Step 5. unc0ver app will be available from the Home Screen.
Info: ReProvision Reborn facilitates the signing of IPA files through a free Apple developer certificate, enabling the activation of up to 3 apps with a 7-day revoke-free certificate.
unc0ver untether for permanent install
Linus Henze, the dev behind Fugu14 Jailbreak and the untether for iOS 14.3 up to iOS 14.5.1, discovered a new bug where CoreTrust allows to use of any root certificate to permanently sign any IPA file for all jailbroken devices running iOS 14 and iOS 15. Using this method you can install the unc0ver app on your iDevice so it will continue to work when rebooted to stock.
unc0ver app 6.2 with support for jailbreaking iOS 11 up to iOS 14.3 can be permanently signed with the recently released IPA Permasigner script for macOS and Linux.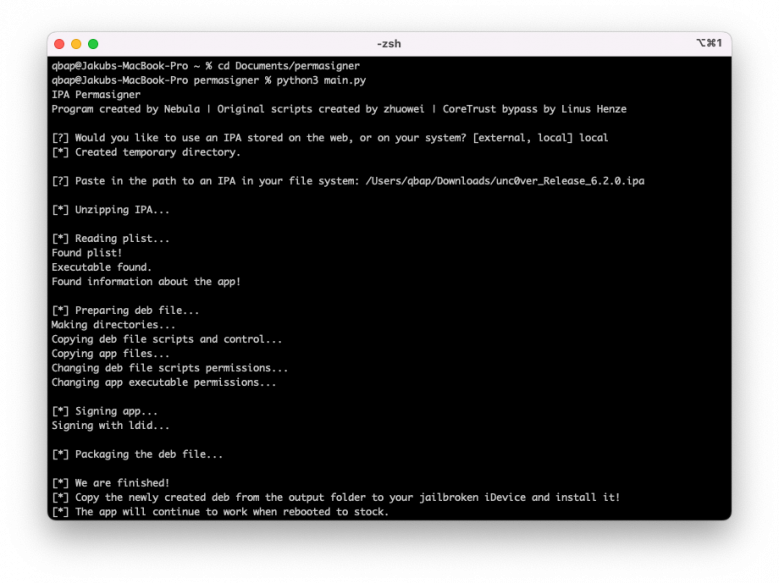 With a few simple steps, it will permanently sign the unc0ver.IPA to allow the app to run without revokes and also on stock iOS. Below you can find the permanently signed unc0ver app.
Download unc0ver-6.2-Untether.deb
Install unc0ver app for iOS 14.0 - iOS 14.3 with a preferred method.
Jailbreak the iOS 14 system with the installed app.
Install the unc0ver Untether DEB package with Filza.
Restart the device and re-jailbreak with unc0ver app.
Recent releases of the unc0ver app can be signed permanently but they will fail to jailbreak due to the error that occurred while disabling codesigning on step 18. To make the latest unc0ver 8.0.2 app work permanently you must to sign and install the app with AltStore and jailbreak. Next, install the unc0ver untether 8.0.2 deb package on your device.
unc0ver Fugu14-based untether
unc0ver Fugu14-based untethered jailbreak is available for all arm64e devices (iPhone XS and newer) running on iOS 14.3 up to iOS 14.5.1. In this case, it means that the unc0ver app will not be revoked after 7-days and will work even after a reboot of your device.
Therefore you can jailbreak your device at any time without worrying about losing access to tweaks or jailbreak apps. unc0ver Fugu14-based untethered jailbreak can be easily installed using AltStore signing tool and the latest version of unc0ver IPA.
Basically, the Fugu14 untether sets a placeholder in the Spotlight app and executes a few more exploit commands to install unc0ver like any other app from the App Store.
The easiest way to install Fugu14 on your device with Cydia and unc0ver is through AltStore. Using this method unc0ver will not expire after 7 days or after a reboot of your device. AltStore will not allow for an untethered jailbreak instead it will permanently sign the unc0ver app.
Download the latest version of AltStore.
Install the AltStore app through AltServer.
Connect your device via USB to your computer.
Install unc0ver IPA file through AltStore.
Tap on the Install Untethered Jailbreak button.
Tap on Open Placeholder button.
Tap on the blue Setup Fugu14 button.
Tap on the OK button to patch unc0ver placeholder.
Tap on the blue Install Untether button.
Tap on the Reboot Now button when appears.
Tap on the Install unc0ver button.
Open unc0ver and jailbreak your device.
How to jailbreak iOS 14 with unc0ver
Jailbreaking iOS 14 using the unc0ver app is a relatively straightforward process. Once you have installed the IPA package on your iPhone with a preferred method, you are just a few steps away from jailbreaking and installing Cydia, which will give you access to apps and tweaks.
Sideloadl unc0ver IPA on your iPhone or iPad.
Open the unc0ver app from the Home Screen.
Tap on the "Jailbreak" button to start.
Wait till the system is exploited and respring your device.
Open the Cydia app from the Home Screen and start installing tweaks.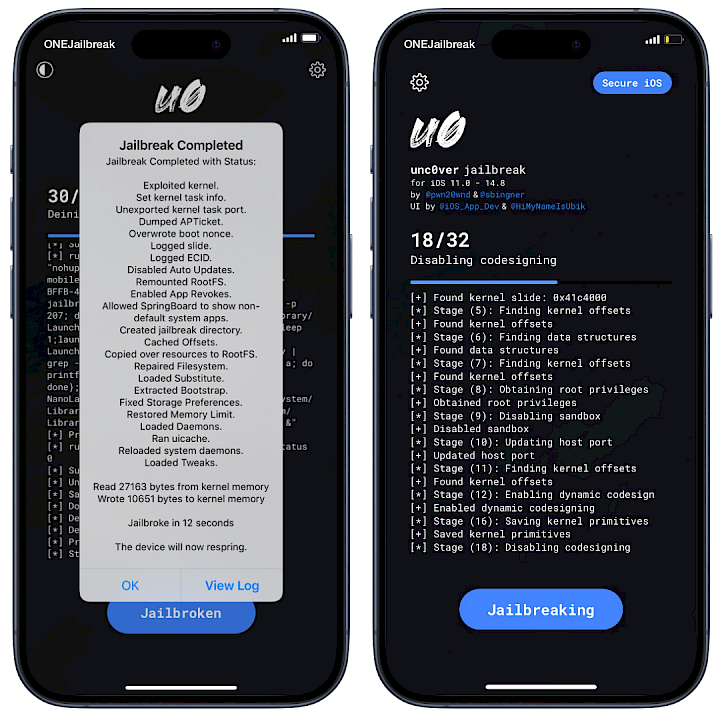 Tip: It's important to note that the jailbreak will be disabled whenever you reboot your device. To re-enable it, simply open the unc0ver app again and tap on the "Jailbreak" button. If the app has expired, you will need to install it again using your preferred method.
How to remove unc0ver jailbreak
To completely remove jailbreak installed with unc0ver App enable the Restore RootFS option from Settings. Re-jailbreak the device to restore the backup before the jailbroken state.
If there is no option to re-jailbreak restart the device first. There is no need to manually remove installed tweaks and apps when using this function.
Open the unc0ver app and go to Settings.
Toggle the Restore RootFS (rec0ver) and Refresh Icon Cache options.
Press Jailbreak or Re-jailbreak on the main screen.
unc0ver jailbreak creates an APFS snapshot allowing to restoration of the iOS system to the state before jailbreak. If the Restore RootFS feature will not work there is another solution. SnapBack app can easily access the "orig-fs" snapshots and restore the system with one tap.
Conclusion
In summary, as of 2023, unc0ver remains a reliable solution for jailbreaking iPhones and iPads running iOS 11 through iOS 14. Various installation methods are available, some ensuring the jailbreak app runs permanently without facing revokes. It's crucial to be aware that unc0ver has not been updated to support iOS 14.8.1, and there is no version compatible with iOS 15 through iOS 17. Exercise caution and download unc0ver exclusively from trusted sources to mitigate the risk of malware. I highly recommend using unc0ver on supported devices!
Sponsored links
Post a comment