unc0ver jailbreak for iOS 11 - iOS 14.8

qbap |
Jailbreak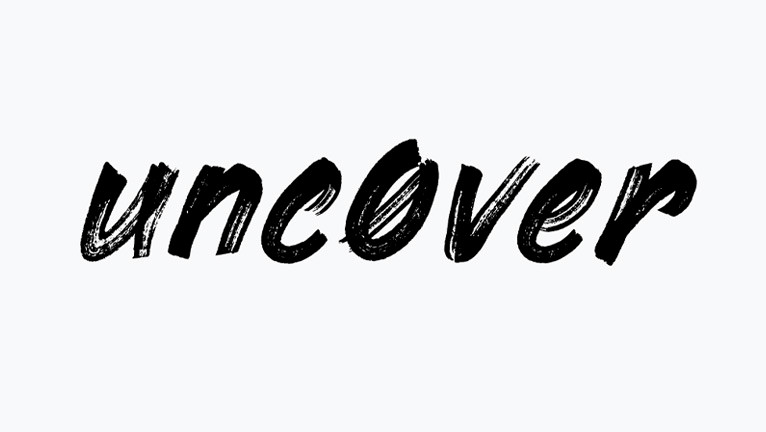 unc0ver is definitely the most advanced jailbreak tool to exploit iOS 11.0 - iOS 14.8. In this article, I will share with you how to install unc0ver app on your iPhone or iPad to install Cydia. Download unc0ver IPA and install it on an iDevice to jailbreak the firmware.
Download unc0ver IPA v8.0.2
What is unc0ver?
unc0ver Jailbreak is a free application for iOS allowing you to exploit the system and install Cydia on your iPhone or iPad. It automatically detects device name, model, processor type, iOS Version & Kernel Version, to select the right exploit to jailbreak your device.
After jailbreaking an iPhone unc0ver block by default iOS auto-updates, installs Cydia and OpenSSH, and disables app revokes. You can access the best repositories with tweaks with the Cydia package manager. There is more option available but we will get to them later.
By default, the jailbreak installs also an SSH server that allows you to connect to your device using a terminal and SSH client. This jailbreak can set nonce generator as well. Because this is a semi-untethered jailbreak after every restart of your iPhone or iPad the jailbreak will be removed.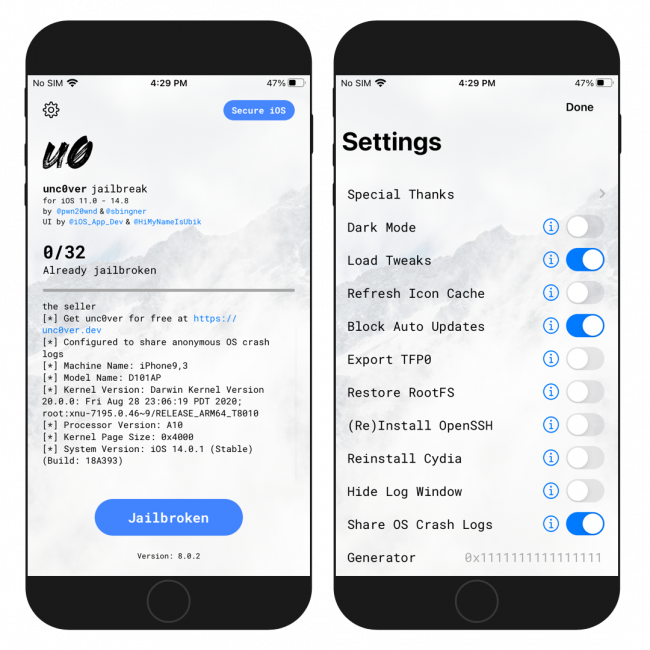 unc0ver jailbreak uses Substitute, a tweak injection system that runs on already jailbroken devices. Substitute 2.0 provides unprecedented app loading speeds for unc0ver and checkra1n jailbreaks on iOS 11 - iOS 14 using a newly designed tweak injection system that allows loading a big number of tweaks for ultimate customization with minimal overhead.
Note: unc0ver app isn't under active maintenance and it doesn't look like it will be ever updated to support iOS 15 jailbreak or iOS 16 jailbreak.
unc0ver is packed with a lot of useful settings. One of the options "Restore RootFT" allows to effectively uninstall the jailbreak without losing any user data. If Cydia will stop working correctly you can use "Reinstall Cydia" to reinstall the cydiainstaller package. This will fix the issue.
From the Settings page, you can also activate the options to enable dark mode, load tweaks, refresh icon cache, export TFP0, and re-install OpenSSH server. On top of that, you can also enable to show the log window to view what's going on in the background when jailbreaking.
unc0ver was never updated to support iOS 15. There are exploits available to access read and write privileges but for the moment there is no jailbreak with support for any iOS 15 version. It seems like the developer abounded the project because he is not active for months.
The list of supported devices and firmware by unc0ver is a bit complicated and it depends on those variables. Once installed, unc0ver will automatically detect if your device is supported.
unc0ver Jailbreak for iOS 11.0 - iOS 12.4 was released as an open-source project with all files listed via GitHub Repository. You can build the project with simple steps on macOS. The source code was released on 12 Jul 2019 and it was not updated to the latest releases of unc0ver.
As long as you have standard libraries for Xcode projects you are good to go. 55% of the code is written in C and 42% in Objective-C. Source Code is under BSD 3-Clause License. It doesn't look like the source code will be ever released to the public for newer iOS releases.
Supported devices
iPhone 11, iPhone 11 Pro, iPhone 11 Pro Max
iPhone XS and XS Max
iPhone XR
iPad Mini (2019)
iPad Air (2019)
iPhone X (only iOS 12)
iPhone 8 Plus, iPhone 8
iPhone 7 Plus. iPhone 7
iPhone 5S
iPhone 6s Plus, iPhone 6s, iPhone 6 Plus, iPhone 6
iPhone SE
iPhone 5s
iPhone 11 Pro, iPhone 11, iPhone 11 Pro Max
iPhone XR
iPhone XS Max, iPhone XS
iPad Mini (5th generation)
iPad Air 1
iPad Air (2019, 3rd generation)
Alternatively, you can download the latest version of Taurine jailbreak for iOS 14 - iOS 14.3, developed by the same team behind Odyssey jailbreak on iOS and iPadOS 13.0 - 13.7 devices.
How to install unc0ver on iOS
To download unc0ver and install the app on your iPhone it's required to use a computer to sign and install the IPA file to your iPhone and iPad. @Pwn20wnd recommends installing the jailbreak tool with AltStore, but it's much easier using Sideloadly.
We provide also direct web links to a signed unc0ver Jailbreak IPA that can be installed directly on your iPhone without using a computer. Those files are signed with a globally available certificate that gets revoked by Apple. It means that the app will install or open on your iDevice.
Sign and install unc0ver IPA
Sideloadly is as easy to use as Cydia Impactor and it allows you to sideload IPA files through Wi-Fi. No matter if you downloaded the macOS or Windows version, the workflow is the same. With this method, you have a 100% success ratio to install the jailbreak tool on your device.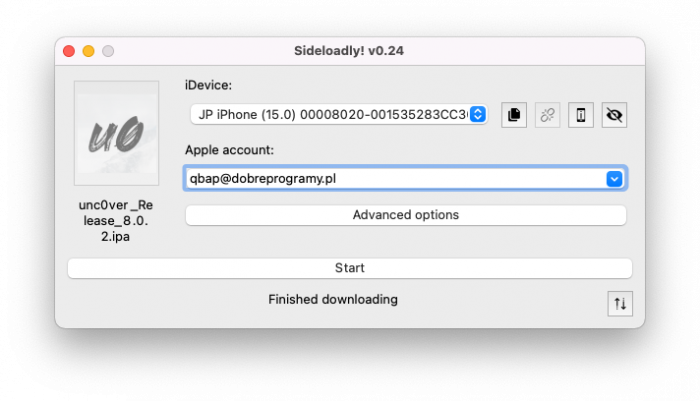 Step 1. Navigate to the top of this page.
Step 2. Tap on Install via Sideloadly and tap Allow.
Step 3. Sideloadly will automatically download unc0ver IPA.
Step 4. Enter your Apple ID to sign IPA file.
Step 5. Click the Start button to install the IPA file on your device.
Step 6. Provide the password for your Apple ID.
To make this process even easier we included on top of this page quick URL links allowing you to download, sign and install the unc0ver Jailbreak v8.0.2 IPA file with just one click through your favorite tools such as Sideloadly, ReProvision, or AltStore. Because unc0ver IPA was signed by your own certificate it's required to trust it to open app on your device.
Step 7. Open Settings app from the home screen.
Step 8. Navigate to General → VPN & Device Management.
Step 9. Click on the developer app with your e-mail.
Step 10. Tap on Trust to allow the application to run.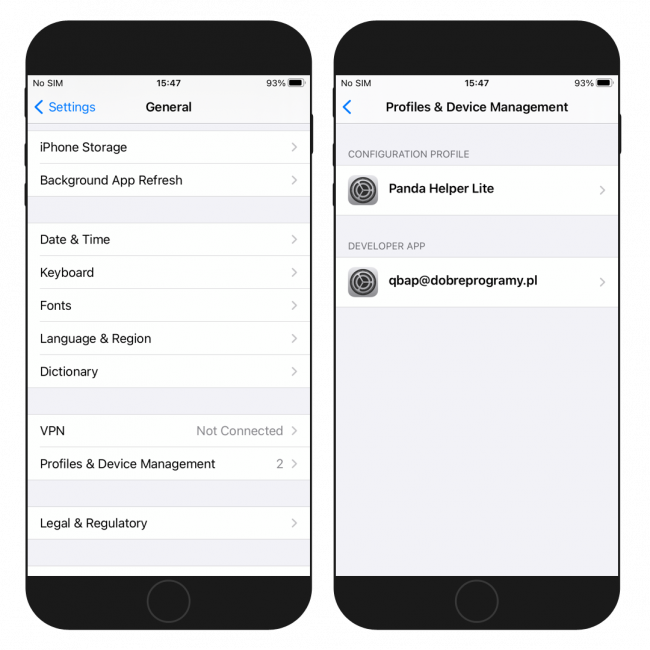 Install unc0ver jailbreak without a PC
unc0ver Jailbreak can be also installed without a computer. This method doesn't work all the time, because the certificate gets revoked all the time and new ones are not available every day. Still, you can try to install the unc0ver jailbreak no PC version through those web links.
Install unc0ver no computer
Step 1. Tap on "Install unc0ver Jailbreak" from the Safari browser.
Step 2. When the message prompt "would like to install unc0ver" tap Install.
Step 3. unc0ver app icon will appear on your Home Screen.
Step 4. When the app will be downloaded correctly no error will appear.
Step 6. Run unc0ver Jailbreak for iOS 14 and jailbreak your device.
When the installation goes well, it's also required to trust the newly added certificate from the Settings app. Follow the instruction from the previous installation guide, starting from Step 7.
unc0ver untether
Linus Henze, the dev behind Fugu14 Jailbreak and the untether for iOS 14.3 up to iOS 14.5.1, discovered a new bug where CoreTrust allows to use of any root certificate to permanently sign any IPA file for all jailbroken devices running iOS 14 and iOS 15. Using this method you can install the unc0ver app on your iDevice so it will continue to work when rebooted to stock.
unc0ver app 6.2 with support for jailbreaking iOS 11 up to iOS 14.3 can be permanently signed with the recently released IPA Permasigner script for macOS and Linux.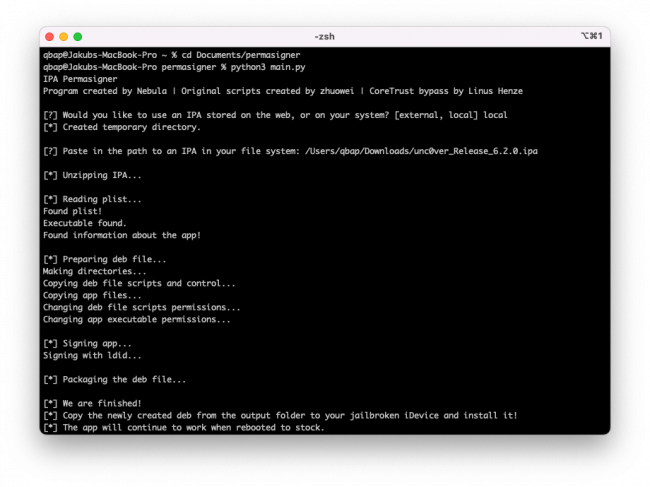 With a few simple steps, it will permanently sign the unc0ver.IPA to allow the app to run without revokes and also on stock iOS. Below you can find the permanently signed unc0ver app.
Download unc0ver-6.2-Untether.deb
Install unc0ver app for iOS 14.0 - iOS 14.3 with a preferred method.
Jailbreak the iOS 14 system with the installed app.
Install the unc0ver Untether DEB package with Filza.
Restart the device and re-jailbreak with unc0ver app.
Recent releases of the unc0ver app can be signed permanently but they will fail to jailbreak due to the error that occurred while disabling codesigning on step 18. To make the latest unc0ver 8.0.2 app work permanently you must to sign and install the app with AltStore and jailbreak. Next, install the unc0ver untether 8.0.2 deb package on your device.
unc0ver Fugu14-based untether
unc0ver Fugu14-based untethered jailbreak is available for all arm64e devices (iPhone XS and newer) running on iOS 14.3 up to iOS 14.5.1. In this case, it means that the unc0ver app will not be revoked after 7-days and will work even after a reboot of your device.
Therefore you can jailbreak your device at any time without worrying about losing access to tweaks or jailbreak apps. unc0ver Fugu14-based untethered jailbreak can be easily installed using AltStore signing tool and the latest version of unc0ver IPA.
Basically, the Fugu14 untether sets a placeholder in the Spotlight app and executes a few more exploit commands to install unc0ver like any other app from the App Store.
The easiest way to install Fugu14 on your device with Cydia and unc0ver is through AltStore. Using this method unc0ver will not expire after 7-days or after a reboot of your device. AltStore will not allow for an untethered jailbreak instead it will permanently sign the unc0ver app.
Download the latest version of AltStore.
Install the AltStore app through AltServer.
Connect your device via USB to your computer.
Install unc0ver IPA file through AltStore.
Tap on the Install Untethered Jailbreak button.
Tap on Open Placeholder button.
Tap on the blue Setup Fugu14 button.
Tap on the OK button to patch unc0ver placeholder.
Tap on the blue Install Untether button.
Tap on the Reboot Now button when appears.
Tap on the Install unc0ver button.
Open unc0ver and jailbreak your device.
Jailbreak iOS 11 - iOS 14.8
To jailbreak iOS 14 using the unc0ver App is simple. After you install the IPA file on your iPhone you are just a few steps from jailbreaking and installing Cydia with access to apps and tweaks.
Open the unc0ver app from the Home Screen.
Tap on the "Jailbreak" button to start.
Wait till the system is exploited and respring your device.
Open the Cydia app from the Home Screen and start installing tweaks.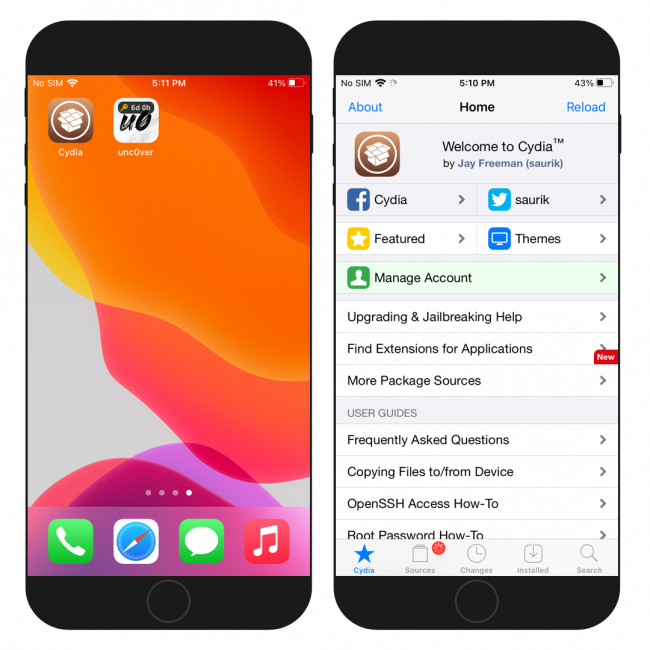 Whenever you reboot the jailbreak will be disabled. Open the app again and tap on "Jailbreak". If the app will expire, install it again with the preferred method.
Remove unc0ver jailbreak
To completely remove jailbreak installed with unc0ver App enable the Restore RootFS option from Settings. Re-jailbreak the device to restore the backup before jailbroken state.
If there is no option to re-jailbreak restart the device first. There is no need to manually remove installed tweaks and apps when using this function.
Open the unc0ver app and go to Settings.
Toggle the Restore RootFS (rec0ver) and Refresh Icon Cache options.
Press Jailbreak or Re-jailbreak on the main screen.
unc0ver jailbreak creates an APFS snapshot allowing to restore of the iOS system to the state before jailbreak. If the Restore RootFS feature will not work there is another solution. SnapBack app can easily access the "orig-fs" snapshots and restore the system with one tap.
Sign unc0ver IPA on the device
After installation, the app can be revoked and will stop working or opening. Therefore it is a good practice to use a jailbreak tool like ReProvision to sign unc0ver Jailbreak directly on an iOS 14 iDevice. Reborn will do it automatically so you will never forget to do it.
Navigate to the top of this page.
Tap on Install via ReProvision and tap Open.
ReProvision will download unc0ver IPA automatically.
Tap on the Install button to sign and install.
Links provided by popular 3rd party app stores can install the jailbreak app without a PC or Mac. The problem with using this method is that the IPA file is signed with a globally available certificate mostly used to pirate apps and games available in the official App Store.
Therefore Apple is revoking those certificates and apps will not install. As result, the unc0ver app will stop working on your device. But when the web links are working, re-sign the unc0ver app with ReProvision Reborn or use one of the available unc0ver permanent sign options.
What's new
Updated unc0ver to version 8.0.2.
Added iOS 14.6 - iOS 14.8 support for A12 - A13 iPhones.
Bug fixes for iOS 14.
Built-in Fugu14 support with AltStore.
Added iOS 14.4 - iOS 14.5.1 support for A12-A14 devices with Fugu14.
Added a new safety feature.
Fixes support for removing leftover files from a different jailbreak.
Major stability and reliability improvements to iOS 14 support.
Add support for iOS 12.4.9 - iOS 12.5.1, iOS 13.5.1 - iOS 13.7 and iOS 14.0 - iOS 14.3.
Fix support for removing leftover files from RootLessJB.
Add iOS 12.3 - iOS 12.3.1 and iOS 12.4.1 - iOS 12.4.8 (Latest versions) support for iPhone 5S, iPhone 6 and iPad Air 1 models with high exploit reliability.
Post a comment