TutuApp App Store for PC with IPA signing feature

qbap |
Research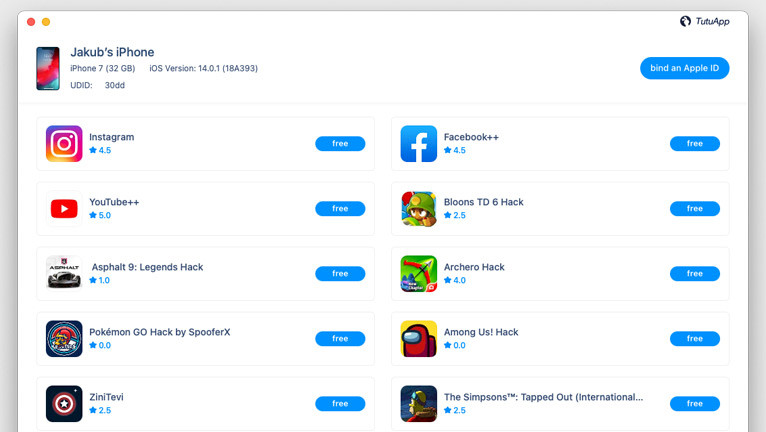 When most of the 3rd-party App Stores are dead pretending to work on signing apps others are creating interesting alternatives that simply work. Popular TutuApp App Store released a Mac software allowing you to sign and sideload apps manually.
Download TutuApp for PC
What is TutuApp App?
TutuApp for iOS is a very popular third-party service allowing you to install apps and games not available in the official App Store. It uses public certificates to install apps directly on your device without the need to own a computer, but the certificates get often revoked by Apple.
Because most of the time all 3rd-party App Stores are facing issues with getting new certificates developers behind TutuApp created a new solution to install tweaked apps and hacked games on your iDevice. It's based on AltStore and it requires a computer.
TutuApp for Mac allows you to download IPA files for popular apps and game hacks and sign them with a free and private certificate connected with your Apple ID. This way you can install up to three apps without revokes. They will work on your device for 7-days.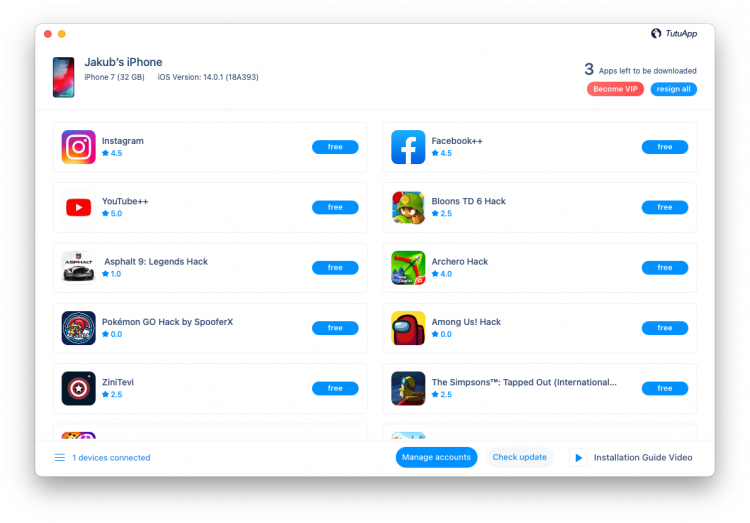 The main interface is really well designed. TutuApp displays your iPhone model, installed iOS version, and device UDID. All available options can also be accessible from the main screen including blinding Apple ID, checking for updates, viewing free slots, managing accounts & devices, viewing available apps, and launching an installation video guide.
As for now, the TutuApp for PC was released only for macOS but as the developer mentioned on their website that a Windows version is under development. TutuApp for PC offers access only to 16 apps that you can download and sideload on your iPhone. There is no option to install your own IPA files, but if this is the case for you try Sideloadly, the IPA installer.
So what can you install with the free TutuApp App Store for PC?
TutuApp provided access to popular ++ apps like Instagram++, ZiniTevi, Facebook++, YouTube++, PPSSPP, and game hacks such as Bloons TD 6 Hack, Asphalt 9 Hack, Archero Hack, Pokemon GO Hack by SpooferX, The Simpsons Hack, Subway Surfers Hack, SimCity Hack, Plants vs Zombies 2 Hack, Need for Speed Hack, Injustice 2 Hack, and GTA SA Hack.
The application supports multiple Apple ID accounts and iDevices. This is handy because when you are using a free certificate it's required to resing all installed apps after 7-days. What's more, you can switch quickly between accounts without providing all data. TutuApp IPA Installer can resign all apps automatically by recognizing your iPhone.
It's recommended to create a new Apple ID to enable the signing feature and avoid using your personal Apple account. Of course, if you like, you can provide also your main account to sign ++ apps and hacked iOS games from your computer.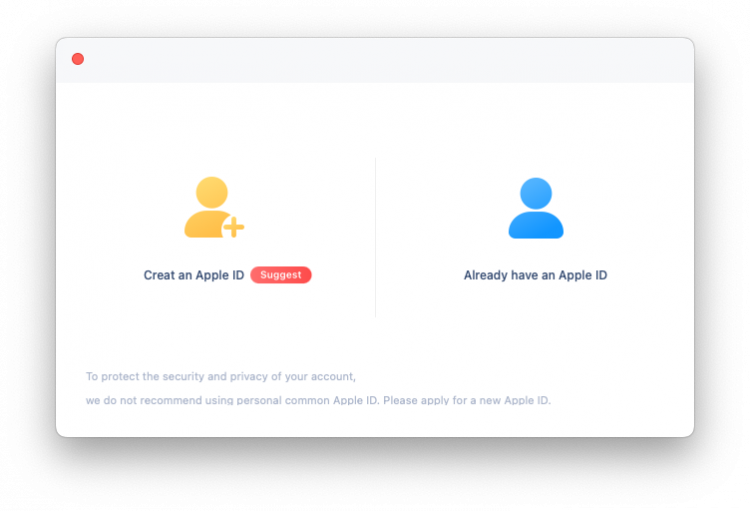 TutuApp App Store for PC requires you to connect your device to the computer each time you like to install new game hacks or resign already installed apps. There is no Wi-Fi sync support implemented. On top of that, TutuApp comes also with an updated module to download the latest version of the app. The developer provides support for devices running iOS 12.0 or later.
Like TutuApp Store for iOS, also the PC version offers an option to buy a TuTuApp VIP membership allowing you to use a paid certificate that will be valid for 1 year. This certificate can also get revoked but for $23 you get 7 revoked fixing times within one year of purchase. If the number of revoked fixing reaches the upper limit or the time expires, you need to re-purchase.
The latest version of TutuApp for PC is 1.0.1 (20220301).
If you are running a device without jailbreak you can try the TrollStore app. It uses the CoreTrust bypass bug to install permanently apps on stock iOS and it doesn't require a jailbroken environment. It works on iOS 14.0 up to iOS 14.8.1 and iOS 15 up to iOS 15.1.1.
Install apps through TutuApp for PC
To install ++ apps and popular game hacks it's required to login into your Apple ID to get the free certificate to sign IPA files. Once you will add your account the installation process of ++ apps and game hacks is uncomplicated and easy to do or understand.
Open TutuApp from the installation folder.
Connect your iPhone to your PC with a USB cable.
Unlock your iDevice and trust this computer when the pop-up prompt.
Click on the bind Apple ID button.
Provide your Apple ID and password.
Click on the free button next to the app or game you like to install.
TutuApp will now download, sign, and sideload the app.
Once completed, the app will be added to the Home Screen.
Open the Settings app and navigate to General → VPN & Device Management.
Click on the developer app with your e-mail.
Tap on Trust to allow the application to run.
If you can't connect to your iPhone or iPad be sure to unlock your device and trust the computer. It is also recommended to use a oryginal data cable certified by MIFI.
TutuApp for iOS
TutuApp was originally released as a native iOS app offering access to thousands of tweaks, hacks, ++ apps, hacked games, and more. The app was used to install signed versions of apps directly on your iDevice without the need to use a computer.
Like all other third-party App Stores also TutuApp for iOS used a globally available certificate to sign all apps. Those certificates don't last long because Apple is revoking all apps installed by bypassing the official iOS Store. Today TutuApp for iOS is available only as a paid service.
To view what kind of tweaked apps and game hacks are released in the TutuApp for iOS you can open the Lite version in the Safari browser. From here you can view all available apps and games in related categories. There is also a search engine included to find desired packages.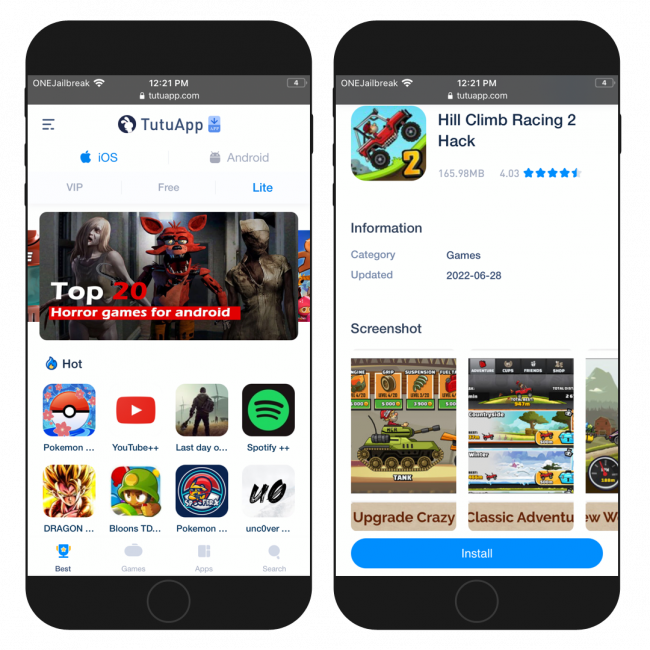 The native TutuApp for iOS can be installed on your device only after buying the TutuApp VIP membership. Be aware even that though this is a paid edition it may get revoked by Apple making it impossible to install or use already installed apps and games. There is no guarantee.
TutuApp for iOS gets also often a remote service error making the app not work correctly. To fix the TutuApp remote service error you need to wait until the developer fixes the issue. It's possible to fix the error by yourself. The remote service error can also happen on Android.
The third-party App Store offers access not only to the game hacks enabling features like unlimited life, coins, unlocking items, or popular ++ apps disabling ads and activating premium features for free, but also jailbreak tools and apps not released in the iOS App Store.
A great TutuApp for iOS alternative would be the Panda Helper Lite app for iOS that can run also without revokes on jailbroken devices or iOSGods App Store with the biggest game hack library available for iOS. Both are released as free apps with an optional upgrade to VIP.
What's new
Updated the IPA signing tool to 1.0.1.
Minor bug fixes.
Added support to manage multiple accounts.
The initial release of TutuApp for PC.
Post a comment