Panda Helper Lite

qbap |
iOS Apps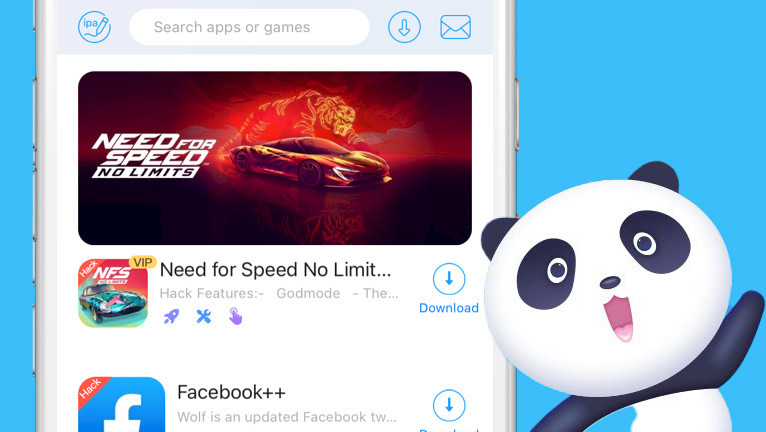 There are a lot of 3rd-party app stores for iOS offering access to apps and games, but all of them are useless due to the leak of certificates to sign IPA files. Panda Helper Lite stands out by offering more including new tools and a revoke-free jailbreak version.
Install Panda Helper Lite or Panda Helper Jailbreak on iOS
What is Panda Helper Lite?
Panda Helper Lite is an App Store alternative offering access to apps, games, and tweaks not available in the stock store. It is used mostly to install game hacks, jailbreak tools, and so-called ++ apps offering hacks (like removing ads and adding new features) to popular iOS apps.
As with all other 3rd-party stores also Panda Helper Lite uses an Enterprise Certificate to sign and install apps on iOS devices. If you are not jailbroken there is a big chance that you can't install any apps because the certificate was revoked by Apple and it's not working.
When the developer signs IPA files with a new certificate it takes a few hours to make all installed apps stop working. New certificates are released maybe once a month. Back in past, the certificates last for a few months without revokes. Now it's impossible to install apps.
Panda Helper Lite can't be revoked because it's a website in form of a web clip, but Panda Helper Jailbreak works only in a jailbroken environment. The upside of the Jailbreak version is that all apps will work without revokes before returning to stock iOS.
Panda Helper is more than just a not working store with apps and games. Time changes and the store allows you to download IPA files that can be installed with Desktop tools like AltStore or Sideloadly. When you don't own a computer there is also a revoke-free jailbreak version.
What's more, Panda Helper Free comes with a built-in download manager allowing you to manage all apps and games, and a Clean Junk module to remove useless files taking space on your iPhone. The store offers also access to cracked games and paid apps for free.
Panda Helper Lite database is massive offering all apps or games released for iOS that you can think of. There are also the most wanted hacks like Spotify++, Facebook++, Instagram++, TikTok++, Cercube, YouTube uYou, and emulators PPSSPP, RetroArch, or Delta Emulator.
Using the store is very intuitive. Use the search bar to find all apps, games, and the latest hacks. Moreover, Panda Lite displays a list of updated games, apps, and featured applications. Every app comes with its own description including screenshots and system requirements.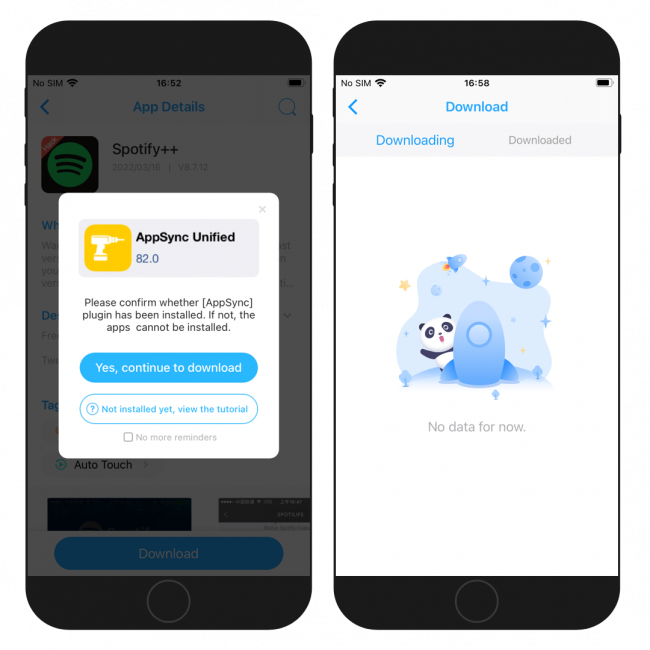 On a jailbroken device you can install the app through a web link available on top of this page or via the official pandahelper repository. Panda Helper Jailbreak requires you to install AppSync Unified tweak to ​​​​​​install apps without revokes. It works on all jailbroken iOS 10 - iOS 14 devices.
Once the Panda Helper Jailbreak version is installed, it will automatically restore all revoked apps on your iPhone or iPad. Alternatively, try to use one of the Anti-Revoke tweaks for iOS to ignore the status verification of the enterprise certificate or bypass the expiration of installed apps.
When you will update Panda Helper Free to paid VIP edition additional features are available with potentially working certificates for non-jailbreak users. PandaHelper Lite team provides apps like App Signer, Auto Touch, Cloner, Cloud Save, Auto Clicker, Cheat Engine, and Save Data.
App Signer can install IPA files directly on your iPhone, Cloner allows you to run multiple instances of an app on one device, and Cheat Engine can modify games money, HP, SP values, and Save Data to save the game locally and restore all data when needed (ex. after revoke).
All those features are available exclusively to VIP members after purchasing Panda's VIP. The latest version of iOS 16 Beta is not supported by the 3rd-party App Store. The developers stand that this situation will change and they are working to fix this issue as soon as possible.
Panda Helper Lite is not the only store available. Alternatively, you can try App Stores created by different developers including AppCake, BunnyInject, FlekSt0re, Scarlet, CokernutX, and others.
Panda Helper Lite vs Panda Helper
The difference between Panda Helper and Panda Lite is that the 1st one is a native app and the 2nd one is a web clip. Panda Helper is revoked and it's almost impossible to install the app on non-jailbroken devices. On the other hand, the Lite version is a website that works all the time.
When Panda Helper Lite works, all apps installed through the platform can and are most of the time revoked by Apple. It means that you will be not able to download or open any app installed through Lite on your device. However, Panda Helper Jailbreak can be installed on jailbroken devices without revoking. What's more, all apps installed through PandaHelper will also be revoke-proof at least before returning to stock iOS.
Panda Helper as a native app as you know is no longer available for download. Apple did everything in its power to cut off all third-party App Store from iOS. European Commission is looking into that and it may happen that Apple will be forced to allow 3rd-party app stores to work. Before it happens there are no free alternatives besides the Panda Helper for Jailbreak.
Panda Helper Jailbreak
Panda Helper Jailbreak can be downloaded through the official repository on any jailbroken device. Add the official Panda Repo to Cydia Sources and install the app. This repository includes also the required AppSync Unified and Apple File Conduit 2 for quick access.
Add Panda Helper Jailbreak Repo to your package manager.
Switch to the Sources tab in the Cydia app.
Tap on Edit → Add the http://apt.pandahelp.vip Repo URL.
Find the PandaHelper package and install it on your device.
Cydia will ask you to respring the device. Accept the request.
PandaHelper Repo+ will be available from the Home Screen.
From now on all apps installed through Panda Helper Jailbreak will not get revoked. Please be aware that when you lose the jailbreak all apps including the store will stop opening.
Panda Helper Repo Packages
PandaHelper
AppSync Unified for A12
Apple File Conduit 2
Debian Packager
TweakManager
AppSync Unified
Latest Apps
Picture Mushroom Hack
WhatsApp++ Watusi 3
WhatsApp Business++
TikTok++ DLEasy
Youtube++ Cercube
Facebook++
Twitch++
Sago Mini World Hack
Streamer iOS
IMVU: 3D Avatar Creator & Chat
iTorrent
GIF Maker by Momento Hack
Instagram Rocket
iSigner
Twitter++
Twitch Toolbox
LikeeLRD
Post a comment