GBox IPA: Apps Signer for iOS

qbap |
IPA Files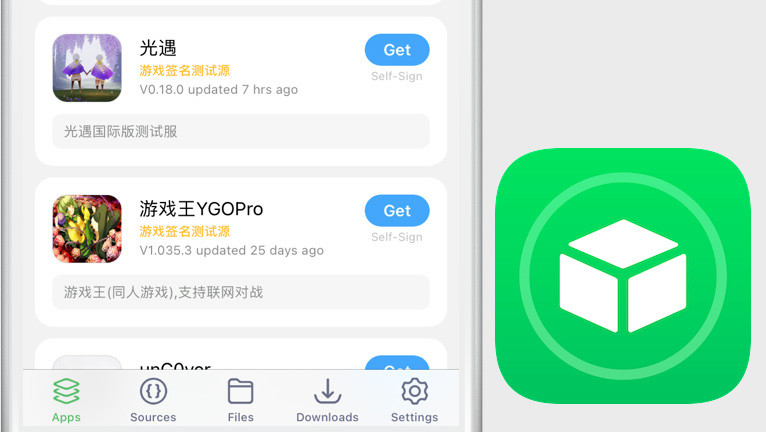 If you jailbreak your iOS device, you won't have to worry about app revokes or signing IPA files. However, if you prefer a non-jailbroken environment, you can use GBox, which is a reliable on-device re-sign tool for iOS. This app allows you to install IPA files without needing a PC, making it a convenient option for users who want to sideload apps.
Install GBox IPA on your iPhone:
Install GBox TS without a computer:
What is GBox?
GBox (GBox Run) is a powerful on-device IPA signing tool that empowers iOS users to sideload jailbreak tools, apps, games, console emulators, and tweaked apps on their iPhone or iPad, without requiring a computer. With GBox Run, you can easily import your own signing certificates or purchase globally available ones to sign and install IPA files.
This tool works on both jailbroken and non-jailbroken devices. GBox for iOS is an alternative to Cydia Impactor that works directly on your iPhone, supporting iOS versions 10 through the latest iOS 16 release. Once GBox IPA is installed, the app will be available from your Home Screen, allowing you to install almost all IPA files, including those over 500 MB in size.
GBox for iOS eliminates the need to use a computer, making the IPA installation process more convenient and streamlined. Moreover, GBox can import your own IPA files from any app, or access sources with links to popular jailbreak tools like XinaA15, unc0ver, Odyssey, and various console emulators such as Delta, RetroArch, Happy Chick, DolphiniOS, PPSSPP, and iNDS.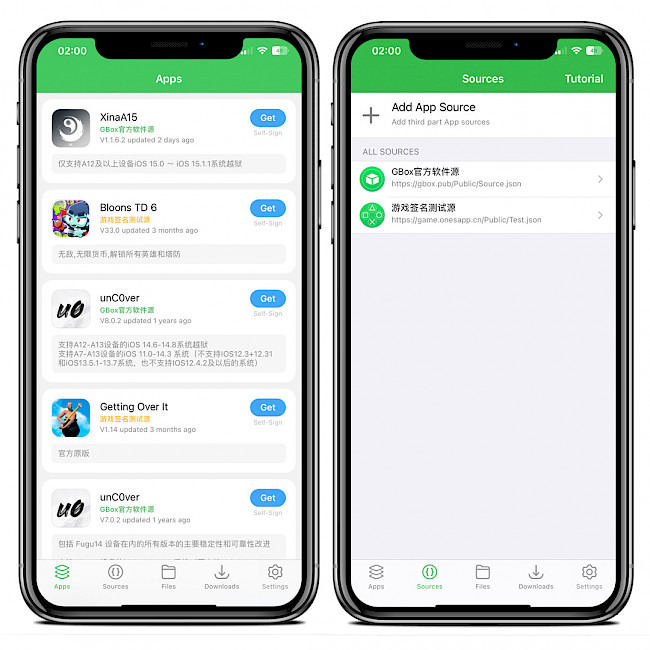 This feature provides an efficient way to manage and access your IPA files and jailbreak tools all in one location, eliminating the need to navigate through multiple sources or applications. The app also includes a list of popular iOS games, and all files are available for self-signing. However, it should be noted that without a purchased certificate, you won't be able to install IPA files.
GBox for iOS enables users to easily create their own sources with download links to popular IPA files for quick and easy access. The app also includes a download manager that allows you to quickly download any IPA packages by providing a URL to the file and a web server useful to transfer IPA files between devices. GBox also works on iOS 15 XinaA15 and Palera1n jailbreaks.
Additionally, GBox supports Anti-Revoke tweaks, which allows you to install apps and games by disabling certificate revokes check on your jailbroken device, providing a secure experience.
By default, GBox for iOS installs a globally available enterprise certificate to sign IPA files. However, as these certificates are commonly used by pirated third-party App Stores, they are often revoked by Apple, making them impossible to use. Typically, these free certificates only work for a few days. Purchased certificates can last for a couple of weeks or months.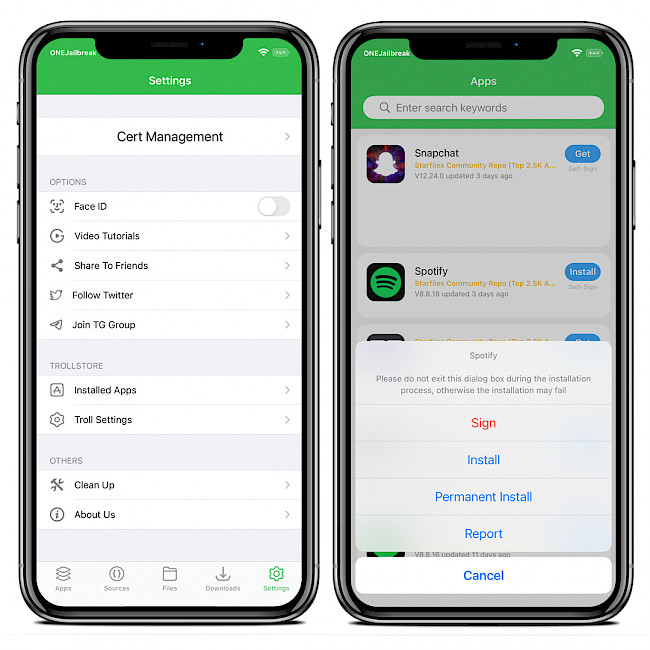 GBox uses a p12 certificate and mobileprovision file to install IPA files on your iPhone. To ensure that the certificate is valid, GBox includes a certification management system, which is available through the Settings pane. To access this feature, you must install the UDID profile.
From the Cert Management page, you can view all installed certificates, check their current status, delete and export certificates, purchase working private certificates, and import and use your own certificates to sign and install IPAs. This feature allows you to manage and maintain your certificates, ensuring that you can install and use IPA files with minimal interruption.
Recently GBox has been integrated with Appdb.to, the largest and oldest IPA database. From now on, you can install apps with GBox certificates easily. Simply visit the website configuration page and select "Import from GBox". GBox TS is now available, offering the ability to install IPA files permanently without revokes on iOS 14 through iOS 15.4.1. This version of GBox can be easily installed on your iPhone directly from Safari's mobile browser. With this feature, you can enjoy your favorite apps and tweaks without worrying about them getting revoked.
Tip: Add the official Starfiles Community Repository with access to over 2500 apps, games, and premium apps for GBox: https://repo.starfiles.co/public?gbox
If you're looking for an alternative to GBox, ESign app is a great option. This IPA signing tool for iOS offers advanced features such as the ability to modify IPA files, inject dylibs, and remove restrictions. It's a versatile tool that can help you to install any apps or games on your iPhone. Additionally, it's user-friendly and easy to use, even for those who are not tech-savvy. ESign app is a great alternative for those who are looking for more advanced features than GBox.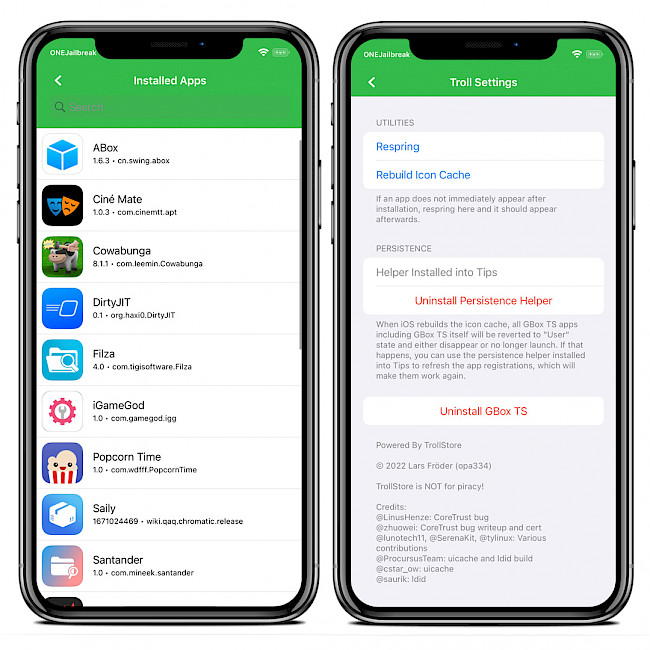 Download GBox IPA
GBox on iOS can be installed using direct weblinks (when not revoked),or by signing and sideloading the IPA file on your device with a proper tool. In the past, the GBox TestFlight link was available making it much easier to install without a PC, but it's not available anymore.
To install GBox IPA on iOS device using Sideloadly, follow these steps:
Download GBox IPA from the link below:

Run Sideloadly application on your PC or Mac.
Connect your iPhone or iPad to the computer via USB.
Load the IPA file into the app to begin the installation process.
Enter your Apple ID to sign the GBox IPA file.
Click the "Start" button to begin sideloading the IPA file onto your device.
When prompted, enter the password for your Apple ID.
On your device, open the Settings app from the Home Screen.
Navigate to "General" → "VPN & Device Management".
Click on the developer app associated with your email.
Tap "Trust" to allow the app to run.
Note: If you don't have a developer certificate, you can use your free Apple account to sign and install GBox IPA and use it for up to 7 days before it needs to be re-signed. What's more, you can sideload the IPA also with TrollStore on iOS 14 – iOS 15.4.1.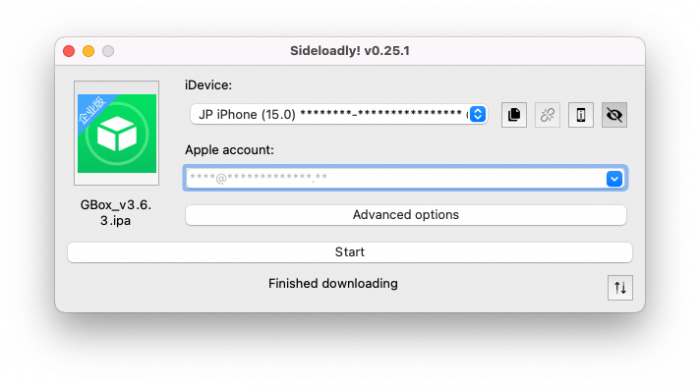 Buy a certificate
GBox offers an in-app store for users to purchase certificates to sign IPA files. One of the options available is the Fast Code, which is priced at $6.9. However, for those who want added protection, the Stable Code and VIP Code options may be more suitable.
The Stable Code is priced at $9.9 and includes a 30-day guarantee. If the certificate is revoked within this timeframe, users can request a new one for free. The VIP Code, priced at $21.9, offers the most comprehensive protection with a 180-day guarantee. If the certificate is revoked within this timeframe, users can also request a new one for free.
All of the certificates purchased through GBox PUB are bound to the user's device UDID and cannot be installed on other devices. It's advisable to purchase the certificate from GBox Pub for the on-device signing tool and import the certificate to the app.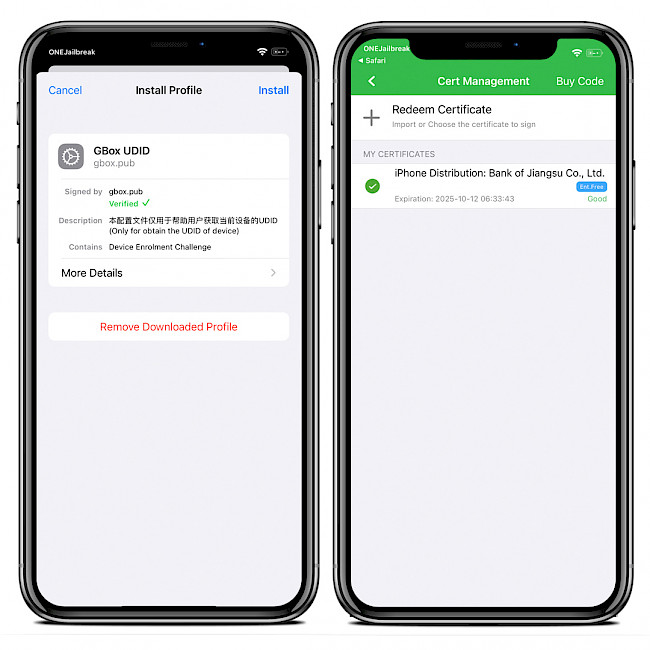 How to sign IPA with GBox
Installing IPA files on your device using GBox is a simple process, but it does require some preparation. Follow these steps to install the UDID profile, manage signing certificates, and install IPA packages. Remember first to import or purchase a working certificate.
Open GBox from the Home Screen and switch to the Settings tab.
Install the new UDID profile when prompted.
Go to the device's Settings app.
Navigate to General → VPN & Device Management.
Trust the newly installed UDID profile.
Return to GBox and open the Files tab.
Import the IPA file you wish to sign and install.
Tap on the file and select the option to "Sign" it.
After the file is signed, tap "Install Signed App" to complete the installation.
What's new
Updated GBox TS powered by TrollStore to version 4.3.1.
Added signature configuration, which needs to be enabled in advanced debugging mode in Box settings.
Optimized certificate management module and removed the purchase entrance for redemption codes.
Added website source function (copy website link to add to software source).
Added file download function in source.
Added intelligent background task mode switch.
Added function to repair enterprise certificates (only applicable to iOS 14.0-15.7.1 and 16.0-16.1.2).
Added permanent installation option.
Updated GBox to version 3.8.3.
Added support for iOS 16.
Now can be used on devices running the latest version of iOS 15.
A number of common bugs have been resolved.
GBox is now available in English.
Included video tutorials that demonstrate how to use the app.
Post a comment