GBox for iOS

qbap |
iOS Apps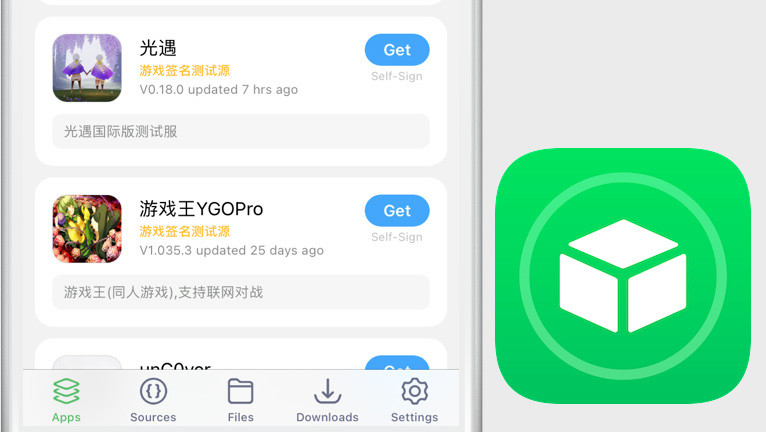 When you will jailbreak your device there is no need to think about app revokes or signing IPA files. On the other hand, when you run a non-jailbreak environment GBox can be the only working on-device re-sign tool for iOS to install IPA package without a computer.
Download Gbox IPA for iOS
What is GBox?
GBox is an on-device IPA signing tool to install jailbreak tools, apps, games, and tweaked apps on your iPhone or iPad without using a PC. With this iOS app, you can import your own signing certificates or use globally available ones to sign and install IPA files. No jailbreak is required.
Basically, this is a Cydia Impactor alternative with support for iOS 10 up to iOS 15 that works directly on your device. Once installed, GBox for iOS will be available from the Home Screen. It allows you to install almost all IPA files including those big ones with over 500 MB.
Import your own IPA files to GBox on iOS from any application or import the built-in sources to quickly access links to popular jailbreak tools like unc0ver, Taurine, Odyssey, and various console emulators such as Delta, RetroArch, Happy Chick, DolphiniOS, PPSSPP, and iNDS.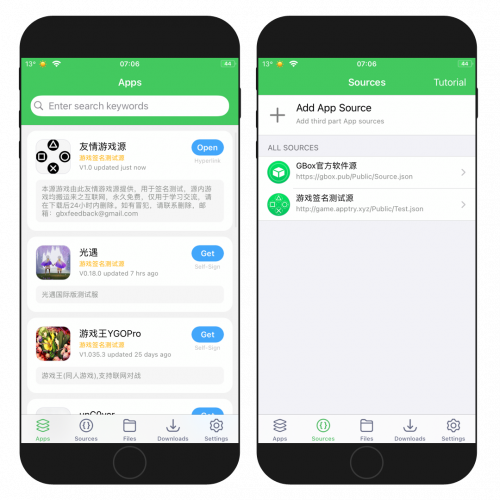 The list of apps contains also some popular iOS games. All files are available for self-signing. It means that without a working certificate you can't install the IPA packages without a jailbreak.
Users can easily create their own GBox sources with download links to popular IPA files for quick access. The app is packed also with a download manager allowing you to quickly download any IPA packages by providing a URL to the file and a webserver to transfer files between devices.
GBox works on both jailbroken and non-jailbreak devices running iOS 10, iOS 11, iOS 12, iOS 13, iOS 14, and iOS 15. On top of that, it supports Anti-Revoke tweaks allowing you to install apps and games by disabling certificate revokes check on your jailbroken device.
If for some reason you think that this app is not right for you I would suggest instead using ​​​​ESign app. This IPA signing tool for iOS is a great alternative for GBox and it's packed with some more advanced features such as an option to modify the IPA, inject dylib, remove restrictions, etc.
Certificate
By default, GBox for iOS installs a globally available enterprise certificate to sign IPA files. This certificate is mostly used by pirated third-party App Stores and therefore it's often revoked by Apple making it impossible to use. Usually, those free certificates work for a few days.
GBox uses a p12 certificate and mobileprovision file to install IPA files on your iPhone or iPad. To be aware of the actual certificate status GBox is packed with a certification management system available through the Settings pane. To access this feature you must install the UDID profile.
From the Cert Management page, you can view all installed certificates and check the actual status of a certificate if it works or is revoked, delete and export certificates, buy working private certificates, and import and use your own certificates to sign and install IPAs.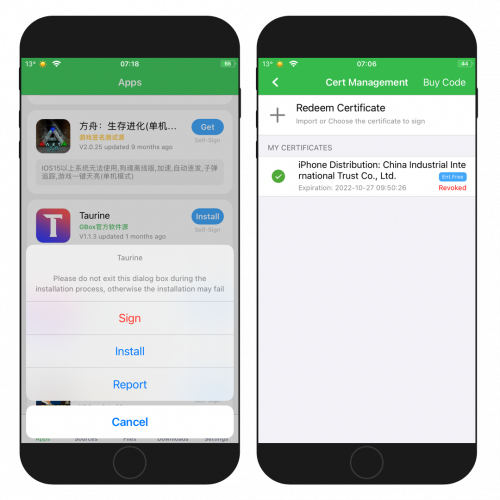 Install GBox on iOS
GBox on iOS can be installed using direct weblinks (when not revoked),or by signing and sideloading the IPA file on your device with a proper tool. In the past, the GBox TestFlight link was available making it much easier to install without a PC but it's not available anymore.
The latest version of GBox for iOS is 3.6.7 released on 20 Jun 2022.
Sign and install GBox IPA file
GBox can be installed on all supported iOS devices using Sideloadly, the best working Cydia Impactor alternative. For purpose of this article, we will use Sideloadly as the IPA installation tool. It works on macOS and Windows. Linux users can try instead AltStore.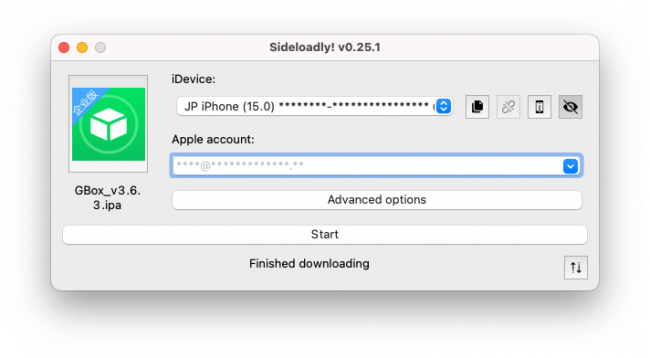 Step 1. Download GBox IPA (link available on top of this page).
Step 2. Open the Sideloadly application on Windows or macOS.
Step 3. Connect your iPhone / iPad to the computer via USB.
Step 4. Click on the IPA icon to select the app to install.
Step 5. Enter your Apple ID to sign the IPA file.
Step 6. Click the Start button to install the IPA file on your device.
Step 7. Provide the password for your Apple ID.
To make this process even easier we included on top of this page quick URL links allowing you to download, sign and install the GBox IPA file with just one click through your favorite tools such as Sideloadly, ReProvision, or AltStore. Because GBox IPA was signed by your own certificate it's required to trust it to open the app on your device.
Step 8. Open the Settings app from the home screen.
Step 9. Navigate to General → VPN & Device Management.
Step 10. Click on the developer app with your e-mail.
Step 11. Tap on Trust to allow the application to run.
Install GBox iOS without a computer
GBox for iOS can be also installed on your iPhone or iPad using direct web links. If you don't own a computer you can try to install it using direct links without the need to use a PC. It uses a public certificate to sign the app and it's often revoked by Apple disallowing to install GBox.
Install Gbox iOS without a computer
Step 1. Tap on Install GBox iOS from the Safari browser.
Step 2. Tap Install on the message prompt "would like to install GBox".
Step 3. YouTube app Icon will appear on your Home Screen.
Step 4. Navigate to Settings → General → Device Management.
Step 5. Find the newly installed Enterprise App Certificate and trust it.
Step 6. Run the GBox app from Home Screen.
When the installation goes well, it's also required to trust the newly added certificate from the Settings app. Follow the instruction from the previous installation guide, starting from Step 8.
How to sign IPA with GBox
Signing IPA files on your device using BGox is easy but it requires a small preparation. This is how to install the UDID profile to manage signing certificates and install IPA packages.
Open GBox from Home Screen and switch to the Settings tab.
Install the new UDID profile when prompted.
Open the Settings app and navigate to General → VPN & Device Management.
Trust the newly installed profile.
Open GBox on the Files tab and import an IPA file.
Tap on the file and select from the menu Sign.
Once the file is signed, tap on Install Signed App.
Buy a certificate
GBox comes with a store allowing you to buy certificates (three different prices) to sign IPA files: Fast Code $6.9, Stable Code $9.9, and VIP Code $19.9. The two more expensive ones come with a guarantee to get a new certificate for free when the cert gets revoked.
Installed certificates are bounded with your device's UDID and can't be installed on other devices. Stable Code has a guarantee of running for 30 days, and a VIP Code for 180 days. Buy Certificate for the on-device signing tool and import the certificate to the app.
What's new
Updated GBox to version 3.6.7.
Added support for iOS 15.
Fixed common bugs.
Added English translation.
Included video tutorials on how to use the app.
Post a comment