checkra1n Jailbreak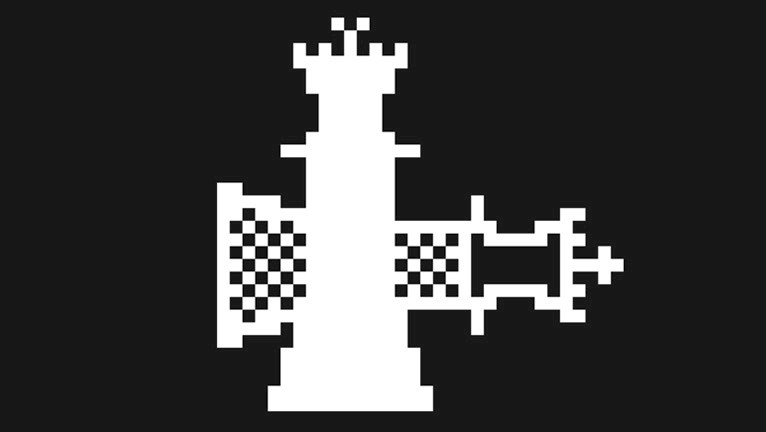 checkra1n jailbreak stands out as a widely acclaimed tool for installing tweaks on Apple devices, spanning from the iPhone 5 to the iPhone X (A5-A11). This powerful tool capitalizes on the unpatchable checkm8 exploit, offering compatibility with all devices across the iOS spectrum, beginning from iOS 12 and extending to iOS 17. Moreover, the inherent versatility of the checkm8 iOS exploit ensures the ability to jailbreak Apple devices across every future iOS release. checkra1n supports iOS 12 – iOS 14.
checkra1n download
What is checkra1n?
Checkra1n, a versatile jailbreak tool, has been made available for macOS and Linux platforms. Although a Windows version was announced in 2020, it never materialized and seems unlikely to be released. However, the torchbearer of Checkra1n, Palera1n, emerged with support for iOS 15 to iOS 17. Checkra1n itself is capable of jailbreaking iPhones from the 5s to the X, operating on iOS versions from 12.0 all the way up to 14.8.1, excluding support for iOS 15.
checkm8 exploit developed by axi0mX is the main engine behind checkra1n jailbreak. The exciting part about this permanent unpatchable bootrom exploit is potentially ensured lifetime jailbreak ability for A5-A11 devices. It means every future iOS release should be vulnerable.
axi0mX exploit was released as an open-source project on GitHub. Therefore, checkm8 is used as a tool to bypass iCloud activation, extract the iPSW components decryption keys, activate dual-booting (running Android on iPhone), downgrade iOS, set nonce, or dump SecureROM. Notably, it continues to play a pivotal role in the latest iOS 16 jailbreak and iOS 17 jailbreak.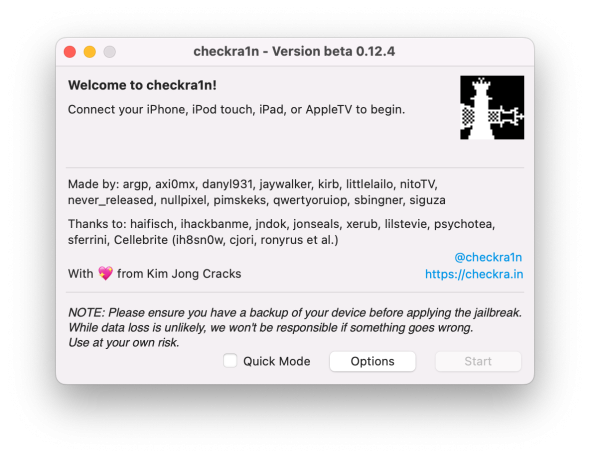 checkra1n jailbreak is a desktop application that requires you to connect your iPhone, iPad, or Apple TV via a USB cable to proceed with the jailbreak. This is the only way to exploit your device and install tweaks. On mobile devices, the tool sideloads a Loader app that allows you to install Cydia and access this way thousands of tweaks and apps.
Support for other package managers was promised but never delivered by checkra1n team. There is an additional tool Betelguese for macOS to install Odysseyra1n bootstrap, libhooker, and Procursus libraries, allowing you to run Sileo (Preinstalled), Zebra, Cydia, or Installer. Odysseyra1n is another unofficial solution to get Sileo running on checkra1n.
The Loader app can also be used to Restore the System. When you click on this option, the app will remove all checkra1n jailbreak files and other changes applied to the operating system, without erasing data. After reboot, your system will be restored.
Be aware that USB-C Lightning cables shipped with an iPhone box seem to be physically unable to be used to enter DFU mode required to jailbreak. Instead, try a USB-A cable or maybe third-party cables could also have a higher likelihood of working with checkra1n.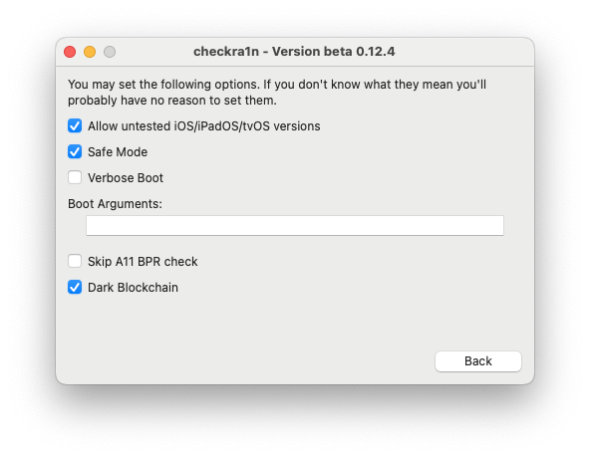 The jailbreak uses Substrate, the powerful code injection library behind Cydia. Substrate allows developers to easily modify the system to create tweaks, hacks, libraries, and apps.
checkra1n jailbreak can be executed from the terminal and run in a GUI. The graphic interface is more user-friendly but with the command line, you can jailbreak also not supported releases of iOS, iPadOS, and tvOS. This feature hasn't worked since iOS 15 release. From the jailbreak settings, you can also force safe mode, skip A11 BPR check, and enable Dark Blockchain.
What's more, checkrain installs an SSH server on port 44 on localhost only. You can expose it on your local machine using iproxy via USB. Freely switch between the unc0ver jailbreak and checkrain without losing your tweaks as long as you initially jailbroke with uncover.
This excellent jailbreak for iOS is still in beta. The latest release is numbered 0.12.4. There are some additional configuration options. You can activate Dark Blockchain, Skip A11 BPR check, Verbose Boot, Safe mode, and allow untested iOS/iPadOS/tvOS versions.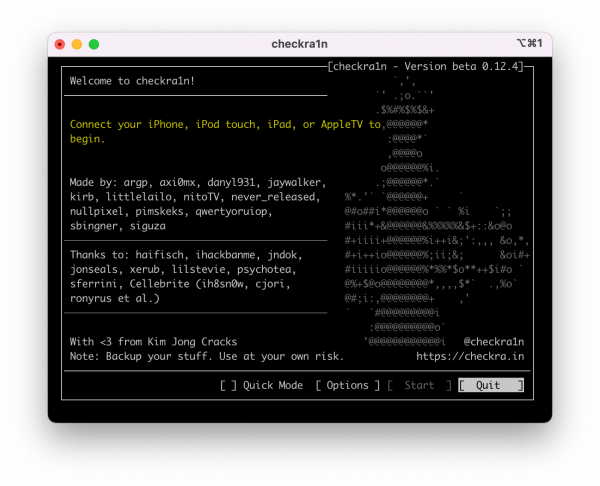 Because checkm8 exploit has limitations, the latest devices are not supported and never will.
For that reason, checkra1n jailbreak will not work with iPhone 15, iPhone 14, iPhone 13 Mini, iPhone 13, iPhone 13 Pro, iPhone 13 Pro Max, iPhone 12, iPhone 12 Pro, iPhone 12 Mini, iPhone 12 Pro Max iPhone 11 Pro, iPhone 11, iPhone 11 Pro Max, iPhone XR, iPhone XS Max, and iPhone XS.
checkra1n was announced as an open-source project, but the code was never released to the public. Instead, pongoOS was released, which is a pre-boot execution environment for Apple boards built on top of checkra1n. The project is still under development on the GitHub Repo. The only official and legit website for the jailbreaks is checkra.in. All other domains are fake.
With the release of pongoOS checkra1n team published also the source code of checkra1n kernel patchfinder (KPF) and SEP exploit. PongoOS and its components are written 94.6% in C language, and 2.5% in Assembly. Developers can build the project on macOS and Linux.
The project was released under the MIT License. Recent changes were added on 4 Nov 2021.
Supported devices
All A5-A11 systems on a chip are supported by jailbreak. checkra1n compatibility reaches millions of Apple devices. Below you can find the actual list of compatible iPhones and iPads. All iDevices are compatible with iOS 12 all the way to iOS 17, depending on iPhone or iPad model.
| | |
| --- | --- |
| SoC | Device |
| A5 | iPad 2, iPhone 4S, iPad Mini (1st gen) |
| A5X | iPad (3rd gen) |
| A6 | iPhone 5, iPhone 5C |
| A6X | iPad (4th gen) |
| A7 | iPhone 5S, iPad Air, iPad Mini 2, iPad Mini 3 |
| A8 | iPhone 6, iPhone 6 Plus, iPad mini 4 |
| A8X | iPad Air 2 |
| A9 | iPhone 6S, iPhone 6S Plus, iPhone SE, iPad (2017) 5th gen |
| A9X | iPad Pro (12.9 in.) 1st gen, iPad Pro (9.7 in.) |
| A10 | iPhone 7 and iPhone 7 Plus, iPad (2018, 6th gen), iPad (2019, 7th gen) |
| A10X | iPad Pro 10.5" (2017), iPad Pro 12.9" 2nd Gen (2017) |
| A11 | iPhone 8, iPhone 8 Plus, and iPhone |
How to jailbreak iOS with checkra1n
To jailbreak iOS with checkra1n it's required to use a Desktop and a USB-A cable. Firstly, check if your device and iOS version are supported by the latest release of the jailbreak tool. The application looks and works the same on all platforms. Enough talking, let's jailbreak.
Step 1. Download checkra1n, the iOS 12 – iOS 14 jailbreak.
Step 2. Move checkra1n to Applications folder.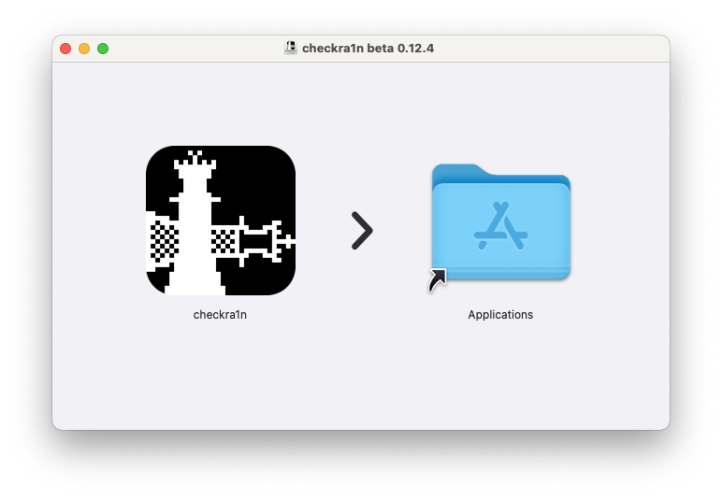 Step 3. Connect your iPhone or iPad to a PC or Mac using a USB-A cable.
Step 4. Click start to jailbreak your device.
Step 5. checkra1n will activate Recovery Mode.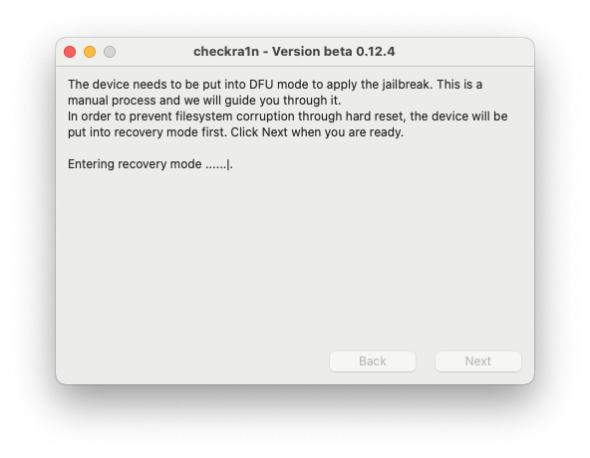 Step 6. Proceed with the onscreen instruction to enter DFU mode.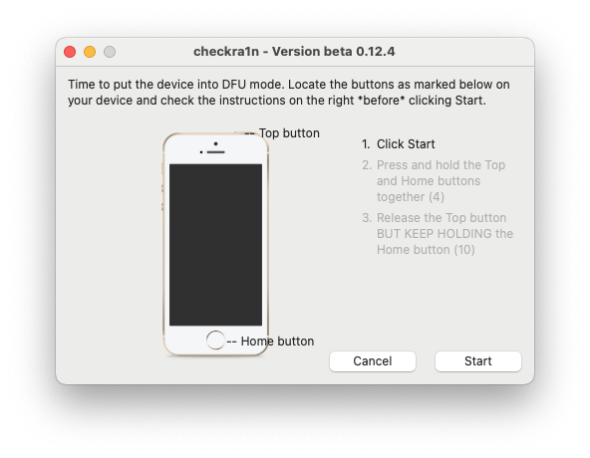 Step 7. checkm8 will exploit the system and boot into jailbreak mode.
Step 8. Open checkra1n Loader app from the Home Screen.
Step 9. Install Cydia app to access tweaks and apps from Repositories.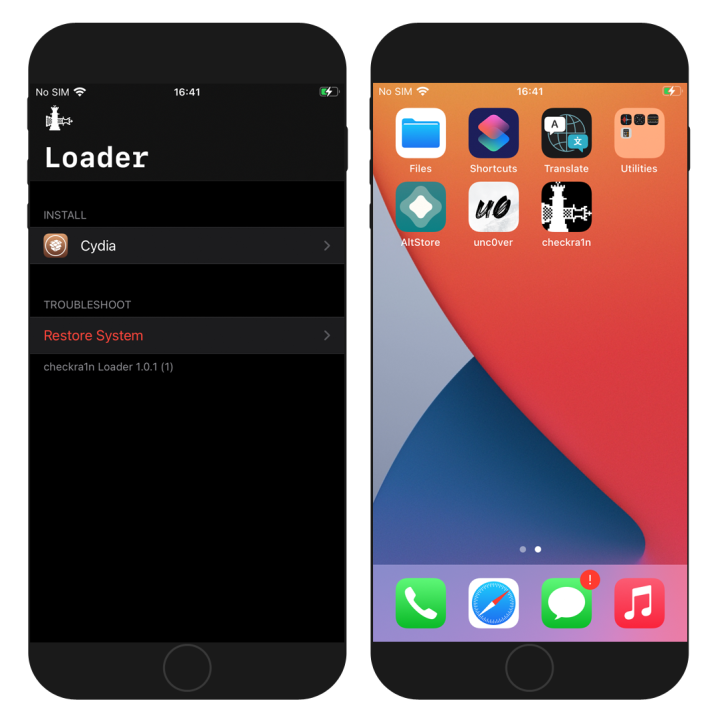 Install Sileo on checkra1n jailbreak
Sileo is a modern Package Manager for iOS 12 and up with a focus on speed. It was designed to provide a real Cydia alternative for jailbroken devices. Using Odysseyn1x you can easily execute the Odysseyra1n script that will remove Cydia and install Sileo on a checkra1n jailbreak.
Step 1. If you're already jailbroken, restore the system using the Loader app.
Step 2. Jailbreak your device using checkra1n.
Step 3. Don't open the Loader app available on the Home Screen.
Step 4. Install Odysseyra1n through Odysseyn1x.
checkra1n for Windows
checkra1n for Windows was never officially released, but there is a workaround allowing you to run the jailbreak tool from a PC. On 16 April 2022, an unofficial checkra1n for Windows app was published with given permission to release it under a different name – iRemovalRa1n.
The Windows version of the chackra1n app was never released due to a lack of proper kernel driver. iRemovalRa1n is a brand-new jailbreak for Windows taking the advantage of the same methods to exploit iOS firmware via USB port by installing UsbDK Runtime Libraries.
Before the native release, the only option to jailbreak from a Windows computer was to use a special Linux distribution that can run from a USB dongle allowing you to access all checkra1n features. Basically, this method allows you also to run checkra1n from Windows.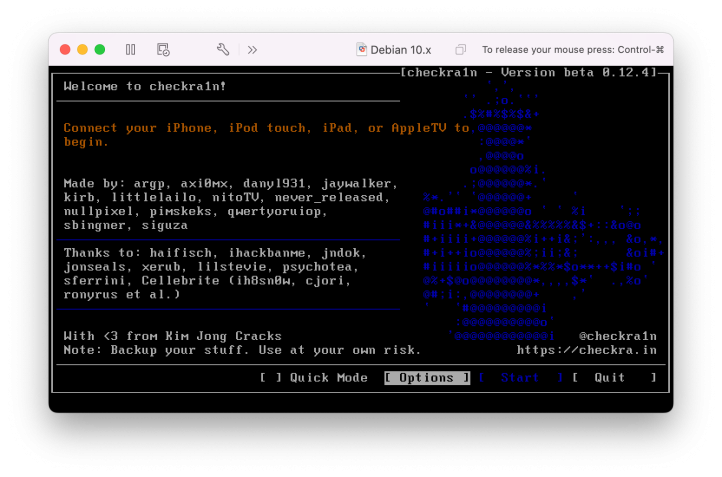 checkn1x is a Linux-based distribution for jailbreaking iOS devices using checkra1n app. You can run the system from a USB drive and jailbreak your iPhone or iPad from a PC. The latest release of checkn1x 1.1.7 (Light image, about 29 MB) is packed with checkra1n 0.12.4.
Install Etcher on your computer (available for Windows, Linux, macOS).
Download checkn1x.iso and load it in Etcher.
Write the ISO to your USB drive.
Reboot and enter your BIOS's boot menu.
Select the USB drive to boot from.
Run checkn1x and click Alt+F2 to open checkra1n for Windows.
checkra1n for iOS 15 – iOS 17
checkra1n jailbreak has not received updates for iOS 15 or iOS 16. Nevertheless, alternative tools, built upon the checkra1n foundation, have emerged to cater to checkm8 devices operating on iOS 15, iOS 16, and iOS 17. Depending on your system, options like palera1n or Winra1n are available. Both solutions necessitate the use of a PC for the jailbreaking process.
Palera1n based on checkra1n
Palera1n jailbreak is built upon checkra1n to extend support to A6-A11 devices running iOS 15 to iOS 17 while facilitating tweak injection. This jailbreak introduces a unique dual capability, empowering users to choose between fakefs-rootful mode and rootless mode during the jailbreaking process. It's crucial to highlight that Palera1n-C in a semi-tethered jailbreak.
Tip: By default, Palera1n installs a rootless environment. However, if you prefer to have full access, you can follow the Palera1n Rootful guide​ for instructions on how to achieve this.
Step 1. Download Palera1n, the iOS 15 – iOS 17 jailbreak tool.
Step 2. Save the file to the Desktop for easy access.
Step 3. Open the terminal app and execute commands.

​​​​​​​sudo chmod +x [drag and drop]/palera1n-macos-universal
sudo xattr -r [drag and drop]/palera1n-macos-universal
sudo xattr -rd com.apple.quarantine [drag and drop]/palera1n-macos-universal
Step 4. Double-click on the palera1n-macos-universal app.
Step 5. Tap on  → System Preferences → Privacy & Security.
Step 6. In the Security section allow palera1n-macos-universal app with "Allow anyway".
Step 7. Open palera1n-macos-universal app in terminal.​​​​​​​
Step 8. Enter DFU mode​​​​​​​ and follow the on-screen instructions.
Step 9. Follow the on-screen instructions.
Step 10. Open Palera1n Loader from the Home Screen and install packages.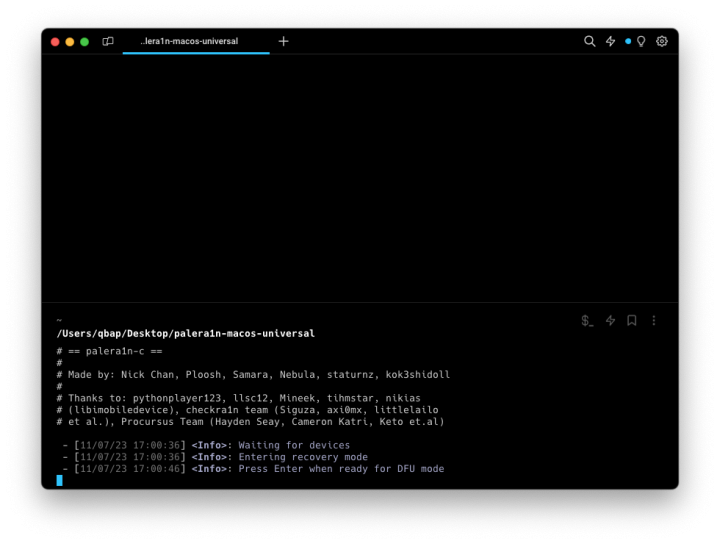 ​​​​​​​
Winra1n based on checkra1n
WinRa1n stands out as one of the favored jailbreak tools among Windows users, providing the capability to jailbreak iOS versions 12 to 14 through the use of checkra1n. Furthermore, for iOS versions 15 to 17, WinRa1n employs palera1n. The iOS 12 to iOS 16 jailbreak utilizes checkra1n versions 0.12.4 and 0.1337.1 as the core engines, facilitating tweak support on iPhones and iPads. This tool is compatible with all checkm8 devices, spanning from A8 to A11.
Step 1. Download WinRa1n, the checkra1n jailbreak for Windows.
Step 2. Click on the green download button and select Download as ZIP.
Step 3. Unzip WinRa1n2.0.zip to Desktop.
Step 4. Install the AppleMobileDeviceSupport64.msi.
Step 5. Restart your Windows PC after completing it.
Step 6. Install UsbDk_1.0.22_x64.msi, the required USB driver.
Step 7. Open WinRa1n1.1exe or WinRa1n2.0.exe.
Step 8. Connect your iPhone to your PC via USB.
Step 9. Select the checkra1n version depending on your iDevice.
Step 10. Click on jailbreak directly from Normal/Recovery/DFU modes.
Step 11. Follow the onscreen instructions to jailbreak.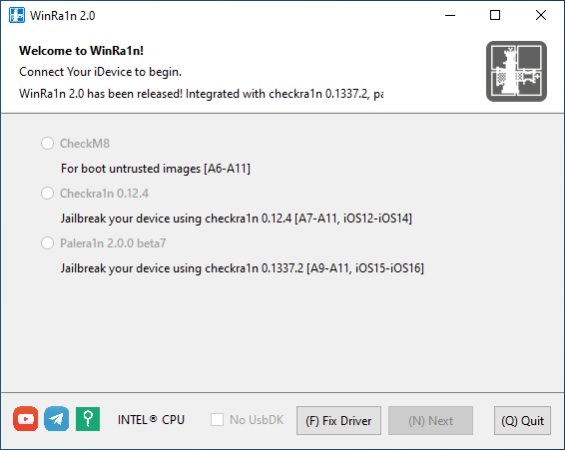 ​​​​​​​
checkra1n iCloud bypass
checkra1n jailbreak, tailored for iOS 12 to iOS 14, has frequently served as a primary means for gaining access to the iPhone file system and circumventing the Activation Lock screen by bypassing iCloud. While the jailbreak doesn't inherently provide this functionality, numerous iCloud Bypass tools have been developed, capitalizing on the checkra1n jailbreak.
Certain free tools leverage Python scripts to carry out commands for iCloud bypass, enabling users to understand the intricacies of these scripts and their operations in the background. As of 2023, many of these solutions remain operational. However, it's important to note that these free tools currently lack support for Signal, rendering them not fully functional.
Supported iPhones
| | |
| --- | --- |
| SoC | Device |
| A9 | iPhone 6S, iPhone 6S Plus, iPhone SE |
| A10 | iPhone 7 and iPhone 7 Plus |
| A11 | iPhone 8, iPhone 8 Plus, and iPhone X |
checkra1n error codes and solutions
Error Code – 5
How to Fix: If using a USB-A cable, switch to a USB-C cable or change USB ports. Quit the checkra1n application, reopen it, or consider restoring your iPhone for a fresh Jailbreak with Checkra1n.
Error Code – 20
How to Fix: Opt for a Lightning to USB-A cable instead of a USB-C to Lightning cable. Consider backing up and restoring iOS with a fresh install.
Error Code – 26 / 31: Exploit Failed
How to Fix: Attempt jailbreaking in safe mode (with tweaks disabled). If unsuccessful, restore root fs and re-jailbreak.
Error Code – 31: Checking if the device is ready
How to Fix: Try using a standard USB-A 3.0 to Lightning cable instead of a USB-C to Lightning cable. Alternatively, change the USB port.
Error Code – 71
How to Fix: Use the (USB Safe) option in the boot menu.
Error Code – 77
How to Fix: Remove your passcode before initiating the jailbreak; you can reinstate it after completion.
Error Code – 78
How to Fix: Exit checkra1n and double-check that you entered sudo checkra1n correctly.
Secure Boot Errors
How to Fix: Disable Secure Boot in your BIOS settings.
Graphics Errors
How to Fix: Utilize the (Graphics Safe) option in the boot menu.
ACPI Errors
How to Fix: In the boot menu, choose RAM mode, press TAB, and add acpi=off nomodeset to the prompt.
Conclusion
In conclusion, as of 2023, the checkra1n Jailbreak remains a potent solution for A6-A11 Apple devices operating on iOS 12 to iOS 14. Given its open-source nature, creative minds within the jailbreak community have leveraged its components to craft innovative tools like palera1n or WinRa1n, extending support to iOS 15 through iOS 17. Unfortunately, iPhones lacking the unpatched checkm8 exploit are not compatible with iOS 17. It's worth noting that this jailbreak method is projected to cease functioning with the release of iOS 18.
Sponsored links
Post a comment