DolphiniOS

qbap |
Emulators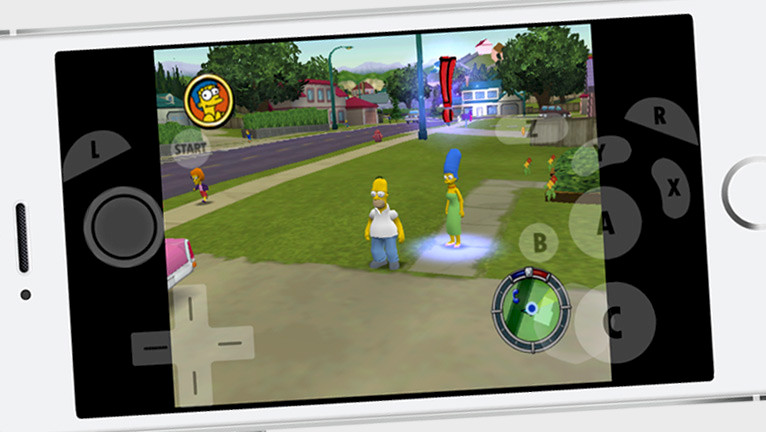 Convert your iPhone or iPad into a mobile console to play GameCube and Wii games. Dolphin emulator for iOS is the best app to play Nintendo's games on iOS devices. DolphiniOScan be installed on both non-jailbroken (also iOS 15) and jailbroken devices.
DolphiniOS IPA Download
What is DolphiniOS?
DolphiniOS is a port of Dolphin Emulator, the popular GameCube and Wii emulator dedicated to iOS devices. Using the Dolphin emulator for iOS, you can play your favorite Nintendo games on your iPhone and iPad. Dolphin iOS works on both non-jailbroken and jailbroken devices.
This Wii and GameCube emulator for iOS supports all kinds of image formats containing games including ELF, DOL, GCM, ISO, TGC, WBFS, CISO, GCZ, WIA, RVZ, WAD, and M3U. DolphiniOS requires at least iOS 12.0. In addition, your device must have an A9 processor or newer.
Because this is an emulator all buttons are displayed on your iPhone screen. DolphiniOS application is based on an open-source Dolphin emulator for Desktop. There is no need to own Nintendo Wii or GameCube consoles. ROM images can be downloaded for free from the Web.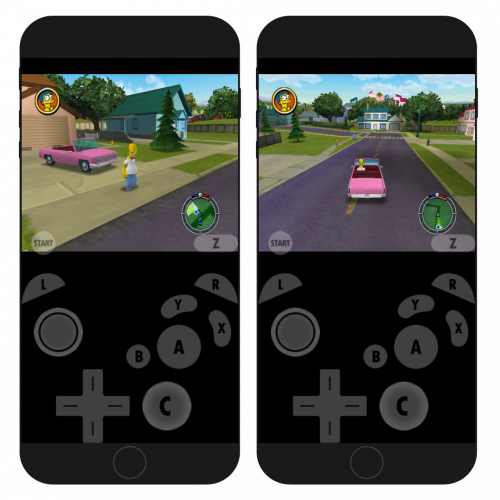 On non-jailbroken devices, the performance of the DolphiniOS app will be 20% - 60% slower versus the jailbroken version because of restrictions put in place by Apple. To speed up things the latest version of the DolphiniOS emulator for iOS adds support for AltJIT technology.
When you will install the DolphiniOS through AltStore there will be an opinion to run the app in JIT mode. Just-In-Time is a native iOS feature to compile the app directly on the device allowing the emulator to run at full speed and performance. JIT works on iOS 14.2 - iOS 15.
Still, the best way to install and use the app on your iPhone or iPad is on a jailbroken device. After jailbreaking iOS using tools like unc0ver or checkra1n and installing the emulator from the official Cydia Source you can play Nintendo games at full speed on your mobile device.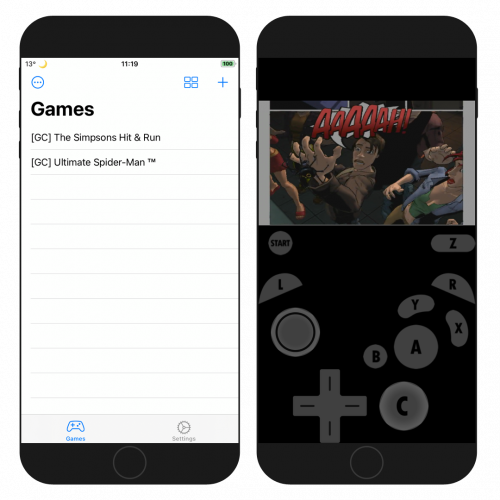 DolphiniOS allows you to play games in portrait or landscape layouts. The first one displays controls on the lower part of the screen, but if you prefer to use a bigger screen then turn to landscape mode to stretch out the image and display overlayed game controls on the screen.
On top of that, DolphiniOS comes with a lot of options to configure from the Settings page. You can choose the backend rendering engine (OpenGL, Vulkan, Software Renderer),change the aspect ratio, show the number of frames rendered per second (FPS),or enable V-Sync.
There are also additional options to control the rendering resolution to improve the visual quality of the game (up to native 5K),enable anisotropic filtering and scaled EFB copy for enhancing textures quality, force 24-bit color, or enable arbitrary minimap detection for some games.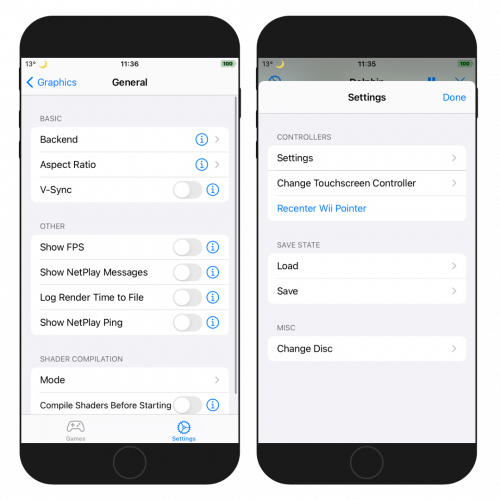 DolphiniOS can also save and load at any point the state of a game, switch between discs, or change the touchscreen controller. It comes also with a built-in cheat engine, and some hacks to improve performance in some games like enabling GPU texture decoding (instead of CPU).
All those options are available through emulators Settings. DolphiniOS is also packed with a few utilities to dump textures, loud custom textures for a game, prefetch custom textures, and dump EFB target / EFB VRAM Copies, enabling progressive scan and backend multithreading.
DolphiniOS doesn't support local multiplayer/netplay, but if you have a NAND dumped from a real Wii console, you can also play online on the unofficial Wiimmfi servers.
With this emulator you can play all kinds of supported games on your iPhone including Paper Mario: The Thousand Year Door, Sonic Colors, F-Zero GX, Super Monkey Ball 1 and 2, Super Mario Sunshine, Super Mario Galaxy, The Legend of Zelda, Mario Kart Wii, and others.
If you like to play GBA or GBC games on your iPhone you can try the free GBA4iOS emulator.
How to download DolphiniOS IPA
DolphiniOS can be downloaded on your iOS device through Cydia or if you are not-jailbroken using AltStore. This app allows you to install DolphiniOS with AltJIT support. With the latest version of AltServer 1.5, DolphiniOS can be installed with a few simple steps.
Step 1. Install AltStore app on your iPhone through AltServer.
Step 2. Open AltStore from Home Screen and switch to the Browse Tab.
Step 3. Tap on the Sources button located in the top right corner of the app.
Step 4. Add OatmealDome's AltStore Source to trusted sources.
Step 5. Once added, the DolphiniOS and DolphiniOS beta will be available on the list.
Step 6. Tap on "DolphiniOS Free" button to install the GameCube / Wii emulator.
Step 7. Open DolphiniOS from the Home Screen and import ROM files.
Repository
Dolphin iOS was released through an official repository. Add the DolphiniOS Repo to your list of Cydia Sources and install the free iOS GameCube and Wii emulator on your device.
Open the Cydia app from the home screen.
Tap Sources → Edit → Add the https://cydia.oatmealdome.me Repo URL.
Search for DolphiniOS package in the newly added repo and install it.
Restart the Springboard when prompted to apply changes.
DolphiniOS app icon will be added to the Home Screen.
Alternatively, please use the quick links available below to quickly add the repository to your favorite package manager (Cydia, Sileo, Installer, Zebra) with just one click.
Download Wii and GameCube games
Wii ROM and GameCube ROM files contain a copy of the data from a read-only memory chip from Nintendo's video game cartridge. Images can be imported to the DolphiniOS app running on your iPhone. There are various websites offering to download ROM files for those platforms.
*be aware, that downloading ROM files can be illegal depending on the country where you live.
Import Wii and GC images
Adding Nintendo Wii or GameCube games to DolphiniOS is simple. Open the app and tap the plus icon on the top right corner and select your ROM. If you download games from the Internet remember to extract the files from ZIP archives. The emulator doesn't work with archives.
Step 1. Download images file with a game in Safari browser.
Step 2. Share the file and send it to the DolphiniOS iOS app.
Step 3. The image with the game will be transferred to the emulator.
Step 4. Lunch the game from the list in DolphiniOS app.
Open the DolphiniOS emulator for iOS from the home screen and you will see on the home screen of the emulator the list of all available GameCube and Wii games.
If you want to add the ROM files manually, then put them in this location using Fliza and its WebDAV server feature. This method works only with jailbroken devices.
/var/mobile/Documents/DolphiniOS/Software
On non-jailbreak devices, you can save the ROM files through the File app and load them with the plus button from the app Games tab.
Files.app → On my iPhone / iPad → DolphiniOS → Software.
Source Code
DolphiniOS was released as an open-source project with code published by the developer through the GitHub Repository. Note that the branch name is called ios-jb but both versions, jailbroken and non-jailbroken, are included. Dolphin iOS is released under GPL-2.
To build the project you need a modern Mac running Xcode 11 or later, familiarity with building and running with Xcode, Homebrew, and Cocoapods. DolphiniOS was written in multiple languages, mostly 85.2% in C++. The recent changes to the code were added on 17 May 2022.
What's new
Updated to version 3.2.0.
It Fixes a graphical problem caused by an Apple silicon GPU driver.
Adds rumble when using the Touchscreen controller on iPhones.
Jitterbug and AltJIT Support.
Performance and accuracy have improved in many titles.
Removed psychicpaper JIT support.
Fixed erroneous haptics errors being printed to the console.
Fixed message alerts produced by the Dolphin core not being visible outside of emulation.
Fixed old names being used for CPU emulation engines.
Added error alerts to the software importer.
Downgraded MoltenVK to 1.2.135.0.
Updated the Dolphin core to 5.0-14363.
Post a comment