AppSync Unified is an IPA installer for iOS

qbap |
Cydia Tweaks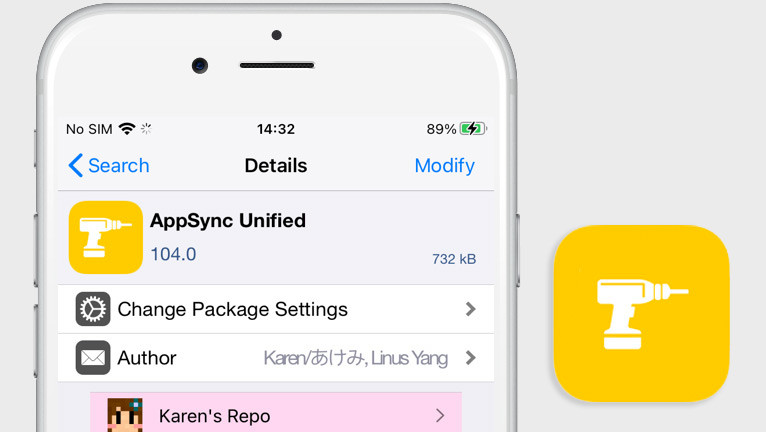 The biggest issues with installing IPA files on iOS are revokes or the need to own a Desktop to sideload the app. AppSync Unified comes to front for all jailbreak users as an IPA installer for iOS. From now on install IPA on jailbroken iPhone with this tweak only.
Add AppSync Unified Repo
What is AppSync Unified?
AppSync Unified is a jailbreak tweak that allows users to install fakesigned, ad-hoc signed, and also unsigned IPA files on all supported iOS devices. The tweak integrates with the system and works with multiple popular signing tools for iOS devices, also the latest iOS 14 release.
This amazing tweak is used mostly to install freely-distributed apps that are not available in the App Store. There is no need to re-sign the apps every 7 days (if the user does not have a paid Apple Developer Program). What's more, you can clone already-installed apps.
AppSync Unified dynamic library is compatible with iOS 5, iOS 6, iOS 7, iOS 8, iOS 9, iOS 10, iOS 11, iOS 12, iOS 13, and iOS 14. Since version 104 AppSync comes with support for the latest release of iOS 14.8.1! This tweak doesn't work on iOS 15 yet, because there is no jailbreak.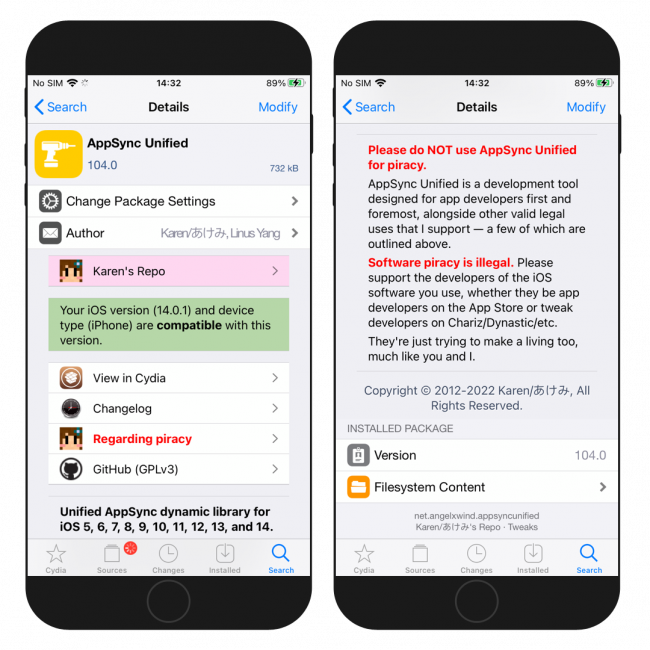 So how does it work, and how to install IPA on jailbroken iPhone?
AppSync Unified patches installd daemon allowing the system to install unsigned IPA files on iPhone or iPad. Unlike Cydia Impactor or Sideloadly there is no 3 app limit per device or need to use the 7-day certificate. AppSync will install unsigned IPA on iOS, also the latest iOS 14.
This Cydia jailbreak tweak can be also used to downgrade installed apps. AppSync library utilizes the dynamic hooking function MSHookFunction() in Cydia Substrate to bypass installd's signature checks. This means the tweak does not modify system files.
Everything works in the background so you can use install IPA files on iOS with your favorite tool. Install apps directly from the terminal, or use tools like Filza, Reprovison Reborn, or AppCake. On top of that, AppSync Unified is integrated with Panda Helper Lite, the 3rd-party App Store.
AppSync doesn't come with any kind of interface or settings for configuration. Please do not use AppSync Unified to pirate iOS applications. This is a development tool designed in mind for iOS app developers. Always install the AppSync Unified tweak for iOS from the official Repo.
How to use AppSync Unified
As mentioned already, AppSync Unified works in the background and there is no usage of the tweak itself. However, I will share with you how to install unsigned IPA packages on iOS 14 directly from the terminal using a command-line tool. This is for power users only.
To install IPA on jailbroken iPhone from the terminal it's required to install ipainstaller package and a terminal app like for example MTerminal.
Step 1. Be sure to have BigBoss Repository listed.
Step 2. Open Cydia and search for "IPA Installer Console" and next "MTerminal".
Step 3. Install the packages.
Step 4. Open MTerminal and use the command to install IPA.
ipainstaller -i /var/mobile/Documents/your_file.IPA
A more convenient way would be to use an app that will help with this process. Let's use Filza to install an IPA file on iPhone. The example below shows you how exactly to do it.
Step 1. Download IPA file from Safari browser.
Step 2. Shere the IPA file to Filza or AppCake.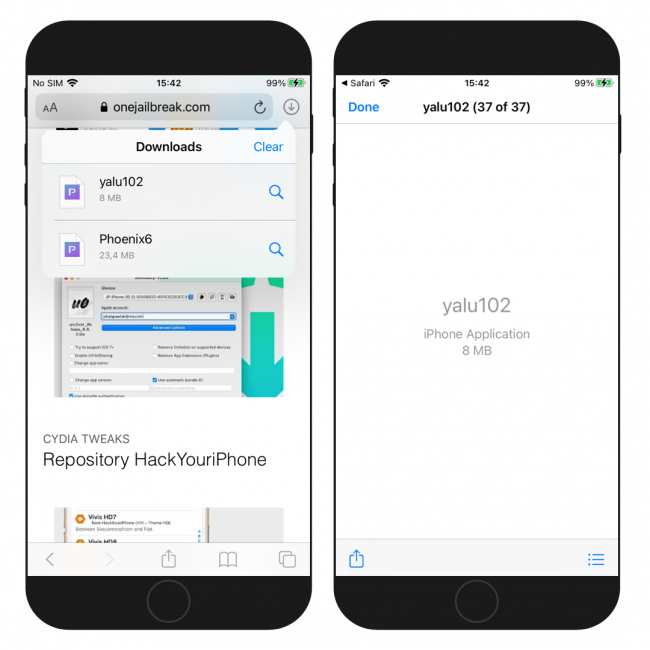 Step 3. Send the file to Filza and click Install.
Step 4. Access the app from HomeScreen.
After the app is installed it will be available from the HomeScreen on your device. To remove the app wiggle the screen as you would do with any other iOS app installed from the AppStore.
AppSync Unified Repo
AppSync Unified tweak is released through the private Karen's Repository. Add the official AppSync Unified Repo to your list of Cydia Sources and install the best IPA installer for iOS 14.
Open from the home screen Cydia app.
Tap Sources → Edit → Add to include the https://cydia.akemi.ai/ Repo URL.
Search for AppSync Unified tweak and install the package.
Restart the Springboard to complete the installation process.
This tweak will run in the background. No options to configure are available.
Alternatively, please use the quick links available at the top of this page to add the repository to your favorite package manager (Cydia, Sileo, Installer, Zebra) with just one tap.
Source Code
AppSync Unified is an open-source dynamic library for iOS 5, 6, 7, 8, 9, 10, 11, 12, 13, and iOS 14. All files are available through GitHub Repository. You can build the project on macOS. The code was written in multiple languages such as Objective-C, Objective-C++, C++, and C.
As long as you have standard libraries for Xcode projects (version 7),make sure you have installed Theos libraries. Source Code is under GNU General Public License. Recent changes to the source code including support for the latest iOS 14 were added on 29 Nov 2021.
What's new
Added support for iOS 14.8.1.
No other changes were made to AppSync Unified's functionality or code.
Heavily rewrote AppSync Unified to finally add support for all current iOS 14.x versions (14.0 to 14.4).
Made significant improvements to the fake signing information that AppSync Unified presents to all versions of iOS.
Added code directory hash value (cdhash) calculation support.
AppSync Unified now also bypasses FrontBoard's signature verification functionality.
Fixed a bug where AppSync Unified wouldn't always work properly on iOS 5 and 6 in certain rare cases.
Comments
d4n7e2 weeks ago
Post a comment