3uTools download for Windows

qbap |
Research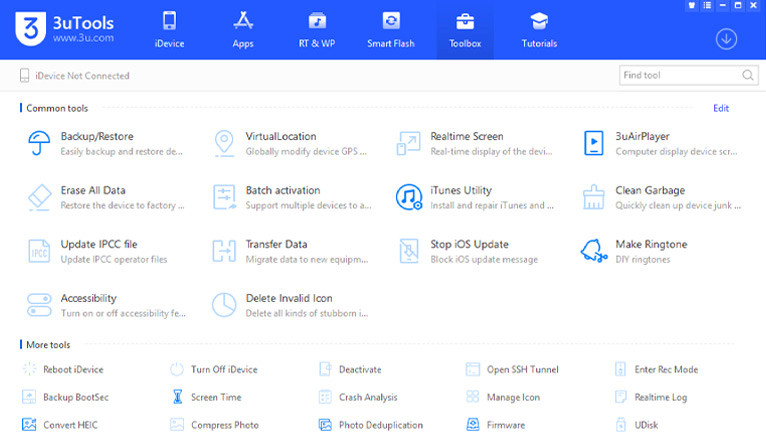 Download the latest version of 3uTools for Windows. Use this all-in-one iPhone Helper to jailbreak your device, crack forgotten passcode, flash iOS firmware, sign IPA files, download apps and games, spoof GPS location, deactivate the device, and much more.
Download 3uTools 2.65 for Windows
What is 3uTools?
3uTools is an iPhone Helper created by the same people behind the i4Tools app. It offers similar features to the Chinese iPhone Assistant but what's important, 3uTools is available in English. Use the app to manage files, download apps, install IPA files, flash iOS firmware, jailbreak, etc.
With 3uTools for Windows, you can not only manage your iPhone or iPad without the need to open iTunes, but also back up and restore all settings with one click, globally modify your device GPS coordinates, stop iOS updates, clean garbage, screen mirror the device screen, and more.
Manage apps, photos, music, ringtones, videos, books, contacts, and other multimedia files on your iPhone. Back up and restore selected data, and view and restore specific content from a backup file. Use an encrypted backup file for data recovery or viewing by providing a password.
3uTools for Windows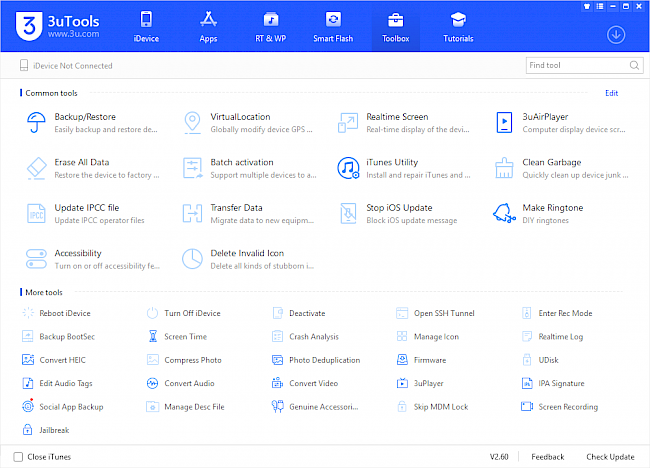 3uTools for Windows requires you to download iTunes app from the official Apple website. Don't download iTunes from the Microsoft Store Apps because it's not compatible. What's more, Assistant can also repair, update, or remove iTunes drivers, and prevent the app from opening.
In the Toolbox you can access the iTunes Utility app. Using it 3uTools can easily install the right version of iTunes, uninstall iTunes from Windows, repair Apple Mobile Devices Support drivers on Windows, and download an older versions of the iTunes app when required.
Connect your iPhone via a USB cable or Wi-Fi to your PC and 3uTools will detect the hardware and display useful information about the device such as production date, firmware version, jailbroken status, serial number, ECID, battery life, charge times, and activation status, etc.
With the latest version of 3uTools for Windows, you can connect your iDevice to 3uTools via a Wi-Fi network if both of your computer and iOS device are under the same Lan. After connecting iDevice to 3uTools via Wi-Fi network, you can manage Apps, Photos, Ringtones, Contacts, Notes, and manage other data.
The iPhone Helper is packed also with VirtualLocation module that allows you to spoof the location of your device in any app and game. Using this feature you can pretend to be in a different location by modifying globally your device's GPS to any location in the world.
Virtual Location works with all kinds of iOS apps including Camera, Find Me, Google Maps, and games based on GPS coordinates such as Pokemon Go, iPogo, SpooferX, etc.
3uTools comes with over 40 tools that make your life easier. With help of this iPhone Assistant, you can also update IPCC operator files without the need to upgrade iOS, restore the iDevice to factory settings, migrate data between two devices, or block iOS update messages.
On top of that, 3uTools for Windows offers an option for Batch Activation (skip the settings of region, language, location, WiFi, Apple ID, Apple Pay, Face ID) for multiple devices, and a Deactivate module to do the opposite and run your device in unactivated mode.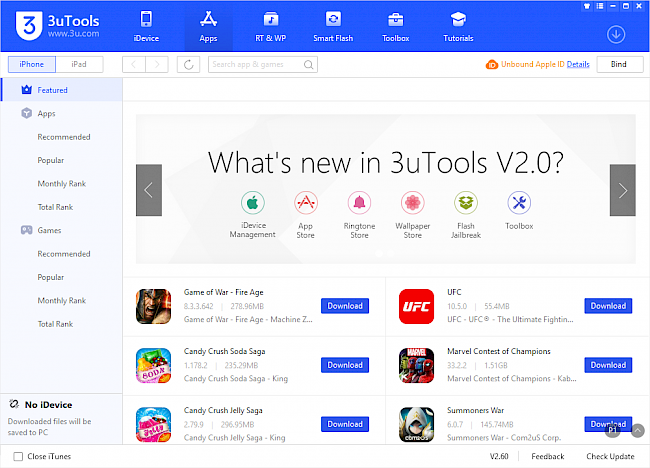 Delete all kinds of invalid icons, activate the simple iDevice screencast tool to display the device screen on your computer, reboot the device, convert audio files, find photo duplicates, compress photos, convert video files, or capture and record the computer screen.
Screen Time tool accessible from the 3uTools Toolbox can crack the passcode for your device. Recover restrictions passcode on your device is available on iOS 7 - iOS 11. Due to Apple iOS 12 system difference, this feature is not supported on iOS 12 and newer.
The auto-update 3uTools feature allows you to always run the latest version of this iPhone Helper for Windows. 3uTools doesn't only check for app updates but also displays detailed information about changes added to new software releases for Windows.
IPA Signature
3uTools for Windows comes with a built-in IPA sign and installer for your iPhone or iPad connected to the computer via a USB cable. It uses libraries provided by the open-source AltStore, the IPA installer for iOS 9 up to iOS 16. Sign IPA packages with your personal certificate.
To install IPA files on your device using the IPA Signature you can use a free or paid Apple Developer Certificate. The free one is associated with your Apple ID and password and there are no other requirements. Simply provide your confidential data to sign an app for free.
3uTools can integrate into Windows file associations allowing you to set the IPA Signature tool as the default application to open thoes files.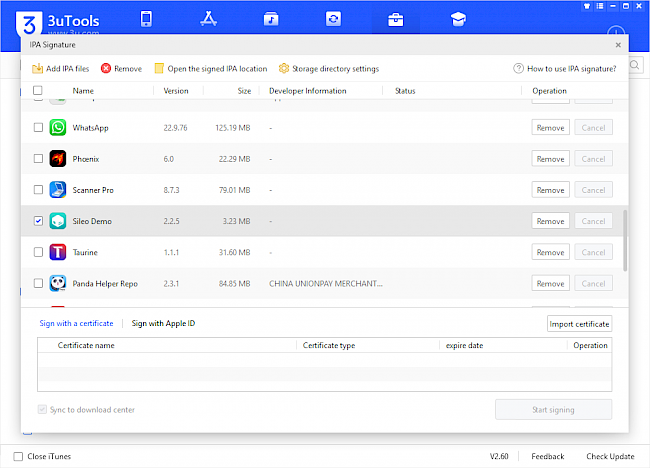 The free certificate allows you to install up to 3 apps per device, and sign up to 10 apps. The sideloaded apps will work for 7-days without revokes. After that time, it's required to re-sign the app. 3uTools IPA Signature tool can also import P12 certificates to sign IPA files.
If you are running a jailbroken device with AppSync Unified installed there is no need to sign IPA files. 3uTools will install apps and games without any restrictions or time limits.
Alternatively, you can try TrollStore, the permanent IPA installer for iOS 15.0 up to iOS 15.5 beta 4. This app uses a system bug allowing you to sign an unlimited number of IPA files without any time restrictions or revokes. There is also the Bullfrog Assistant app, the first on-device IPA signing tool with Apple ID that works on iOS 13 up to iOS 16 and doesn't require a computer.
iOS Jailbreak
For users who want to jailbreak their iPhone or iPad devices, 3uTools offers a quick and easy Jailbreak tool that supports a variety of iOS devices. The app detects your device and installed firmware and informs you about the available jailbreak options for iOS 8 up to iOS 14.
3uTools Jailbreak can install a variety of tools such as unc0ver, checkra1n, Odyssey, Electra, Chimera, Meridian, doubleH3lix, h3lix, yelu102, Phoenix, Home Depot, Pangu, and Etason JB. The one-click jailbreak assistant can also install AppSync and AFC2 packages.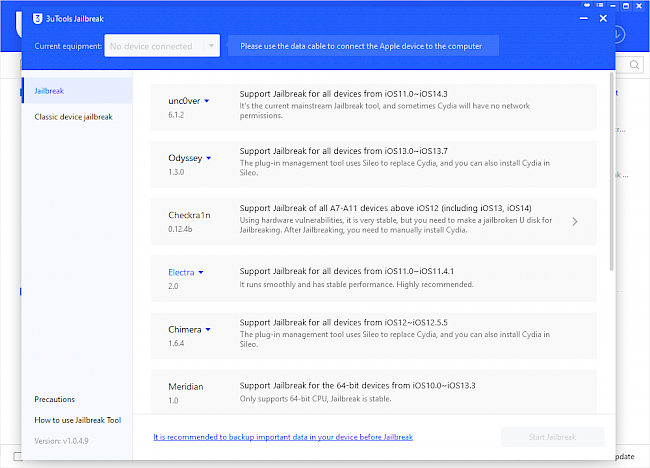 On top of that, 3uTools Jailbreak comes with the Classic Device Support Tool that can jailbreak Apple devices released before 2013. The tool runs only on Windows XP - Windows 7 and supports iOS 4.1 - iOS 6.1.3 running on iPhone3GS, and iPhone4.
iPhone3GS can be jailbroken running on iOS 4.1 up to iOS 5.1.1, and iPhone4 is supported with installed iOS 4.1 up to iOS 6.1.3 (tethered jailbreak). To jailbreak iPhone 3GS or iPhone 4 it's required to connect the device to a computer with a USB cable (don't use an extension cable).
On top of that, the Classic Device Support Tool can also upgrade and downgrade iPhone 3GS baseband, back up SSHS from iDevice and Apple, retrieve iDevices passcode, unblock disabled iPhone, exit recovery mode, execute a tethered boot, and read in DFU mode.
There is also a built-in repo.cydiaabc.top repository browser that offers access to thousands of jailbreak tweaks and apps. View the latest tweaks releases and supported jailbreak's versions.
IPWS download
Smart Flash tool available from the main menu of the 3uTools for Windows is the perfect solution to download and install the latest iOS firmware released for your iPhone or iPad. It automatically detects your device and lists for it all of the available signed iOS firmware.
Freely upgrade the system to the latest iOS 16 Beta release for testing, and when you like to go back you can use 3uTools to downgrade to the latest stable iOS 15 release. The app detects both, stable and beta releases of the iOS system. Unsigned versions can't be installed.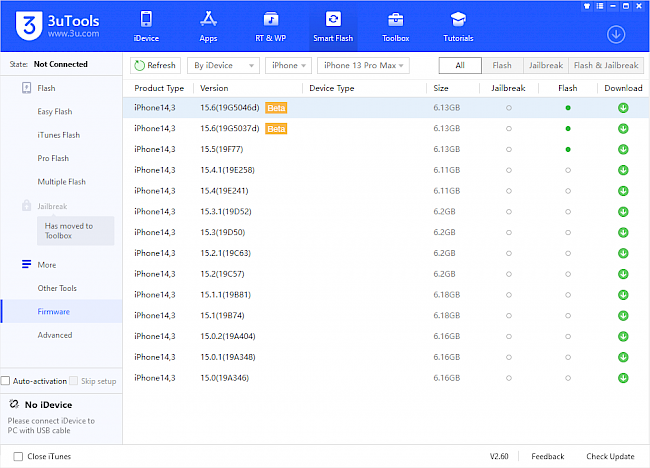 Smart Flash offers a few flash tools to choose from. Easy Flash, iTunes Flash, Pro Flash, and Multiple Flash. Pro Flash can additionally save SHSH blobs from your device, and Multiple Flash allows you to activate multiple flashed devices automatically.
Classic Device Support Tool comes with a Pro Flash module with support for older devices. Using it you can flash iOS firmware on iPod Touch2, iPod Touch3, iPod Touch4, iPod Touch5, iPad2, iPad3, iPhone2G. iPhone3GS, and iPhone4. Manual entering in DFU mode is required.
In this section, you can also find an option to download PanGu Jailbreak for iOS 9, TaiG Jailbreak for iOS 8, and the old release of iTunes 12.6.3.6 published in 2017.
Rapair Drivers
3uTools can help you to easily fix drivers issues installed on your Windows machine. If you have a problem with MobileDevice.dll, and you are unable to load the library, Repair Drivers can help you to fix this and many othere releasted issues by downloading the right file.
Repair Drivers module checks if all drivers are working correctly. It analyzes the iDevice connection status, Port Status, Apple Mobile Device Service status, installed iTunes version, and running operating system version. It also checks if Apple Mobile Device Support, Bonjour Service, and Apple Application Support (32-bit or 64-bit) are installed.
If you still can't connect your iDevice with your computer, there is also available the Advanced Repair function. 3uTools can help you to turn off the firewall, uninstall the old driver files stored in the system, reset winsock, and install Microsoft VC2015-2019 runtimes.
20% issues with connecting your iPhone to your PC are related with Firewall blocking the connection. 50% connection abnormalities are caused by old iTunes driver's leftovers on your hard drive. Removing them from the system should fix most of the issues.
RT & WP for iPhone
3uTools for Windows offers a dedicated module to download ringtones and wallpapers for your iPhone. Most of the users change their wallpapers on Lock Screen and Home Screen but just a few of them decide to use other than the default iOS ringtone. 3uTools can download some unique ringtones for your iDevice. There is also a huge number of iPhone-designed wallpapers to choose from.
What's more, if you don't find a perfect ringtone for your device, 3uTools offers an option to create your ringtones from an audio file. Make Rington is a small tool with basic audio editing features such as importing audio files, setting a starting and end point, adding fade effects, looping the sound, and finally generating the ringtone. SMS ringtone time can't exceed 29s.
3uTools did also add a Convert Audio utility to its Toolbox. Convert Audio can convert most of the popular audio formats to MP3, M4A, M4R, CAF, AAC, WAV, and Flack. There is also an option to adjust the audio volume, set a new sample rate or bit rate, and set the audio track to mono or stereo. 3uTools wallpapers can be filtered for a selected iPhone or iPad model.
Find the right wallpaper for your iPhone or iPod with 3uTools. View the featured or leaderboard wallpaper sections or download the wallpaper by one of the available categories such as beauties, cartoons, plants, animals, themes, motors, games, apple, hand drawings, or others.
What's new
Updated 3uTools download link to version 2.65.003.
Added iPhone 14 and other new device adaptations.
Optimized Easy Flash and iTunes Flash.
Add Printing labels.
Add the Face ID Test feature to the Toolbox.
Included the new version of 3uAirPlayer.
Fix some known issues.
Optimize the OneKeyFlash.
3uAirPlayer added new USB cable mirroring.
Added iPhone SE 3, iPad Air 5, and other new device adaptation.
Add new device adaptations such as iPhone 13.
Adds Computer Screen Recording Function.
iTunes advanced repair adds the function of installing a runtime library.
Jailbreak has been updated to a brand new version.
Optimizes the function of Delete Invalid Icons.
Optimizes iTunes download logic.
Fixes the issue that some functions in iOS 15 could not be used.
Optimize the related issues of IPA Signature.
Fix some bugs.
Post a comment