Download Taurine Jailbreak IPA for iOS 14

qbap |
Jailbreak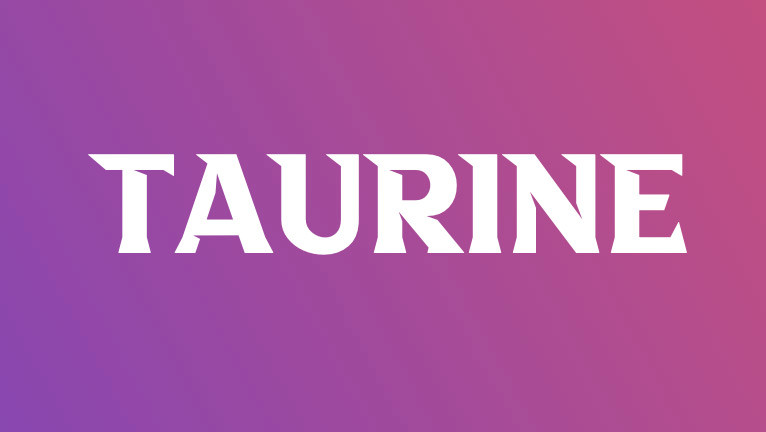 To jailbreak iOS 14 - iOS 14.3 running on all A8-A14 devices you can use a tool like Taurine App. This open-source jailbreak app can be installed on your iPhone or iPad. Download Taurine IPA and jailbreak your device today! iOS 14.4 is not supported.
Download Taurine IPA v1.1.6
What is Taurine Jailbreak?
Taurine is an open-source jailbreak with support for iOS 14 up to iOS 14.3. It installs Sileo, a Cydia alternative, that allows you to download tweaks and apps on your jailbroken devices from popular repositories. The jailbreak is using libhooker library for the best experience.
This is a semi-untethered jailbreak. It means that after every restart of your iPhone or iPad the jailbreak will be removed. To change the state to jailbroken you need to re-jailbreak the device again with the app. When Taurine jailbreak will not open you will also need to re-install it.
After opening the Taurine jailbreak you will see a few options to choose from. There is an option to enable running tweaks, change app theme, disable iOS updates, and set nonce generator. Turning off automatic iOS updates is crucial for not losing the possibility to jailbreak.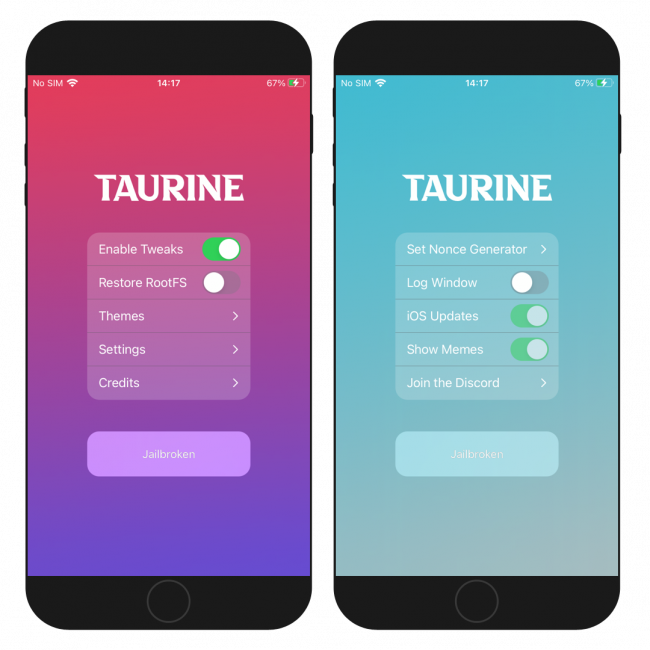 What's more, it features a useful Restore RootFS function. When this option is toggled on and you will tap on re-jailbreak Taurine will restore the device to the state before jailbreak. Use this switch to remove all installed apps and tweaks from your jailbroken device.
Be aware, that Restore RootFS doesn't remove all leftovers after Taurine Jailbreak. To restore your iDevice to a clean system use Succession app. Unlike iTunes, this tool will not upgrade the device during the process and it can restore the actual installed not signed iOS firmware.
Another useful tool packed with the Taurine Jailbreak is the "Set nonce generator". This option allows you potentially to downgrade or upgrade your device to a not signed iOS firmware. Apart from nonce, you need to use futurerestore application and saved blobs for your device.
Nonce is a signing method that randomizes Apple's cryptographic signature hash blobs and is used with the baseband signing ticket, the APTicket, and SEP (Secure Enclave). Every time you restore the device, a random string of letters and numbers is generated.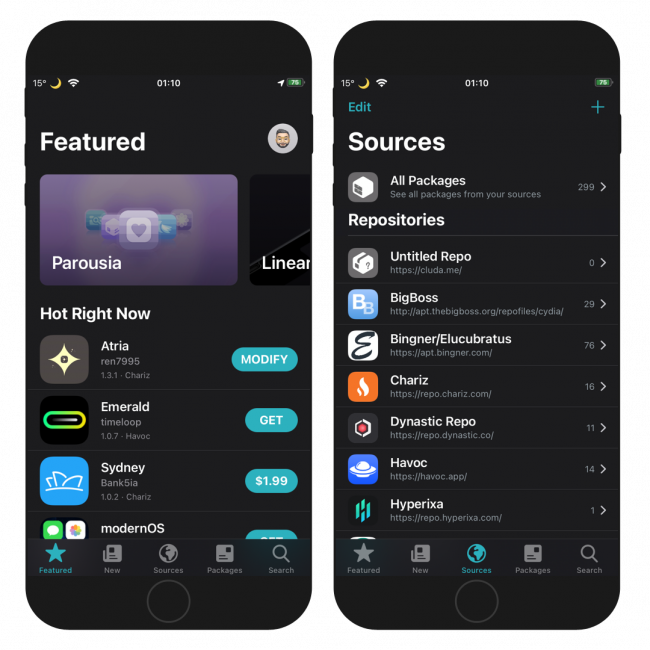 Using Taurine Jailbreak you can set manually nonce of the device. If the nonce and APTicket match, this allows restoring even no longer signed IPSW system files.
Like all other jailbreaks released by @CoolStar also Taurin installs Sileo as the default package manager for iOS 14. The tweak manager was written in Swift and is focused on speed and usability. It was designed to provide a real Cydia alternative for jailbroken devices.
Taurine Jailbreak supports all releases of iOS 14, iOS 14.2, and iOS 14.3. If you are running a different iOS 14 release such as iOS 14.4, iOS 14.4.1, iOS 14.4.2, iOS 14.5, iOS 14.5.1, iOS 14.6, iOS 14.7, iOS 14.7.1, or iOS 14.8 try different jailbreak tools such as unc0ver or checkra1n.
Developers behind Tautrine promised that jailbreak could receive iOS 14.6 - 14.8 support in the future, but they never delivered. On the other hand, Taurine is still under active maintenance. The successor of Odyssey jailbreak for iOS and iPadOS 13.0 - 13.7 will receive an update.
Taurine Jailbreak is an open-source project under BSD 4-Clause License with all source code published through GitHub Repository. The latest release of the jailbreak tool was published on 20 Mar 2022. This is a great platform to learn how to create your iOS 14 jailbreak.
You can build the project by yourself with 3 simple steps on macOS. As long as you have standard libraries for Xcode projects (version 7) you are good to go. 51% of the code is written in Swift. The source for 1.1.0 was published. Fork the project to add your own modifications.
Taurine15 for iOS 15
Taurine15 will be named Cheyote and it will initially support iOS 15.0 and iOS 15.1.1 running on iPhones and iPads. To be precise the jailbreak supports iOS 15.0 - iOS 15.1.1 running on A8 - A11 devices (new exploits should be easily implemented),and iOS 15.0 - iOS 15.1.1 only on A12+.
This means that iPhone 12, iPhone 11, iPhone SE, iPhone XS Max, and iPhone XR are supported only on iOS 15.0 - iOS 15.1.1. If you are using a newer version of the iOS firmware you will be not able to jailbreak using this tool. There are no other active jailbreaks developed for iOS 15.
@CoolStar, the main developer behind Taurine Jailbreak for iOS 15 announced that this will be her last jailbreak released for iOS. She was in the jailbreak community for years creating Sileo APT and various jailbreaks such as Electra, Chimera, Oddysay, and Taurine.
Cheyote Jailbreak will add support for iOS 15 and should be released soon to the public. Support for iOS 15.2 up to iOS 15.4.1 will be looked into afterward but is not guaranteed. This will be a rootless jailbreak which means that not all tweaks will work out of the box and developers will need to update them to support this jailbreak.
iOS 15.4.1 is not being signed anymore by normal methods but if you are below 15.4.1 you can still upgrade to using DelayedOTA until August 13, 2022. If you running iOS 15.0 - 15.1.1 it's recommended to stay on those versions.
Supported devices
iPhone 12 Pro / iPhone 12 Pro Max / iPhone 12 Mini / iPhone 12 / iPhone SE (2020)
iPhone 11, iPhone 11 Pro, iPhone 11 Pro Max
iPhone X, iPhone XS Max, iPhone XR
iPhone 8, iPhone 8 Plus
iPhone 7, iPhone 7 Plus
iPhone 6s, iPhone 6s Plus
iPhone SE
iPad Mini (5th generation)
iPad Air (2019, 3rd generation)
iPad mini 4
iPod touch 6G
2nd-gen 12.9-inch iPad Pro, 12.9-inch iPad Pro, 1st-gen 10.5-inch iPad Pro
9.7-inch iPad Pro
iPad Air 2, iPad Air
How to download Taurine Jailbreak
Taurine Jailbreak was released as an IPA package that can be installed on your device using a few different ways. The most convenient way to download Taurine IPA on your device is to sign the IPA with your own certificate and sideload the package with a Desktop tool like Sidelaodly.
We provide also direct web links to a signed Taurine Jailbreak IPA that can be installed directly on your iPhone without using a computer. Those files are signed with a globally available certificate that gets revoked by Apple. It means that the app will install or open on your iDevice.
Sign and install Taurine IPA file
Taurine Jailbreak can be installed on all supported iOS 14 devices using Sideloadly, the best working Cydia Impactor alternative. For purpose of this article, we will use Sideloadly as the IPA installation tool. It works on macOS and Windows. Linux users can try instead AltStore.
Step 1. Download Taurine Jailbreak IPA (link available at top of this page).
Step 2. Open Sideloadly application from the installation folder.
Step 3. Connect your iPhone with Sideloadly through a USB cable or Wi-Fi.
Step 4. Click on the IPA icon and from the Open dialog box select the Taurine IPA.
Step 5. Enter your Apple ID required to sign the IPA file.
Step 6. Click the Start button to install the IPA file on your iPhone.
Step 7. Provide the password for your Apple ID.
To make this process even easier we included on top of this page quick URL links allowing you to download, sign and install the Taurine Jailbreak v1.1.6 IPA file with just one click through your favorite tools such as Sideloadly, ReProvision, or AltStore. Because Taurine IPA was signed by your own certificate it's required to trust it to open the app.
Step 8. Open the Settings app from the home screen.
Step 9. Navigate to General → VPN & Device Management.
Step 10. Click on the developer app with your e-mail.
Step 11. Tap on Trust to allow the application to run.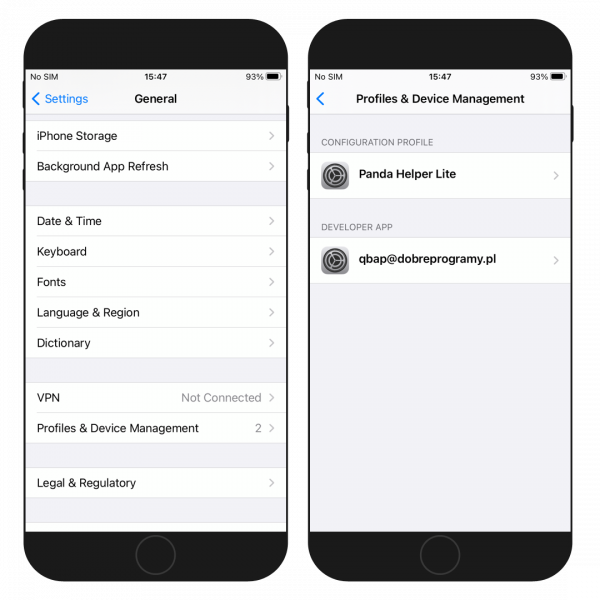 Install Taurine jailbreak without a PC
Taurine Jailbreak can be also installed without a computer. This method doesn't work all the time, because the certificate gets revoked all the time and new ones are not available every day. Still, you can try to install the Taurine jailbreak no PC version through those web links.
Install Taurine no computer
Step 1. Tap on "Install Taurine Jailbreak" from the Safari browser.
Step 2. When the message prompt "would like to install Taurine" tap Install.
Step 3. Taurine app icon will appear on your Home Screen.
Step 4. When the app will be downloaded correctly no error will appear.
Step 6. Run Taurine Jailbreak for iOS 14 and jailbreak your device.
When the installation goes well, it's also required to trust the newly added certificate from the Settings app. Follow the instruction from the previous installation guide, starting from Step 8.
On-device IPA signing
To prevent the Taurine Jailbreak from getting revoked by Apple or after the free certificate 7-day limit it is a good practice to use a jailbreak tool like ReProvision Reborn. With this app, you can sign Taurine Jailbreak with a free certificate based on your Apple ID without a computer.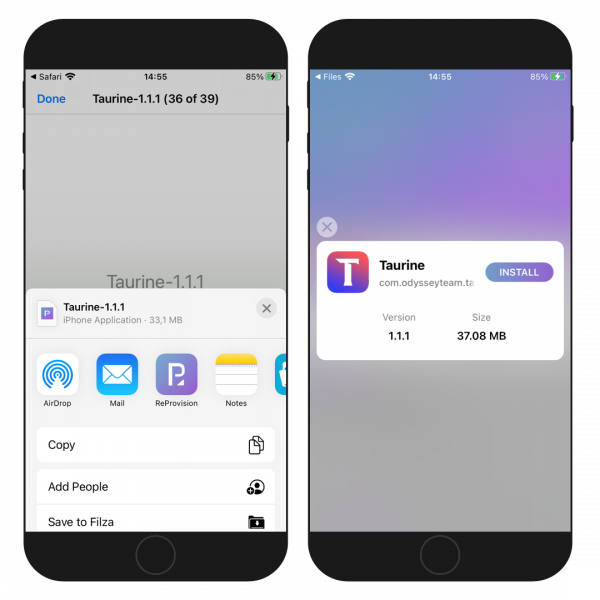 What's more, ReProvision will automatically re-sign Taurine Jailbreak in the background. This way you will always have a working copy of the Taurine app even after your iPhone will restart. To use this on-device IPA installation tool follow those simple steps below.
Download the Taurine IPA file on your iPhone.
Send the file to ReProvision app through the share feature.
ReProvision Reborn will open the Taurine IPA file.
Tap on the Install button to sign and install the IPA.
How to jailbreak iOS 14
Taurine App is a stable tool to jailbreak iOS 14 and install Sileo to allow you to download Cydia tweaks on your device. After you sideload the Taurine IPA onto your iPhone or iPad you are just a few steps from jailbreaking. This is how to do it.
Be aware, that every time you reboot the device the jailbreak will stop working. Open the app again and tap on "Jailbreak". If the app will expire, install it again with the preferred method.
Step 1. Install Taurine Jailbreak on iOS 14.
Step 2. Open the Taurine app from the Home Screen.
Step 2. Once launched, tap on the "Jailbreak" button.
Step 3. Wait for the tool to exploit the system and respring.
Step 4. Launch Sileo from the Home Screen to install tweaks.
Remove iOS 14 jailbreak
To completely remove Taurine Jailbreak open the app and enable the Restore RootFS option. Re-jailbreak the device and Taurine will restore the backup before jailbroken state. There is no need to manually remove installed tweaks and apps when using this function.
Taurine Jailbreak Untether
Linus Henze, the dev behind Fugu14 Jailbreak and the untether for iOS 14.3 up to iOS 14.5.1, discovered a new bug where CoreTrust will allow to use of any root certificate to permanently sign any IPA file for all jailbroken devices running iOS 14 and iOS 15. Using this method you can install the Taurine app on your iDevice so it will not be revoked after 7-days.
This makes basically the Taurine Jailbreak an untethered jailbreak that allows you to re-jailbreak the system at any point once installed. No need to re-sign the app with a computer. What's more, the jailbreak will work after the device will shut down or gets restarted.
To create an untethered version of the Taurine Jailbreak app for iOS 14 use the IPA Permasigner script. With a few simple steps, it will permanently sign the Taurine.IPA to allow the app to run even without revokes. Below you can find the permanently signed Taurine app.
Install Taurine app for iOS 14 with a preferred method.
Jailbreak the iOS 14 system with the installed app.
Install the Taurine Untether DEB package with Filza.
Restart the device to check if the app works.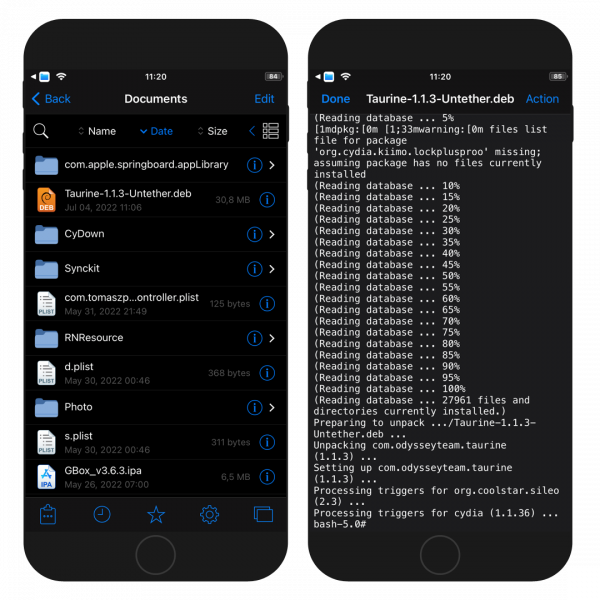 Switch from unc0ver to Taurine
Taurine Jailbreak can't be installed directly on an already jailbroken device with unc0ver installed. To switch from unc0ver to Taurine you need to use the Restore RootFS feature (available in unc0ver's settings) that will bring your device to stock iOS but a better approach would be to create a new snapshot with a jailbreak app like SnapBack.
A new snapshot will allow you to switch, when needed, between unc0ver and Taurine jailbreak with a simple tap. It will save all settings and tweaks installed for each jailbreak separately with the option to recover each snapshot or return the system to the RootFS state.
Install SnapBack from the official repository on your device.
Open the newly installed app from the Home Screen.
Tap on the plus button available in the right corner.
Enter a name for your snapshot eg. "unc0ver backup".
SnapBack will create now an unc0ver APFS snapshot.
Tap on the "orig-fs" snapshot and confirm to "Jump to Snapshot".
Install Taurine Jailbreak with your favorite tool on iOS 14 - iOS 14.3.
Jailbreak your device with the Taurine app.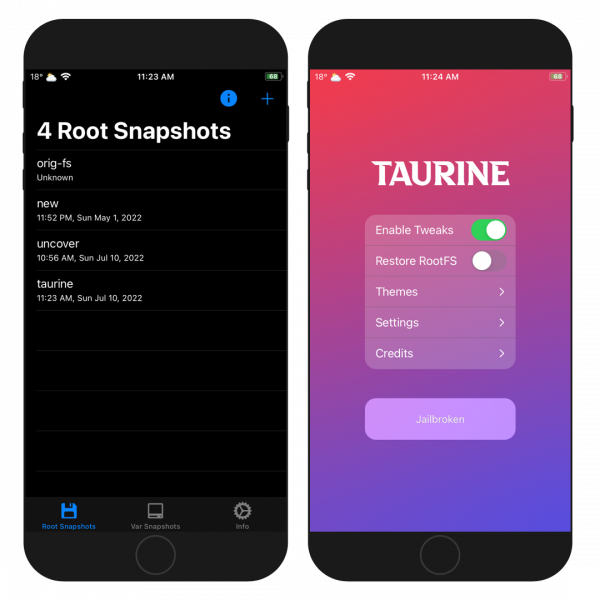 Now you managed to successfully switch from unc0ver to Taurine jailbreak on your iOS 14. Create a new snapshot with SnapBack for a clean Taurine backup that will allow you to restore it when needed. Install all tweaks and apps on your jailbroken device and enjoy your new setup.
What's new
Updated Taurine app to veraion 1.1.6.
Backports DER entitlement fixes from Taurine15.
Backports codesignature fixes from Taurine15.
Adds support for taurine-permanent.
Backports Swift patchfinder from <currently unnamed iOS 15 jailbreak>.
Backports IMG4 parser from <currently unnamed iOS 15 jailbreak>.
Adds support for iOS 15 DER entitlements to jailbreakd.
Adds support for iOS 15.1 Hash Agility to jailbreakd.
Runs uicache for Sileo for first-time users.
Updates built-in libhooker to 1.6.9.
Adds support for custom dyld shared caches.
Update Sileo to 2.3.
Replace Packix with Havoc as the default repo.
Add stability Improvement from Odyssey 1.4.1.
Re-enables tweak injection into cfprefsd.
Reduces memory usage and improves performance system-wide.
Improves battery life.
Fixes hangs when renaming certain tweak dylibs.
Fixes userspace reboot failing for certain users.
Fixes full system hangs for certain users.
Fixes CarPlay on Ford vehicles (or the FordPass app) crashing.
Fixes the shell failing to spawn sometimes (e.g. when spamming open tab in NewTerm).
Fixes kernel panics on malformed shell commands.
Updates bundled bootstrap.
Fix battery drain bug from 1.0.1.
Redesigned userspace reboot screens.
Post a comment