Install AppCake for iOS 15

qbap |
iOS Apps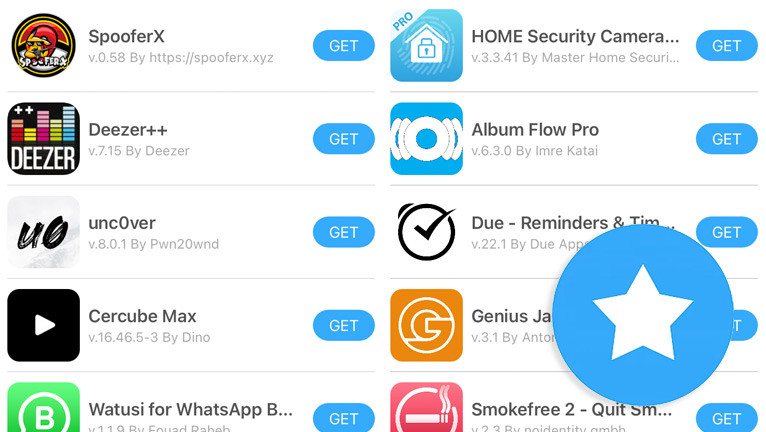 AppCake for iOS 15 is a free store with access to thousands of tweaks, apps, and games available for free. It works on jailbroken and non-jailbreak devices running iOS. Install the iPhoneCake App Store using weblinks or add AppCake Repo to Cydia Sources.
Download AppCake IPA for iOS 15.
What is AppCake?
AppCake, developed in 2008 since today, is an iOS app allowing you to install unsigned IPA files on Apple devices. It works on both, jailbroken and non-jailbreak devices. This app is also listing premium games and applications that can be installed for free bypassing the AppStore.
The App Store is developed by iPhoneCake and provided by iPASTORE. AppCake 7 app works with iOS 13, iOS 14, and iOS 15. To install the app on older devices running iOS 9, iOS 10, iOS 11, or iOS 12 there is still available AppCake 4 Legacy Version in a private repository.
On jailbroken devices, it's required to install an additional package AppSync Unified next to the App Store. It runs in the background and installs unsigned, fake-signed, or ad-hoc signed IPA packages on iPhones and iPads. This way it's possible to run cracked and modified apps.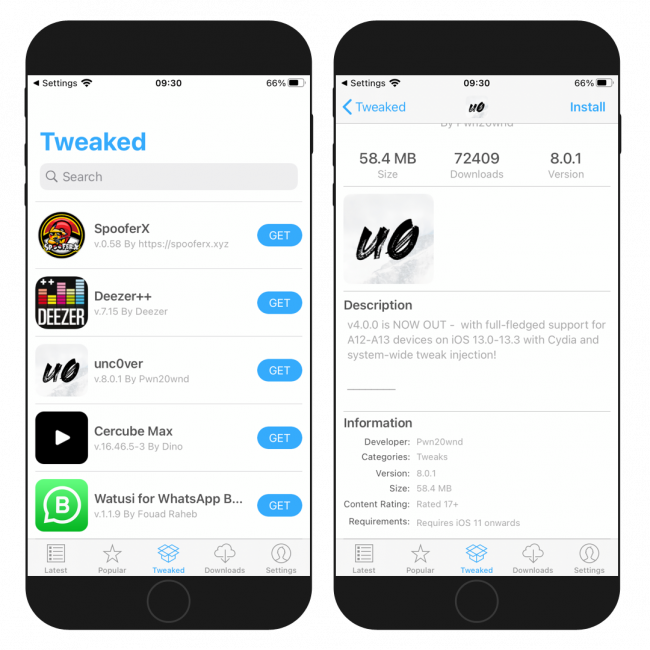 AppCake for iOS 15 offers access to tweaks and apps not available in the official App Store including unc0ver jailbreak, MediaBox HD, Electra, Popcorn Time iOS, Taurine, Cercube for YouTube, Watusi for WhatsApp, Spotify++, Dezzer++, SpooferX, and more.
For easier navigation, all apps and games are listed in categories such as:
Books, Business, Catalogs, Education, Entertainment, Finance, Food & Drink, Games, Health & Fitness, Kids, Lifestyle, Medical, Music, Navigation, News, Newsstand, Photo & Video, Productivity, Reference, Social Networking, Sports, Travel, Utilities, Weather.
Is AppCake safe?
AppCake was tested o iOS 15 and it's absolutely 100% safe to use and install on your iDevice. It will not spy on your activity and what's more important it doesn't require Apple ID to work. To find more information about the App Store navigate to the official website.
Build-in file manager allows you to check download progress and manage all IPA files. What's more, the web server provides access to your AppCake files from any browser. Use this feature to download and upload IPA files from the Desktop to your iPhone or iPad.
Supported iOS
iOS 15 / 15.1 / 15.0.2 / 15.0.1
iOS 14 / 14.8.1 / 14.8 / 14.7.1 / iOS 14.7 / 14.6 / 14.5.1 / 14.5 / 14.4.2 / 14.4.1 / 14.4 / 14.3 / 14.2 / 14.0.1 / 14.1
iOS 13 / 13.7 / 13.6.1 / 13.6 / 13.5.5 / 13.5.1 / 13.5 / 13.4.1 / 13.4 / 13.3.1 / 13.3 / 13.2.3 / 13.2.2 / 13.2 / 13.1.3 / 13.1.2 / 13.1.1
Install AppCake for iOS
AppCake can be installed on your iPhone or iPad using one of two methods. If you are not jailbroken you can install it using a direct web link (available below). It uses a public certificate to sign the app and it's often revoked by Apple disallowing users to install AppCake.
AppCake install no PC - how to
Step 1. Tap on Install AppCake from the Safari browser.
Step 2. Tap Install on message prompt "api.ipastore.me would like to install AppCake 7 ".
Step 3. AppCake 7 app Icon will appear on your Home Screen.
Step 4. Navigate to Settings → General → Device Management.
Step 5. Find the newly installed Enterprise App Certificate and trust it.
Step 6. Run AppCake 7 for iOS 13 and iOS 14.
Download and sign AppCake IPA
AppCake IPA can be installed on any device running iOS 13 and newer. To sideload the IPA file on your iPhone it's required to use a tool like Sideloadly that requires a computer. If you run a jailbroken device install the IPA with Reprovision Reborn directly on the device.
Step 1. Download AppCake IPA (link on top of this page).
Step 2. Open the Sideloadly application on Windows or macOS.
Step 3. Connect your iPhone / iPad to the computer via USB.
Step 4. Click on the IPA icon to select the app to install.
Step 5. Enter your Apple ID to sign the IPA file.
Step 6. Click the Start button to install the IPA file on your device.
Step 7. Provide the password for your Apple ID.
Untrusted Developer
After the file is verified and installed on your iPhone or iPad it's required to allow using apps from a developer account connected with your Apple ID. To allow the app to run go to Settings.
Step 1. Open the Settings app from the home screen.
Step 2. Navigate to General → VPN & Device Management.
Step 3. Click on the AppCake Verification Profile.
Step 4. Tap on Install to allow the application to run.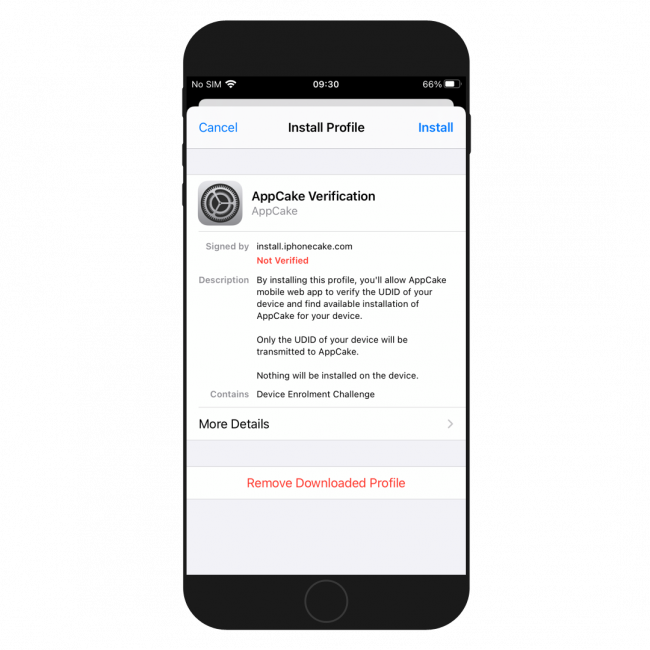 Sign IPA files on iOS
One of the additional features of AppCake for iOS is an option to sign and install your IPA files. IPA files signed directly on your iPhone with the app are using an Enterprise certificate. If the certificate will be revoked all apps will also stop working on not jailbroken devices.
Download an IPA file with Safari on your iPhone.
Send the file to AppCake.
Open AppCake and switch to Downloads.
Select the app to sign it.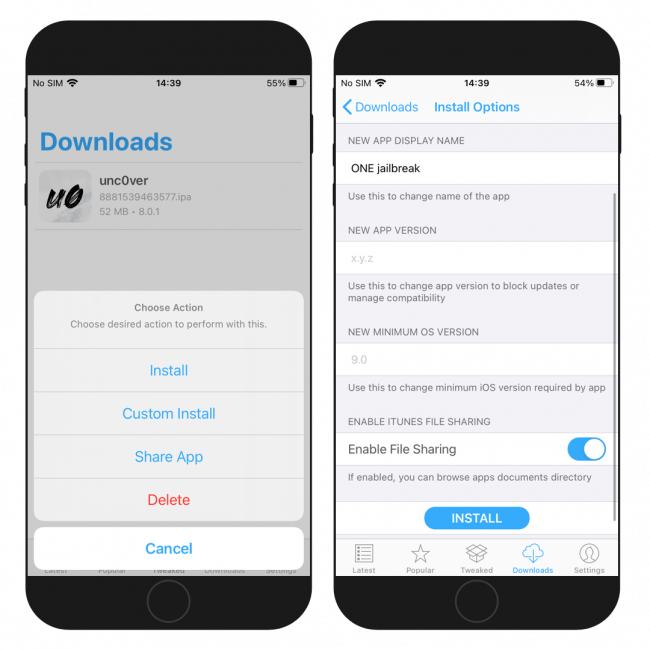 IPA signing service provided by AppCake allows you also to create custom installations. Define a new app display name, new version, minimum system requirements, enable file sharing for PC, or use a new bundle to install multiple instances of the app on your iPhone.
If you will jailbreak your iPhone or iPad, the installed apps will be working without revokes. I recommend for all users owning a PC or Mac to sign IPA files with Sideloadly or AltStore.
Repository
AppCake Repository is no longer offering access to the latest version of the AppCake app for iOS. Since version 7 (iOS 13, iOS 14, and iOS 15) uses the weblink to install the store.
In the official iPhoneCake Repo an AppCake 7 Installer is included. It uses the same weblink to install the store, and it requires adding AppSync Unified Repo to continue.
AppCake for iOS 13 and newer is also available through Repository HackYouriPhone.
Add AppCake Repository
Add AppSync Unified Repo
Open the Cydia app from your Home Screen.
Search Tab and type AppSync Unified.
Tap install on this package.
Tap Sources → Edit → Add the URL http://cydia.iphonecake.com.
Select the Search Tab and type AppCake for iOS.
Tap the Install button.
Access the app from the home screen.
AppCake Repository Packages
AppCake 7 Installer (AppCake for iOS 13 - iOS 14)
AppCake 4 Legacy Version (for iOS 7 - iOS 12)
CrackerXI+ (to unencrypt IPA files)
Latest Apps
Skate City
PolyNome: THE Metronome
Calendar Widget - Date Widgets
Empire Warriors - Offline Game
Vintage Logo & Poster Creator
Zvednout to? Kdo mi volal
Fish3 - pro ( Pro Edition ) ¶
Weple Money Pro
APlayer - Alook Player
Crazy Raccoon Running 3d Games
Camera M - Professional Camera
WhatTime? International people
Calculator Pro Elite
Alook Browser - 8x Schnell
Crayola Create and Play+
Gordian Seed Tool
Enchanted Worlds 2
Blackthorn Castle 2
FABULUS Any Guitar Chord Namer
PickerFull - Get Any Color
Modern Magic Ball
Procreate
Minecraft
Shadowrocket
Alook Browser - 8x Schnell
魔幻烧烤- 新单机休闲消消乐小游戏
Star Wars™ Pinball 7
LumaFusion
ProShot
Weple Money Pro
Post a comment