Install AppCake IPA for iOS 16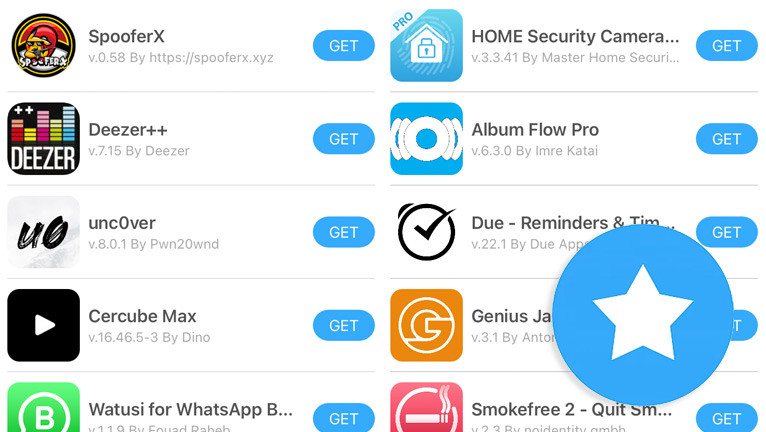 AppCake for iOS 15 and iOS 16 is a store that provides access to thousands of tweaks, apps, and games, all for free. It is compatible with both jailbroken and no jailbreak devices. To install the App Store, use web links, sideload AppCake IPA or add repository. However, for rootless jailbreak install the IPA because the repo is not supported.
Install AppCake IPA on iOS with your preferred method:
What is AppCake?
AppCake is a highly-regarded iOS app that has been in development since 2008. It allows you to install unsigned IPA files on Apple devices and is compatible with both jailbroken and non-jailbroken iDevices. One of the key features of AppCake is its ability to list games and apps. AppCake app works with iOS 9 – iOS 16 on jailbroken and non-jailbreak devices.
This app is widely used by iOS users who want to access and install paid apps for free and bypass the official App Store. AppCake, developed by iPhoneCake and provided by iPASTORE, is a highly-regarded app for iOS users. AppCake 7 is compatible with the latest versions of iOS, including iOS 13, iOS 14, iOS 15, and iOS 16. For users with older devices running iOS 9, iOS 10, iOS 11, or iOS 12, a legacy version of AppCake 4 is still available through a private repository.
This ensures that all iOS users have access to the benefits and features of AppCake, regardless of the version of iOS they are running. On jailbroken devices, the installation of an additional package, AppSync Unified, is necessary in addition to the App Store. This package runs in the background and enables the installation of unsigned, fake-signed, or ad-hoc signed IPA packages on iPhones and iPads. Apps will work without revokes on a jailbroken device.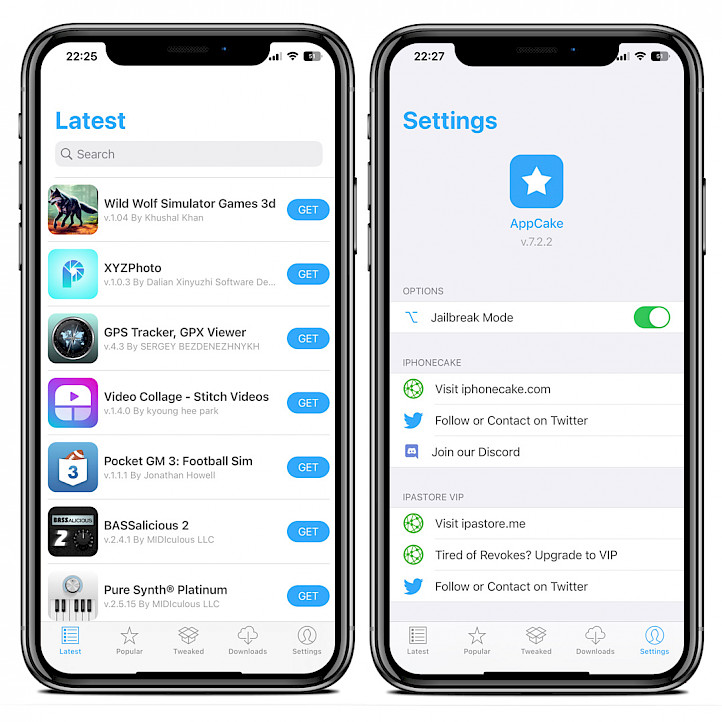 AppCake for iOS 16
AppCake for iOS 16 offers a wide range of options for users, providing access to tweaks and apps that are not available in the official App Store. Some popular examples include the unc0ver jailbreak, MediaBox HD, Electra, Popcorn Time iOS, Taurine, Cercube for YouTube, Watusi for WhatsApp, Spotify++, Dezzer++, SpooferX, and more.
To make it easier for users to find the apps and games they are looking for, AppCake organizes them into categories such as Books, Business, Catalogs, Education, Entertainment, Finance, Food & Drink, Games, Health & Fitness, Kids, Lifestyle, Medical, Music, Navigation, News, Newsstand, Photo & Video, Productivity, Reference, Social Networking, Sports, Travel, Utilities, Weather. This makes it easy for users to find and discover new apps.
Download IPA files with AppCake
AppCake includes a built-in file manager that enables you to easily monitor download progress and manage all IPA files. This feature provides a convenient way to keep track of downloads and ensure that files are properly stored. Additionally, AppCake also includes a web server feature that allows you to access all AppCake IPA files from any browser. Download and upload IPA files from desktop to your iPhone or iPad without the need for additional software or tools.
Note: Installing apps from unauthorized sources, such as pirated apps, is illegal and can put your device at risk. These types of apps may contain malware or other harmful software. Additionally, using cracked or pirated apps is a violation of the terms of service for the iOS.
Install IPA files with AppCake
One of the most notable features of AppCake is its ability to install multiple instances of an IPA file on a single device. This feature allows users to run multiple accounts of a single app simultaneously, providing added convenience and flexibility. This is particularly useful for users who need to manage multiple accounts for work or personal use.
Another great feature of AppCake is the ability to easily switch to jailbreak mode from the app's settings. This allows you to take advantage of AppSync Unified to install IPA files without the risk of revokes on your iOS 15 device, providing greater freedom and flexibility.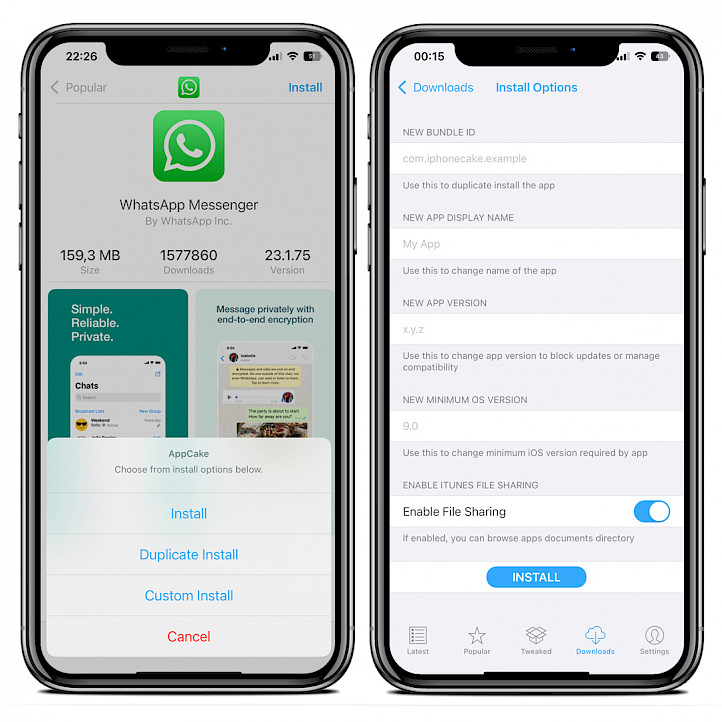 AppCake has been thoroughly tested on iOS 15 and iOS 16 and is completely safe to use and install on your iOS device. It does not spy on your activity and, importantly, does not require an Apple ID to function. The app is completely safe to use and will not compromise your device's security or privacy. To find out more about AppCake, visit the official website.
Install AppCake IPA
AppCake IPA can be installed on any device running iOS 13 and newer. To sideload the IPA file on your iPhone, it's required to use a tool like Sideloadly that requires a computer. If you run a jailbroken device, install AppCake IPA with Reprovision Reborn directly on your device.
Note: If you don't have a developer certificate, you can use your free Apple account to sign and install AppCake IPA and use it for up to 7 days before it needs to be re-signed.
To install AppCake IPA on your iOS 15 – iOS 16 using Sideloadly app, follow these steps:
Download the AppCake IPA from the link on top of this page.
Run Sideloadly application on your PC or Mac.
Connect your iPhone or iPad to the computer via USB.
Load the IPA file into the app to begin the installation process.
Enter your Apple ID to install AppCake IPA file.
Click the "Start" button to begin sideloading the IPA file onto your device.
When prompted, enter the password for your Apple ID.
Open the Settings app from the Home Screen.
Navigate to "General" → "VPN & Device Management".
Click on the developer app associated with your email.
Tap "Trust" to allow the app to run.
Sign IPA files on iOS 15
An additional feature of AppCake for iOS is the option to sign and install IPA files directly on the device. When using this feature, the IPA files are signed using an Enterprise certificate. However, it is important to note that if the certificate is revoked, all apps signed using that certificate will also stop working on non-jailbroken devices.
To sign IPA files on your iOS device using AppCake app, follow these steps:
Download the IPA file using Safari on your iPhone.
Send the downloaded file to AppCake.
Open AppCake and navigate to the "Downloads" section.
Select the app and sign it using the provided option.
The IPA signing service provided by AppCake allows you to create custom installations. This feature enables you to define a new app display name, set a new version, specify minimum system requirements, enable file sharing for PC, or even use a new bundle to install multiple instances of the app on their iPhone.
It makes it easy to test different versions of the app, or to use multiple accounts of the same app on a single device. Installed apps on a jailbroken device will be working without revokes. I recommend for all users owning a PC or Mac to sign IPA files with SideStore or AltStore.
Add AppCake Repo
AppCake Repository is no longer offering access to the latest version of the AppCake app for iOS. Since version 7 (iOS 13, iOS 14, and iOS 15) uses the weblink to install the store. In the official iPhoneCake Repo, only the older AppCake 7 Installer is available for download.
Info: AppCake 7 uses the same weblink to install the App Store alternative on your iDevice, and it requires adding AppSync Unified IPA installer Repo to continue.
AppCake 7 Installer (Cydia Version)
To install AppCake and AppSync on your jailbroken iOS device, follow these steps:
Open the Cydia app from the Home Screen.
Tap on the Sources tab, then select Edit.
Add the following repositories URLs:


http://cydia.iphonecake.com
​​​​​​​https://cydia.akemi.ai/

Install AppCake and AppSync Unified from the new repositories.
To apply all changes, respiring your iPhone.
Once installation is completed, access AppCake from the Home Screen.
Alternatively, please use the quick links available below to add the repository to your favorite package manager (Cydia, Sileo, Installer, Zebra) with just one tap. AppCake for iOS 7 – iOS 14 is also available through Repository HackYouriPhone.
AppCake Repository Packages
AppCake 7 Installer (AppCake for iOS 13 – iOS 14)
AppCake 4 Legacy Version (for iOS 7 – iOS 12)
CrackerXI+ (to unencrypt IPA files)
Sponsored links
Post a comment