i4Tools Download for Mac, Windows and Linux

qbap |
Research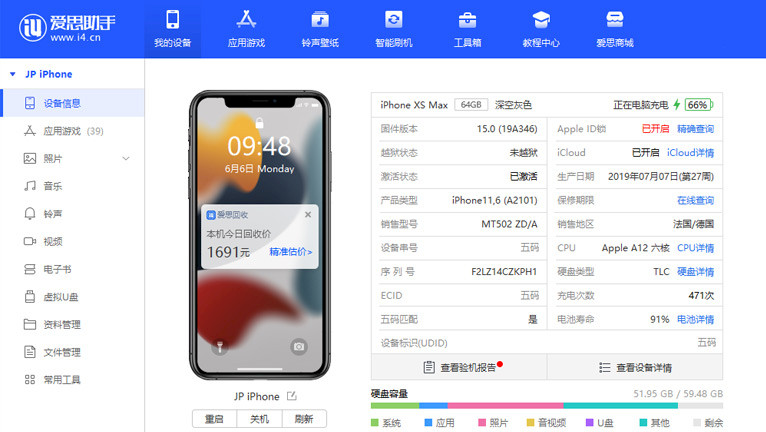 Download the latest version of i4Tools for Mac, Windows, and Linux. Install the AsTools Pro App Store on your iPhone, iPad, or iPod Touch for free through the i4Tools Assistant and access apps and games not available at the official App Store.
i4Tools Download
What is i4Tools?
i4Tools is a powerful iPhone Helper offering a lot of useful features for iOS devices. The all-in-one i4 Assistant can help you to manage all files on your device, upgrade iOS to the latest beta versions, sign and install IPA files, clean junk files, download AsTools Pro App Store, and more.
The application was released for the Chinese market, and it's not available in the English language. There is also no option to change the language from the i4Tools interface. But if you are looking for i4Tools English, the developer released 3uTools for the global market.
i4 Assistant allows you to manage apps, photos, music, ringtones, videos, books, contacts, and other multimedia files on your iPhone. Of course, there is also a full-featured backup utility that can back up all data to a computer and restore your device with one click.
i4Tools for Windows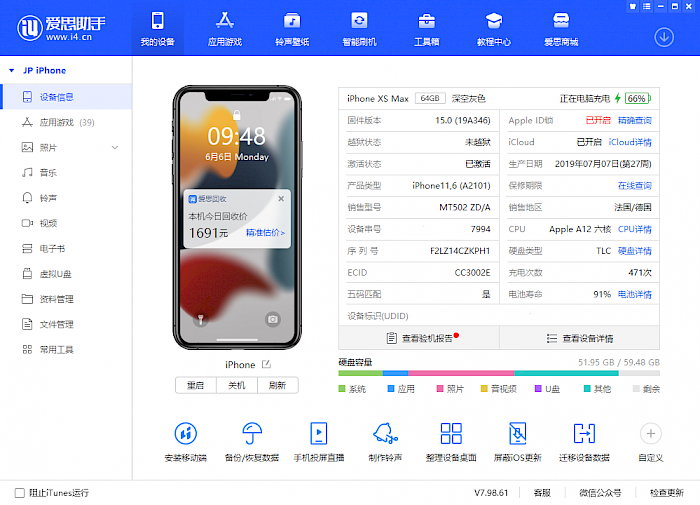 Connect your iPhone via a USB cable to your computer and i4Tools will detect the hardware and display helpful information about it such as: production date, firmware version, jailbroken status, serial number, ECID, battery life, charge times, device, and iCloud activation status, etc.
Like all kind of iPhone Helpers also i4Tools for Windows requires you to install iTunes on your PC. It's important to download and install the iTunes app from the official Apple website. Don't download iTunes from the Microsoft Store Apps because it's not compatible with the app.
On top of that, i4 Assistant can also repair iTunes drivers if required, prevent the app from opening, update the media player to the latest version, and completely remove the iTunes app.
i4Tools for Mac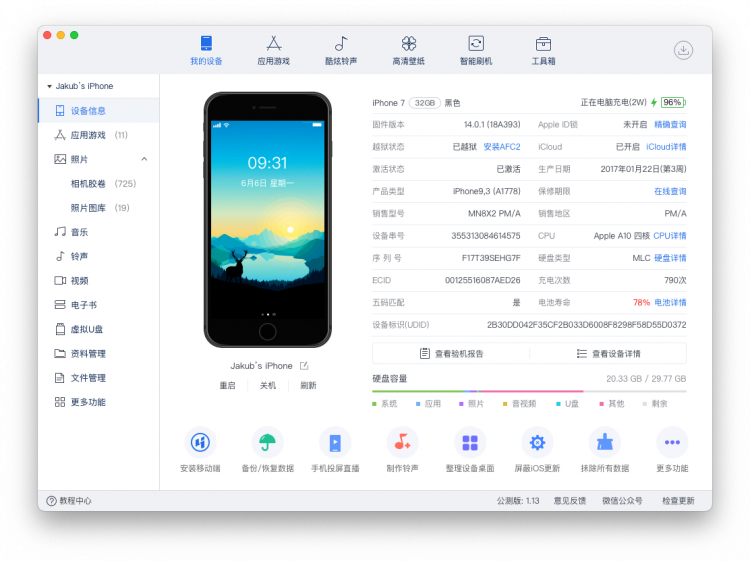 i4Tools for Mac offers the same features that you can find in the Windows version. It comes with a bit different interface including other icons, but the workflow is the same. Unfortunately, the iPhone Helper is not available in the English language and there is no alternative for macOS.
From i4Tools Toolbox, you can access all the 34 tools packed with the all-in-one i4 Assistant. Install AsTools Pro, back up the device, install IPCC, jailbreak iOS, erase all data, block iOS updates, install IPA files, reboot the device, organize Home Screen, open SSH tunnel, and more.
All those features are packed in a freeware application. How fun is that!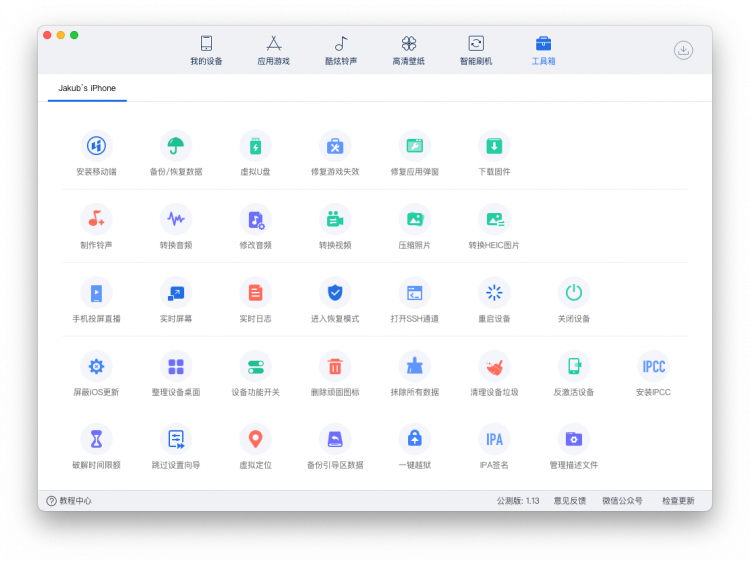 What's more, i4Tools can transfer data from Android to iDevice, auto-match and download signed firmware for devices, flash firmware, create ringtones, convert video, compress photos, spoof GPS location, enable live screen, and enter device in recovery mode, reboot, or shutdown.
It's worth mentioning other useful features of the iPhone Helper, such as support for Wi-Fi synchronization (which can be enabled from app settings). There is also a built-in real-time log that can record all the operations and behaviors on a device, or a huge collection of iPhone wallpapers.
Furthermore, you can delete invalid icons, take screenshots from your iOS system in real-time, convert HEIC pictures, download firmware, modify audio files. Other features include live broadcast on a mobile phone, deactivate the device, backup boot sector data, and enable Voice-over or Assistive Touch.
i4Tools can also convert your iPhone into a portable USB pen drive. With the app, you can access the device file system and upload all kinds of files on it for backup. This is one of the best iPhone Helpers available on the market, and it's still under active development.
AsTools Pro
Using i4 Assistant (Ace Assistant Computer) download the AsTools Pro app on your iDevice. AsTools Pro is a 3rd-party App Store with access to download apps and games for free without connecting the iDevice to your computer. i4Tools can also download popular jailbreak tools.
All apps are categorized for better navigation. There is also a search engine included to quickly find desired packages. AsTools Pro offers access only to legal apps and games. Furthermore, apps installed through AsTools Pro offer a different bundle name and this allows you to use multiple instances of apps. Install Snapchat from App Store and from AsTools Pro on one device.
AsTools Pro can install apps without revokes from the official App Store or using its source. The platform offers access to the Chinese store with apps and games popular in Asia.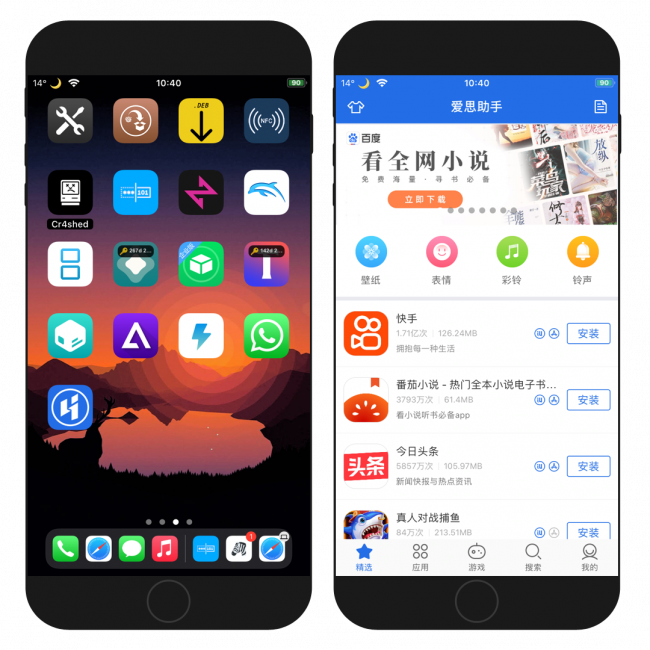 Sideload IPA files
i4Tools is packed with an IPA signing and installation tool. It uses the same techniques as the open-source AltStore to sideload IPA files on your device. With an Apple ID and password, you can access a free certificate that allows you to install up to 3 apps per device.
Sideloaded IPA files with a free certificate can work without revokes for 7-day. After that time, it's required to re-sign the app. i4Tools IPA tool is accessible from the Toolbox, and it comes with its interface and window. What's more, it can also import P12 certificates for signing files.
Of course, the IPA installer provided by i4Tools also supports the paid Apple Developer account without those limitations. Use this tool to sign and install IPA packages for iOS 9 up to iOS 16.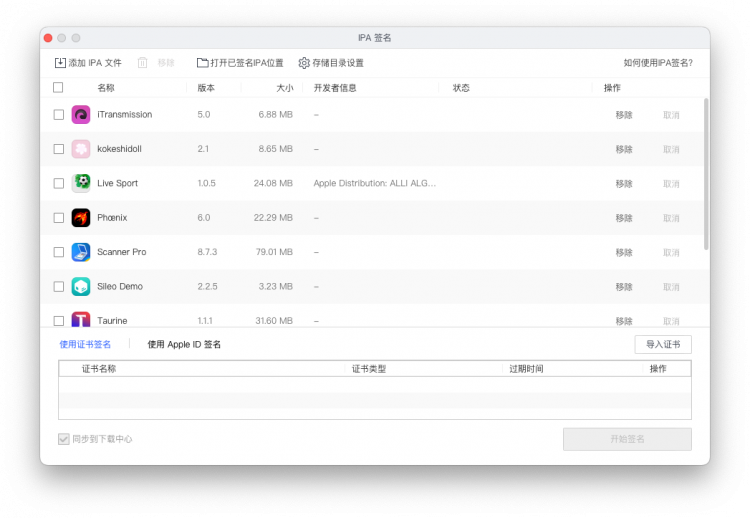 Jailbreak iOS
With i4Tools for Windows or Mac, you can also download popular jailbreak tools to free your iDevice and install Cydia. The application automatically detects your device and installed firmware and informs you about the available jailbreak options for iOS 8 up to iOS 14.
i4Tools Jailbreak includes tools like unc0ver, checkra1n, Odyssey, Electra, Chimera, Meridian, doubleH3lix, h3lix, yelu102, Phoenix, Home Depot, Pangu, and Etason JB. The one-click jailbreak assistant can also install AppSync and AFC2 packages to run unsigned IPA files.
It is also packed with a repo.cydiaabc.top repository browser that offers access to thousands of jailbreak tweaks and apps. View the latest tweaks releases, actual screenshots, and supported iOS versions running jailbreaks. i4Tools can install a fake profile to block iOS upgrades.
Download iOS
i4Tools brings a dedicated module to install iOS firmware and download IPSW images. The software recognizes your device and lists all signed versions of the iOS system that are supported by your iDevice. These include the stable and beta releases of the iOS system.
With i4Tools you can freely upgrade the system to the latest iOS 16 Beta release for testing, and when you like to go back you can use the same module to downgrade to the latest stable iOS 15 release. i4Tools iOS download tool works on all platforms including Windows, Mac, and Linux.
What's more, you can also download unsigned releases of iOS IPSW images for selected devices that can be restored with saved blobs and a tool like futurerestore. All download links with IPSW images of iOS firmware redirect to the official Apple servers.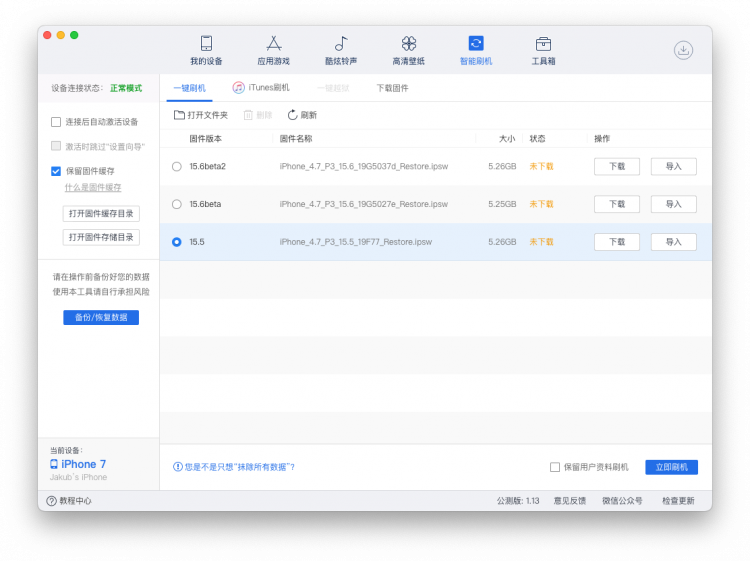 Wallpapers for iOS
To make your Home Screen and Lock Screen look fresh, it's always a good idea to download a bunch of wallpapers for your device. Fortunately, i4Tools comes with a dedicated module to view and download amazing wallpapers for all kinds of iPhones and iPads.
Finding the right wallpaper is not as easy as it can seem. Over the years, Apple released a lot of iDevices with different screen resolutions. i4Tools can download the right wallpaper from thousands for any iPhone or iPad. The built-in device filter will switch between screen resolutions for the selected device from iPhone 4S up to iPhone 11 Max, and iPad to iPad Pro.
There is also an option to search for wallpapers by name, view the most downloaded ones, switch between categories, etc. Everyone can find something to their liking.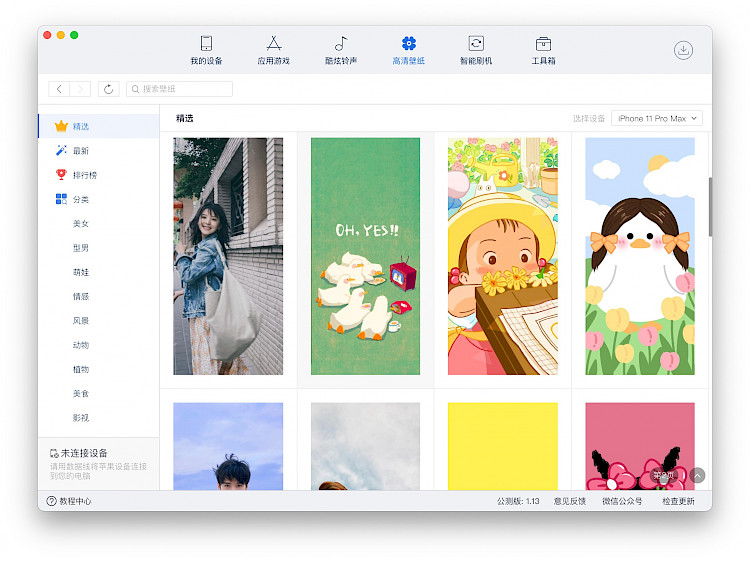 What's new
Updated i4Tools to version 7.98.72 on Windows.
Optimized iTunes flashing.
Modify the virtual positioning of devices that support iOS 16.0.
Optimized photo management.
Fix some known issues.
Added Face ID detection function.
One-key flashing adds the function of repairing battery health problems during the flashing process.
Fix some known issues.
Optimized device information data.
Optimized one-click flashing.
Add new device adaptations such as iPhone 13.
Optimized iTunes download logic.
Screen projection live broadcast adds the original picture scaling function.
New iTunes Advanced Fixes to add the function of installing runtime libraries.
Speed loading of WeChat chat records in the backup viewer.
One-click jailbreak function has been fully upgraded.
Added i4Tools deb package for Linux.
Post a comment