Sideloadly IPA installer for iOS 16

qbap |
Research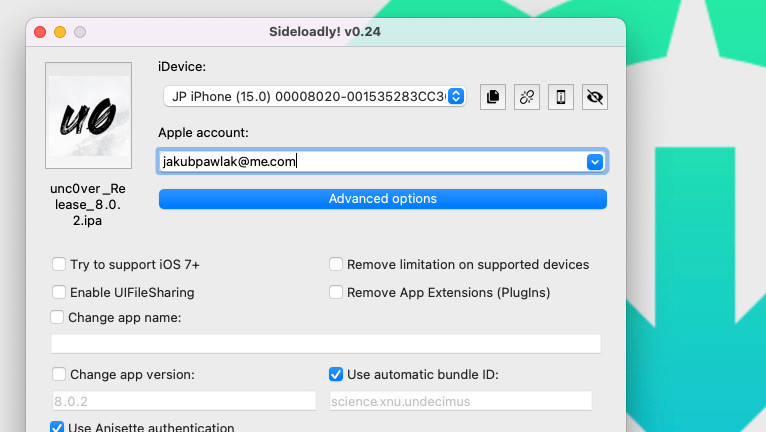 Download Sideloadly for Windows or Mac OS and sign and sideload IPA files on iPadOS / iOS 16. This is in my opinion the best Cydia Impactor alternative that works both on jailbroken and non-jailbroken devices. A free Apple Developer account is required.
Sideloadly Download for Windows and Mac.
What is Sideloadly?
Sideloadly is a free Windows and Mac desktop application allowing you to sign IPA files and install third-party or modified apps and games on iOS devices. It's an excellent Cydia Impactor alternative that can sideload apps on iPhone or iPad no matter if you are jailbroken or not.
The most important feature of the app is support for the latest iOS 16 versions, and what's more, it works since version 7. iTunes installation is required for Windows. Be aware that you must download iTunes from the official Apple website. Do not install the Microsoft Store version!
As I mentioned already it requires a free or paid Apple Developer Account. With a free account, you can sideload only 10 apps and only 3 of them can be active. Sideloadly connects to the iOSGod server in order to download the necessary data required for free account sideloading.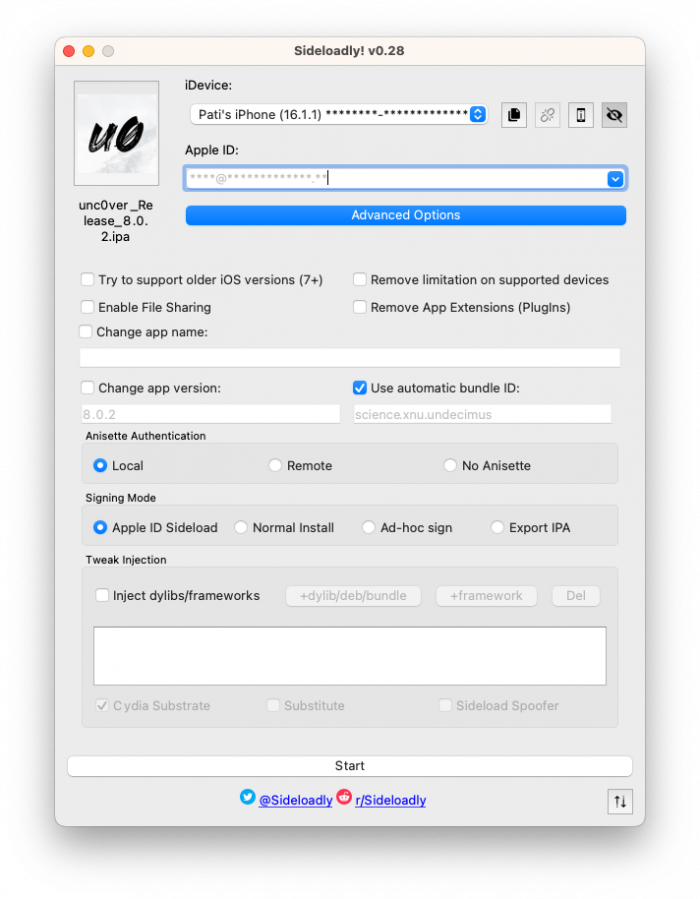 When disabled, Sideloadly will only work on paid Apple Developer Accounts. Sideloadly is packed with a lot of useful features including Wi-Fi Sideloading. This option allows you to install IPAs without the need to connect your iPhone via a USB cable. Multiple devices are supported.
The free Apple Developer Account is linked with your Apple ID and password, therefore there is no need to create a new account to start signing IPA files with your own free certificate. Sideloadly doesn't install any third-party apps on your device making all app slots free.
Modify IPA files. From the Advanced options tab, you can also change the min iOS version required to run the app, remove app restrictions on supported devices, change the app name or modify the application bundle ID (useful for multiple app installations).
More advanced users can take the advantage of the tweak injection feature. Inject multiple .dylib, .deb, .framework and .bundle to your IPA. Works with Cydia Substrate & Substitute framework and non-jailbroken devices. There is even an option to enable UIFileSharingEnabled that allows you to access the sideloaded app's Documents on your PC.
Once launched Sideloadly checks for a new version of the app and automatically downloads and installs the update. The latest version of Sideloadly comes with multiple install options: Apple ID Sideload (default),Normal Install, and Ad-hoc sign.
The default method uses your Apple Developer Account to sign. Normal Install can sideload only unencrypted and unmodified IPA files. Ad-hoc sign works on jailbroken devices with installed AppSync Unified from Cydia and can sideload unencrypted and modified IPA files.
Other features provided by the software include support for URL Scheme to easily download and install IPA files directly from the web, the option to save credentials for quick sideloading, and the remove app extensions (PlugIns) option. Sideloadly is brought to you by iOSGods.
On top of that, it comes with a built-in device System Logs viewer for troubleshooting general device or app installation issues. SysLog captures a lot of data therefore you can easily filter the log or pause it. This option can get handy for power users, and tweaks or app developers.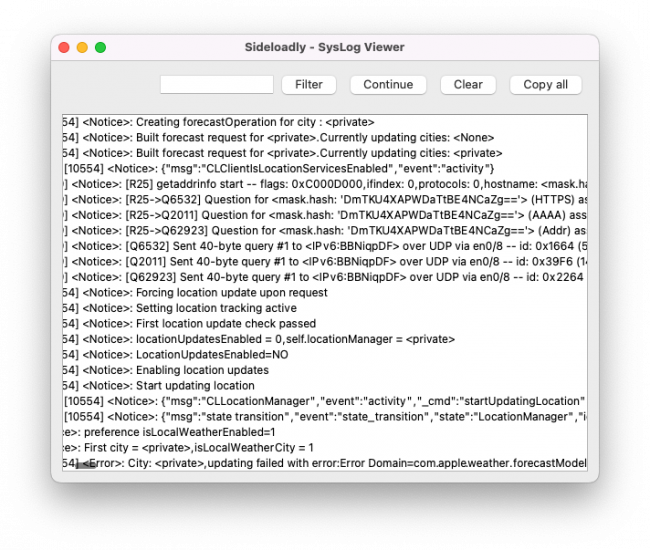 Sideloadly for Windows and macOS is the best Cydia Impactor alternative to sign IPA files from a desktop computer. IPA files can contain jailbreak tools, apps, games, tweaks, game hacks, and more. The developer recommends using Sideloadly on a disposable Apple account for now.
If you are searching for a tool to sign and install IPA files from Linux the only working solution so far is the unofficial version of AltServer-Linux forked by NyaMisty. The project is actively maintained to deliver new features and options added to the official AltServer project.
Sideloadly Anisette will support 3 different ways to grab the required data for sideloading. Local Anisette which is the default option now and uses your computer's local data for sideloading. Remote Anisette which will use our server to grab the necessary data for sideloading. No Anisette which is useful if you are using an Apple ID enrolled in the Apple Developer Program.
We also require users to install the Sideloadly Mail plugin in order to grab the necessary data required for sideloading. Additionally, if a user has the AltStore Mail plugin installed, the application will attempt to use that instead.
Sideloadly can install IPA files on iOS 7, iOS 8, iOS 9, iOS 10, iOS 11, iOS 12, iOS 13, iOS 14, iOS 15, and iOS 16. Always downlaod the latest version to have the best device support!
How to use Sideloadly
Sideloadly is as easy to use as Impactor and it allows you to sign and install IPA files through Wi-Fi. No matter if you downloaded the macOS or Windows version, the workflow is the same. Here is how to use Sideloadly to sign IPA files on iOS 15 and install them through the app.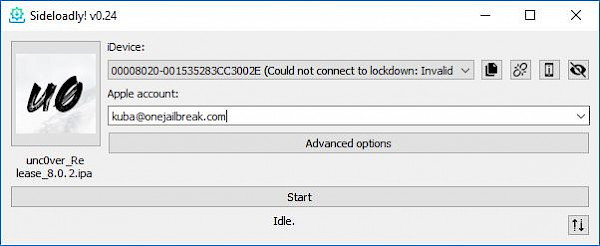 Step 1. Start Sideloadly download form links available at top of this page.
Step 2. Install the Sideloadly software on your system.
Step 3. Open the Sideloadly app from the installation folder.
Step 4. Download an IPA file you like to install on your iPhone.
Step 5. Connect your iDevice to your computer via USB.
Step 6. Drag the downloaded IPA file into the Sideloadly tool.
Step 7. Provide your Apple ID to install the loaded IPA file.
Step 8. Click on the Advanced option and enable Remote Anisette.
Step 9. Click the Start button to install the IPA file on your device.
Step 10. Enter the password of your Apple ID to proceed.
Example IPA signing status history:
Sideloadly version 0.26.4, Darwin 12.4, amd64
Using IPA file: /Users/qbap/Downloads/unc0ver_Release_8.0.2.ipa: c05e3a94163fd9670efa0640fb0504e3
Checking iOS version...
iOS version 14.0.1, will mangle bundleID
Obtaining team ID
Using team "Sideloadly" (Individual) with id J29KMMB4TR
Making sure device ID 4b22dd042f35cf2b022d6008f8222f58d55d0372 is registered
Registered device with UDID 1b30dd342f35cf2b036d6008f2338f58d55d0372 as device-1c3ada041f35cf2b033d6118f8298f58d5wd0342
Checking private key
Looking up app ID
Using app ID "unc0ver" with id 76XR4SBS82
Signing...
Connecting...
Uploading, please keep device screen ON!
Installing...
Installing 5%: CreatingStagingDirectory
Installing 15%: ExtractingPackage
Installing 20%: InspectingPackage
Installing 20%: TakingInstallLock
Installing 30%: PreflightingApplication
Installing 30%: InstallingEmbeddedProfile
Installing 40%: VerifyingApplication
Installing 50%: CreatingContainer
Installing 60%: InstallingApplication
Installing 70%: PostflightingApplication
Installing 80%: SandboxingApplication
Installing 90%: GeneratingApplicationMap
Installing 100%: Complete
Done.
After the file is verified and installed on your iPhone or iPad it's required to allow using apps installed with the free developer account connected with your Apple ID. Without completing this step the sideloaded app will not be allowed to open, instead, it will prompt a message.
Step 11. Tap on the Settings app icon from the Home Screen.
Step 12. Navigate to General → VPN & Device Management.
Step 13. Click on the developer app with your Apple ID e-mail.
Step 14. Tap on Trust to allow the application to run with this certificate.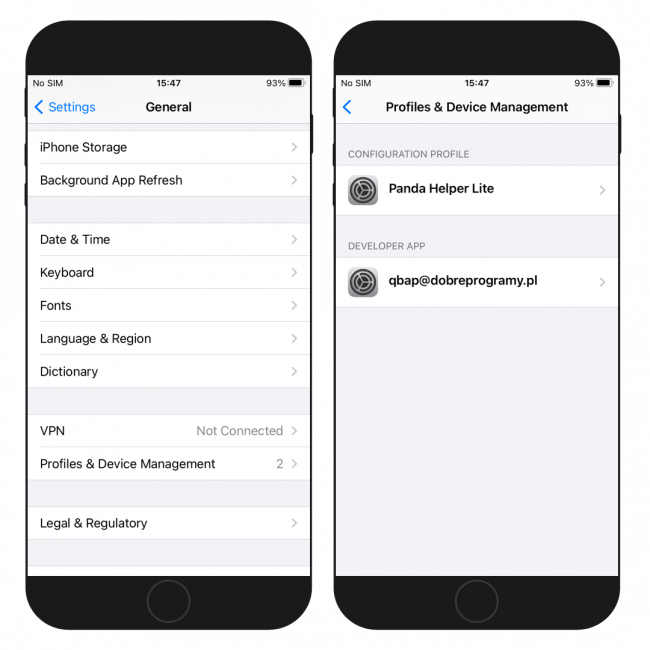 Inject dylib into IPA
Sideloadly can not only sign and install IPA files on your device but also allows you to inject dylib libraries into IPA files. The dynamic loader compatibility functions provide a portable way to load code at runtime. dylib can be used to add new features to apps, remove ads, etc.
Download dylib library or create your own custom library.
Obtain a decrypted IPA file of your target application.
Open Sideloadly app available for Windows and macOS.
Load the IPA file into the Sideloadly app.
Click on the Advanced options button to view more options.
In the Tweak injection section load the dylib file.
Click on Start to patch the IPA to include the dylib package.
Sideload the patched IPA to your iPhone.
Attempt to make an in-app purchase, then cancel on the popup.
This kind of dylib injection into IPA files is used by popular tweaks such as Watusi for Whatsapp, Rocket for Instagram, Cercube for YouTube, uYou tweak, and many others.
What's new
Updated Sideloady 0.28.
Tweak injection feature now supports additional tweaks & frameworks.
Sideload Spoofer now supports more apps.
Added a new feature under tweak injection called "Sideload Spoofer".
Fixed an issue that appeared on iOS 16 and iOS 16.1 where some apps weren't able to be refreshed.
Improved the handling of how executables are signed.
Hide sensitive information feature has been improved and now stays on during the Sideloadly launch.
Various other bug fixes and improvements.
Further improvements have been made to local anisette option for macOS making it more reliable.
Sideloadly now has the ability to update the Mail Plug-In if required in the future.
Fixed an issue where modified and exported Sideloadly IPAs would cause issues when signing them with other services.
Fixed an issue with IPA exporting on Apple Silicon Macs.
Fixed a crash issue that occurred on older macOS versions such as Sierra & High Sierra.
Sideloadly for macOS now supports local anisette. This will fix the login issues some users have been experiencing.
Sideloadly will support the 3 different ways of obtaining the required data for sideloading: Local, Remote & No Anisette.
Updated "Enable UIFileSharing" option to also include LSSupportsOpeningDocumentsInPlace.
Fixed an issue where local anisette setup would fail in certain environments.
The "Export" option in Sideloadly now works even with no devices plugged in.
Fixed an issue with the Cydia Substrate framework which would cause other apps to crash.
Fixed a recently introduced issue with the Ad-hoc sign option.
Added additional debugging to help us fix the "acii codec" issue some users are experiencing.
Pushed a (temporary) fix regarding the failed Apple ID logins some users were experiencing.
Added a new feature to Sideloadly which allows the user to simply export the tweaked/modified IPA after advanced options configuration.
Improved the Apple ID input box handling.
General improvements and bug fixes.
Updated Sideloadly's libraries to the latest versions.
If a USB device is connected on launch, we will now automatically select that.
Improvements were made to Anisette service so it is now more reliable.
Disabled the removal of profiles before sideloading.
New feature to resume/retry sideloading if the Wi-Fi/USB device was unexpectedly disconnected.
Sideloadly now fully supports iOS 15.1.
Improved the detection of decrypted/undecrypted apps.
Improved the hide functionality which would show your email if you tried editing it.
Alternatives
Sideloadly isn't the only app you can download to sign and install IPA files. There are a few other free alternative tools for Sideloadly that you can use to install IPA packages on your devices. Some of them require a PC, and others can sign IPA files directly on your device.
TrollStore is a permanent IPA installer that uses the CoreTrust bypass bug. Use this on-device IPA signing tool without revokes on iOS 15 - iOS 15.4.1.
AltStore is the best alternative for Sideloadly allowing you to install and sign IPA files. This is also a Desktop application that works on Windows, Linux, and macOS.
3uTools allows you to install IPA files on iPhone, iPod, or iPad using AltServer libraries. It offers a lot of features and it's a great Sideloadly alternative for Windows.
ReProvision Reborn is a great jailbreak on-device IPA signing tool for iOS 13 up to iOS 15. If you can run a jailbreak this is the must-have alternative for Sideloadly.
Esign is an on-device IPA installation tool for iOS allowing you to sign apps with your own or globally available certificates. This alternative doesn't require jailbreak.
GBox is another on-device IPA signing tool alternative for Sideloadly that can install jailbreak tools, apps, games, and tweaked apps without using a computer or jailbreak.
Permasigner is a python script for Mac and Linux allowing you to sign IPA files permanently for jailbroken iDevices running on 14.0 up to 14.8.1. It uses the CoreTrust bypass by Linus Henze.
i4Tools comes with a built-in IPA installation tool based on AltStore libraries. With it, you can install multiple IPA at once on any iOS device. A working certificate is required.
PermasigneriOS is an on-device IPA signing tool for jailbroken devices that allows you to permanently install apps without revokes. Signed apps will work even after returning to stock.
Comments
Post a comment