Esign iOS IPA Installer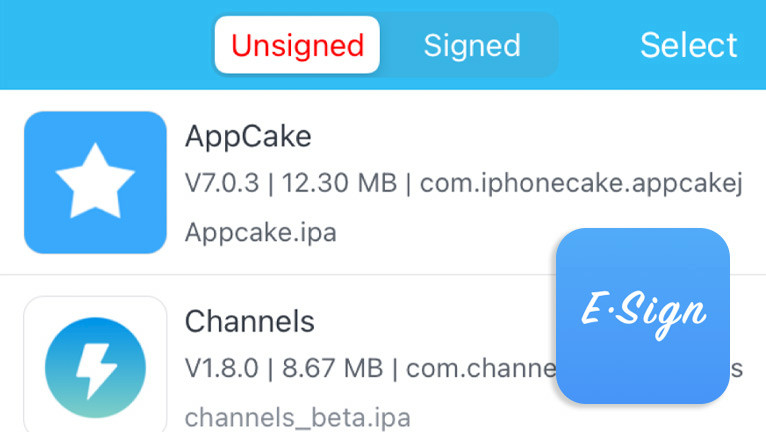 There are just a few tools allowing you to sign and install IPA files directly on your iPhone or iPad. Esign is one of them, providing an option to use a global available certificate or use your own p12 generated certificate. Sign and install IPA files on the device.
Download Esign IPA 4.8.2
Download ESignInstall IPA
(permanent install without revokes)
What is Esign?
Esign is an on-device IPA signing tool for iOS, allowing you to sign apps with your own or globally available certificates and install them on your iPhone or iPad. Basically, this is a Cydia Impactor alternative with support for iOS 11 up to iOS 16. Install IPA files without a computer.
Once installed on iOS, the Esign app will be available from the Home Screen. From the file tab, you can easily import files, unzip archives, install IPA files, import to App Library, and open the selected file in the built-in HEX editor. On jailbroken devices, you can install IPA without signing.
To install IPA files, Esign can sign them directly on your iOS device with a p12 certificate and mobileprovision file. It offers access to globally available certificates that are used by most of the 3-rd party App Stores, therefore the certificate will get revoked on short notice.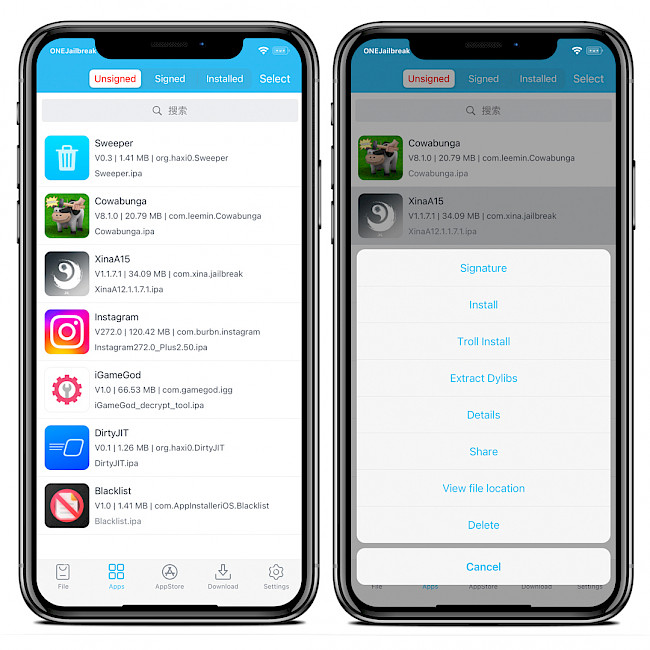 When you buy a not pirated certificate, your apps will work without revokes. There is also an option to generate your own p12 certificate and mobileprovision file with a free Apple developer account. In this option, you can install up to 3 apps per device, working for 7 days.
When you sign IPA files with Esign iOS, it offers some options to modify the package before installation. Do some basic things like changing the app name, bundle identifier, app version, replacing the app icon, and removing or injecting your own libraries (dylib, framework, deb).
What's more, Esign app can remove from IPAs all plug-ins, all watch apps, set min iOS version to 10, remove UISupportedDevices, remove URLScheme, add support for documents browser, fix white icon, auto modify jailbreak dependencies, and allow running multiple instances of an app.
Esign app can also display your device UDID or view the status of all installed certificates. The developer also provided a dark mode for iOS 13 and never, five different color themes for the app itself, and three icons to choose from. Those options can be applied from app Settings.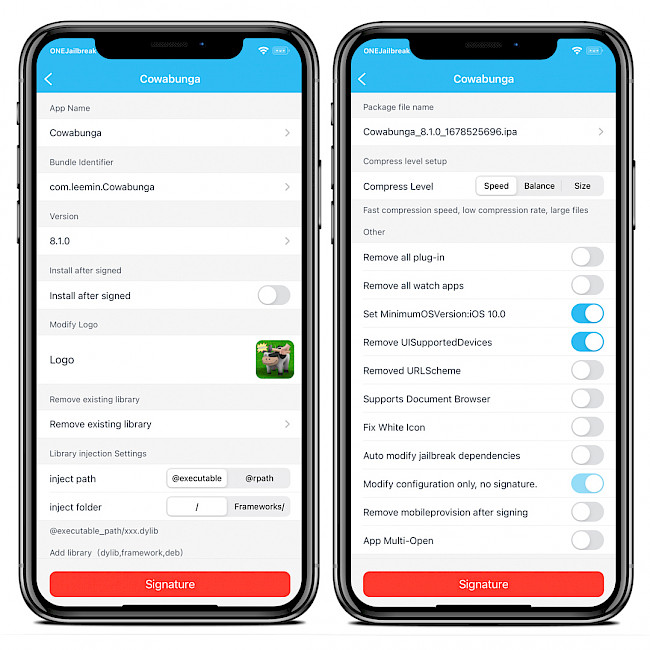 Easy Sign Service's signing success rate is 100%, and it supports large files ( > 500 MB). Through the service, you can also find and buy a working certificates.
It's worth mentioning that Esign iOS can also install IPA on jailbroken devices without the need to sign files. To do so, you need to install some Anti Revoke Tweaks for iOS that will allow you to install IPA files without revokes on your iPhone or iPad. Alternatively, use Reprovision Reborn.
Easy Sign is no longer available through the TestFlight app. The developer account was blocked by Apple, so both the ESign App Store and TestFlight were taken off the App Store. ESign doesn't work without a valid certificate on non-jailbreak devices.
Esign IPA signing tool for iOS is still under active maintenance with the 4.7.9 release published on 11 Mar 2023. Always download the latest version of the app.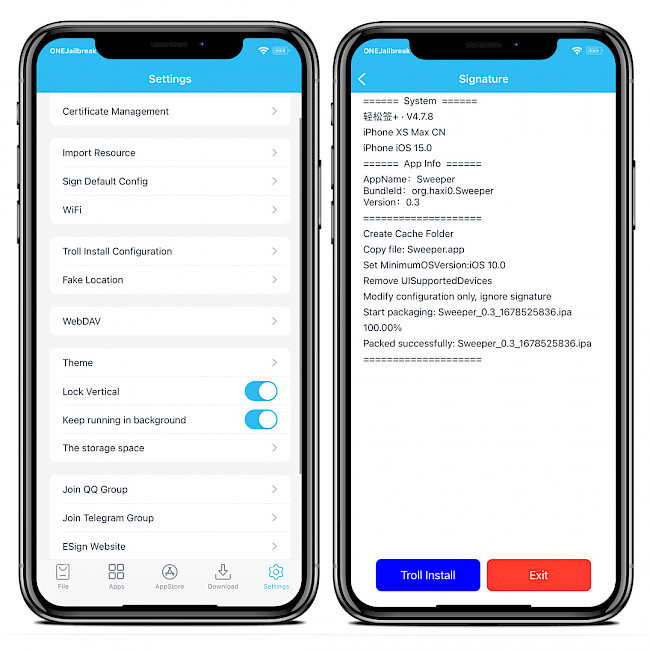 Download and install Esign IPA
Esign IPA can be downloaded and installed on any device running iOS 11 and newer. To sideload the IPA file on your iPhone, it's required to use a tool like Sideloadly that requires a computer.
To install Esign IPA on your iPhone with Sideloadly, follow those steps:
Step 1. Download Esign IPA (link on top of this page).
Step 2. Open Sideloadly application.
Step 3. Connect your iPhone / iPad to the computer via USB.
Step 4. Click on the IPA icon to select the app to install.
Step 5. Enter your Apple ID to sign IPA file.
Step 6. Click the Start button to install the IPA file on your device.
Step 7. Provide the password for your Apple ID.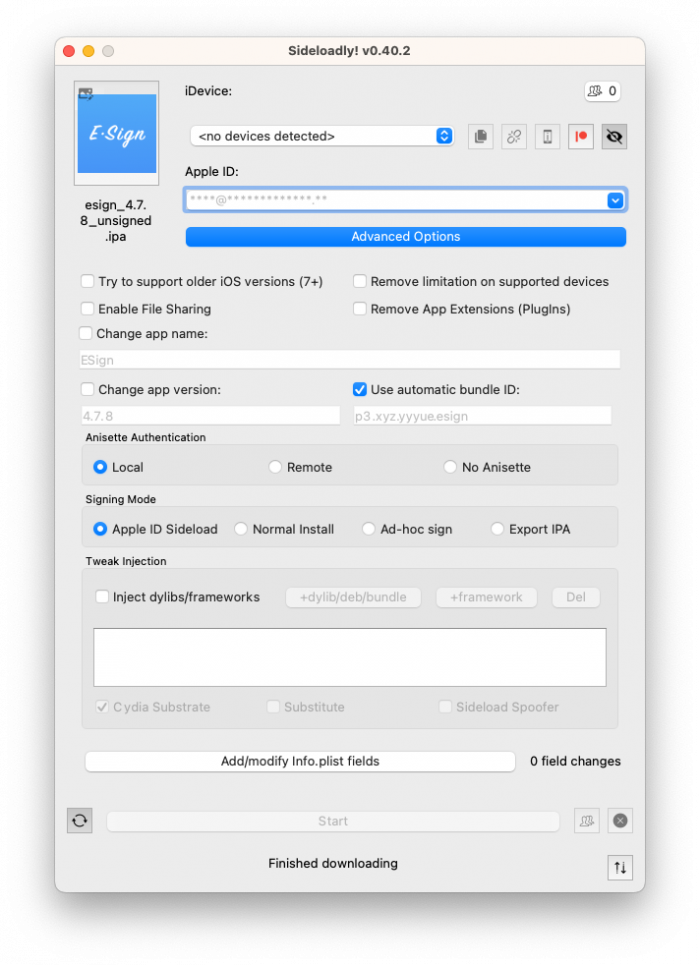 Alternatively, please use the quick link available at the top of this page. Install via Sideloadly button will automatically download and install the latest IPA with just one click.
Sideloadly software must be installed on your Windows or macOS.
Untrusted Developer
After the file is verified and installed on your iPhone or iPad, it's required to allow using apps from a developer account connected with your Apple ID. To allow the app to run go to Settings.
Step 1. Open Settings app from the home screen.
Step 2. Navigate to General → VPN & Device Management.
Step 3. Click on the developer app with your e-mail.
Step 4. Tap on Trust to allow the application to run.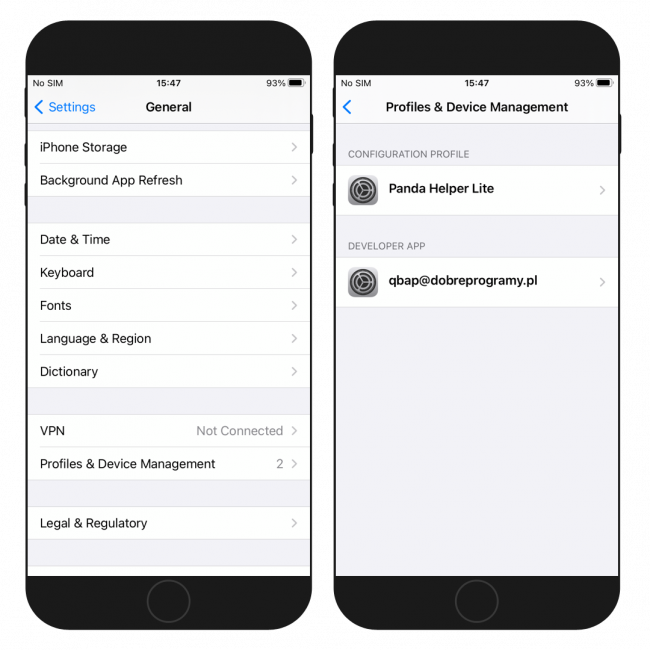 How to sign IPA files with Esign
Signing IPA files with ESign app is easy and intuitive. On jailbroken devices, you even don't need to sign files. This is how to install IPA files through Easy Sign on iOS.
Import an IPA file from the File List tab.
Add the IPA to Apps Library, taping by the file.
From the Unsigned filter, tap on the imported file.
From the new menu, select Signature to sign the file.
Configure all options if needed and tap Signature to proceed.
Once completed, you will be asked to install the app.
Trust the new developer account via General → VPN & Device Management.
What's new
Updated Esign IPA to version 4.8.2.
Added support for iOS 16.
Released Easy Sign+ for All devices on iOS 15 – up to iOS 15.5b4.
Released Easy Sign+ for iOS 14 up to iOS 15.5b4 (A12-A15) (no revokes).
Support permanent install through ESignInstaller, like TrollStore (iOS 15.0 – 15.1.1 only).
Support for multiple file selection.
Added signature compression ratio selection.
Support for self-built Alist network disk.
Support signature file name generation rulesSignature support for custom info.plist.
Signature default configuration support for custom info.plist.
Support for batch signature signing.
More international language support.
Large IPA signature optimization.
Download management optimization.
Major bugfix and preferences improvements.
Support signature option default configuration.
File-sharing can be enabled when signing.
Support iOS 15.1 signature.
Support injection of deb files.
Sponsored links
Comments
Post a comment