SpooferX Download

qbap |
iOS Apps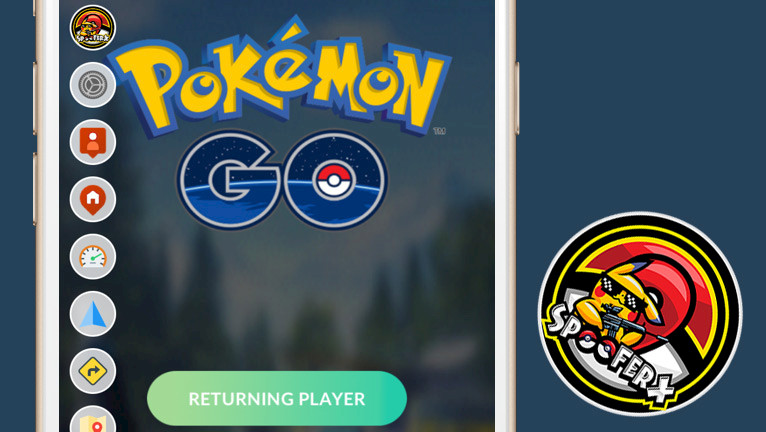 Pokemon GO is one of the most popular mobile games in the world. Now with an app like SpooferX for iOS caching new Pokemons can be much easier. Add new exciting features to the stock Pokemon app including teleporting. No jailbreak is required!
SpooferX IPA Download
InstallSpooferX no computer
What is SpooferX?
SpooferX is a Pokemon GO iOS Spoofer. Use the app to teleport to any location in the world, simulate walking, and find and catch the rarest Pokemons in the PokemonGO world. It works with all devices running iOS 13, iOS 14, and the latest iOS 15. Jailbroken devices are also supported.
Everyone in the Pokemon GO community knows the iSpoofer for POGO, which was canceled. Today we have two alternatives offering similar features and options. One is iPogo app which took the king's throne, and the send one is a fresh project called SpooferX.
To install it for free a computer is required. SpooferX is a tweaked version of the stock Pokemon GO app offering additional features and hacks in the game. Remember to remove the original app downloaded from the AppStore before sideloading SpooferX on your iPhone or iPad.
Be aware, that using apps like iSpoofer or SpooferX is not acceptable to the developer. When you activate cheats without thinking about how to use them you can get easily banned from the game. When you move in the game from a coach you must do it like in the real world.
SpooferX for POGO adds a lot of hacks to the game. The main feature is a built-in spoofer allowing you to set a fake GPS location in the game. Teleport to any region of your city or change the location to any place on Earth. There is also an option to move with a joystick.
The free version allows you also to change user speed when virtually walking, display IV Previews, Curve Ball, and enable modified throws (Normal, Nice, Great, Excellent, Random).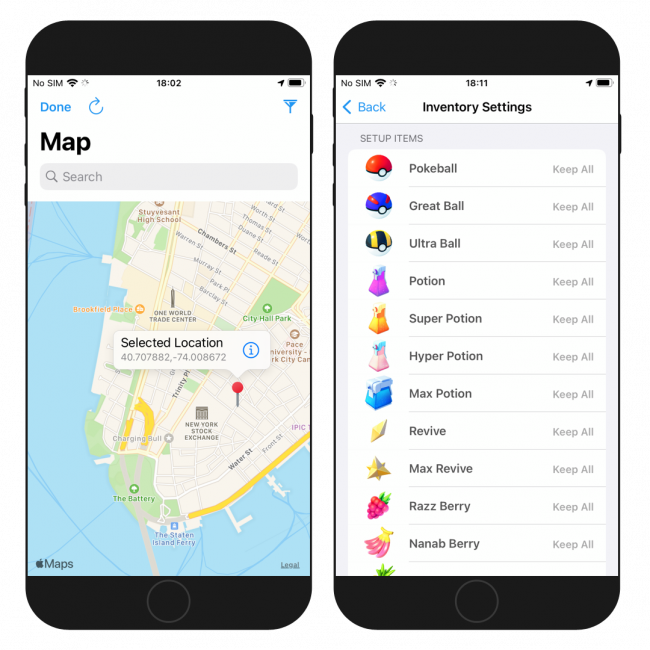 Spoofer Pro version of this Pokemon GO iOS Spoofer comes with a lot more features. These include block Non Shiny and Non Hundo, Fast Catch, Freeze Pokemon, Pokeball Settings, Spawn Booster, Remove AR Scan Quests, Remember Last Ball, use My Ball - Poké Ball, Great Ball, or Ultra Ball, PokeX, and Nearby Live Feed, Cooldown Warnings, Virtual Go Plus, and more.
Once installed, on Pokemon GO screen a SpooferX icon will be placed with access to available options. From here you can view all settings and often used functions like custom speed movement, move to a location, generate routes, and view the Spoofer map.
There is also an option to export all Settings, Routes, and Hotspots, release Pokemon on Catch, activate AR+ Expert Handler, enable item bag cleanup, and more. Toggle on or off options when needed from app settings. Use this app at your own risk. 2nd account is advised.
Developers working on SpooferX are updating it regularly to support the latest releases of the official Pokemon GO released in the AppStore. Always use the actual version of the Pokemon GO Spoofer app. When a new version of SpooferX is released download and update!
How to install SpooferX on iOS
SpooferX IPA can be installed on your iPhone or iPad using an app like AltStore or Sideloadly. Both methods require a computer. On jailbroken devices, use an IPA signing tool like ReProvision that works directly on your iPhone. Let's install SpooferX on iOS with Sideloadly app.
Download and install IPA
SpooferX IPA can be sideloaded on your iPhone using Sideloadly (Windows and macOS users). If you don't own a developer certificate the app can be signed with a free Apple account for 7 days. After that time the app will get revoked and stop working. When it happens install it again.
Step 1. Download SpooferX IPA from the link on top of this page.
Step 2. Open Sideloadly application.
Step 3. Connect your iPhone / iPad to the computer via USB.
Step 4. Load the downloaded IPA file to the app to install.
Step 5. Provide your Apple ID to sign IPA file.
Step 6. Click the Start button to sideload the IPA file on your device.
Step 7. When prompted, enter the password for your Apple ID.
Alternatively, please use the quick link available at the top of this page. Install via Sideloadly button will automatically download and install the latest IPA with just one click.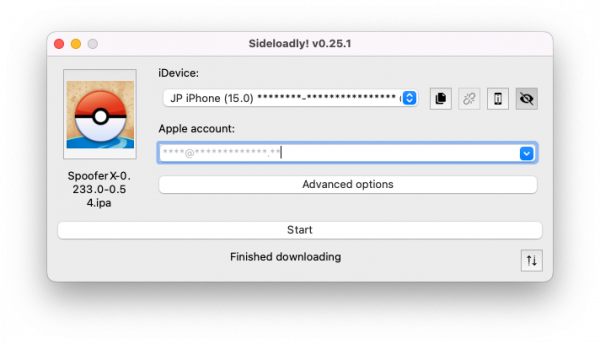 After the file is verified and installed on your iPhone or iPad it's required to allow using apps from a developer account connected with your Apple ID. To allow the app to run go to Settings.
Step 1. Open the Settings app from the home screen.
Step 2. Navigate to General → VPN & Device Management.
Step 3. Click on the developer app with your e-mail.
Step 4. Tap on Trust to allow the application to run.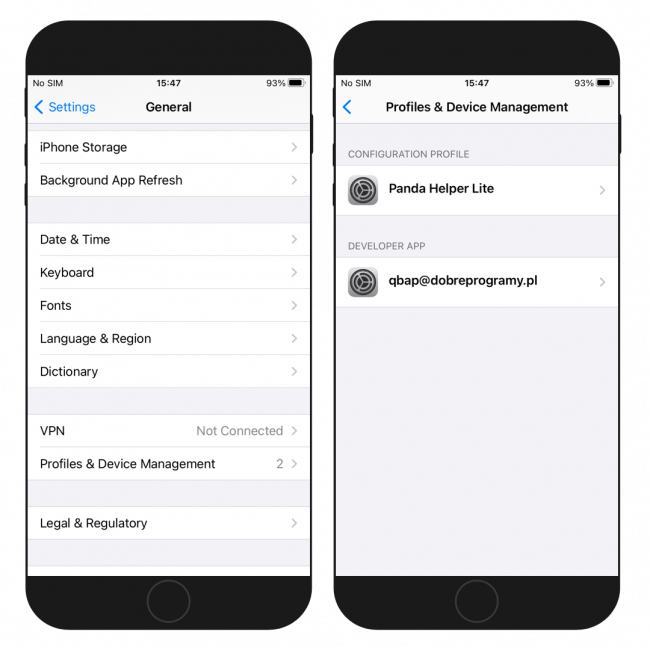 Bypass jailbreak detection
SpooferX, and more precisely the Pokemon GO app, doesn't work by default on a jailbroken device. Fortunately, there is a vnodebypass tweak that allows you to bypass the jailbreak detection and allow you to run the game without any issues with or without this modification.
Add https://ipogo.app/repo repository to Cydia Sources.
Install the modified version of vnidebypass tweak from the newly added repo.
Open vnidebypass from the HomeScreen.
Tap on Start iPoGo Launcher (no need to enable the tweak systemwide).
If Pokemon GO will not open try to enable the tweak globally and lunch the app manually from the Home Screen. This iPogo jailbreak bypass tweak was tested to work with iOS 14.
What's new
Added support for the latest version.
Improved Auto Walk.
Improved Gpx Walk.
Improved Joystick Walk.
Improved Tap to Walk.
Improved Joystick Moving.
Improved Map a little.
Added New Popular Places.
Added New Events Places.
Added New User Places.
Added Journal.
Added Resume GPX Walk.
Fixed Crash on Settings Imports.
Fixed Ultra Raids Info.
Removed Scanner Warning.
Added Auto Snapshot Buddy.
Added Audio Incubate.
Fixed Joystick on iPhone SE 1st and 2nd Gen.
Disabled ProGo+ on Teleport.
Added IV Stats in Pokemon Scanner Alert.
Added Option to Remove Visited Pokemon from feeds.
Added Item Bag Full Alert instead of Notification.
Added Pokemon Bag Full Alert instead of Notification.
Added Option to Disable Teleport Dialogue on Feeds.
Added One Click Item Bag Cleaner Free for All.
Added One Click Pokemon Bag Cleaner.
Updated Pokemon Transfer Rules, Don't Transfer Raid or Hatched Pokemon.
Added Force Missed Ball Throw.
Added Street Walk (Beta),Walk to Locations via Streets.
Added Overworld Shinies (Beta).
Removed Use your Ball in favor or Remember Last Ball.
Added support for the latest version of POGO app.
The joystick will show by default.
Fake Location is ON by default.
Added Catch When Found for Pro Users (Automatically catch found Pokémon).
Added Feed Berry First for Pro Users (Automatically feed berry before catch).
Comments
Post a comment