SpooferX for iOS: Spoofer Pro for Pokemon GO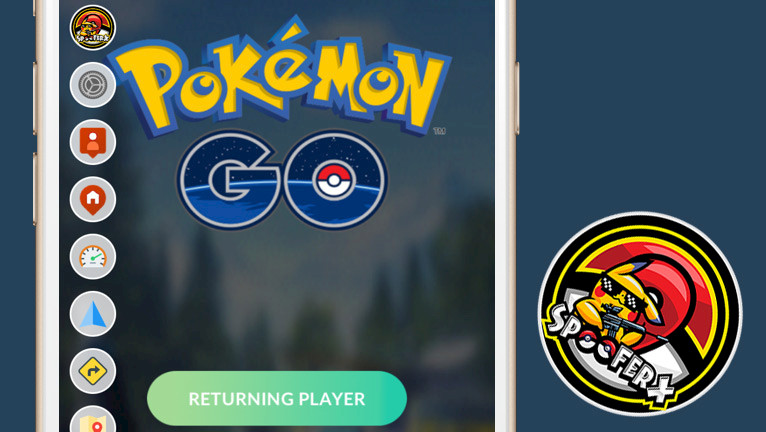 Pokemon GO is one of the most popular mobile games in the world. Now, with an app like SpooferX for iOS, caching new Pokemons can be much easier. Add new exciting features to the stock Pokemon app, including teleporting. No jailbreak is required!
SpooferX IPA Download
SpooferX IPA, the Pokemon GO Spoofer for iOS, can be also sideloaded with on-device IPA installers such as TrollStore, Esign, or Bullfrog Assistant. All work without jailbreak.
InstallSpooferX no computer
What is SpooferX?
SpooferX is an iOS app that allows you to cheat in the popular mobile game Pokemon GO. With SpooferX, you can easily teleport to any location in the world, simulate walking, and catch even the rarest Pokemon. The app is compatible with iOS 13 – iOS 16, including jailbroken devices.
iSpoofer for POGO was a well-known tool among players of the popular mobile game Pokemon GO. However, it has since been discontinued, leaving many players in search of alternative options for cheating in the game. SpooferX and Spoofer Pro are great alternatives for iPhones.
If you're looking for a way to cheat in the Pokemon GO mobile game, you have two main options to choose from. The first is iPogo, which has become the go-to choice for many players due to its wide range of features and options. The second option is SpooferX with similar features.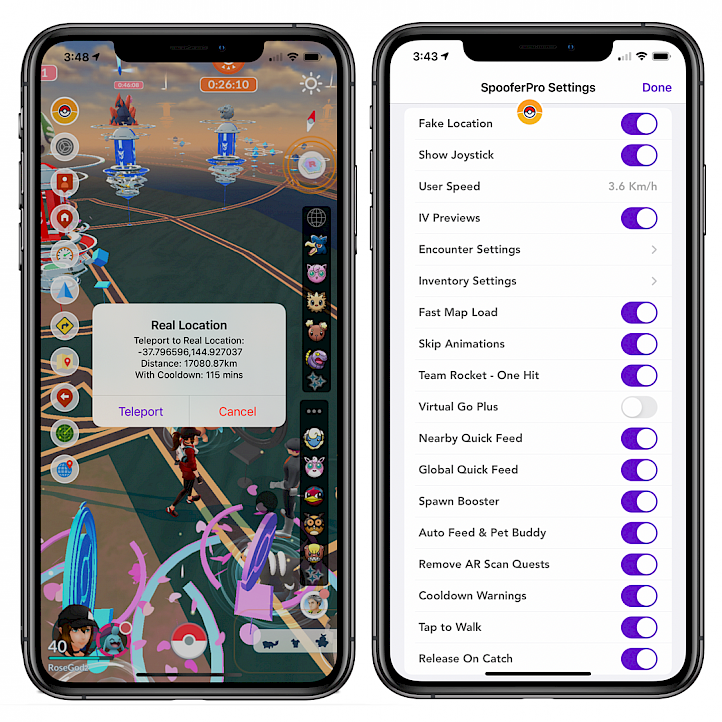 To install it for free, a computer is required. SpooferX is a tweaked version of the stock Pokemon GO app, offering additional features and hacks in the game. Remember to remove the original app downloaded from the App Store before sideloading SpooferX on your iPhone or iPad.
It's important to note that using cheating tools like Spoofer Pro and SpooferX is not condoned by the developer of Pokemon GO. While these apps may offer tempting shortcuts, it's critical to consider the consequences of using them. If you're not careful, you may risk getting banned.
SpooferX for POGO is an app that provides a range of hacks for the popular mobile game Pokemon GO. The app's main feature is a built-in spoofer, which allows you to set a fake GPS location in the game. This allows you to teleport to any region of your city or any location on Earth, giving you the ability to catch Pokemon that may not be available in your current location.
The Pokemon GO spoofer also includes a joystick feature, which allows you to move around the virtual world more easily. With these powerful hacks at your disposal, SpooferX for POGO can help you take your Pokemon GO gameplay to the next level. Free and paid version are available.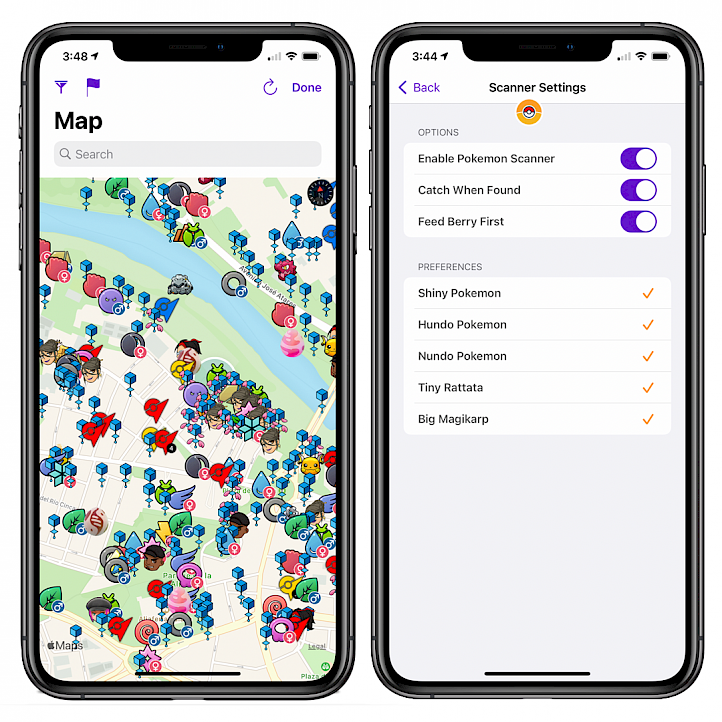 The free version of SpooferX includes a range of useful features for cheating in Pokemon GO. These include Spoof GPS location, Joystick that lets you move around the virtual world more easily, speed settings to adjust your virtual walking speed, IV previews, enhanced throw giving you more control over your throws (normal, nice, great, excellent, and random throws).
Spoofer Pro version of this Pokemon GO Spoofer is packed with even more features to enhance your gameplay. Some standout features include the ability to block non-shiny and non-100% Pokemon, fast catch mode, the ability to freeze Pokemon in place, custom pokeball settings, a spawn booster, the option to remove AR scan quests, the ability to remember the last ball used, a virtual Go Plus, and much more. Spoofer Pro is available in $4.99 subscription model.
Once installed, on Pokemon GO screen, a SpooferX icon will be placed with access to available options. From here you can view all settings and often used functions like custom speed movement, move to a location, generate routes, and view the Spoofer map.
There is also an option to export all Settings, Routes, and Hotspots, release Pokemon on Catch, activate AR+ Expert Handler, enable item bag cleanup, and more. Toggle on or off options when needed from app settings. Use this app at your own risk. 2nd account is advised.
Developers working on SpooferX are updating it regularly to support the latest releases of the official Pokemon GO released in the App Store. Always use the actual version of the Pokemon GO Spoofer app. When a new version of SpooferX is released, download and update!
Good Alternative of SpooferX
When it comes to catching more Pokémon or changing locations, SpooferX has long been a popular choice among trainers. However, for those seeking a reliable alternative with advanced features and enhanced safety, UltFone Location Changer stands out as a superior option.
One of the standout features is its Auto Walking Hack with Joystick movement. With one click to teleport to any desired location instantly, trainers can easily access rare Pokémon nests, high-density PokeStops, and gyms that would otherwise be out of reach.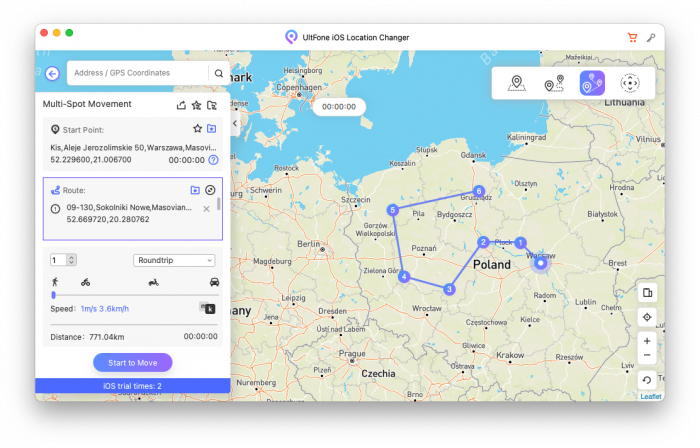 What's more, it provides other two different movement modes, Single-spot Movement and Multi-spot Movement, which let the player simulate walking. You can use it to hatch eggs and catch rare candy without walking 2/5/10 km.
Unlike many other location spoofing tools, UltFone Location Changer offers a robust anti-detection mechanism, cooldown timer, and adjustable Moving Speed that significantly reduces the risk of bans.
Additionally, it supports multi-device control, allowing trainers to manage multiple iOS and Android accounts simultaneously without Jailbreak and Root safely.
It even takes convenience by enabling trainers to import and export GPX files from the Pokemon GO Discord community. This feature enhances the flexibility of location or coordinates spoofing activities.
Follow the below steps to Catch more shinny Pokemon with UltFone Location Changer:
Download and launch UltFone iOS Location Changer on your PC. Make sure to select the "GPS Change" icon from the left tab and click on Enter to proceed.
Next, connect your device to the computer and click on Next to begin.
The program will display a world map on the screen. Enter the desired location or manually move your mouse to select any location you desire.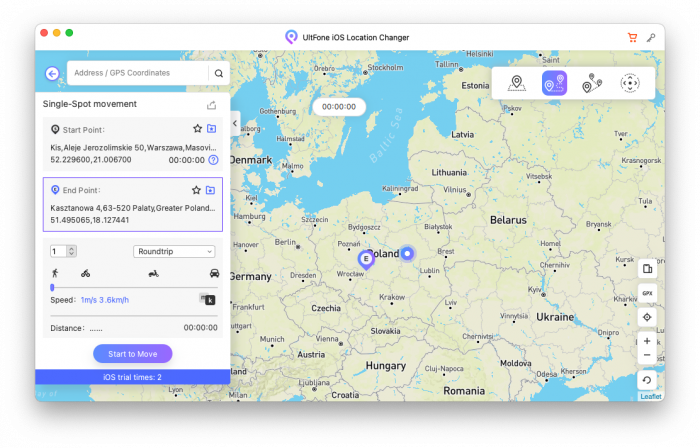 How to install SpooferX on iOS
Download SpooferX IPA, the ultimate Pokemon GO spoofer for iOS. Easily install the app without fear of revokes using Sideloadly on your iPhone. No jailbreak required. Upgrade your Pokemon GO experience and catch the rarest creatures with SpooferX IPA for iOS 13 – iOS 16.
Note: It's always best to play the popular mobile Pokemon GO game as it was intended, moving in the virtual world as you would in the real one. While cheating may seem appealing, it's ultimately not worth the risk of losing access to the game you love.
To install SpooferX IPA on your iPhone or iPad, follow these steps. Once the installation is complete, you should be able to find SpooferX or Spoofer Pro on your device's Home Screen.
Download the SpooferX IPA file from the link provided on top.
Open the Sideloadly app on your computer.
Connect your iOS device to your computer using a USB cable.
In Sideloadly, select the option to load the downloaded IPA file.
Enter your Apple ID and password to sign the IPA file.
Click the "Start" button to begin sideloading the app onto your device.
If prompted, enter the password for your Apple ID again.
Open the Settings app from the Home Screen.
Navigate to General → VPN & Device Management.
Tap on the developer app with your e-mail.
Tap on Trust to allow Spoofer Pro app to run.
Tip: Alternatively, please use the quick link available at the top of this page. Install via Sideloadly button will automatically download and install the latest IPA with just one click.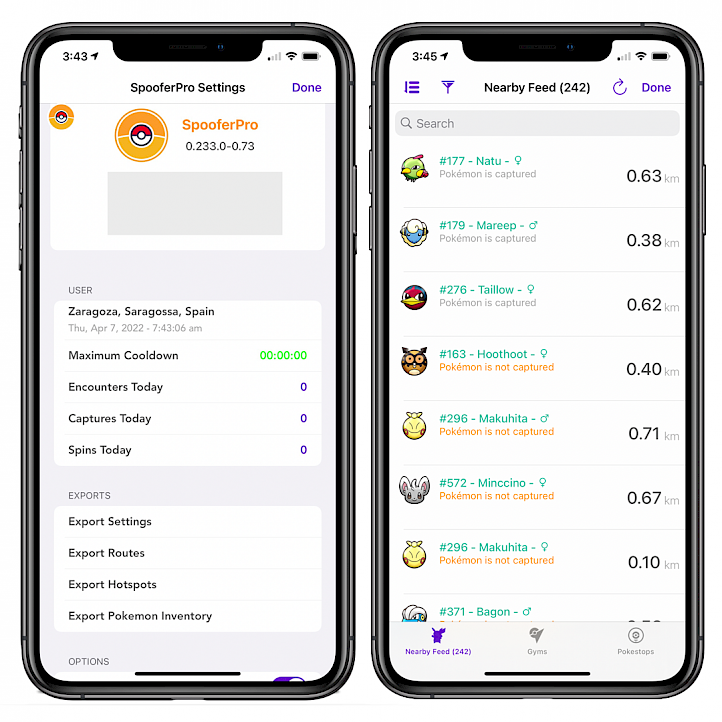 Add Repository
SpooferPro is now also released as a dedicated tweak for POGO that can run on unc0ver, checkra1n, and Taurine jailbreaks. Add SpooferX Repo to Cydia and install SpooferPro tweak from the Tweaks Section. KernBypass package for SpooferPro tweak is included.
To install SpooferPro or SpooferX on your iOS device, follow these steps:
Open the Cydia app from the Home Screen.
Tap on the Sources tab, then select Edit.
Add the following repository URL:


https://repo.spooferpro.com/
https://repo.spooferpro.com/rootless/

Search for SpooferPro and tap on the package to install it.
Restart the Springboard to apply the changes.
For added convenience, you can quickly add the repository to your preferred package managers (Cydia, Sileo, Installer, Zebra) by using the quick links provided below. With just one click, you can easily add the repo to purchase SpooferPro tweak for iOS 15.
Bypass jailbreak detection
SpooferX, and more precisely the Pokemon GO app, doesn't work by on a jailbroken device. Fortunately, there is a vnodebypass tweak that allows you to bypass the jailbreak detection. With these steps, you should be able to use the Pokemon GO app on your jailbroken device.
Open the Cydia app on your device and navigate to the "Sources" section.
Add the repositories to your list of sources:


https://ipogo.app/repo
https://alias20.gitlab.io/apt/

Install the modified version of the vnodebypass tweak from the repo.
Once the installation is complete, access the vnodebypass tweak from Home Screen.
Tap on the "Start iPoGo Launcher" option to launch the app.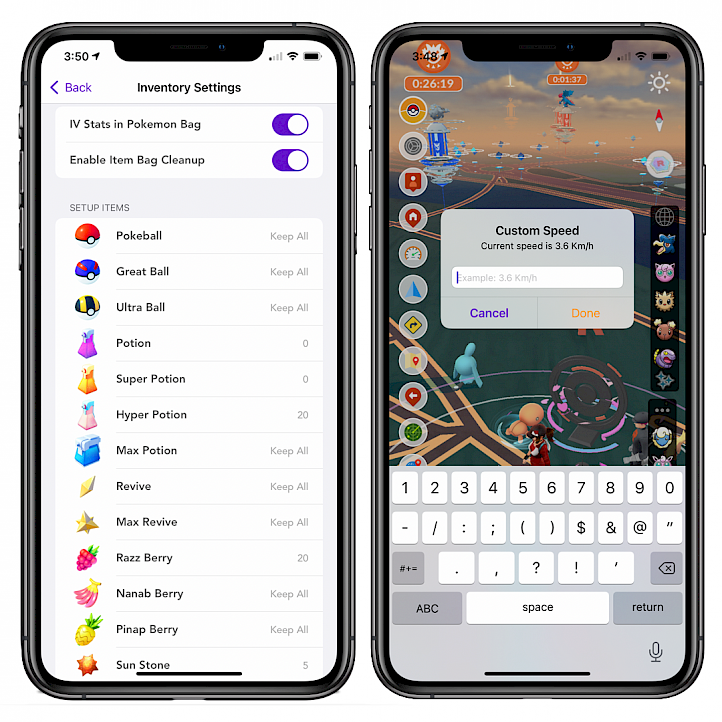 Note: To use the SpooferX app on your jailbroken iOS device, you don't need to enable the tweak system-wide. If you have trouble getting Pokemon GO to open, you may need to enable the tweak globally and then launch the app manually from the home screen.
What's new
Updated Spoofer Pro to version 0.283.0, tweak: 0.199.
Added support for the latest version of POGO.
Jailbreak tweak initial release.
Performance improvements.
VGP is Pro Feature Again.
Partially fixed Camera Glitch.
Added Tap to Teleport.
Improved Auto Hatcher.
Auto Hatcher uses only Basic Unlimited Incubator.
Improved Auto Buddy.
Auto Buddy collects gifts and souvenirs.
Improved Release On Catch.
Release On Catch supports ProGo+.
Tap to Walk is Pro Feature.
Added Support for Elite Raids.
Added Auto Photobomb and Trainer Pro Battles.
Added Skip Rocket Dialogues to Pro Battles.
Comments
Post a comment