Scarlet IPA: install favorite apps on iOS 14 - iOS 15

qbap |
iOS Apps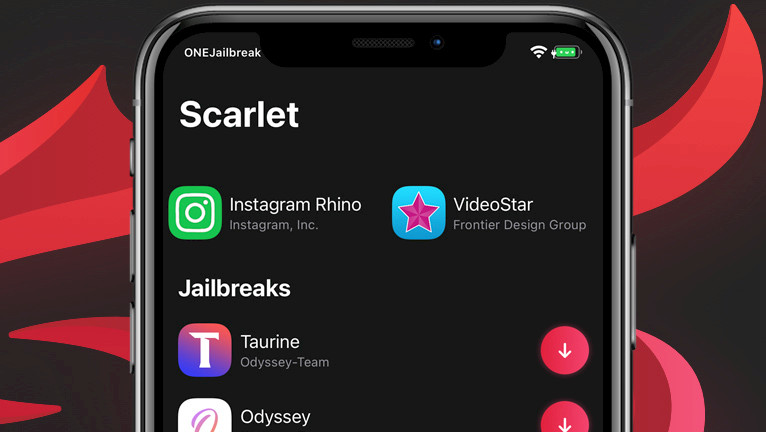 Riley Testut's AltStore was a groundbreaking tool that paved the way for users to sign and install IPA files on iOS devices, following the shutdown of Cydia Impactor. As an open source project, AltStore's technology was soon adopted by others, leading to the development of new IPA installing tools such as Scarlet and ScarletCloud.
Install Scarlet IPA on your iPhone:
What is Scarlet?
Scarlet is a cutting-edge on-device IPA installer designed for iOS devices. Based on the advanced technologies of both AltStore and SideStore, Scarlet enables you to effortlessly sign and install IPA files on your device using your Apple ID and password. The 7-day free certificate makes the process even more convenient, although a PC connection is required to use Scarlet.
While the process of installing Scarlet is generally straightforward, it's important to take certain preparation steps to ensure a seamless installation experience, especially when using Scarlet on jailed devices without a PC. Luckily, there are multiple options available for installing the app, including through IPA, TrollStore, weblink, and the ScarletCloud installer for Desktop.
Scarlet is a powerful tool for installing third-party apps on your iDevice, offering a robust feature of supporting sources list. With a preinstalled list containing jailbreak tools, ++ apps, and emulators, the app makes it convenient for you to download and install them on your device.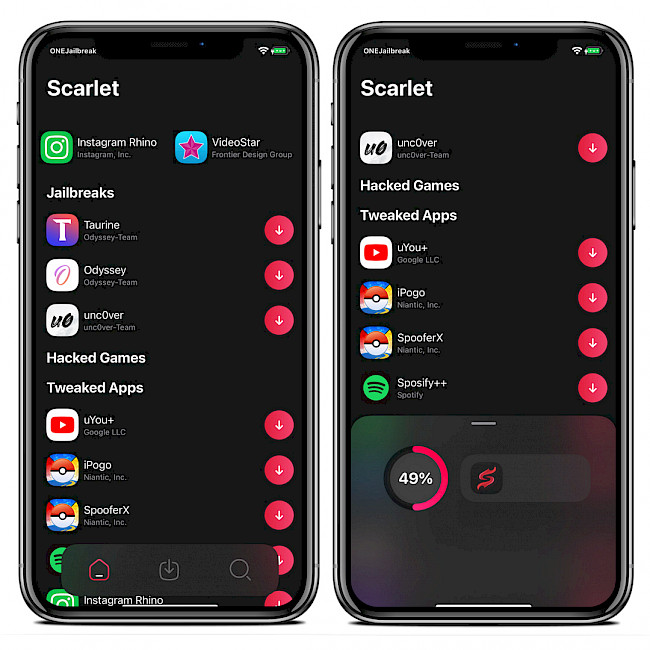 Warning: Don't use your main Apple account! It may be locked during the process. If it happens you will be forced to reset the password for the account to make it work again.
Scarlet was intentionally designed with simplicity in mind, resulting in a user interface that is straightforward and uncluttered. The app offers only essential features and options, which makes it easy to navigate and use. Upon opening the app, you will be presented with a list of the default Scarlet Repo apps that are available for download. To download an app, simply click on the download button. The app will then be automatically downloaded, signed, and installed.
Refreshing installed IPA files is a breeze, and for supported apps, you have the option to run JIT mode. Just-In-Time compilation allows supported apps to be natively compiled on the device, resulting in full-speed performance. For instance, with Delta JIT compilation, the Fast Forward speed can be doubled from 1.5x to 3x, making it run at lightning-fast speeds, with no lag.
When you will install Scarlet from the weblink it will be prebuilt with an enterprise certificate that allows you to install apps and sign IPA files without the need to refresh apps every 7 days. However, the certificate can get easily revoked by Apple. In some cases you can go to Settings app and enable "Disable Anti-Blacklist" from Scarlet preference pane to revers the state.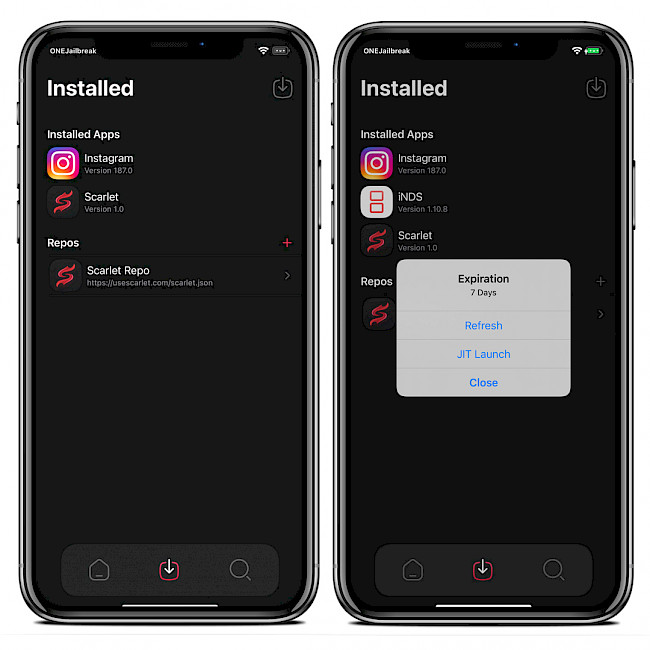 If the mentioned method doesn't work for you, there's another option - ScarletCloud. This desktop tool, which is available for Windows, Linux, and macOS, enables you to install Scarlet on your iPhone or iPad and use your Apple ID to sign IPA files and install apps on your device.
However, please note that a cable connection to the PC is required to sign files, which can be a downside. Nevertheless, ScarletCloud is a useful alternative that can come in handy when the regular installation method is not an option. All devices on iOS 13 – iOS 16 are supported.
In order to sign IPA files using your Apple ID and a free developer account, you'll need to have ScarletCloud Beta open so that connected devices can allow Scarlet installs. This process is necessary to ensure that the IPA files are properly signed and installed on your device.
In the future, it would be beneficial to potentially add the ability to sign IPA files over Wi-Fi or without the need for a PC. While SideStore already offers this feature, it would be a valuable addition to Scarlet's suite of tools. This would provide users with even more flexibility and convenience when installing and using their favorite apps on their iOS devices.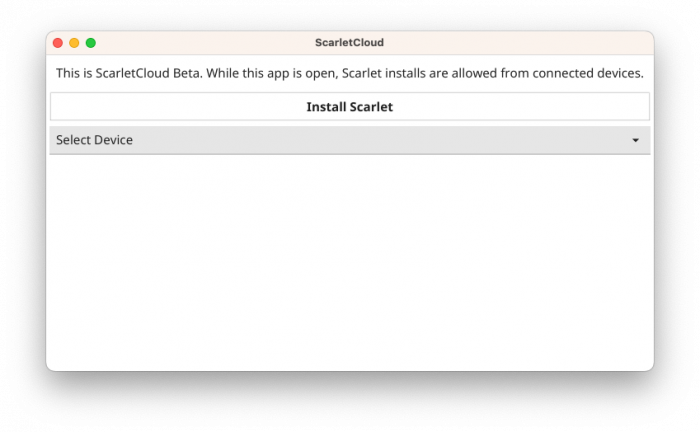 Tip: Scarlet app has the ability to read Cydia Repositories, which provides you with access to a comprehensive list of available packages. Using this feature, you can install certain apps that don't require tweak injection or an active jailbreak, making the process efficient.
Download Scarlet IPA
To install the Scarlet IPA on your iPhone or iPad using ScarletCloud for Desktop requires some preparations. Scarlet resigns apps with your personal development certificate, and then uses a specially designed VPN in order to trick iOS into installing them. Scarlet IPA comes with custom certificate to sign IPA files on your device and Developer login option.
To install the Scarlet IPA on your iPhone using ScarletCloud, follow these steps:
Open ScarletCloud and install Scarlet onto your device.

Once installed, the Scarlet app will be available from the Home Screen.
Install WireGuard VPN Tunnel app from the App Store.
Import the Scarlet Configuration File to WireGuard app.
Connect your iPhone or iPad to the computer via USB.
Open ScarletCloud and select your device.
Enable Scarlet Configuration File in WireGuard App.
Open Scarlet app from your Home Screen.
Import IPA or install available apps from repo.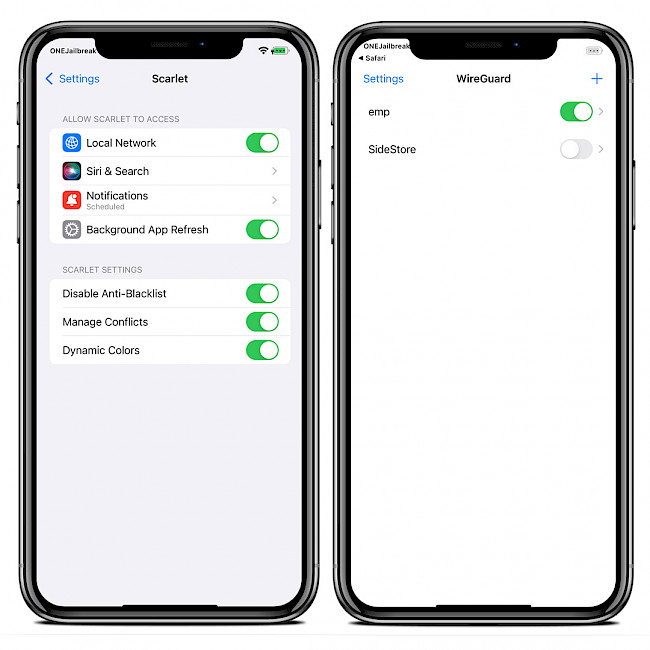 What's new
Updated Scarlet to version 1.0.
Added support for 2FA.
Fixed anisette reset freezes.
Fixed some issues with MailPlugin installation.
Added 3 app limit workaround.
Much faster deb decompression.
Visual bug fixes and performance improvements.
Fixed tweaks not injecting when clicking install from navigation menu.
Added new experimental sideloader.
Post a comment