CrackerXI+ is an on-device iOS app cracker

qbap |
iOS Apps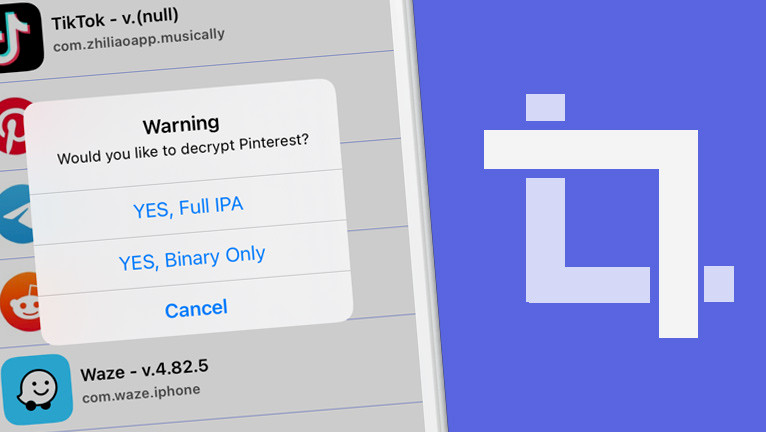 There are a few methods and tools to decrypt iOS apps installed through the AppStore. CrackerXI+ is a simple jailbreak app that allows everyone to decrypt apps and generate fakesigned IPA files. Install the cracking tool on your device now. Jailbreak required!
Add CrackerXI+ Repo to your package manager.
What is CrackerXI+?
CrackerXI+ is a free iOS utility for jailbroken devices developed to decrypt installed AppStore apps and generate fakesigned IPA or binary files. With a decrypted IPA file you can easily share the package with your friends or use them to modify the code and inject dylibs.
Once installed, the CrackerXI+ app will be added to the Home Screen. With the first lunch, the tool will find all the installed apps through the official AppStore and list them on the AppList. To decrypt the app simply tap on its name on the list and choose to generate IPA or binary files.
Cracking iOS apps takes a couple of seconds. CrackerXI+ comes with basic options to configure. From the Setting tab, you can enable the CrackeXI Hook, add cracker name, remove UISupportedDevices, set min. iOS version, remove Watch App if available, and fakesign IPA file.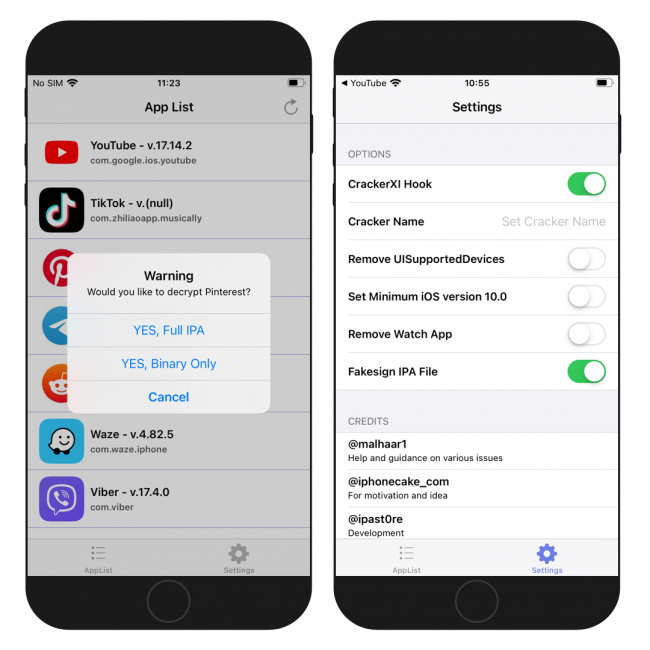 Decrypted packages can be installed on other devices using tools like AppSync Unified, ReProvision, or Sideloadly. CrackerXI+ supports all jailbreaks running iOS 11 up to iOS 14. Enabling CrackerXI Hook option from app settings is required to decrypt the iOS apps.
All decrypted apps are stored at:

/var/mobile/Documents/CrackerXI
If this decryption tool doesn't work for you, you can always try an alternative. DumpDecrypter offers similar features and it automatically removes all kinds of restrictions placed on iOS apps. IPATool is a command line tool that allows you to search for iOS apps on the App Store and download a copy of the encrypted app package, known as an IPA file.
Repository
iPhoneCake Repository contains the latest version of the CrackerXI app. To install the cracking tool on your iPhone it's required to add the official Repository to Cydia Sources.
Open the Cydia app and tap on the Sources tab.
Tap on Edit → Add buttons and enter http://cydia.iphonecake.com/ Repo URL.
Install CrackerXI+ from the new repository.
Respiring your iPhone to apply changes.
Access the app from the Home Screen.
Alternatively, please use the quick links available at the top of this page to add the repository to your favorite package managers (Cydia, Sileo, Installer, Zebra) with just one click.
How to decrypt iOS app
If you running a jailbreak like unc0ver or checkra1n it's really easy to crack and decrypt iOS apps directly on your iPhone. Install CrackerXI+ tool and decrypt your first iOS app and create a fakesign IPA package. Follow those steps to proceed with decrypting iOS apps.
Step 1. Open CrackerXI+ app from the Home Screen.
Step 2. Refresh the AppList to display all installed AppStore apps.
Step 3. Tap on the Settings panel to enable CrackerXI Hook.
Step 4. Navigate back to the AppList and click on an app to decrypt.
Step 5. Select decrypt Full IPA.
Step 6. Processing and generating the IPA file will take a few seconds.
Step 7. Once completed, the generated IPA file will be located in the Documents folder.
Post a comment