MovieBoxPro IPA for iOS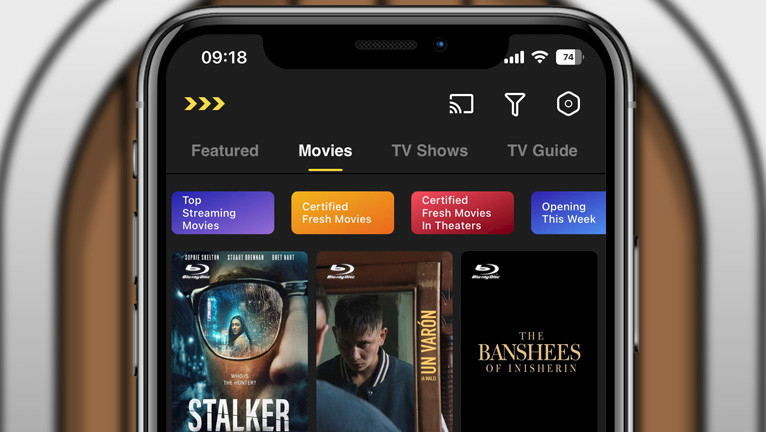 Recently, Netflix has initiated a crackdown against account sharing with your friends to watch your favorite movies and TV shows. If you don't have access to latest videos you can consider to download MovieBoxPro IPA for iOS and install it on your iPhone. MovieBox Pro can be accessible only via invite from someone using the platform already.
Install MovieBoxPro IPA on your iOS device:
What is MovieBoxPro?
MovieBoxPro for iOS allows you to stream movies and TV shows on mobile devices. With its library, you can find and access any video content you desire. While the free version offers 360p quality videos, to enjoy a higher resolution of 720p and 1080p, you'll need to upgrade to VIP. To access the MovieBox Pro platform it's required to get an invitation code from a member.
The app interface of MovieBoxPro is expertly crafted, making navigation a seamless experience. The categories are clearly defined and easily accessible, allowing for a smooth and effortless exploration of the available content. In addition to its comprehensive movie and TV show library, MovieBoxPro also features a TV Guide that helps you stay up-to-date on the latest episodes of your favorite TV series. With it, you'll never miss a moment of your favorite shows.
Upon installation of MovieBoxPro IPA on your iPhone, the app's icon will be prominently displayed on the Home Screen. To access the video library, you must log in to the app using your Google Account for verification purposes. This step is required to access all videos.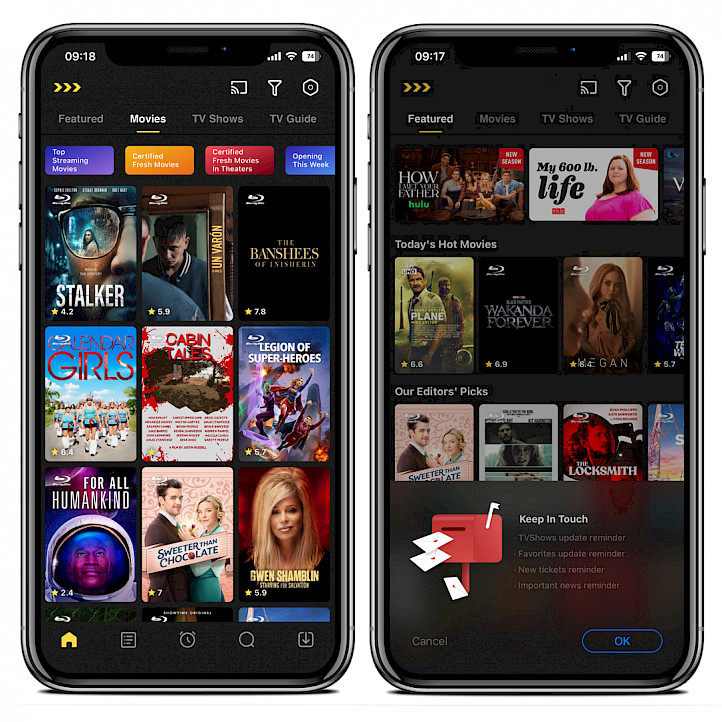 MovieBoxPro for iOS comes loaded with a multitude of valuable features, including the ability to automatically download subtitles for non-native speakers, choose from various video quality options, download movies and TV shows for offline viewing, and even cast videos to compatible devices such as DLNA and Apple TV. Gain a truly unparalleled streaming experience.
When watching a lot of TV shows, it's important not to miss any upcoming or released episodes. MovieBoxPro TV Guide keeps you updated on the latest releases and lets you add your favorite shows to a list, discover recommended shows, and track watched episodes.
MovieBoxPro for iOS is packed with useful features, including automatic playback of the next episode, automatic selection of subtitles, smart downloads that automatically detect and remove watched videos, the ability to download desired video resolutions from 360p up to 8k (if available),and automatic downloading of the next episode.
Additionally, there is a child mode to prevent the display of R18 content, or to show only selected movies and TV shows. MovieBoxPro streams videos from multiple servers located in the USA, UK, CN, or DE. There is also a dedicated server exclusively for VIP members.
Moreover, MovieBoxPro for iOS offers advanced filtering options to help you discover new movies and TV shows. You can filter results by IMDb or Tomato Meter ratings, movie rating, resolution, year released, country or region, or one of 30 genres.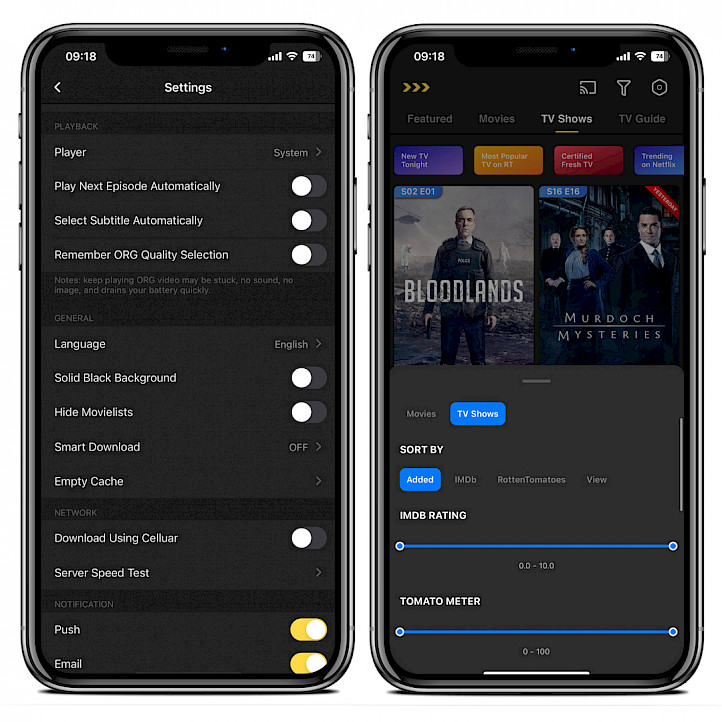 You can also access movies and TV shows from popular streaming platforms like Netflix, Apple TV+, HBO, Hulu, Disney+, SHOW Time, and Prime Video through curated collections lists. MovieBoxPro for iOS enables you to run the app on multiple devices (up to 5 devices),which you can manage from the app settings page. The app is available on multiple platforms including macOS, Windows, Web, Android, and iOS (with support for iOS 9 to iOS 16).
MovieBoxPro for iOS has a feature-rich built-in video player. From it, you can fast-forward the video, lock the screen, enable picture-in-picture mode, select a device to cast to, change video quality, select subtitles, change the audio track if available, enable AirPlay, and even change the aspect ratio. Additionally, there is an option to switch the default video player to VLC.
Each video comes with a comprehensive description that includes details like genre, cast, director, length, a video trailer, and release date. You can also write your own review, vote or downvote a movie, download it for offline viewing, and add it to your favorites.
MovieBoxPro VIP, available as a subscription starting at $3.99 per month, not only provides higher-quality videos for download or streaming, but also offers access to the TV version. VIP supports all Android devices (4.3 or newer) and Apple TV devices (4th generation or newer).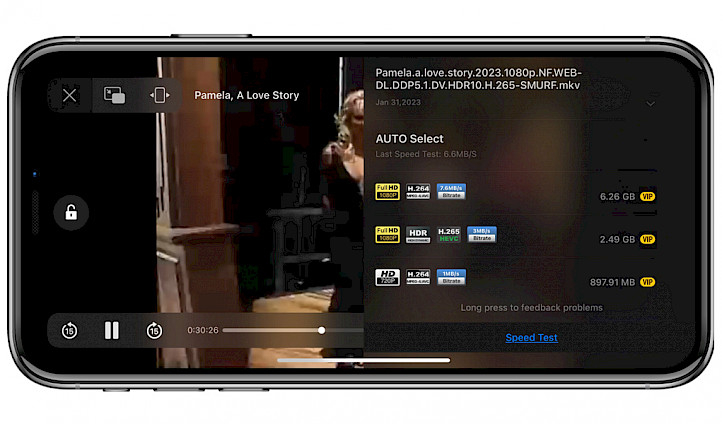 MovieBoxPro for iOS is a version of the app that's specifically designed to work on iPhones. It offers users a fantastic alternative to other movie streaming apps like Popcorn Time iOS or ZiniTevi, both of which are compatible with iOS 13 through iOS 16 and offer similar features.
Download MovieBoxPro IPA
MovieBoxPro IPA is the official distribution method of the popular movies and TV shows streaming platform for iOS. Download MovieBoxPro IPA without ads and sideload the app with your favorite IPA installer such as TrollStore, SideStore, AltStore, Esign, or Bullfrog Assistant.
Download MovieBoxPro IPA for iOS:
To install MovieBoxPro IPA for iOS with Sideloadly, follow those steps:
Download MovieBoxPro IPA from the links provided above.
Run Sideloadly application on your PC or Mac.
Connect your iPhone or iPad to the computer via USB.
Load the IPA file into the app to begin the installation process.
Enter your Apple ID to sign the MovieBoxPro IPA file.
Click the "Start" button to begin sideloading the IPA file onto your device.
When prompted, enter the password for your Apple ID.
Open the Settings app from the Home Screen.
Navigate to "General" → "VPN & Device Management".
Click on the developer app associated with your email.
Tap "Trust" to allow the app to run.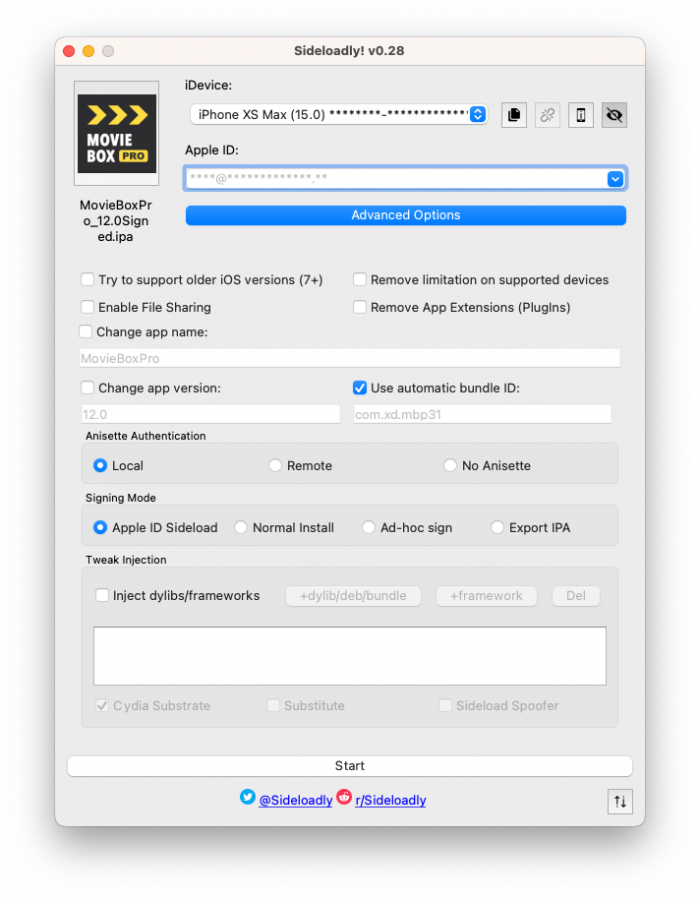 Note: If you don't have a developer certificate, you can use your free Apple account to sign and install MovieBoxPro IPA and use it for up to 7 days before it needs to be re-signed.
To install MovieBoxPro IPA for iOS with TrollStore, follow those steps:
Install the TrollStore app on iOS 15 with your preferred method.
Download MovieBoxPro IPA with Safari mobile.
Open the Files app on your iPhone and navigate to "Recents".
Select the downloaded IPA and send it to the TrollStore app.
MovieBoxPro will be installed, and an icon will be placed on the Home Screen.
To install MovieBoxPro IPA for iOS with AltStore, follow those steps:
Install AltStore on your iOS device.
Download the latest MovieBoxPro IPA file.
Open the AltStore app on your device and navigate to the "My Apps" tab.
Tap on the plus icon "+" located at the top of the screen, and then select the MovieBoxPro ipa file you downloaded.
If this is your first time using AltStore, you will be prompted to enter your Apple ID and password. This information is required by AltStore to sign the app for installation.
The installation process will begin, and once it is complete, you can open MovieBoxPro from the "My Apps" tab or directly from your device's Home screen.
Add Repository
For jailbroken devices, the MovieBoxPro app was released through the official movieboxpro.app repository. To install the app and stream movies and TV shows on your mobile device, add the MovieBoxPro Repo to your package manager. Please note that the MovieBoxPro IPA can also be installed on jailbroken devices. We provide the IPA version with ads removed from the app.
To install MovieBoxPro for iOS using Cydia, follow those steps:
Open the Cydia app from the Home Screen.
Tap on the Sources tab, then select Edit button.
Add the following repository URL:


​​​​​​​https://www.movieboxpro.app

Search for MovieBoxPro and install the package.
Respiring your iPhone to apply all changes.
Access the MovieBoxPro app from the Home Screen.
For added convenience, you can quickly add the repo to your preferred package managers (Cydia, Sileo, Installer, Zebra) by using the convenient quick links provided at the top of this page. With just one click, you can easily add the repo and download MovieBoxPro for iOS 15.
What's new
Updated MovieBoxPro IPA to version 13.0.
Overall improvements and bug fix release.
Post a comment