DumpDecrypter can decrypt IPA files from iOS App Store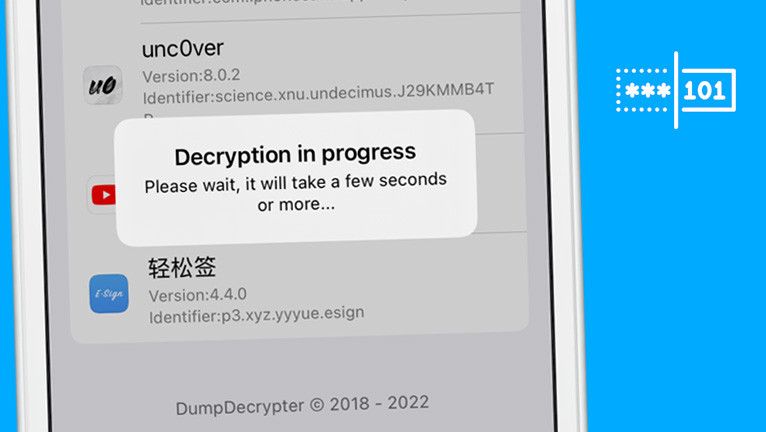 If you want to decrypt iOS apps installed from the official App Store and you are not a geeky user that doesn't like to use console DumpDecrypter can be the right tool for you. With this jailbreak tool you can with one tap decrypt and generate an IPA of an app.
What is DumpDecrypter?
DumpDecrypter is a free application allowing you to easily decrypt iOS apps directly on your device. Decrypt installed App Store apps and save the generated IPA file and share it with your friends or use it to modify the app code and inject dylibs. Works with all modern jailbreaks.
After installing the package will add the DumpDecrypter icon to the Home Screen. Once launched, the app will detect and list all installed apps that can be decrypted. This will include the application icon and name, installed version, and app identifier.
To decrypt an app click on the application that needs to be decrypted to generate an IPA file. DumpDecrypter will automatically kill the application and jump to the start of the application to start decrypting. Decrypting an app takes a few seconds depending on the app size.
DumpDecrypter supports all jailbreaks running iOS 11 up to iOS 14. Decrypt packages can be installed on other devices using tools like AppSync Unified, ReProvision Reborn, or Sideloadly. DumpDecrypter also recognizes and supports sideloaded apps.
This iOS app decrypting tool also comes with some basic settings. On the Settings page, you can enable modification of the version to set the minimum version value in Match-O or delete the device model limit value to run a decrypted app on iOS as low as possible.
On top of that, you can enable to fix no icon issues on some devices, delete watchOS files from the package, remove all plugin files from the package, or remove other applications' wake up URLs from info. The developer also provided an option to restore all settings.
Once the decryption of an application is completed, a message will prompt with an export path to the newly generated IPA file, an option to open the location of the app directly with Filza File Manager, and an option to share the decrypted IPA file to other apps installed on the system.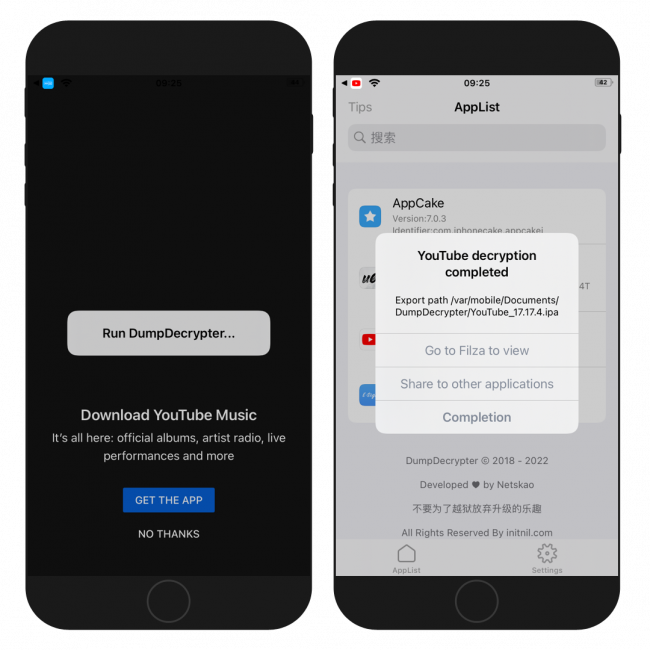 All decrypted IPA files of apps are stored at:

/var/mobile/Documents/DumpDecrypter
DumpDecrypter is a great alternative for the CrackerXI+, the free iOS utility developed to decrypt installed App Store apps and generate fakesigned IPA or binary files. CrackerXI+ offers a bit more features, but DumpDecrypter offers better support for decrypting App Store apps.
IPATool is a command line tool that allows you to search for iOS apps on the App Store and download a copy of the app package, known as an IPA file. Once an app is detected the tool can download an encrypted IPA file on your computer. IPATool works with macOS 10.11 or later.
Add Repository
Initnil Repository used to contain the latest version of the DumpDecrypter app. However, the developer has since removed the package, making it no longer available for download. If you want to install this cracking tool on your iPhone, you'll need to download the DumpDecrypter DEB package backup. It can be installed with Sileo or Cydia package manager.
To install DumpDecrypter on your jailbroken iOS device, follow these steps:
Open the Cydia app from the Home Screen.
Tap on the Sources tab, then select Edit.
Add the following repository URL: https://invalidunit.github.io/netskao-archive/

Search for the DumpDecrypter package and install it from the new repo.
Respiring your iPhone to apply changes.
Access the app from the Home Screen.
For added convenience, you can quickly add the repository to your preferred package managers (Cydia, Sileo, Installer, Zebra) by using the convenient quick links provided below. With just one click, you can easily add the repo and download DumpDecrypter for iOS.
How to decrypt IPA files
When you're running a jailbroken device it's really easy to crack and decrypt iOS apps directly on your iPhone using DumpDecrypter. Use this tool to decrypt your first application. Follow those steps to proceed with decrypting iOS apps. The saved IPA file can be shared with your friends.
Step 1. Start DumpDecrypter from the Home Screen.
Step 2. Tap on an app displayed on the AppList.
Step 3. DumpDecrypter will open the app and start decrypting.
Step 4. Processing and generating the IPA file will take a few seconds.
Step 5. Once completed, the decrypted IPA file will be saved in Documents.
What's new
Updated DumpDecrypter to version 1.2.
Added support for iOS 14.
Better support for App Store apps.
Fix that the keyboard will not be automatically recycled when the application list drop-down is refreshed when searching.
Optimize setting the minimum version value to read the lowest version value in Mach-O.
Optimize the app information displayed on the home page.
Optimize the settings page annotation information.
Fix the display problem of iPad devices.
Newly shared to other apps.
New multilingual support (English).
Sponsored links
Post a comment