Whitelist un-blacklists all enterprise-signed apps on iOS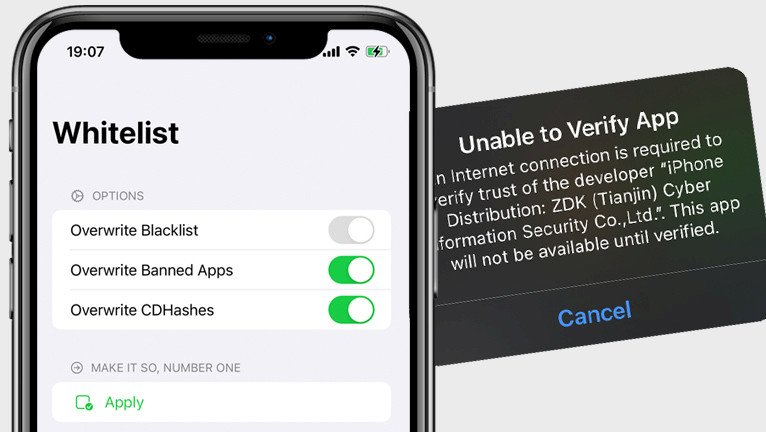 Have you ever encountered the message "Unable to Verify App" while downloading apps from third-party app stores, preventing you from using your desired apps or games? Whitelist tool allows you to unblock all enterprise-signed apps with MacDirtyCow.
What is Whitelist?
Whitelist is a new application that allows you to bypass blacklisted enterprise-signed apps on your iPhone or iPad, enabling them to run without revokes. This tool leverages the MacDirtyCow exploit to overwrite blacklist, banned apps and CDHashes on iOS 15 to iOS 16.1.2.
After sideloading the Whitelist IPA onto your compatible device, you can launch it from the home screen. The application features a user-friendly interface that enables you to perform various functions, including Overwriting Blacklist, Banned Apps, and CDHashes, as well as viewing the contents of blacklist files. Be aware that it doesn't work with iOS 15.7.2 and iOS 16.2+.
Use Whitelist app to unlock enterprise-signed apps on iOS 15 – iOS 16 often used by third-party App Store such as Panda Helper or iOSGods to sign and install apps and games. When the enterprise certificate gets revoke you will be not able to open installed apps.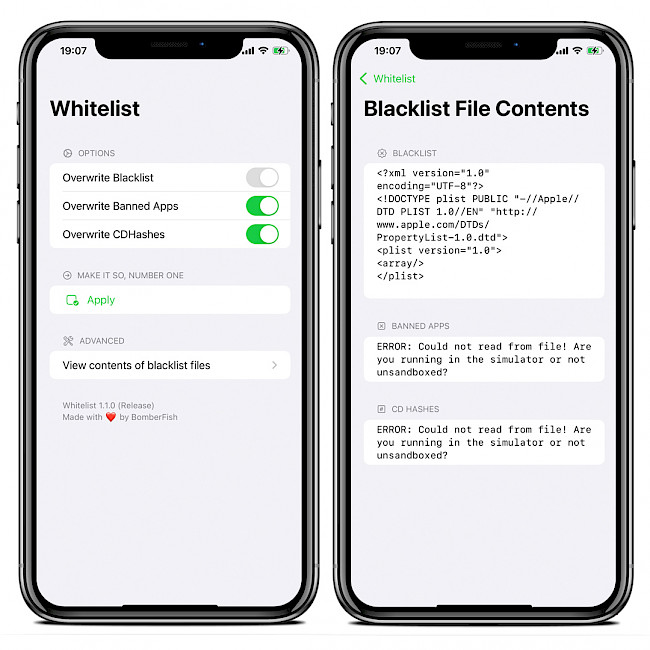 A different tool, WDBRemoveThreeAppLimit, has been developed to remove the three app limit when sideloading IPA files using a free Apple Developer account linked to your Apple ID. This tool patches installd on iOS 14 to iOS 16.1.2, removing the three app limit for free provisioning. It is also based on the MacDirtyCow exploit, and it works with all IPA installers.
Whitelist is a superior alternative to other anti-revoke tweaks available for jailbroken devices. Developed by Hariz Ali Shirazi, Whitelist is an open-source project with its source code available on GitHub repository. It was created using C, Objective-C, and Swift programming languages.
Download Whitelist IPA
Whitelist IPA can be installed on all non-jailbroken devices running iOS 15 – iOS 16.1.2 (excluding iOS 15.7.2 and iOS 16.2 and newer) with IPA installers. To unblock all enterprise-signed apps on iOS 15 to iOS 16.1.2 on jailed devices, simply install the IPA file using Sideloadly.

iOS 14: Install the app with TrollStore.
iOS 15.0 – 15.4.1: Install the app with TrollStore, AltStore​​​​​​​, or Sideloadly.
iOS 15.5 – 16.1.2: Install the app with AltStore or Sideloadly (excludes iOS 15.7.2 & 15.7.3).
iOS 16.2+: Not supported, and never will be.
To install Whitelist IPA on iOS 15 – iOS 16 using Sideloadly, follow these steps:
Download Whitelist IPA from the link below.

Run Sideloadly application on your PC or Mac.
Connect your iPhone or iPad to the computer via USB.
Load the IPA file into the app to begin the installation process.
Enter your Apple ID to sign the Whitelist IPA file.
Click the "Start" button to begin sideloading the IPA file onto your device.
When prompted, enter the password for your Apple ID.
Open the Settings app from the Home Screen.
Navigate to "General" → "VPN & Device Management".
Click on the developer app associated with your email.
Tap "Trust" to allow the app to run.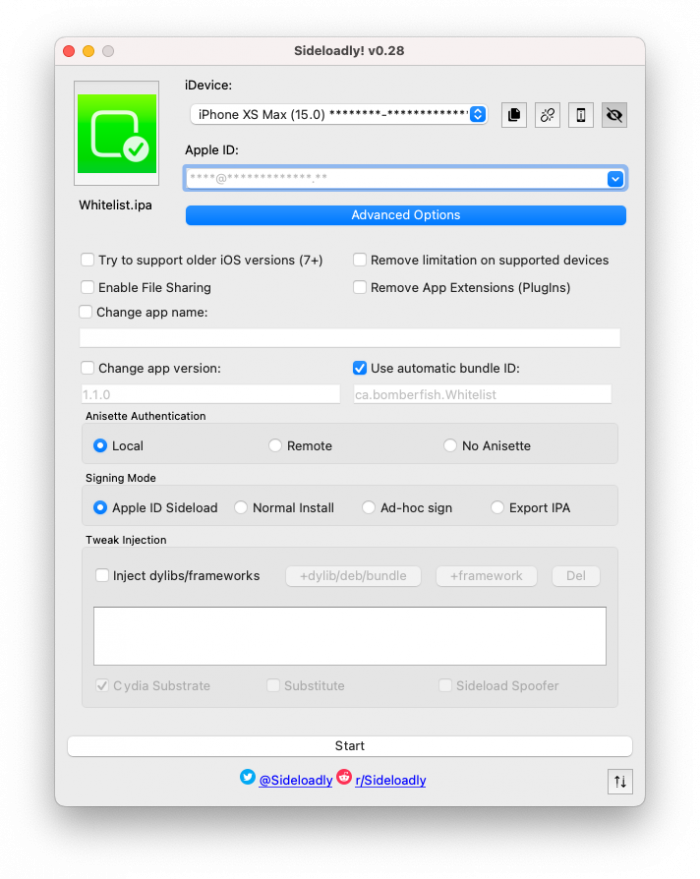 ​​​​​​​
What's new
Updated Whitelist to version 1.1.0.
Fix app icon.
Check for app updates on start.
Post a comment