iOSGods IPA downloader with hacked games & apps for iOS

qbap |
iOS Apps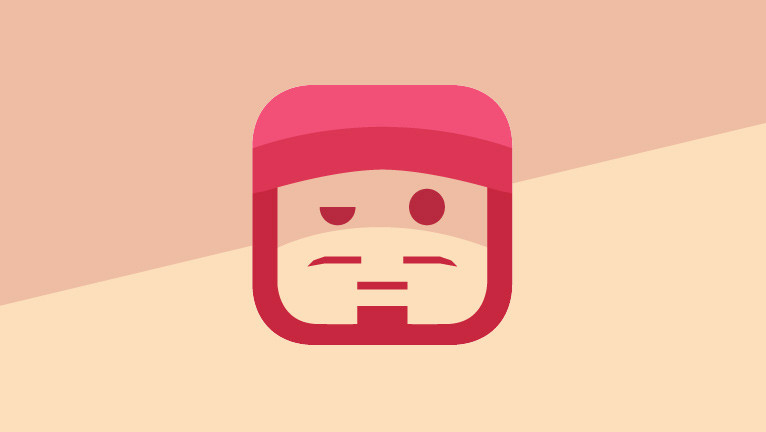 While there are many third-party app stores for iOS, the iOSGods App stands out by providing users with the ability to download and install popular game hacks, as well as access tweaked and ++ apps. Furthermore, all of these apps can be downloaded in the IPA file format, or installed via iOSGods App++ and Apple Developer program.
Install iOSGods App for iOS on your iPhone:
What is iOSGods App?
iOSGods App is a well-known third-party app store for iOS that allows you to download and install a variety of apps and games. In addition to providing alternative download links for official apps, it also offers access to tweaked versions of apps and hacked versions of popular iOS games. This store supports a wide range of iOS versions, from iOS 12 up to iOS 16.
Originally designed to offer non-jailbroken users a legitimate way to download and install apps and games, the App Store has since expanded to include free, hacked, tweaked, and cracked versions of these apps. The iOSGods IPA downloader provides several options for installing apps, including the ability to download IPA packages containg apps directly onto your iDevice.
iOSGods App for iOS provides users with access to a variety of game hacks and modifications. This means that when you install a tweaked version of a game from the iOSGods App Store on your iPhone, you can activate cheats and special features that may not be available in the original version. These features can include extra money and lives, unlocked weapons, infinite ammo, free upgrades, unlocked items, unlimited resources such as gold, and much more.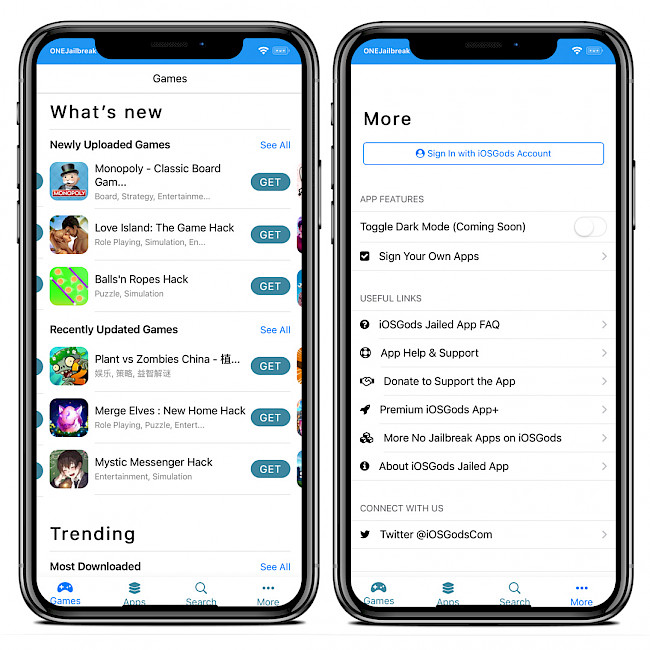 If you are searching for the best source for the hacked game database for iOS, definitely iOSGods is the place from where you can stop future research. iOSGods App is frequently updated, providing access to the latest game hacks. What's more, iOSGods is probably the biggest game hack (tweaked app) library out there for all iOS devices.
You can download hacked games including Last Day on Earth Hack, Minecraft Hack, Grand Theft Auto Hack, Subway Surfers Hack, Among Us! Hack, Archero Hack, Plants vs Zombies 2 Hack, Asphalt 9 Hack, The Sims Mobile Hack, NBA 2k20 Hack, The Simpsons Hacks, and more.
For easier navigation, all hacked games are categorized into Games, Action, Strategy, Role-playing, Adventure, Simulation, Arcade, RacingSports, Puzzle, Cards, and Casino. There is also a built-in search engine that can find any iOS game hack you desire.
On top of that, you can also use the iOSGods App to install all kinds of apps. There are available tweaked versions of apps such as Instagram Rocket (disabling ads and adding new features to the stock app),unc0ver jailbreak, TikTok Modded, Cercube 5 for YouTube, Filza Escaped for iOS 15, and many others. The database is updated all the time, adding new ++ apps.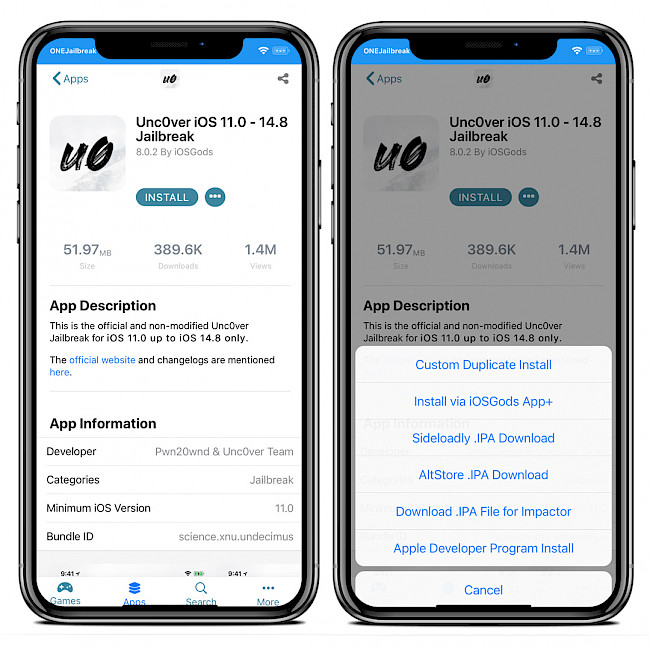 iOSGods IPA downloader can be used on both jailbroken and non-jailbroken iOS devices. Even if you haven't jailbroken your device, you can still install the iOSGods Store using a web profile. Once the installation process is complete, you'll be able to download and install cracked apps, tweaked apps and hacked games directly onto your iDevice.
The Store offers a few options to install hacked games and tweaked apps on your iPhone. Available installation options include: Install via iOSGods App+, Sideloadly IPA Download, AltStore IPA Download, Download IPA for Impactor, and install the Apple Developer Program.
On top of that, you can install multiple instances of an app or game. App Store allows you to install only one app per device. Using iOSGods App you can install two copies on one app and run on them different profiles. This can be useful when you won two profiles and the app can run only one. To run the "Custom Duplicate Install" it requires you to login into the iOSGods.
A great alternative for the iOSGods App is Panda Helper Lite. This free third-party App Store also offers access to game hacks and tweaked apps for iOS devices. What's more, Panda Helper Store comes also with a revoke-free app designed for jailbroken devices.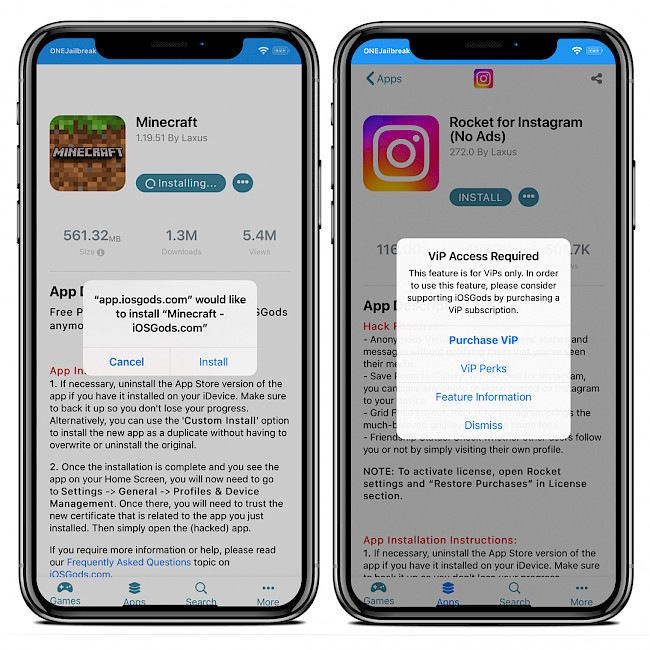 iOSGods App+
iOSGods App+ is a paid edition of the App Store offering additional features. The pricing for the app is ~$2/Month, and it is purchasable annually, which makes it $24.00/Year for one iDevice. You can still download IPA files of hacked games and apps and sign them manually for free.
The App Store is considered as a signing service, and it can get revoked by Apple. Also, the paid version is not revoke-proof. The iOSGods App+ is a native app, which makes the general app speed and feels much faster and fluent, just like a real app.
So what can you expect from the premium iOSGods App+ service?
Fewer revoke, but in the end, it's all up to daddy Apple.
Free certificate revokes replacements.
Custom IPA Signing. You can sign your own IPAs, and it's much easier.
Download the IPA using Safari.
Custom App Install. Customize your app before installing.
Custom App Signing. Sign IPAs found on the web.
iOSGods App+ uses different certificates and installation methods.
File Sharing allows you to place IPAs located on your PC into the iOSGods App+.
Partial notifications support.
What's more, the developer also released the amazing iGameGod (iGG) app. It's a free game Cheat Engine for iOS offering a lot of features including a built-in Cheat Engine, Speed Hack Manager, Touch Recorder, Live Offset Patcher, and a couple of other useful tools.
How to install iOSGods App
iOSGods IPA downloader can be installed on your device using a web profile. It means that once installed, the Hacked Game App Store will work without revokes. Be aware that it doesn't mean that apps and games installed through the store will not get revoked by Apple.
Tap on "Install iOSGods App" link available at top of this page.
Allow installing the configuration profile on your device.
Open the Settings app and access Profile Downloaded.
Tap on the Install button of the iOSGods App profile.
Once installed, the iOSGods App will be available from the Home Screen.
Alternatively, you can run the app without installation directly in the Safari browser. The web version offers the same features available in the iOSGods App Store for Non-Jailbreak devices.
iOS Game hacks
As mentioned already, iOSGods IPA downloader offers a huge collection of iOS game hacks. Because the apps and games installed through a certificate are often revoked by Apple I would recommend installing hacked game IPAs manually. This is how you can sideload IPA files on iOS 9 and above.
To download hacked games for iOS using iOSGods App, follow those steps:
Install iOSGods App for iOS with your preferred method.
Open iOSGods App from the Home Screen.
Search for desired Game Hack for iOS.
Tap on the GET button to view available download options.
Instead of using the Install button tap the three dots.
Tap on the Sideloadly .IPA Download.
Click on the "Download IPA File for Sideloadly".
Save the downloaded IPA file on your device.
Send the downloaded game hack with AirDrop to your PC.
To download IPA files containing hacked games or tweakd apps from the iOSGods App it's required to create a free accont on the platform. The app will allow you to log in.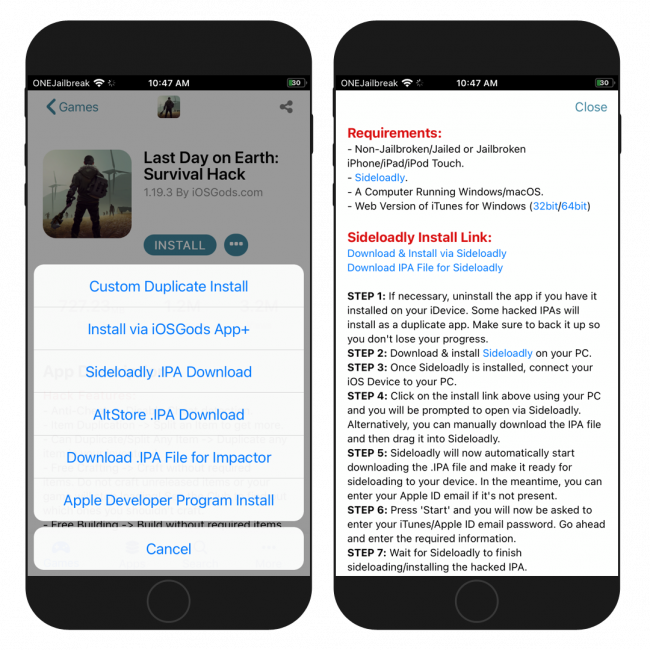 Install hacked games for iOS
iOSGods Team is also the developer behind Sideloadly, the IPA installation tool for macOS and Windows. The application allows you to sign and install any IPA file on your iDevice with a free certificate that will last at least 7-days without revokes. The process is simple.
Step 1. Open the Sideloadly application from the installation folder.
Step 2. Connect your iPhone with Sideloadly through a USB cable or Wi-Fi.
Step 3. Click on the IPA icon and from the Open dialog box select the IPA file.
Step 4. Enter your Apple ID required to sign the IPA file.
Step 5. Click the Start button to install the IPA file on your iPhone.
Step 6. Provide the password for your Apple ID.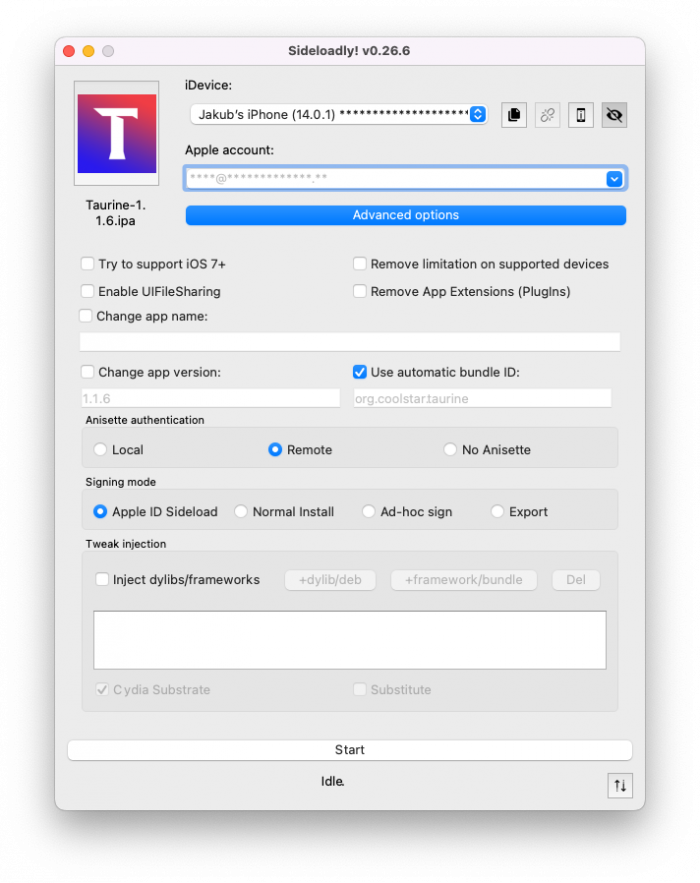 Step 7. Open the Settings app from the home screen.
Step 8. Navigate to General → VPN & Device Management.
Step 9. Click on the developer app with your e-mail.
Step 10. Tap on Trust to allow Instagram to run.
What's new
More and Enhanced Push Notifications.
Apps Watch list with notifications when they get updated.
Download and Install Apps directly from the web or via a URL.
User Interface improvements.
General app improvements.
Added Dark Mode for the app interface.
Better iPad Support.
Automatic and almost instant activations.
Latest IPA game hacks
BLACKPINK THE GAME Hack
Race Master 3D - Car Racing Hack
Water Power! Hack
Hole.io Hack
Jurassic Dinosaur Hack
[ VIP ] Slots Era - Slot Machines 777 [ Debug Menu ]
Gold & Heroes Hack
Quick Gun: PvP Standoff Hack
Pocket Land! Hack
Campfire Cat Cafe Hack
Boom Karts Multiplayer Racing Hack
Counter Attack Multiplayer FPS Hack
Pokipet Hack
Idle Cat Makeover: Hair Salon Hack
[VIP] Brave Merge - Battle & Defense Hack
[VIP] Plant Empires: Arena Game Hack
TRANSFORMERS Forged to Fight Hack
King Royale : Idle Tycoon Hack
Cowboy Valley Hack
Dead Ahead: Zombie Warfare Hack
Post a comment