Watusi 3 for WhatsApp tweak

qbap |
IPA Files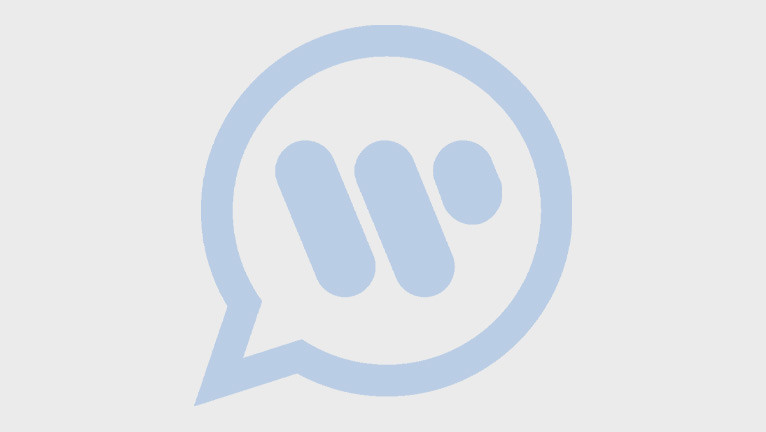 Watusi 2 for WhatsApp is no longer developed therefore you should consider upgrading the tweak to Watusi 3. The latest release of the tweak is under active development for one year. This is probably the must-have tweak for all WhatsApp users.
Install Watusi 3 for WhatsApp IPA on your iPhone:
What is Watusi 3?
Watusi 3 for WhatsApp is the latest version of the all-in-one tweak for the popular messenger app. It adds a lot of useful features allowing you to change almost every part of WhatsApp. Watusi 2 is no longer updated and the last supported WhatsApp version is 22.15.75.
Once installed, Watusi 3 adds its Settings in WhatsApp allowing you to configure everything to your liking. There are so many options that the developer categorized all options into sections like Privacy, Protection, Status, Chat, Chat List, General, Media, Interface, Notifications, etc.
Watusi 3 is a freemium tweak that displays ads when installed. When you will purchase the full version it will not only remove all ads but also enable some additional features like Message Scheduler, Auto Replay, Hide Chats, Contact Spoofing, Custom Tones, and Stickers Manager.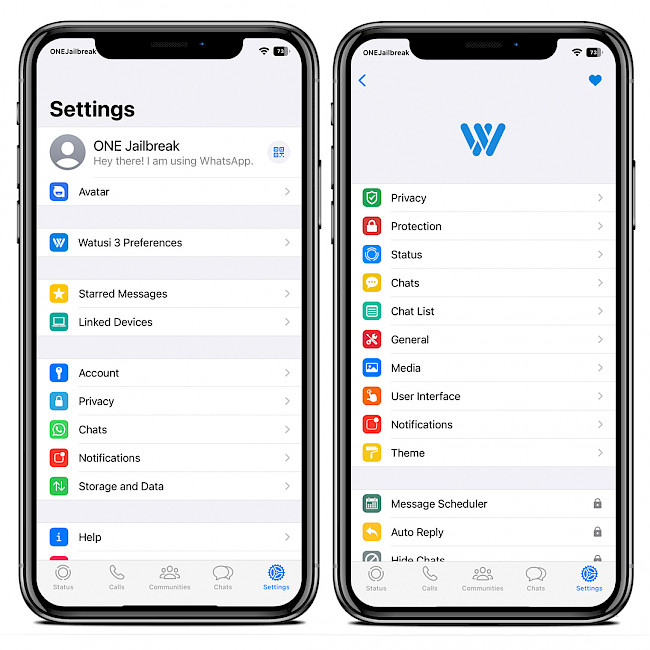 Set your privacy to a new level. With the Watusi 3 tweak, you can disable read recipients, disable typing indicator, freeze last seen (hide online status and don't send your last seen status),manually mark view once opened, disable recording indicator, hide muted calls, and block calls.
Protect access to the app or chat messages with a passcode. View and access contact statuses from their profile picture on chats. Disable auto mark viewed, hide status badges, show contact groups, split long videos, hide muted statuses, or show a download button.
Other useful features implemented by Watusi 3 for WhatsApp tweak include an option to listen to audio messages even when you are outside the chat, bypass the revoke time limit, keep deleted contacts messages, get call confirmation, record audio, or open URLs inside WhatsApp.
On top of that, you can also pin more than three chats, increase the "about" length from 139 to 256 characters, save view once media, send an unlimited number of photos at once, replace notifications messages with a specific message, or change themes for WhatsApp.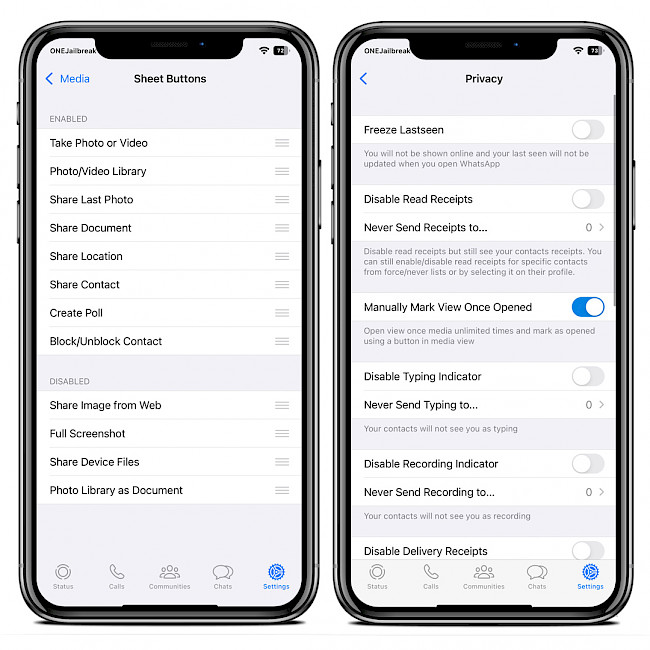 The tweak is free to use with a single ad banner on top of the chats and has the option to purchase a license from settings to remove ads and unlock some premium features. The one-time license costs $9.99, Watusi 2 users will get a 25% discount for purchase.
You can enable for two days all features of the tweak by tweeting about the app. What's more, Watusi 3 for WhatsApp tweak offers an option to manage all settings and export and import your configuration when needed. Reset all settings to default values with just one tap.
Watusi 3 for WhatsApp is compatible with iOS 9 up to iOS 15 no matter if you are jailbroken or not. The package also includes toggles for Control Center. From here you can quickly hide calls, enable auto replay, block calls, toggle on and off read receipts, last seen, and disable internet.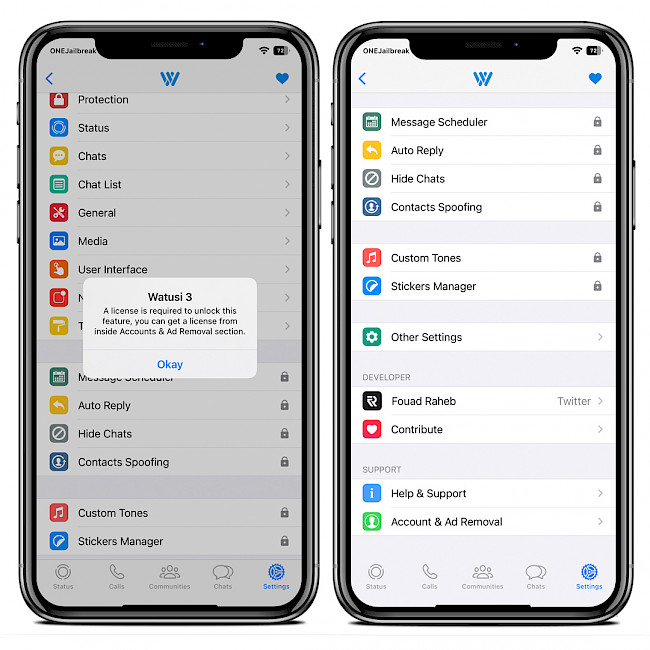 Watusi IPA file includes the Stalky tweak created by the same developer. Use this tweak to get a list of all your friend's updates sorted by time, save/share your contact profile pictures by using a long-press gesture on the update cell, and copy your contact status updates just by tapping on the cell.
Download Watusi 3 IPA
Watusi 3 tweak works on both jailbroken and non-jailbroken devices therefore you can install the tweak through Cydia Repository or sideload the prepared Watusi 3 for WhatsApp IPA on your device without jailbreak. There is also an option to install Watusi 3 for WhatsApp without a PC.
To install Watusi 3 for WhatsApp IPA on your iPhone or iPad, follow these steps:
Download the Watusi 3 IPA file from the link below.

Open the Sideloadly app on your computer.
Connect your iOS device to your computer using a USB cable.
In Sideloadly, select the option to load the downloaded IPA file.
Enter your Apple ID and password to sign the IPA file.
Click the "Start" button to begin sideloading the app onto your device.
If prompted, enter the password for your Apple ID again.
Open the Settings app from the Home Screen.
Navigate to General → VPN & Device Management.
Tap on the developer app with your e-mail.
Tap on Trust to allow Watusi 3 for WhatsApp to run.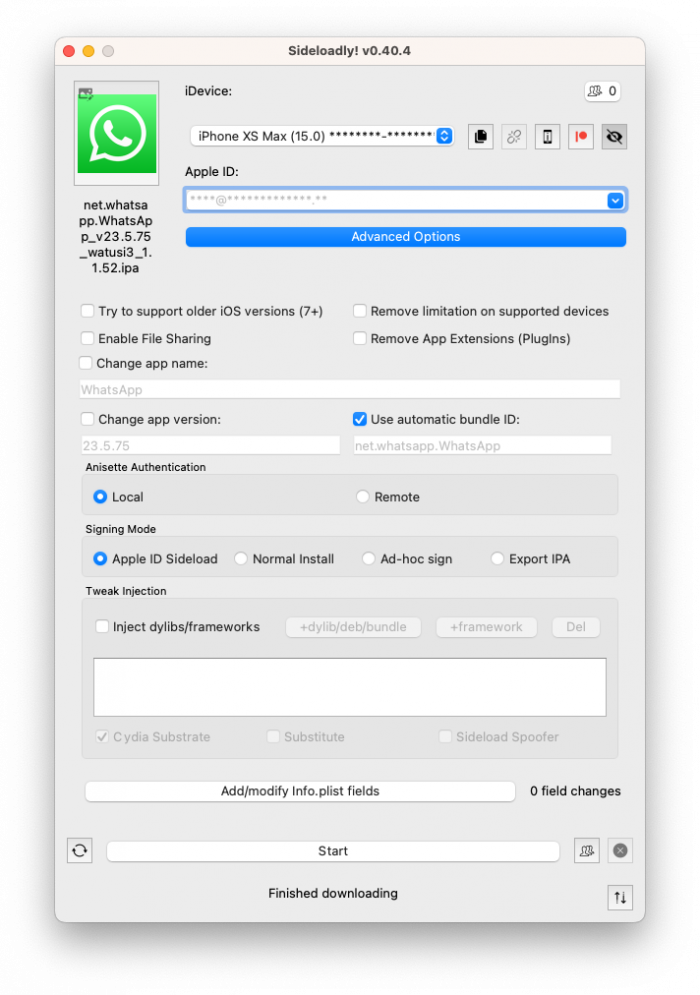 Tip: Alternatively, please use the quick link available at the top of this page. Install via Sideloadly button will automatically download and install the latest IPA with just one click.
Add Repository
Watusi 3 tweak is available for download from the private Fouad's Repository. When you will add the official Watusi Repository to your package manager you will be able to install the tweak on WhatsApp downloaded from the App Store. Watusi 3 for WhatsApp tweak also supports the latest releases of the Palera1n jailbreak and the rootless XinaA15 jailbreak.
To install Watusi 3 for WhatsApp on iOS device with Cydia, follow those steps:
Open the Cydia app from the Home Screen.
Tap on the Sources tab, then select Edit button.
Add the following repository URL: https://apt.fouadraheb.com/
Cydia will automatically refresh all new packages.
Search for Watusi 3 and install the package from the new repository.
Restart the Springboard to apply changes.
Configure the Watusi 3 tweak from the WhatsApp Settings page.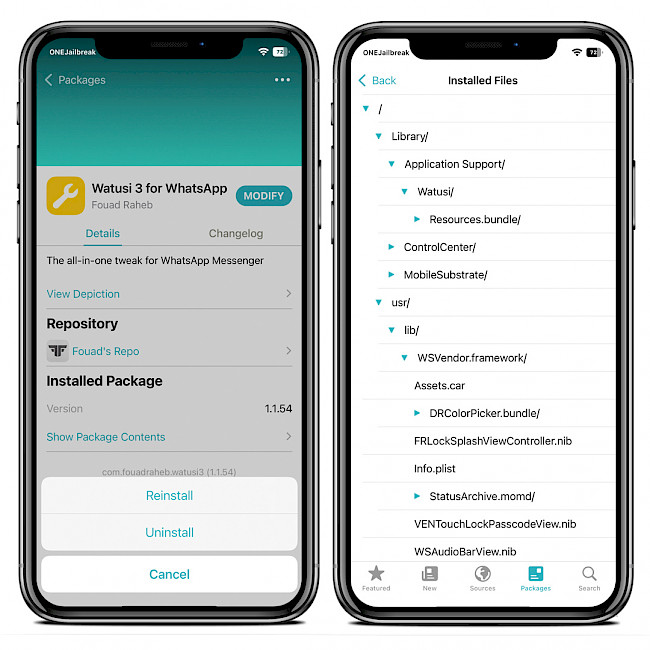 For added convenience, you can quickly add the repository to your preferred package managers (Cydia, Sileo, Installer, Zebra) by using the convenient quick links provided below. With just one click, you can easily add the repo and download Watusi 3 for WhatsApp tweak.
What's new
Updated Watusi 3 tweak to version 1.1.54.
Support WA 23.5.75.
Bug fixes for WhatsApp 22.15.75 (Open Picture on Tap, Statuses on Chats, Group Members Msgs Count).
Added accessibility label for deleted message indicator button.
Bug fixes and improvements for Audio Bar.
Fixed hide muted call feature.
Fixed chat list filter showing above navigation bar.
Theme dark mode fixes and improvements.
Fixed Long press on send option to schedule messages.
Watusi 3 for WhatsApp released!
After a year of the release of Watusi 3, this is the last update of Watusi 2.
Fixed Share Image from Web.
Fixed Keep Contacts Deleted Messages.
Bug fixes and improvements.
Fixed sideload crash on iOS 15.
Fixed iPad support.
Dark Mode Fixes.
Post a comment