iTorrent IPA for iOS 15 - iOS 16

qbap |
IPA Files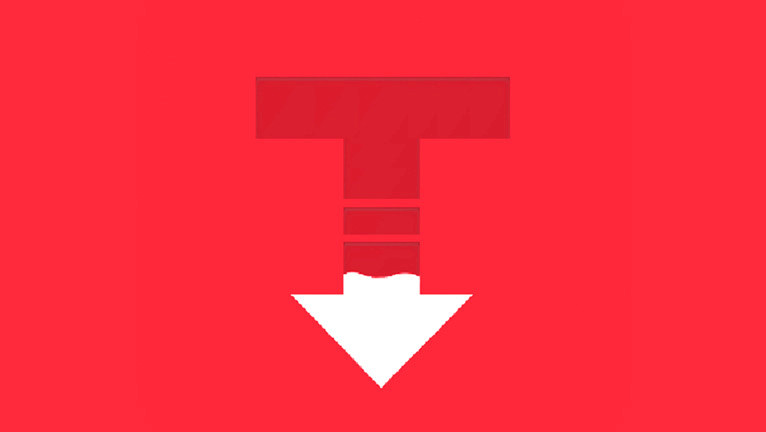 Although you won't be able to find a BitTorrent client in the App Store, there are still several options for downloading torrent files on your iPhone. One popular choice is the iTorrent app, which is widely regarded as the best BitTorrent client for iOS 14 – iOS 15.
Download iTorrent IPA
iTorrent IPA, the BitTorrent client for iOS 15, can also be sideloaded with on-device IPA installers such as TrollStore, Esign, or Bullfrog Assistant. All work without jailbreak.
What is iTorrent?
iTorrent is a powerful BitTorrent client for iOS. With iTorrent, you can download and manage all types of torrent files directly on your iPhone. It supports torrent files, URL links, and magnet links. This app is compatible with iOS 13 – iOS 15 and offers a range of useful features.
Once iTorrent IPA is installed on your iPhone or iPad, the application will be available from the Home Screen. iTorrent makes torrent downloading and management as seamless as possible. Best of all, the amazing iTorrent BitTorrent client for iOS is completely free to use.
iTorrent offers a range of advanced features to help you manage your torrent downloads. You can view progress and estimated completion times, set speed limits, pause and resume downloads, enable sequential downloading, edit trackers, manage downloaded files, and even allow seeding. With iTorrent, you have complete control over torrents downloads. Plus, this app is a great alternative to iTransmission, which is no longer being actively developed.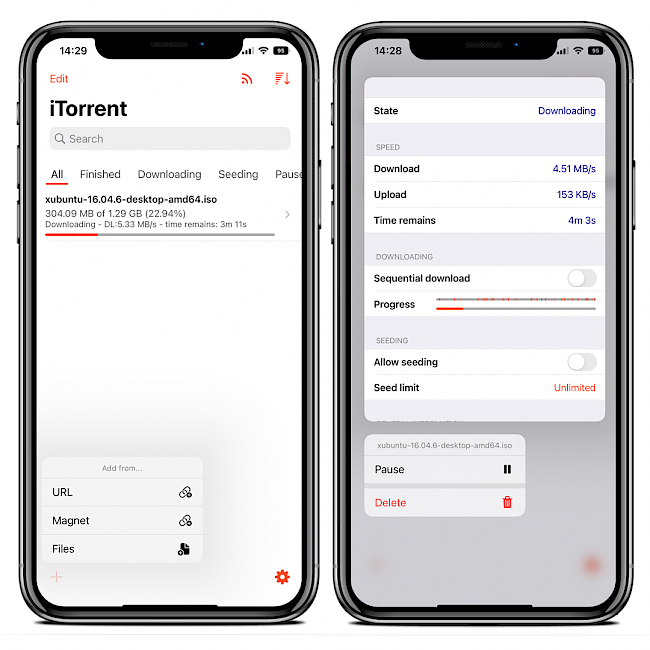 This is one of the best BitTorrent clients available for non and jailbroken mobile devices, and it is still actively being developed. With this native iOS app, you can easily download and manage torrent files on your iPhone or iPad. iTorrent fully integrates with the iOS system, allowing you to open magnet links from any browser, including Safari mobile.
iTorrent will automatically add any torrent file you start downloading to the download list. From this list, you can manage the download by deleting the file, pausing it, or viewing details such as the file's hash, creation date, comments, and the app name used to create it.
One of the best features of iTorrent is background downloading and support for sequential downloads, which allows you to watch movies in VLC while the torrent is being downloaded. This makes it easy to watch movies on the go without having to wait for the download to finish.
Warning: Downloading torrents can be risky, as it is often used to distribute pirated or illegal content. Additionally, downloading and sharing copyrighted material without permission is against the law in many countries. Therefore, it is important to use trusted sources.
iTorrent offers various features such as an RSS Feed, file sharing with a web server or WebDAV server (with login and password protection),a light and dark theme, notification support, and options to set download and upload speed limits, allocate storage, and more.
You can also customize the appearance of section orders (e.g., Metadata, Allocating, Checking fasterresume, Seeding, Hashing) and configure a proxy connection and the number of simultaneous downloads and active torrents from the app's settings.
In conclusion, iTorrent is a powerful BitTorrent client for iOS that allows you to download and manage torrent files on an iPhone or iPad. With features such as background downloading, sequential downloads, an RSS Feed, file sharing with web servers or WebDAV servers, and a customizable interface, iTorrent offers a user-friendly way to download torrents on iOS.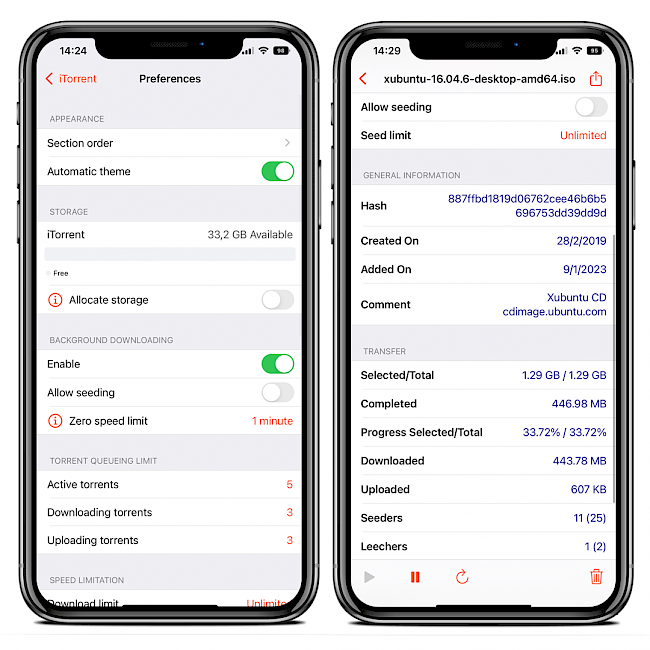 Download iTorrent IPA
iTorrent IPA can be sideloaded onto your iPhone using an IPA installer like Sideloadly (available for Windows and macOS) or SideStore the on-device IPA signing tool for iOS 14 – iOS 15. Both methods allow you to install iTorrent IPA on non-jailbreak and jailbroken devices.
Note: If you don't have a developer certificate, you can use your free Apple account to sign and install iTorrent IPA and use it for up to 7 days before it needs to be re-signed.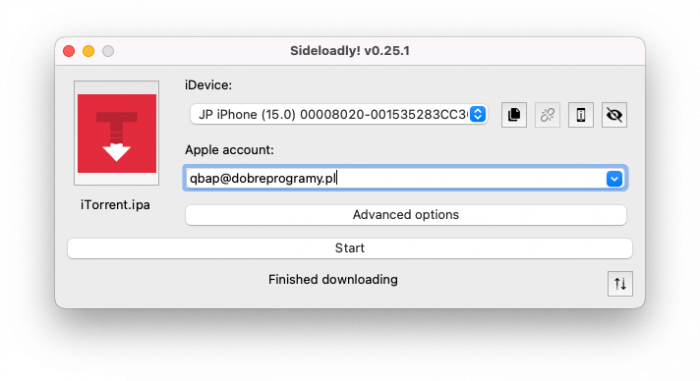 To install iTorrent IPA on your iOS device using Sideloadly app, follow these steps:
Download the iTorrent IPA from the top of this page.
Run Sideloadly application on your PC or Mac.
Connect your iPhone or iPad to the computer via USB.
Load the IPA file into the app to begin the installation process.
Enter your Apple ID to sign the iTorrent IPA file.
Click the "Start" button to begin sideloading the IPA file onto your device.
When prompted, enter the password for your Apple ID.
Open the Settings app from the Home Screen.
Navigate to "General" → "VPN & Device Management".
Click on the developer app associated with your email.
Tap "Trust" to allow the app to run.
Install iTorrent IPA with TrollStore
iTorrent IPA can also be installed using TrollStore, a free IPA Installer application for compatible iOS 14 and iOS 15 devices. While other sideloading tools may also work, TrollStore allows for a permanent installation without the risk of revocation on iOS.
To install iTorrent IPA on your iOS device using TrollStore app, follow these steps:
Install TrollStore on firmware between iOS 14 up to iOS 15.4.1.
Download iTorrent IPA and save it on iCloud.
Share the downloaded IPA file with TrollStore.
TrollStore will automatically install the iTorrent IPA when it is loaded.
Once the installation is complete, access iTorrent app from the Home Screen.
TrollStore Compatibility: iOS 14.0 – iOS 15.4.1, iOS 15.5 beta 1 – iOS 15.5 beta 4, iOS 15.6 beta 1 – 15.6 beta 5. No other firmware releases are or will be supported in future. No support for iOS 15.5, no support for iOS 15.6, and no support for iOS 16.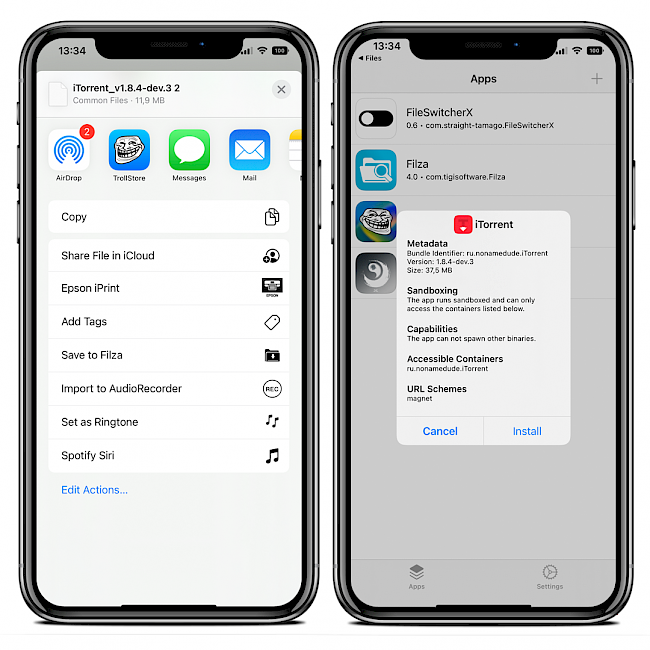 Add Repository
iTorrent is officially released as an IPA package, that can also be sideloaded on jailbroken devices. However, you can download and install the app package from the hackyouriphone repository, an unofficial source for the libtorrent-based BitTorrent client for iOS 15.
To install iTorrent on your jailbroken iOS device, follow these steps:
Open the Cydia app from the Home Screen.
Tap on the Sources tab, then select Edit.
Add the following repository URL: http://repo.hackyouriphone.org.
Once the repository has been added, you can install the Sileo package.
After installation is complete, respring your iPhone for the changes to take effect.
Now you can access Sileo to install the latest tweaks from the Home Screen.
Alternatively, please use the quick links available below to add the repository to your favorite package manager (Cydia, Sileo, Installer, Zebra) with just one tap.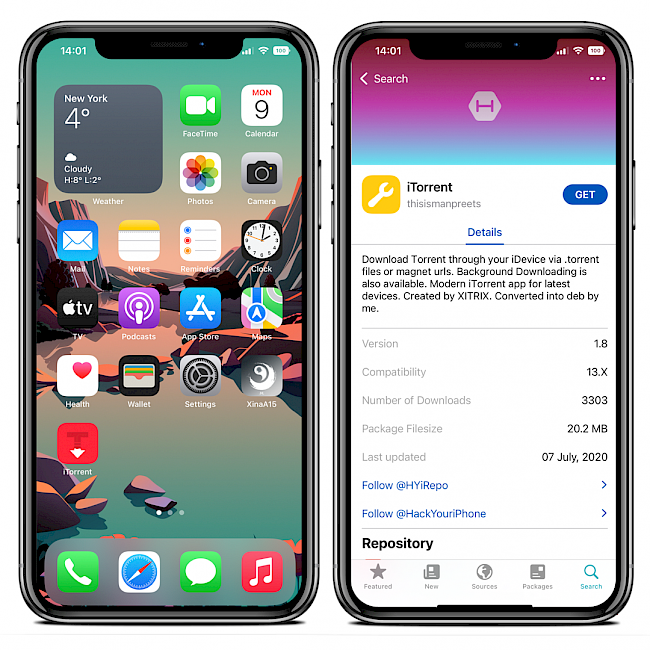 What's new
Updated iTorrent to version 1.8.4.
Added support for iOS 14 and iOS 15.
Libtorrent updated to 1.2.10.
Most of the application was rewritten from scratch, no more memory leaks.
Significantly improved the stability of the app.
Memory management implemented.
Memory allocation for files before downloading.
Libtorrent updated to 1.2.6.
UI improvements, noticeable and not so much.
Minor improvements.
Comments
Chris8 months ago
Post a comment