iPogo IPA Download: Pokemon Go hack for iOS

qbap |
iOS Apps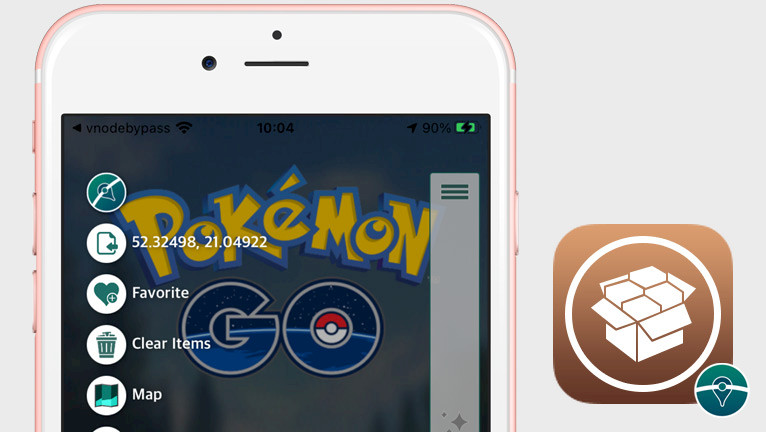 If you're looking for the best spoofing tool for Pokemon Go on iOS, iPogo is your best bet. It's easy to install — just download the IPA file and use a tool like Sideloadly to sign it, or install the jailbreak tweak on iOS 14 – iOS 15. There are also direct links available.
Install iPogo IPA on your iOS device:
iPogo IPA, the Pokemon Go hack for iOS, can be also sideloaded with on-device IPA installers such as TrollStore, Esign, or Bullfrog Assistant. All work without jailbreak.
What is iPogo?
iPogo Pokemon Go for iOS is an advanced spoofing app that offers a wide range of features to enhance your Pokemon Go experience. With iPogo, you can teleport to any location or discover hidden Pokemon. It works with both jailbroken and non-jailbroken devices on iOS 13 – iOS 16.
If you're looking for an alternative to iSpoofer for POGO (EOT),try iPogo. It's packed with similar features and options as SpooferX, and it allows you to teleport and catch Pokemon in different locations. Plus, it adds amazing features to the Pokemon GO app for free. And, if you're an Android user, keep an eye out for the upcoming iPoGo Android Beta.
Before installing the tweaked version of the Pokemon Go app, make sure to remove the original app from the App Store if you are using a non-jailbroken iPhone. The iPogo IPA package includes the modified Pokemon Go app with the iPogo spoofing tweak for iOS. Remember to take this step to avoid any conflicts or issues with the Pokemon Go hack for iOS.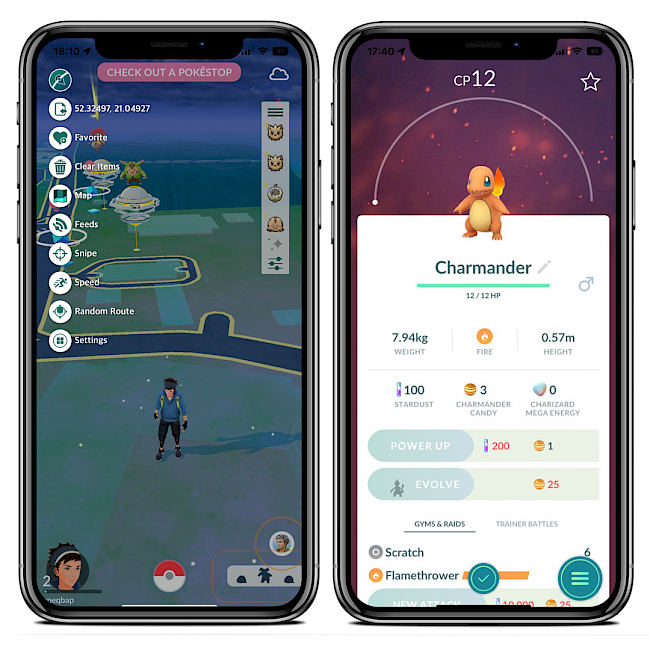 I can confirm that iPogo for iOS is safe to use and install on your device. It will not spy on your activity. However, the developer suggests using a separate account when playing the game with this hack, as using it can potentially result in a ban. Remember to use iPogo the Pokemon Go hack at your own risk and be aware that it is not considered fair play in the game.
Once you download and install iPogo IPA on your device, you'll be able to teleport to any location on the map, change your moving speed, create favorite routes, and activate enhanced throw. You can also enable Go Plus, Fast Catch, and Stats Inventory, and hide various elements from the main screen, such as shortcuts, joystick, buttons, and spoofing indicators.
With iPogo Auto Catch/Spin enabled, you can catch and spin stops even when you're not near your device. This feature is best used in combination with Random Route & Release on Catch. The Release on Catch feature automatically removes undesirable Pokemon from your storage.
iPogo's Block Non-Shiny feature allows you to prevent clicking on non-shiny Pokemon, and it also has a subset option to block Pokemon that are not 100IV. The Spawn Booster feature increases the number of Pokemon displayed on screen, so you can see those that are farther away from you. Use this feature to find rare or high-quality Pokemon.
It offers a variety of customizable options, including the ability to feed locations of PokeStops, Grunts, Pokemon, items, Stardust, and Mega Energy points. With iPogo, it's easy to optimize your gameplay and make the most of your Pokemon Go experience.
iPogo Pokemon Go for iOS also includes the One Click Bag Cleaner feature, which allows you to easily delete items in bulk. In addition, you can activate dark mode, view a feed of Pokemon, Raids, and Quests, and access the map. There's also an option to import and export settings.

With iPogo, you can select a PokeStop and see the distance from your location. You can also tap to auto-walk or teleport to its actual location, or copy its coordinates. There are over 60 Pokemon locations available, including Ferroseed, Mantine, Spearow, Bulbasaur, and Pikachu.
However, be aware that Pokemon IV may not be accurate for accounts below level 30, and it's important to respect cooldowns. To help prevent bans while cheating in the Pokemon Go game, iPogo includes useful options like the Cooldown Timer and Cool Down warnings.
The Enhanced Throw feature allows you to improve your throw from Good to Excellent, Great to Excellent, Excellent with Curve, or enables Excellent for all. The Catch Preview feature lets you see the Pokemon inside the Pokeball before catching it, and the Tap to Walk feature allows you to start moving by clicking.If you need to disable spoofing, there is an option for that as well.
Follow these simple tips to help avoid bans and make the most of your Pokemon Go experience with iPogo. Using these methods to gain an unfair advantage in the game can result in serious consequences, including the risk of losing access to your Pokemon Go account.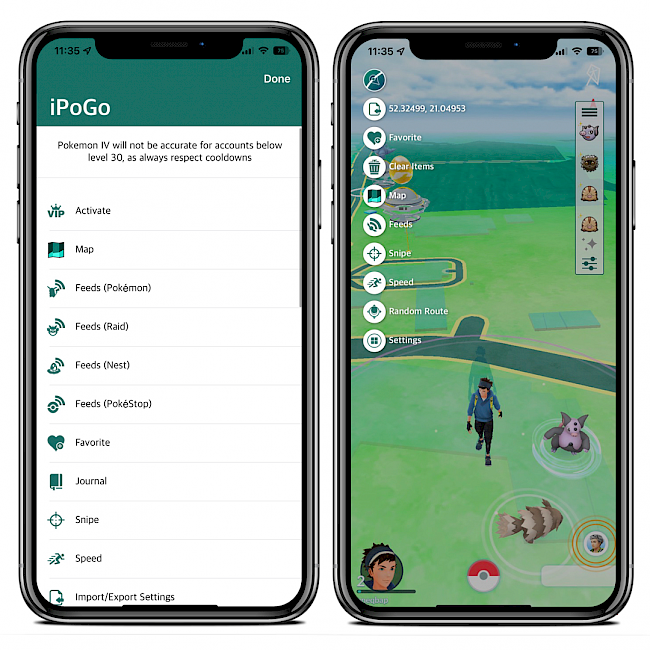 When using teleport in iPogo Spoofer, it is crucial to respect timers. The cooldowns depend on the distance you want to teleport and how you interact with the game. After each teleport, the tweak calculates the amount of time you need to wait before taking an in-game action.
It is essential to always respect the cooldown time before taking your next in-game action. A safe time between teleports is generally considered to be 2 hours. "Camping" is also a popular tactic, where you stay on the catch screen without throwing a ball or berry at the Pokémon until you can catch it. This action also depends on the distance and amount of time since last action.
iPogo IPA for Pokemon Go is available as a free spoofing tool. If you want to unlock even more features, you can upgrade to the VIP membership for $4.99 per month. In addition to all the free features, the iPogo VIP subscription includes more benefits for your game experience.
Purchase VIP and access Virtual GoPlus, which automatically catches Pokemon for you, Auto reconnect GoPlus to ensure a seamless gaming experience, use the option to skip animation screens, access Fast Catch to catch Pokemon faster. What's more, experience faster map loading for more efficient gameplay, etc. iPogo is the perfect tool to cheat in Pokemon Go game.
Download iPogo IPA
iPogo IPA package contains both, the free and VIP versions of the popular Pokemon Go hack for iOS. It can be sideloaded on iOS 13, iOS 14, iOS 15, and iOS 16 on non-and jailbroken devices. Whether you're a casual player or a hardcore enthusiast, iPogo offers something for everyone.
Follow these steps to install iPogo IPA on your iOS 15 – iOS 16 iDevice. Once the installation is complete, you should be able to find the iPogo app icon on your device's Home Screen.
Download iPogo IPA file from the provided link below.

Open the Sideloadly application on your computer.
Connect your iPhone or iPad to the computer using a USB cable.
Click on the IPA icon to select the app for installation.
Enter your Apple ID to sign the iPogo IPA file.
Click the Start button to begin the installation process.
Enter the password for your Apple ID when prompted.
Open Settings app and navigate to General → VPN & Device Management.
Click on the developer app with your email address.
Tap on Trust to allow the Pokemon Go hack to run.
Note: It's always best to play the popular mobile Pokemon GO game as it was intended, moving in the virtual world as you would in the real one. While cheating may seem appealing, it's ultimately not worth the risk of losing access to the game you love.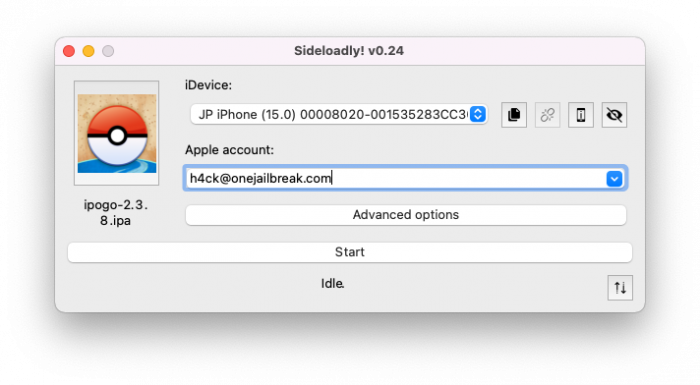 Add Repository
Become the iPogo Pokemon Go Spoofer tweak is so popular, the developer also released a dedicated version for jailbroken devices. iPogo tweak and vnodebypass can be installed on the official App Store release of Pokemon Go game to enable spoofing on jailbroken environment.
Tip: To run iPogo on XinaA15 for iOS 15 – iOS 15.1.1 sideload the standard iPogo IPA package with TrollStore and enable the LinTui bypass option offered by the jailbreak.
To install iPogo tweak on your iOS device, follow these steps:
Open the Cydia app from the Home Screen.
Tap on the Sources tab, then select Edit.
Add the following repository URL: https://ipogo.app/repo.
Install the iPogo tweak from the new repository.
Respiring your iPhone to apply all changes.
Open the iPogo for Pokemon GO hack from Home Screen.
By default, the Pokemon Go app will not run on a jailbroken device. However, if you have sideloaded the iPogo IPA or installed the iPogo tweak from the official repository, you can use a jailbreak bypass tool to hide the jailbroken environment from the app and get it to run.
With these steps, you can run Pokemon Go on your iOS 14 – iOS 15 jailbreak:
Use your preferred tool to install the IPA file.
Add the iPogo repository to your Cydia sources.
Install the vnodebypass jailbreak bypass.
Launch vnodebypass from the home screen.
Tap on "Start iPoGo Launcher".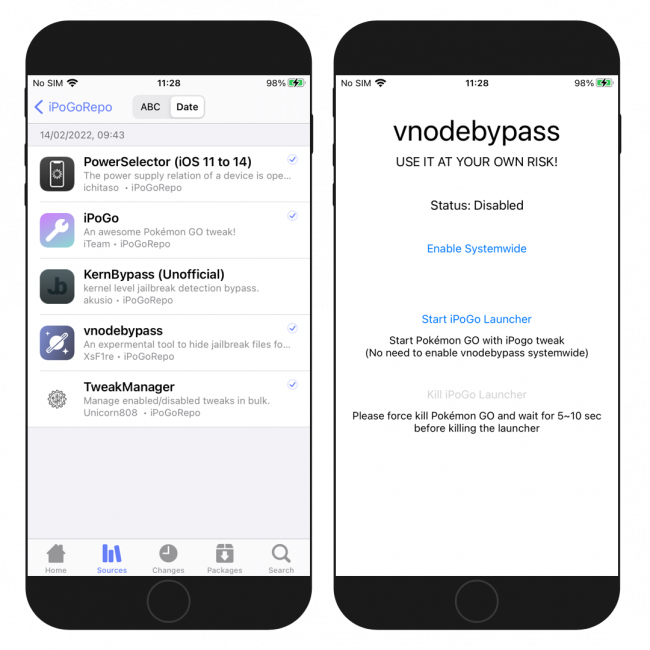 What's new
iPogo updated to version 2.8.6.
Added support for the latest Pokemon GO app.
Base version update.
Adventure sync adjustments.
Fixed iOS 15 vanishing UI bug.
Add incognito mode.
Shiny scanner with notification added (overworld shiny coming soon).
Added Team Rocket Feeds.
Removed redundant 60fps.
Minor bug fixes.
Comments
Post a comment