iPogo IPA the Pokemon Go hack for iOS

qbap |
iOS Apps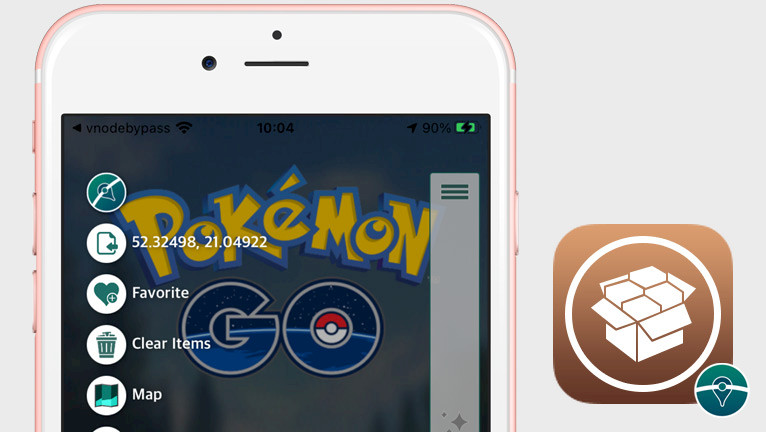 iPogo is the best Spoofing tool for iOS designed for the Pokemon Go app. Download the IPA file and sign iPogo using Sideloadly or install the jailbreak tweak on iOS 14. There are also direct links available that don't require a computer, but those are mostly revoked.
Download iPogo IPA 2.7.8
iPogo IPA, the Pokemon Go hack for iOS, can be also sideloaded with on-device IPA installers such as TrollStore, Esign, or Bullfrog Assistant. All work without jailbreak.
What is iPogo?
iPogo Pokemon Go for iOS is the most advanced Spoofig app for iOS that offers an almost unimaginable number of features. Teleport or find hidden Pokemons in the PokemonGo. This tweak works on non-jailbroken and jailbroken devices running iOS 13, iOS 14, iOS 15, and iOS 16.
This is a working iSpoofer for POGO (EOT) alternative packed with similar features and options to SpooferX. Use iPogo to teleport and catch a Pokemon in a different location and add amazing features to the Pokemon GO app for free. There is also iPoGo Android Beta on the way.
Before installing the tweaked version of the Pokemon Go app remember to remove the original app downloaded from the AppStore when you are running a non-jailbreak iPhone. iPogo IPA package contains the modified Pokemon Go app with included iPogo Spoofing tweak for iOS.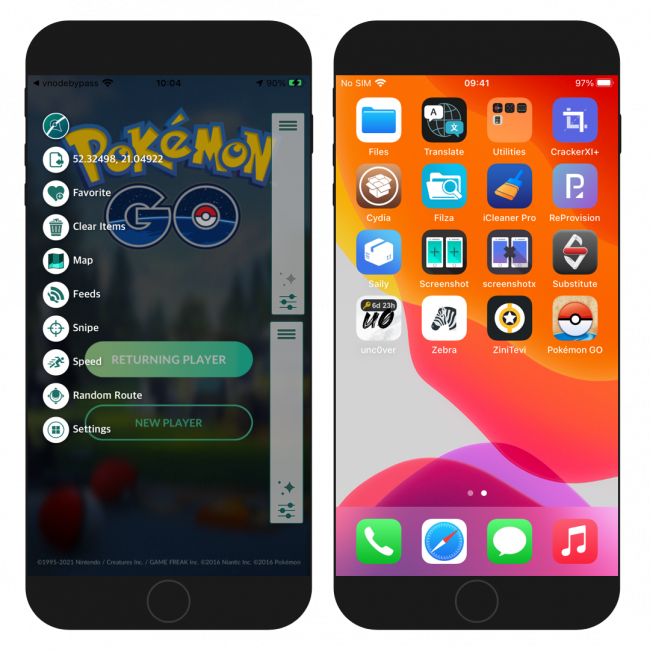 Is iPogo safe?
iPogo for iOS was tested by me and it's absolutely 100% safe to use and install on your device. It will not spy on your activity. Just have in mind that the developer is suggesting to use your 2nd account when playing the game. Using this hack is not fair and can get you banned.
Use this hack at your own risk!
Use this Pokemon Go hack to teleport to any place on the map, change the speed of moving, create favorite routes, activate enhanced throw, enable Go Plus, Fast Catch, Stats Inventory, and hide elements from the main screen like shortcuts, joystick, buttons, spoofing, etc.
When iPogo Auto Catch/Spin is enabled you can catch and spin stops without being near your device! This is best used with Random Route & Release on Catch. iPogos Release on Catch feature automatically removes garbage Pokemon from your Pokemon storage to help keep your bag clean while you are using some of our other features.
The Block Non-Shiny feature will block you from clicking on any Pokemon which is not shiny, it also has a subset available to block any Pokemon which is not 100IV as well. Spawn Booster displays more Pokemon on screen allowing you to see Pokemon that are farther away from you.
iPogo Pokemon Go for iOS is packed also with the One Click Bag Cleaner feature that provides you with an option to choose how many items you want to delete with One Click.
What's more, activate dark mode for the interface, display the feed of Pokemon, Raid, and Quests, and include the map. There is also an option for fast import and export hack settings.
Configuration
As I have mentioned already, there are a lot of options to configure. With iPogo is easy to feed locations of PokeStops including Grunts, Pokemons, Items, Stardusts, and Mega Energy points.
Select a PokeStop like a Pokemon and see the distance from your location, and tap to auto-walk to its actual place or teleport there. There is also an option to copy coordinates.
There are over 60 Pokemons locations available including Ferroseed, Mantine, Snubbull, Eevee, Squirtle, Spearow, Vulpix. Bulbasaur and Pikachu.
After Spoofing, this is the most used feature of the tweak. Be aware that Pokemon IV will not be accurate for accounts below level 30, as always respect cooldowns.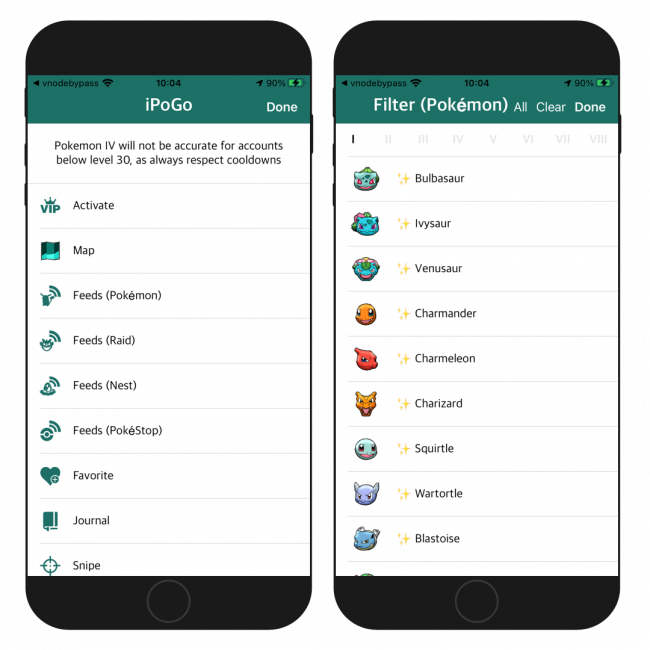 There are useful options to enable Cooldown Timer and Cool Down warnings. Those features allow you to teleport to other locations and not get banned. You can find more information in the How to teleport section of this article. Some simple tips to not get banned.
Enhanced Throw will do what it says. It enhances the throw from Good to Excellent, Great to Excellent, Excellent with Curve, or enables Excellent for all.
Another handy feature is Catch Preview. When activated you will see the Pokemon inside the Pokeball. Tap to Walk will allow clicking to start moving.
Of course, there is an option to disable the Spoofing feature as well.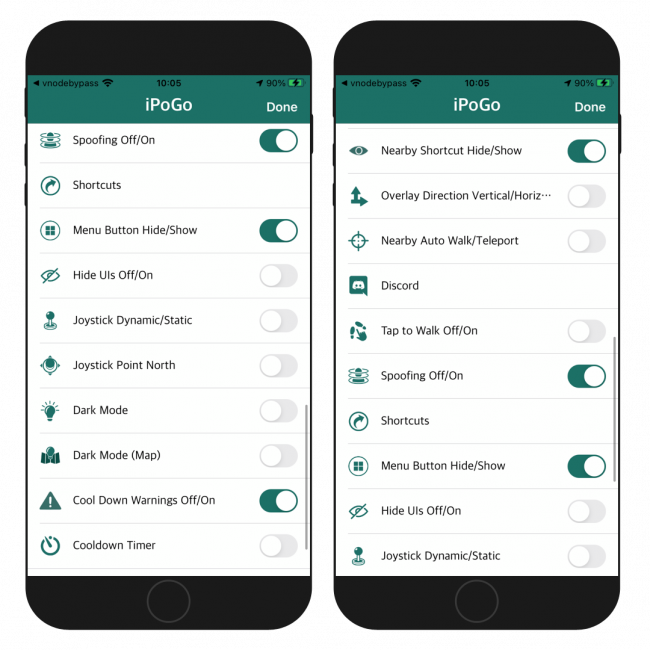 How to install iPogo on iOS?
iPogo Pokemon Go can be installed on iOS 13, iOS 14, and iOS 15 with just a few simple steps. Depending on if you have a computer or not there are a few ways to install iPogo on an iPhone.
I share with you the most popular and working solutions in 2022 to install iPogo on iOS!
Download and install iPogo IPA
iPogo IPA can be downloaded and installed on any device running iOS 13 and newer. To sideload the IPA file on your iPhone it's required to use a tool like Sideloadly that requires a computer. If you run a jailbroken device install the IPA with Reprovision Reborn directly on the device.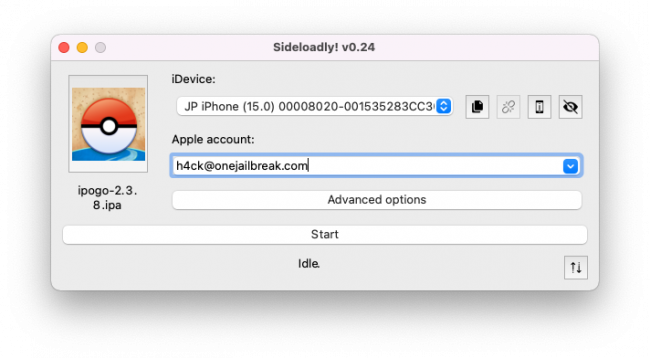 Step 1. Download iPogo IPA (link on top of this page).
Step 2. Open Sideloadly application.
Step 3. Connect your iPhone / iPad to the computer via USB.
Step 4. Click on the IPA icon to select the app to install.
Step 5. Enter your Apple ID to sign IPA file.
Step 6. Click the Start button to install the IPA file on your device.
Step 7. Provide the password for your Apple ID.
Alternatively, please use the quick link available at the top of this page. Install via the Sideloadly button will automatically download and install the latest IPA with just one click.
Sideloadly software must be installed on your Windows or macOS.
To make this process even easier we included on top of this page quick URL links allowing you to download, sign and install the iPogo IPA file with just one click through your favorite tools such as Sideloadly, ReProvision, or AltStore. Because iPogo IPA was signed by your own certificate it's required to trust it to open the app on your device.
Step 8. Open the Settings app and navigate to General → VPN & Device Management.
Step 9. Click on the developer app with your e-mail.
Step 10. Tap on Trust to allow the application to run.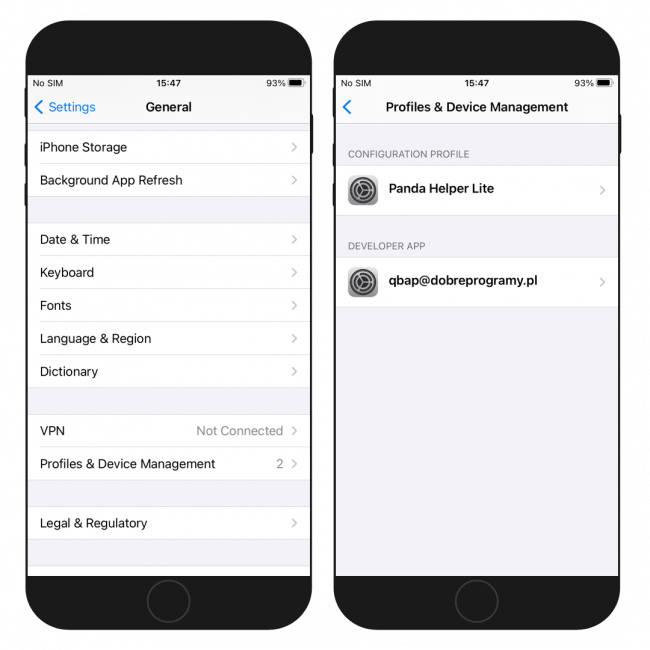 Repository
Adding a new repository to Cydia Sources is simple and easy. Add iPogo Repository to your list of Cydia Repos and download iPogo Pokemon Go for iOS. On a jailbroken device it's required to install also a jailbreak detection bypass tweak like vnodebypass.
Launch Cydia from the home screen.
Tap Sources → Edit → Add the https://ipogo.app/repo Repository URL.
Cydia will automatically refresh packages available in the repository.
Search for iPogo and install the package.
Restart the Springboard.
Alternatively, please use the quick links available below to add the repository to your favorite package manager (Cydia, Sileo, Installer, Zebra) with just one tap.
Add iPogo Repo to your package manager.
What's more, there is also an option to install the Pokemon Go app from the official AppStore and install it on the iPoGo tweak + vnodebypass to access all Spoofing features.
iPogo Repo Packages
PowerSelector
iPoGo tweak!
KernelBypass
vnodebypass
TweakManager
How to run on jailbroken iOS
When you install iPogo Pokemon Go for iOS on your jailbroken device it will not open. If you tap on the app to run it will open and close immediately. It's because the app detects that it is running on a jailbroken device. With these steps, you can run iPogo on any jailbroken iPhone.
What's more, the app will not get revoked by Apple allowing you to run it until a new version will be released. There is also no 7-day signing limit on jailbroken iOS.
Step 1. Install the IPA file with your favorite tool.
Step 2. Add iPogo Repo to Cydia Sources.
Step 3. Install vnodebypass app.
Step 4. Open vnodebypass from the HomeScreen.
Step 5. Tap on Start iPoGo Launcher (no need to enable the tweak systemwide).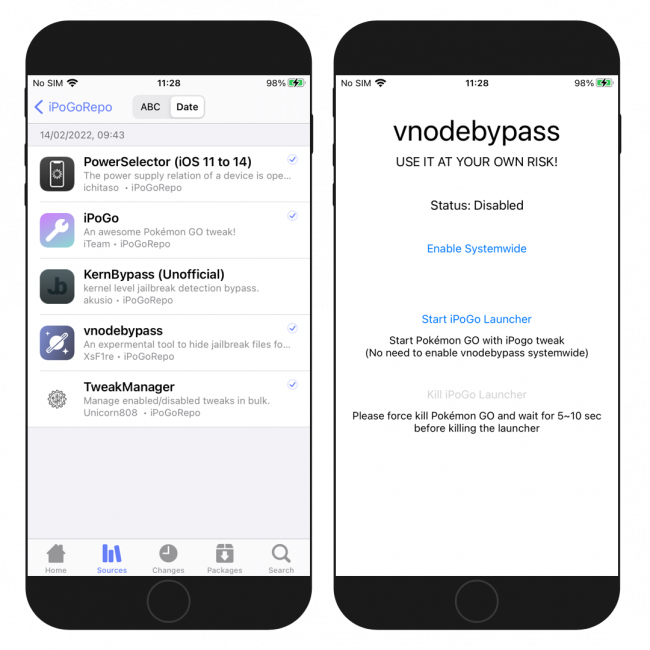 iPogo Pokemon Go will now run like any other iOS app. vnodebypass jailbreak bypass tool will hide from the Pokemon Go app that your system is jailbroken and tries to modify the app.
This iPogo jailbreak bypass tweak works with the latest iOS 14, but iOS 15 should be also supported in the future. When you will end up playing the game use the tweak to kill the Launcher.
Install iPogo Pokemon Go without a PC
iPogo Pokemon Go can be installed on your iPhone or iPad using direct web links. If you don't own a computer you can try to install it using direct links (available on top). It uses a public certificate to sign the app and it's often revoked by Apple disallowing to install iPogo.
iPogo Install - direct weblinks (no computer)
Step 1. Tap on Install iPogo from the Safari browser.
Step 2. Tap Install on the message prompt "api.ipastore.me would like to install iPogo".
Step 3. iPogo app Icon will appear on your Home Screen.
Step 4. Navigate to Settings → General → Device Management.
Step 5. Find the newly installed Enterprise App Certificate and trust it.
Step 6. Run iPogo for iOS 15.
iPogo iOS like all other unofficial apps is using a developer certificate. Those certificates are monitored by Apple and they get very often revoked.
It means that you can't install apps until the developer provides a new certificate. An always-working solution is to sign the IPA by yourself and send it to your device.
How to use the teleport feature
When using teleport in iPogo for Pokemon GO it is very important to respect timers. Cooldowns depend on how far you want to teleport and interact with the game. After each teleport the tweak calculates the amount of time to use an in-game action.
Always respect the Cooldown time to use your next in-game action or you can be banned. 2 hours is considered a secure time between teleports.
"Camping" is also a very popular tactic used to stay on the catch screen without throwing a ball or berry at the Pokemon until you can catch it. This action also depends on the distance and amount of time since your last action.
iPogo tweak helps you calculate the cooldown time required. Respect the cooldown times otherwise, the Pokemon you like to catch will flee.
What's new
iPogo updated to version 2.7.8.
Added support for the latest Pokemon GO app.
Base version update.
Adventure sync adjustments.
Fixed iOS 15 vanishing UI bug.
Add incognito mode.
Shiny scanner with notification added (overworld shiny coming soon).
Added Team Rocket Feeds.
Removed redundant 60fps.
Minor bug fixes.
Comments
Post a comment