Rocket Instagram IPA for iOS

qbap |
iOS Apps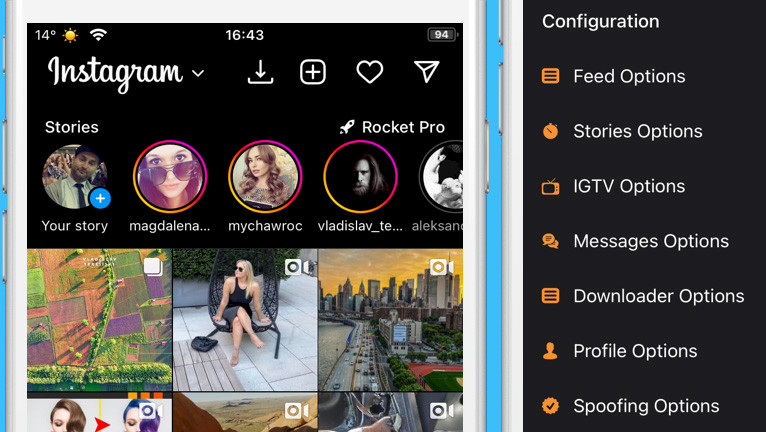 Take full control over the Instagram app with the powerful Rocket tweak. This versatile tool enables you to download posts and stories, remove sponsored posts, conceal comments, confirm like button presses, and more. Have the ultimate Instagram experience with Rocket – the essential tweak for the photo-sharing social network.
Install Rocket Instagram on your iPhone:
What is Rocket Instagram?
Rocket Instagram is the ultimate all-in-one tweak for the most popular photo and video-sharing social network. Compatible with all devices running iOS 9.0 or later, this powerful tool can be installed on both non-jailbroken and jailbroken devices. With Instagram Rocket tweak, you'll have access to the most coveted features that the Instagram app lacks on iOS.
Although the project's official name is Rocket for Instagram, it's commonly referred to as Instagram Rocket. This tweak is designed to work with non-jailbreak devices by being injected into the Instagram app. Once installed, it provides access to various features, allowing users to configure Instagram's feed, stories, IGTV, messages, and profile to their liking.
Furthermore, Rocket for Instagram also comes with a built-in spoofer that functions locally. This feature allows users to spoof their follower and following counts, as well as their posts and post counts. However, it's important to note that this data is only displayed for personal knowledge and not publicly visible to others. Rocket Instagram IPA can be installed on iOS 9 – iOS 16.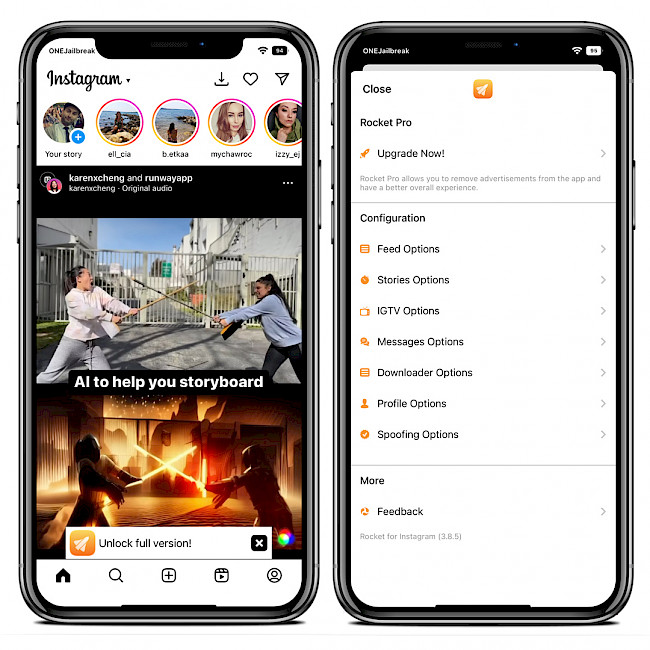 While Rocket Instagram is free, you can support the developer by purchasing the Pro version. This upgrade offers an enhanced experience by removing ads from the app and eliminating the "Unlock full version!" banner displayed at the bottom. The tweaked app is compatible with iOS 9 through iOS 16, providing access to its features across a wide range of devices.
Rocket's Feed Options offer a variety of customization options, including the ability to enable the Grid Layout and switch between the default list and grid looks. You can define the number of columns in the grid and add Instagram stories to the layout as well. Additionally, there are options to hide download and repost buttons, toggle tap and hold to zoom photos and profile pictures, and disable app refresh in the background.
In this latest update, the developer has generously added a plethora of new options to further enhance your Instagram experience. You can now effortlessly eliminate sponsored posts, conceal comments, modify the date format, automatically play audio, and confirm likes triggered by double-tapping or the like button. These added features provide you with greater control and customization over your Instagram usage.
If you're a fan of Instagram Stories, you'll appreciate the features that Rocket has to offer. For starters, you can view stories anonymously, preventing Instagram from notifying the story owner whether or not you've viewed their story. Additionally, Instagram Rocket offers an option to manually notify the user by tapping on the eye icon or even download Instagram Stories.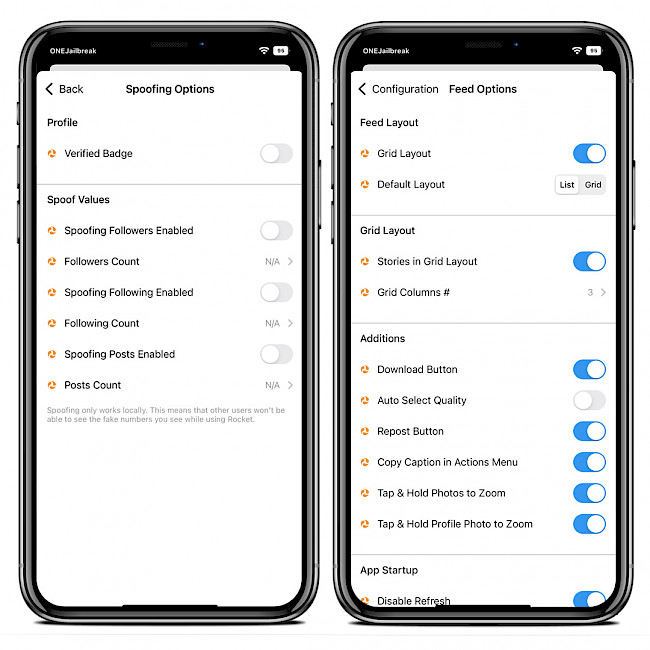 Instagram Rocket offers even more features, such as the ability to disable auto-advance, remove sponsored stories, change the time format, automatically select the quality of downloaded videos and photos, and enable the search story viewer. Users can also add a download button to content streamed through IGTV, making it easy to save and view content.
Rocket for Instagram includes a robust Download Manager that allows you to save content. By enabling the download button for pictures, stories, or videos on Instagram, you can easily tap on the download icon, select the quality, and access saved files from the Download section.
In addition to downloading content, all files include additional information such as resolution, included tags, and the file's source. You can also filter their downloads by media type and media source, select the download location, and show the gallery button in the main Instagram interface for easy access. All those features are available for free.
Rocket Instagram takes user privacy to the next level by offering features in the Messages Options section such as preventing tipping notifications and manually marking messages and stories as seen. Users can also download files directly from Instagram Messages. With its all-in-one approach, Instagram Rocket is undoubtedly the best tweak for enhancing your experience.
However, if Instagram Rocket isn't for you, there are alternatives available for Instagram app. For example, Instagram No Ads and Instagram++ offer a range of useful new features, including the ability to save photos and videos, view stories anonymously, and hide ads.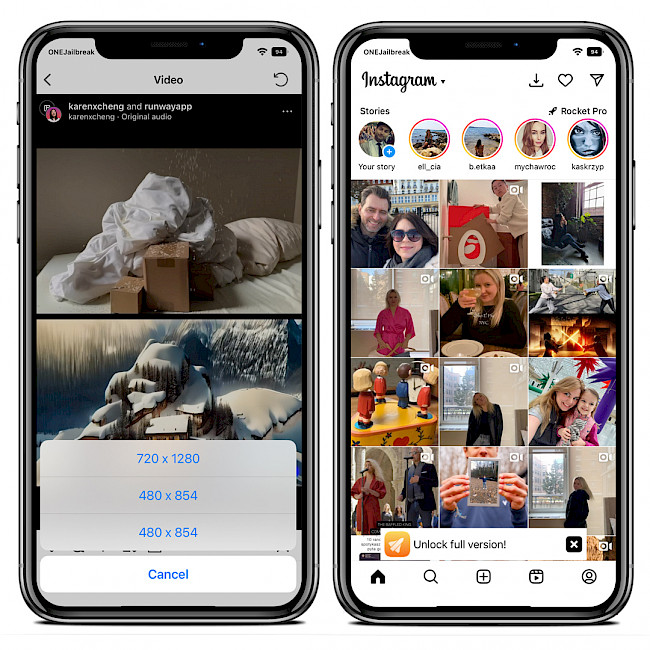 Download Rocket Instagram IPA
Instagram Rocket IPA can be sideloaded onto your iPhone using an IPA installer like Sideloadly (available for Windows and macOS) or SideStore the on-device IPA signing tool for iOS 14 – iOS 16. Both methods allow you to install Instagram Rocket IPA on your non-jailbreak devices.
To install Rocket Instagram IPA on iOS device using Sideloadly, follow these steps:
Download Rocket Instagram IPA from the link below.

Run Sideloadly application on your PC or Mac.
Connect your iPhone or iPad to the computer via USB.
Load the IPA file into the app to begin the installation process.
Enter your Apple ID to sign the Rocket Instagram IPA file.
Click the "Start" button to begin sideloading the IPA file onto your device.
When prompted, enter the password for your Apple ID.
Open the Settings app from the Home Screen.
Navigate to "General" → "VPN & Device Management".
Click on the developer app associated with your email.
Tap "Trust" to allow the app to run.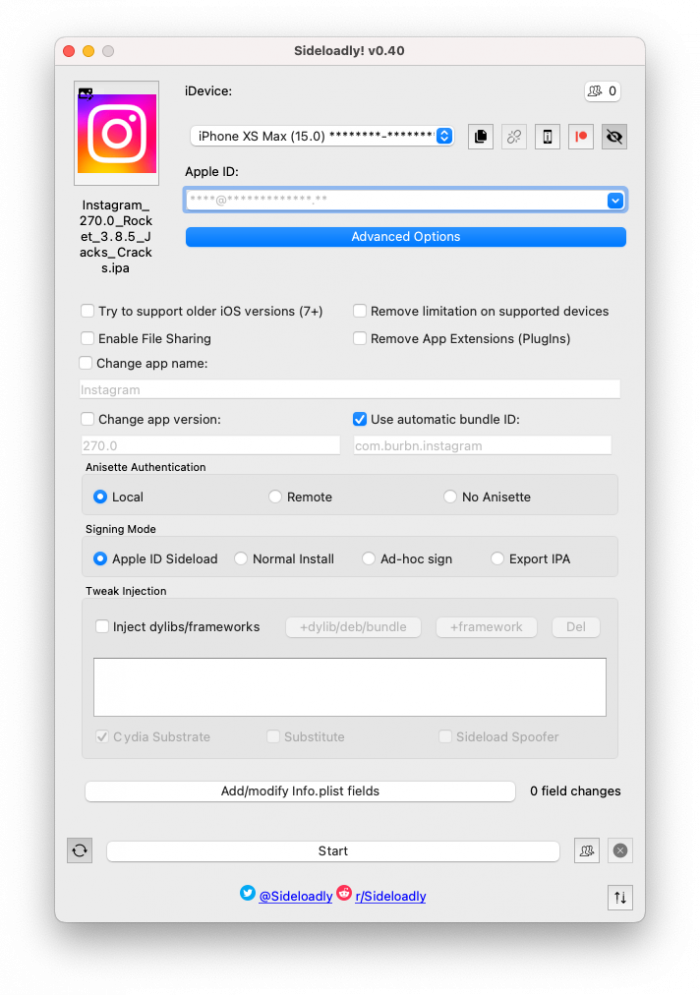 Note: If you don't have a developer certificate, you can use your free Apple account to sign and install Instagram Rocket IPA and use it for up to 7 days before it needs to be re-signed. What's more, you can sideload the IPA also with TrollStore on iOS 14 – iOS 15.4.1.
Add Repository
When you are running a jailbroken environment you can install the Rocket for Instagram tweak on top of the Instagram app downloaded from the App Store. Add the private Instagram Rocket repository to your package manager and install the all-in-one Instagram tweak for iOS.
To install Rocket for Instagram with Cydia, follow those steps:
Open the Cydia app from the Home Screen.
Tap on the Sources tab, then select Edit button.
Add the following repository URL: https://apt.alfhaily.me
Cydia will automatically refresh packages available in the repo.
Search for Instagram Rocket tweak and install the package.
Restart the Springboard to apply all changes.
Access Rocket tweak preferences from the Instagram app.
Alternatively, please use the quick links available below to add the repository to your favorite package manager (Cydia, Sileo, Installer, Zebra) with just one tap.
What's new
Updated Instagram Rocket tweak to version 3.8.6.
Updated Instagram to version 276.1.
Bug fix and performance improvements.
Fixed zooming on profile picture.
Improved visibility for story action buttons.
Added support for the latest version of the Instagram app.
Fixed friendship status showing even when disabled.
Fixed persistent HUD when saving media.
Fixed stories not showing in grid feed.
Fixed gallery button not showing in the navigation bar.
Fixed crash when tapping "save and repost" buttons.
Post a comment