Download Play! IPA: PS2 emulator for iOS

qbap |
Emulators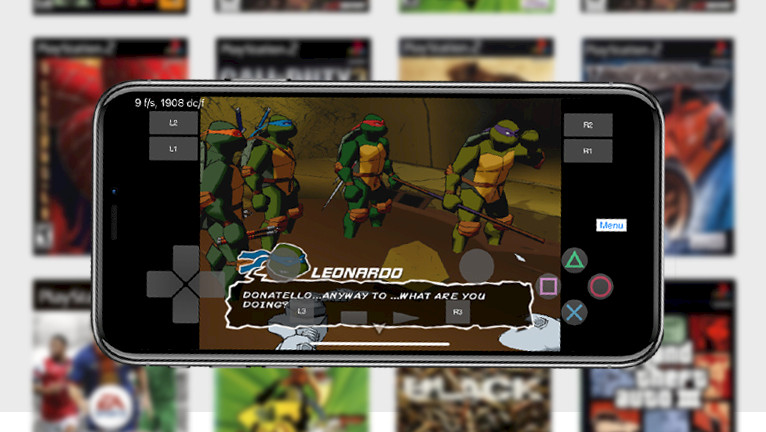 Modern mobile devices are equipped with incredibly powerful CPUs and GPUs that are often underutilized. The Play! emulator allows you to harness the full potential of your device by enabling it to run PlayStation 2 games on an iPhone or iPad.
Install Play! PS2 emulator IPA on your iPhone:
What is Play!?
Play! is a compact and user-friendly PlayStation2 emulator for iOS that aims to make emulation accessible for all. With Play!, all you need to do is load the game and start playing – no BIOS required. Enjoy your favorite PlayStation 2 games on the go with Play! running on your iPhone.
PS2 was a sixth-generation video game console developed and produced by Sony Computer Entertainment. The hardware was based on the Emotion Engine CPU and Graphics Synthesizer GPU. The Emotion Engine was a custom-designed CPU with a clock speed of 294 MHz.
PlayStation 2 GPU was responsible for rendering the graphics for the games, and it had a clock speed of 147 MHz. The PS2 also featured 32 MB of RDRAM as its main memory, and 4 MB of embedded DRAM in the GPU. This was one of the most powerful GPUs of its time.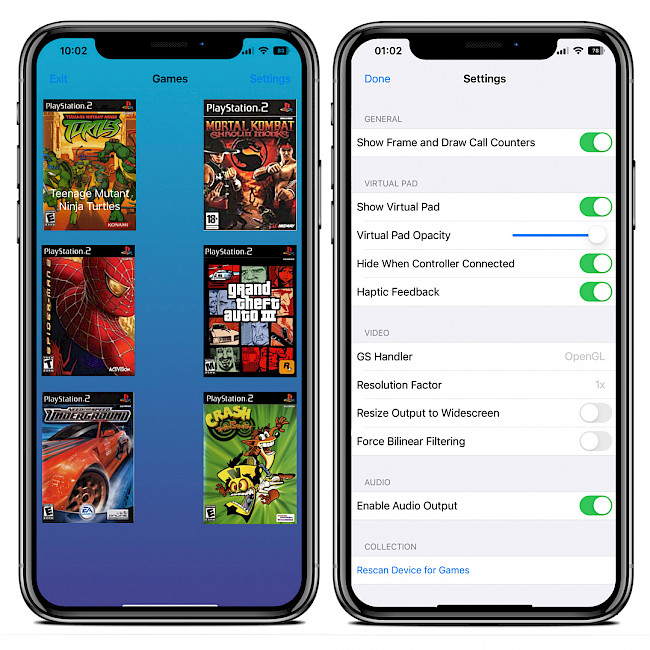 iPhone 13, with its A15 Bionic chip that features a 6-core CPU and 4-core GPU, is more than capable of running PS2 games through emulation. The powerful performance capabilities, including a 2x 3.23 GHz + 4x 1.82 GHz CPU and 4-core GPU, make it a formidable option for mobile gaming. It is truly impressive how advanced modern mobile devices have become.
After the installation of Play! IPA is completed you can open the PlayStation2 emulator from your Home Screen. It will immediately scan the device for new games, but you will need probably import them manually. Play! offers also some configuration options from where you can select the rendering engine, enable audio output, display gameplay FPS, and control the virtual PAD.
Play! emulator features a virtual gamepad on the screen, allowing players to easily control their games. Additionally, it supports haptic feedback, giving players a more immersive gaming experience. Users also have the option to adjust the opacity of the virtual controller, allowing them to customize the display to their preferences.
One of the key features of the emulator is that it also supports the use of external controllers, allowing players to turn off the virtual gamepad and use a physical controller for a more authentic gaming experience. Play! can also save game states with zstd compression.
Play! implements automatic JIT activation through AltServer, which requires AltServer to be running on the same network as your iOS device. This can be enabled in the Settings menu of the emulator. If you try to play a game without JIT enabled, you will experience a crash.
Play! — PlayStation2 Emulator is an open-source project, with its source code being made available on the GitHub Repository. The codebase was developed using a combination of different programming languages, including C, C++, and Objective-C++, ensuring its veracity.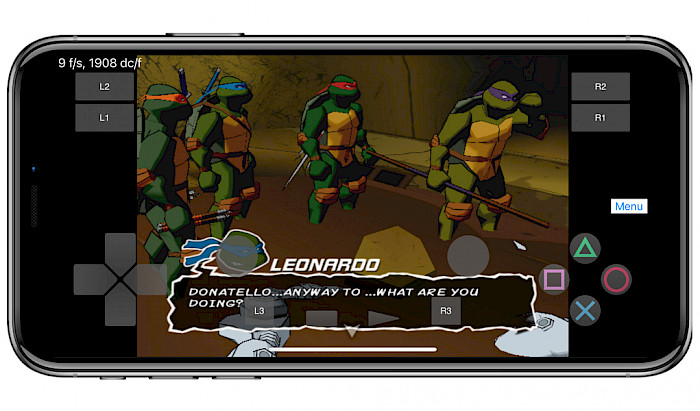 Download Play! IPA
Play! IPA can be sideloaded on your iOS device with a tool like AltStore (for macOS and Windows) or SideStore, the on-device IPA installer that doesn't require a computer to sign apps. If you want to run the emulator at full speed without jailbreak use AltStore and enable AltJIT.
To install Play! IPA on your iOS device using AltStore app, follow these steps:
Download the Play! IPA from the links below.

Run AltServer application on your PC or Mac.
Connect your iPhone or iPad to the computer via USB.
Click on system tray icon with Alt or Option key to sideload the IPA.
Enter your Apple ID and password to sign the Play! IPA file.
Open the Settings app from the Home Screen.
Navigate to "General" → "VPN & Device Management".
Click on the developer app associated with your email.
Tap "Trust" to allow the app to run.
Click on AltServer system tray icon and enable JIT.
Note: If you don't have a developer certificate, you can use your free Apple account to sign and install Play! IPA and use it for up to 7 days before it needs to be re-signed.
PlayStation 2 games
If you didn't experience PlayStation 2 than you can try to play one of those top 10 classic games available for Play! emulator. It is important to note that downloading ISO files for games may be considered illegal in certain jurisdictions. It is always best to check the laws in your country.
Tip: To use the Play! emulator, you will need to add the ISO image files of your PlayStation 2 games to the "On My iPhone" location within the Play! → Play Data Files folder. This can be done by using the Files app on your iPhone and placing the files in the location.
1. "Grand Theft Auto: San Andreas" – An open-world action-adventure game set in the fictional state of San Andreas, where players control a former gang member on a journey to become a powerful criminal.
2. "Shadow of the Colossus" – An action-adventure game where players control a young man on a quest to defeat sixteen massive creatures, known as Colossi, in order to revive a girl.
3. "Kingdom Hearts" – An action RPG that combines elements of the Final Fantasy series and Disney characters, players control Sora as he battles to save the universe from darkness.
4. "Metal Gear Solid 3: Snake Eater" – A stealth action game that follows the story of Naked Snake, a soldier who must infiltrate a jungle to stop a nuclear threat.
5. "Persona 4" – A role-playing game where players control a high school student who moves to a small town and gets wrapped up in a series of bizarre murders.
6. "God of War" – A hack and slash action-adventure game where players control the Spartan warrior Kratos on a quest for vengeance against the Olympian gods.
7. "Resident Evil 4" – A survival horror game where players control Leon S. Kennedy as he battles hordes of infected villagers while trying to rescue the president's daughter.
8. "Final Fantasy XII" – A role-playing game set in a world called Ivalice, where players control a band of characters on a quest to save the kingdom from war and political strife.
9. "Pro Evolution Soccer 5" – A soccer game that features realistic graphics and gameplay, as well as numerous teams and players to choose from.
10. "Okami" – An action-adventure game that follows the story of Amaterasu, a wolf-goddess who must restore the world to its former beauty by using her powers to defeat monsters.
What's new
Updated Play! to version 0.58.
Added support for iOS 15 and iOS 16.
Fixed some more issues with CD-ROM CHD support (ex.: Zombie Virus).
Improved handling of floating point clamping, fixing issues with games.
Other compatibility fixes (Toy Story 3, Wall-E are now playable).
Fixed some save state stability issues.
Added support for AltServer JIT activation.
Post a comment