FileSwitcherX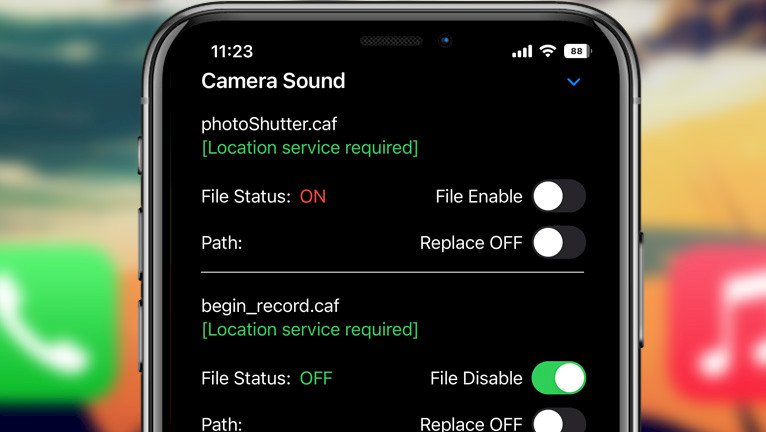 On stock iOS, changing the default system sounds is not permitted by Apple. However, FileSwitcherX utilizes the latest MacDirtyCow exploit to enable you to replace iOS system sounds without the need for jailbreaking on iOS 14, iOS 15, and iOS 16.
What is FileSwitcherX?
FileSwitcherX is a new application based on the popular MacDirtyCow exploit fixed in iOS 16.2. Use this tool to tweak some system settings and replace default system sounds without jailbreak. FileSwitcherX IPA can be sideloaded on any device running iOS 14 – iOS 16.1.2.
Upon completion of the installation, FileSwitcherX can be accessed from the Home Screen. While the app's user interface may not be overly friendly, it is sufficient for navigation and locating desired options. Note that some features may require the enabling of location services.
FileSwitcherX offers the ability to alter or disable the keyboard, camera, lock, SpringBoard, and power sounds on an iOS 14 – 16.1.2 device. Additionally, the app's latest version includes the integration of NoHomeBar, enabling the removal of Dock and Folders background.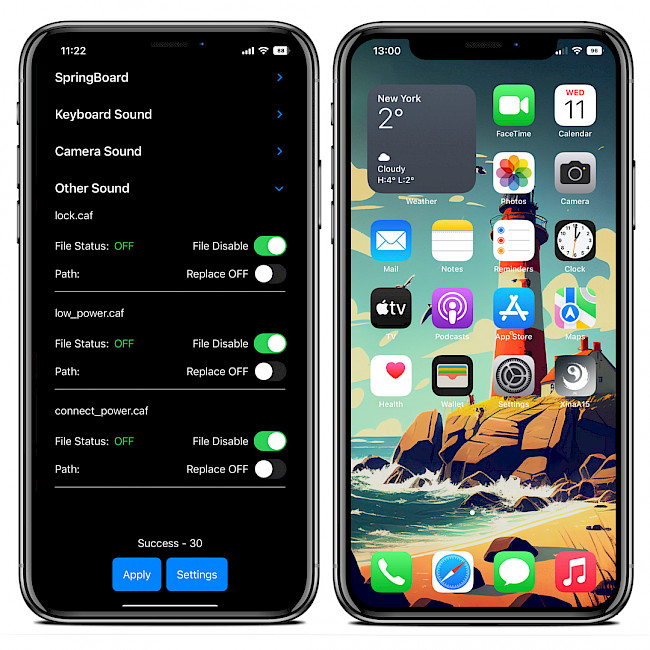 The SpringBoard section of the app also provides access to various hidden system settings such as the option to disable the Dock and Folders background outline in Light and Dark mode, remove the blur effect from Folders and the Switcher App, and finally, disable shortcut banners.
This powerful sound replacement tool offers a variety of options for disabling sounds and selecting custom audio files from iCloud. Its main feature allows users to easily modify sounds such as key press, key press delete, key press modifier, tock, tink, photo shutter, begin record, end record, camera shutter (burst, start, end), lock, lock power, and connect power.
FileSwitcherX was released as an open-source project, with the source code made available through the GitHub Repository. This allows developers and other interested parties to contribute to the project, submit bug reports, or even fork the project and create their own versions.
The tweak was written in a combination of Swift and C programming languages. The developer actively maintains the tweak. As of 12 Jan 2023, the latest version of FileSwitcherX has been updated. With this tool, you can customize the sounds of your device to your liking.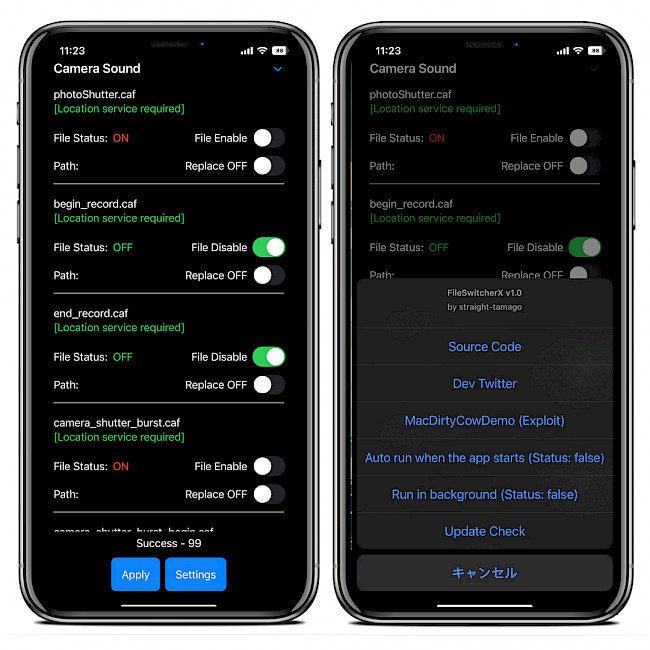 For even greater control over system modifications, consider using FileSwitcherPro, the successor of FileSwitcherX. It offers the ability to manually modify any system .plist file.
Download FileSwitcherX IPA
FileSwitcherX IPA can be sideloaded onto your iPhone using an IPA installer like Sideloadly (available for Windows and macOS) or SideStore the on-device IPA signing tool for iOS 14 – iOS 16. Both methods allow you to install FileSwitcherX IPA on your non-jailbreak devices.
Note: If you don't have a developer certificate, you can use your free Apple account to sign and install FileSwitcherX IPA and use it for up to 7 days before it needs to be re-signed. What's more, you can sideload the IPA also with TrollStore on iOS 14 – iOS 15.4.1.
To install FileSwitcherX IPA on your iOS device using Sideloadly app, follow these steps:
Download the FileSwitcherX IPA from the top of this page.

Run Sideloadly application on your PC or Mac.
Connect your iPhone or iPad to the computer via USB.
Load the IPA file into the app to begin the installation process.
Enter your Apple ID to sign the FileSwitcherX IPA file.
Click the "Start" button to begin sideloading the IPA file onto your device.
When prompted, enter the password for your Apple ID.
Open the Settings app from the Home Screen.
Navigate to "General" → "VPN & Device Management".
Click on the developer app associated with your email.
Tap "Trust" to allow the app to run.
What's new
Updated FileSwitcherX to version 1.7.
Added Carrier Changer option.
Bug fixes and other minor improvements.
File replacement is now supported.
Added support for TrollStore on iOS 14 – iOS 15.4.1.
Background execution can be turned off.
Included NoCameraSound and NoHomeBar.
Added more sounds files to replace.
Rebuild the app interface.
Use location services to keep Dock and folders state.
Sponsored links
Post a comment