CyPwn Store - IPA, DEB, TIPA Library for iOS

qbap |
IPA Files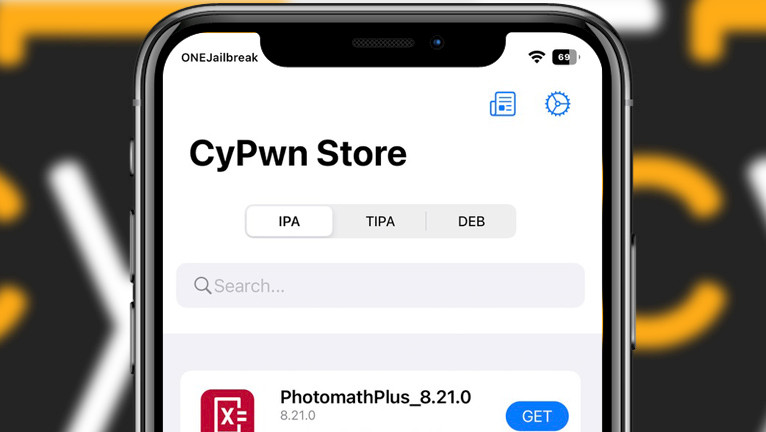 When you are unable to access a trial version of an app or package, it can be difficult to determine whether it will meet your requirements. CyPwn Store is a well-known third-party app store that provides free access to a wide range of tweaked, cracked, and paid iOS apps. Additionally, the store also allows users to download paid jailbreak tweaks.
Install CyPwn Store IPA on your iPhone:
What is CyPwn Store?
CyPwn Store is a widely recognized library that offers a plethora of IPA files, TIPA for TrollStore, and DEB packages. While it is well-known for its distribution of tweaked and cracked versions of apps as well as jailbreak tweaks, it also provides free downloads for users. The Store is consistently updated, ensuring that its content is up-to-date and of the highest quality.
Once you have successfully installed the CyPwn Store IPA using your preferred IPA installer, you can easily access the mobile store from your Home Screen. The CyPwn Store boast a user-friendly interface, making it easy for you to browse through and view the IPA, TIPA, and DEB packages available for download. There is also a search bar to find files quickly.
CyPwn Store offers a wide range of IPA files for various apps, including tweaked versions that add new features and cracked versions that activate premium features for free. Furthermore, users can also access TIPA files that are specifically designed for the TrollStore IPA installer.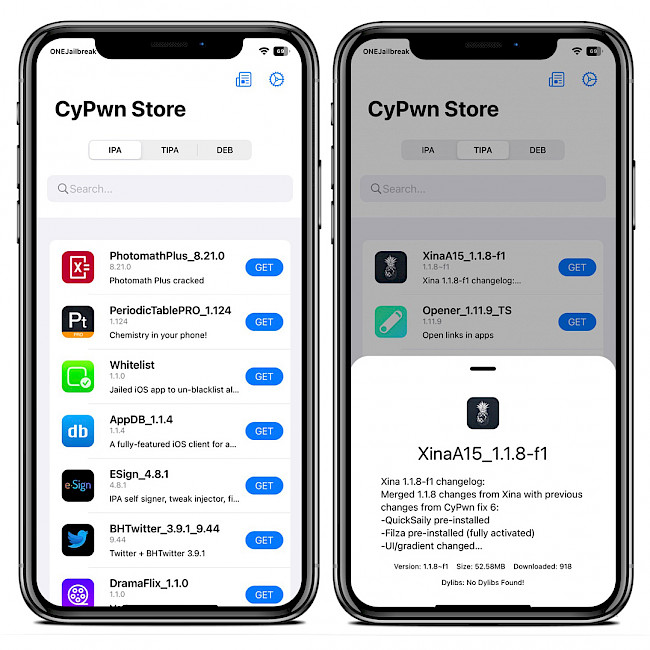 Although CyPwn Store for iOS is compatible with jailed devices, jailbroken users can also benefit from it. In fact, the store's DEB section offers cracked versions of popular jailbreak tools that can be downloaded for free. Unlike other App Stores, CyPwn Store does not include ads in apps.
When you download IPA, TIPA, or DEB files from the CyPwn Store, they are automatically saved to your iCloud account. While the CyPwn app does not provide an option to sideload or install these files directly, you can use any IPA installer to install downloaded IPAs, TrollStore to install TIPA, and any jailbreak package manager to install DEB files.
In the CyPwn Store for iOS, every app listed comes with a brief description or changelog, as well as information about the version number, number of downloads, and file size. Additionally, the app description may also include details about any dylibs included in the package.
To install CyPwn Store for iOS, you must have iOS 14 or a newer version installed on your device. Jailbreak is not required to use the store. The app features a simple and minimalistic interface, making it a great alternative to other IPA stores like appdb, iOSGods, or Panda Helper Lite.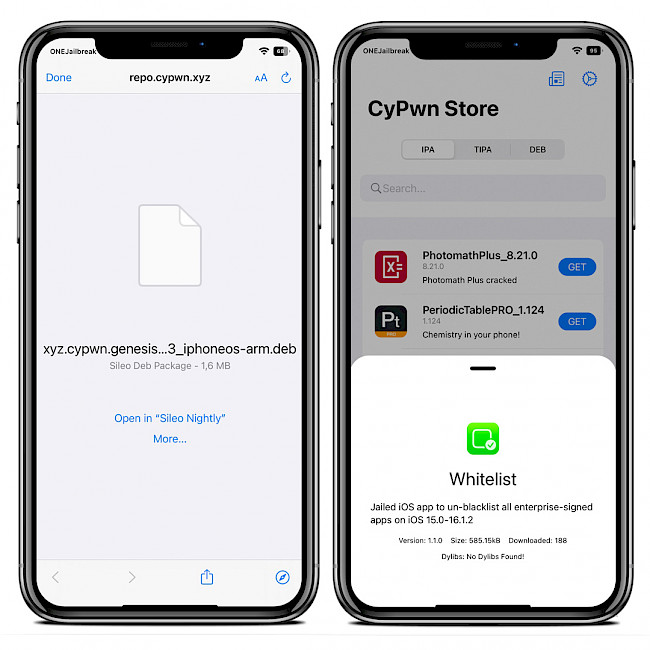 Note: It is important to note that installing cracked versions of apps or paid jailbreak tweaks is illegal. I encourage you to support developers by purchasing their software instead.
Download CyPwn Store IPA
CyPwn Store is released as an IPA file that can be sideloaded on iOS device with an IPA installer like Sideloadly or SideStore the on-device IPA signing tool for iOS 14 – iOS 16. Regardless of the installation method you choose, the CyPwn Store IPA is designed to work on both jailbroken and non-jailbroken devices. CyPwn Store works regardless of your device's configuration.
To install CyPwn Store IPA on iOS using Sideloadly, follow these steps:
Download CyPwn Store IPA from the link below.

Run Sideloadly application on your PC or Mac.
Connect your iPhone or iPad to the computer via USB.
Load the IPA file into the app to begin the installation process.
Enter your Apple ID to sign the CyPwn Store IPA file.
Click the "Start" button to begin sideloading the IPA file onto your device.
When prompted, enter the password for your Apple ID.
Open the Settings app from the Home Screen.
Navigate to "General" → "VPN & Device Management".
Click on the developer app associated with your email.
Tap "Trust" to allow the app to run.
Add Repository
CyPwn Store content offering over 750 packages is also available as a repository for jailbroken devices. Add CyPwn Repo to your package manager to browse the jailbreak repository and access custom CyPwn releases, cracks, tweaks, themes, and more.
To access CyPwn Repository using Sileo, follow those steps:
Open the Sileo app from the Home Screen.
Tap on the Sources tab, then select Edit button.
Add the following repository URL: https://repo.cypwn.xyz
Access packages from CyPwn Repository.
For added convenience, you can quickly add the repository to your preferred package managers (Cydia, Sileo, Installer, Zebra) by using the convenient quick links provided below. With just one click, you can easily add the repository and download cracked apps.
What's new
CyPwn Store for iOS
Updated CyPwn Store IPA to version 6.0.
Added TrollStore TIPA Library.
Added DEB package Library.
Overall improvements and bug fixes.
Post a comment