Onion Browser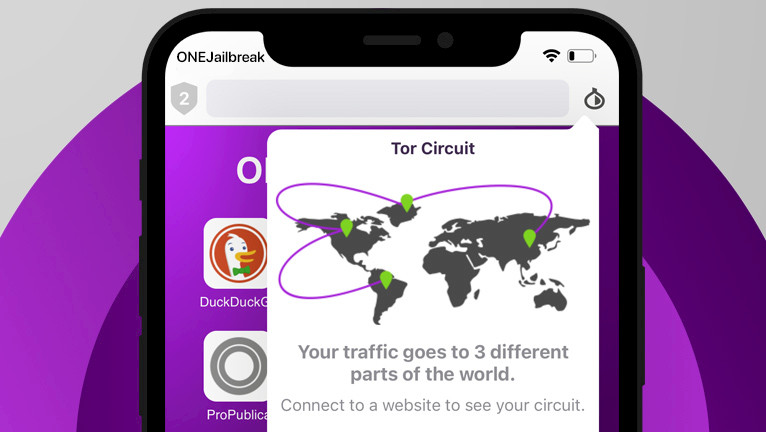 The Tor Network, short for The Onion Router, is a secure and anonymous platform that allows users to access the internet privately, including the Dark Web, where a wide array of content is available. While it's true that the Dark Web hosts various services and products, it's important to note that not all content on the Dark Web is legal or safe. Onion Browser allows users to access Tor Network and Dark Web from iOS.
Download Onion Browser for iOS
What is Onion Browser?
Onion Browser is the dedicated Tor Network browser designed for iOS devices. With this app, you can not only browse the Internet anonymously but also explore the vast offerings of the dark web from your iPhone. Unlock a world of online anonymity and access unparalleled privacy features with Onion Browser on your iOS device, mostly by leveraging Orbot iOS.
The Tor Network, short for The Onion Router, is a decentralized network of volunteer-run servers that allows users to improve their privacy and security on the internet. When you use Tor, your internet traffic is routed through a series of these volunteer-operated servers, encrypting the data at each step like layers of an onion. This process makes it extremely difficult for anyone, including governments, hackers, or even the service providers themselves, to trace your online activities back to your physical location or identity.
Please be aware that your network or service provider can detect when you log into the Tor Network. Although they may not know the specifics of your activities, they can still identify your online presence. Exercise extreme caution when accessing the Dark Web.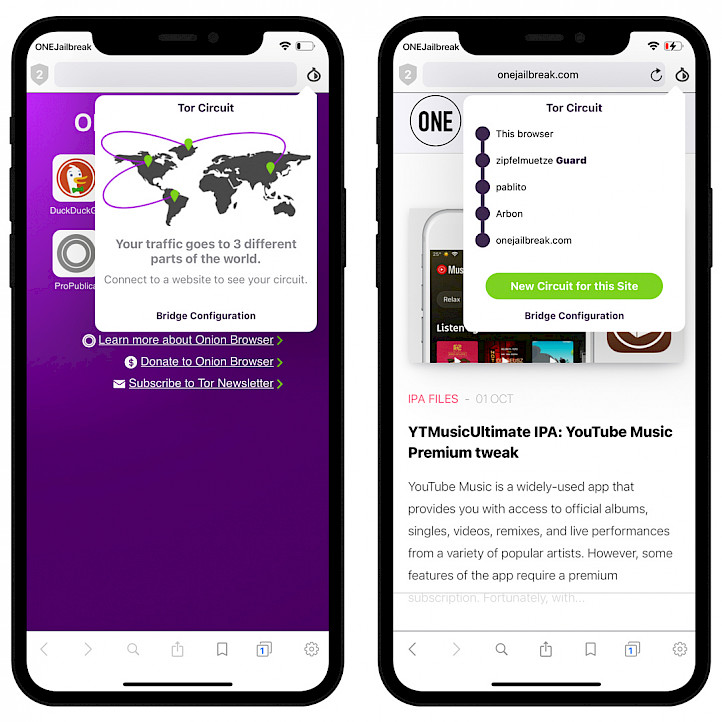 Tor Browser for iOS
Onion Browser extends the power of Tor to iOS devices, offering more than just access to the Dark Web. It allows users to visit regular websites anonymously. However, it's important to note that due to the nature of this decentralized network, your connection might experience bottlenecks and network latency as your traffic bounces through these relays.
Tor Browser on Desktop and Android is built upon Mozilla's Firefox/Gecko engine, offering robust control and reliability for implementing proxying and anti-tracking techniques. In contrast, Onion Browser uses the WebKit browser component provided by Apple, offering smaller control but enhanced reliability in its approach to proxying and anti-tracking methods.
Private browsing with Onion for iOS
High-Grade Encryption – Your internet traffic is encrypted as it passes through the Tor network, ensuring top-notch security and privacy.
No Extras – Experience pure browsing with no prying eyes, saved history, or intrusive influences. Bid farewell to targeted ads.
History-Free Tabs – Tabs vanish when you're done, guaranteeing a fresh start with every search. No browsing history is retained.
Access to .onion Websites – Onion Browser enables access to .onion websites, which are specific to the Tor network and are not indexed by traditional search engines. These sites offer increased privacy and security.
No Tracking – Onion Browser blocks trackers, cookies, and other web elements that could be used to track users' online behavior, enhancing privacy and preventing targeted advertisements.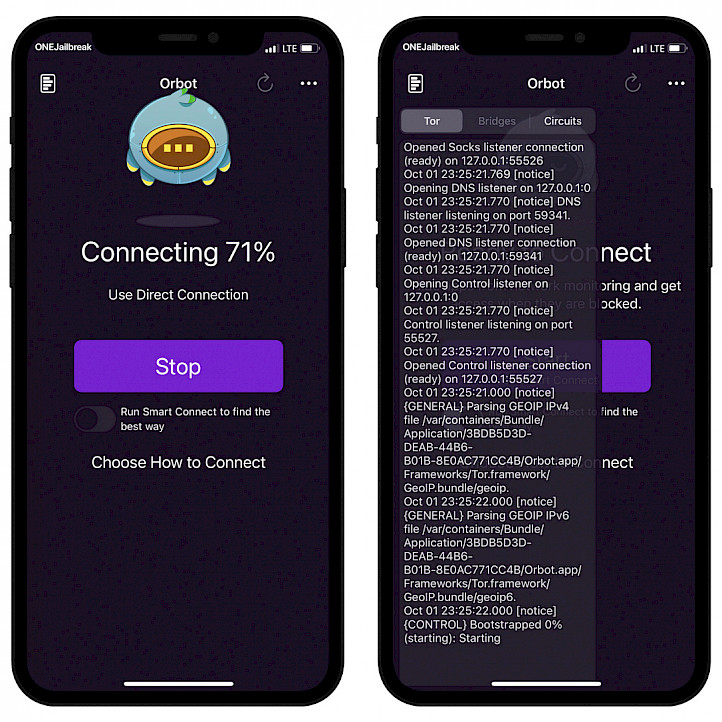 Onion Browser for iOS exclusively tunnels traffic within the app. It's vital to understand that network traffic outside of Onion Browser remains unprotected and continues to use your regular connection. Additionally, if you use the Onion Browser to log into websites usually accessed outside the Tor network, the website might be able to identify you and recognize your use of Tor.
Apple's rendering engine imposes additional limitations. iOS retains full control over certain network traffic, potentially causing data such as audio or video embeds to route through your regular connection rather than via Tor. Furthermore, features like the HTML5 Geolocation API, designed to pinpoint your GPS location and other new HTML5 functionalities can reveal your actual location unless the 'Strict' security mode is enabled, posing potential privacy risks.
Note: Orbot for iOS has issues with connecting to Tor Network on iOS 16. If you can not connect, try using a custom Tor Bridge. Connecting to Tor takes a few seconds.
Onion Browser IPA
Indeed, Onion Browser stands out as one of the most privacy-focused browsers available for iOS devices. For users seeking enhanced privacy, it can be installed by sideloading the Onion Browser IPA onto your iDevice using any IPA installer. Alternatively, there is an official App Store version of the app, offering tip features through In-App Purchases.
Onion Browser IPA for iOS provides identical features to the App Store release. The developer delivers updates through the IPA format since Apple restricts new releases on the go, ensuring users can access the latest enhancements and security features. Onion Browser is probably the most popular and free Tor Browser for iOS 15 – iOS 17 with the highest standard of privacy.
Key enhancements in version 3.0
New and Enhanced Rendering Engine – Utilizing the advanced WKWebView, it ensures a more secure and faster browsing experience.
Comprehensive Traffic Protection – All traffic, including audio and video streams, is now securely tunneled through Tor, enhancing overall privacy.
Expanded Download Capabilities – Users can now download a wide range of content, including entire web pages, for offline viewing.
In-Page Search (available from iOS 16 and up) – Conveniently search for specific content within web pages, enhancing the browsing experience.
Multi-Window Support on iPad – Enjoy improved multitasking with support for multiple windows, optimizing productivity and ease of use on iPad devices."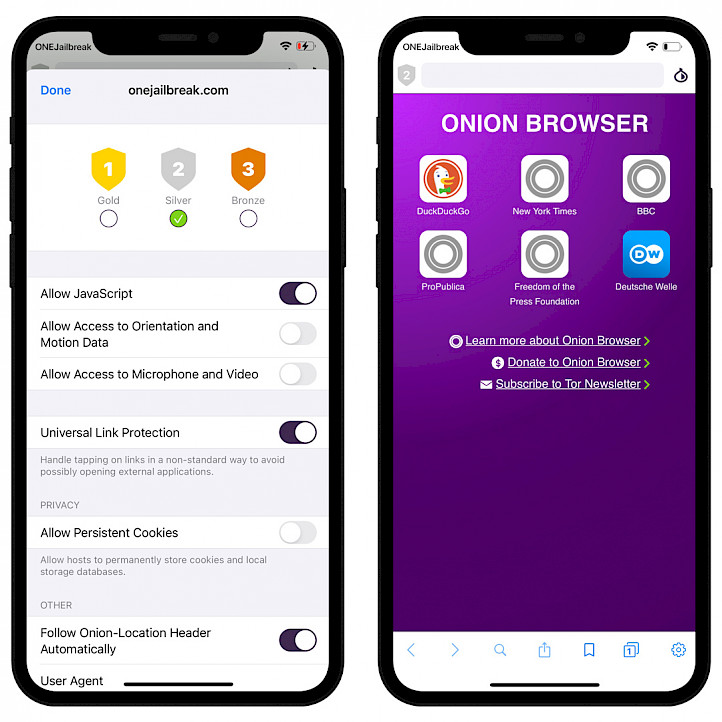 Best Onion Browser for iOS
It's evident that Onion Browser has emerged as the top alternative to Tor Browser for iOS users. In my experience, it mirrors the functionality of the PC Tor Browser, providing a comprehensive set of features, robust security, and anonymity for iPhone and iPad users no matter if you like to visit websites anonymously or access to .onion websites.
Among the numerous Tor browsers I've tested on iOS, Onion Browser stands out as the most reliable choice. The endorsement from The Tor Project marks a significant advancement for Tor usage on iOS and mobile platforms in general. Until The Tor Project develops and releases an official Tor Browser for iOS and mobile, Onion Browser fulfills Tor Browser for iOS.
Additionally, Onion Browser has been released as an open-source project under the Endless License, making all its files accessible through a dedicated GitHub Repository. The browser has been crafted using a combination of programming languages, notably Swift and C-Objective, reflecting a commitment to transparency and community-driven development.
What's new
Updated Onion Browser to version 3.1.0.
Added built-in Tor again to use with new WKWebView proxy settings in iOS 17.
Updated Onion Browser IPA to the latest version.
Added support for iOS 17.
Fixed crashes in popups.
Allow Onion Browser to become the default web browser.
Added Tatar translation.
Updated many other translations.
Sponsored links
Post a comment