Apps Manager allows to backup and restore AppData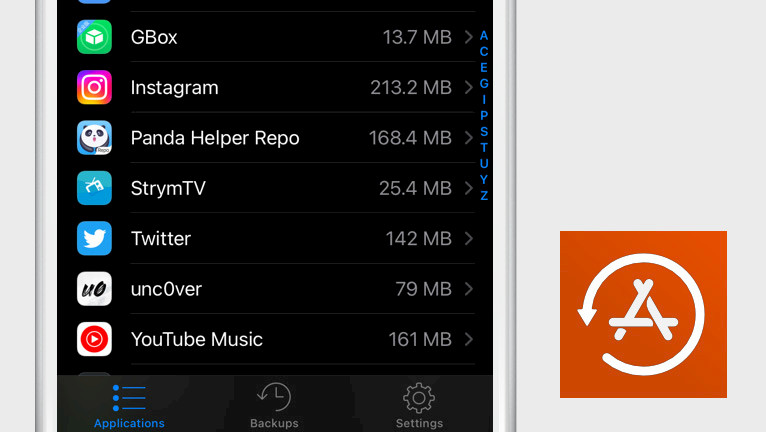 There are many tools to back up and restore AppData for iOS devices, but there are just a few to do it directly on your iPhone or iPad. Apps Manager jailbreak tool to backup and restore AppData. Now it can also be installed on iOS 16 without a jailbreak.
Install Apps Manager IPA for TrollStore on iOS 15 – iOS 16:
What is Apps Manager?
Apps Manager tool provides the best way to wipe, backup, and restore AppData for installed apps on iOS devices. Use this tool to transfer your AppData (saves, settings, data stored) across devices, without using iTunes or iCloud backup or any account binding.
Once installed, you can access the app from your Home Screen. The main interface displays a list of all installed apps and games with the included installation size. This comes in handy when you are low on free space. Swipe to find an app to do a backup or use the built-in search feature.
When you will tap on an app Apps Manager will display some additional information about it such as identifier, version, last modifications, app size, documents and data size, bundle, and data location. From here you can also back up, restore, and wipe the app from your device.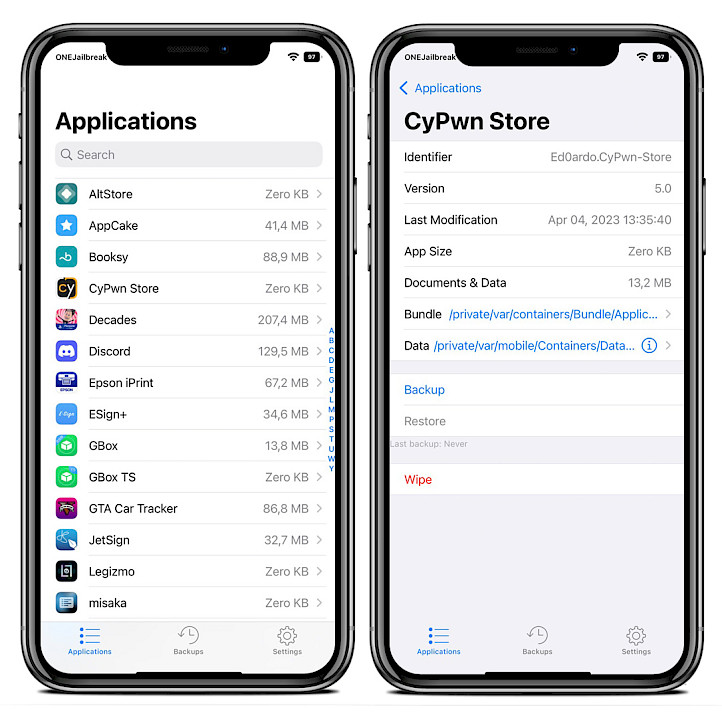 All app backups are added to a separate tab for quick access. Apps Manager can generate an unlimited number of backups for apps and games, but from the tool settings, you can define the number of max backups allowed per app. Using the AppData backup tool is straightforward.
It also offers an option to quickly open application containers, document containers, or app groups. Use it to transfer application data from your device to other devices. This tool can be really useful when you are using third-party App Stores that get often revoked.
Tigi Software, the developer behind Apps Manager, is more known in the jailbreak community for another app. They also created Filza, the most popular file manager for iOS devices, and it's not a big surprise that Apps Manager integrates with the file manager as well.
Like with Filza, also Apps Manager trial version is permanent. The app works on all jailbreaks released for iOS 7, iOS 8, iOS 9, iOS 10, iOS 11, iOS 12, iOS 13, and iOS 14. Since version 1.7, Apps Manager can also be installed on iOS 15 – iOS 16 without a jailbreak.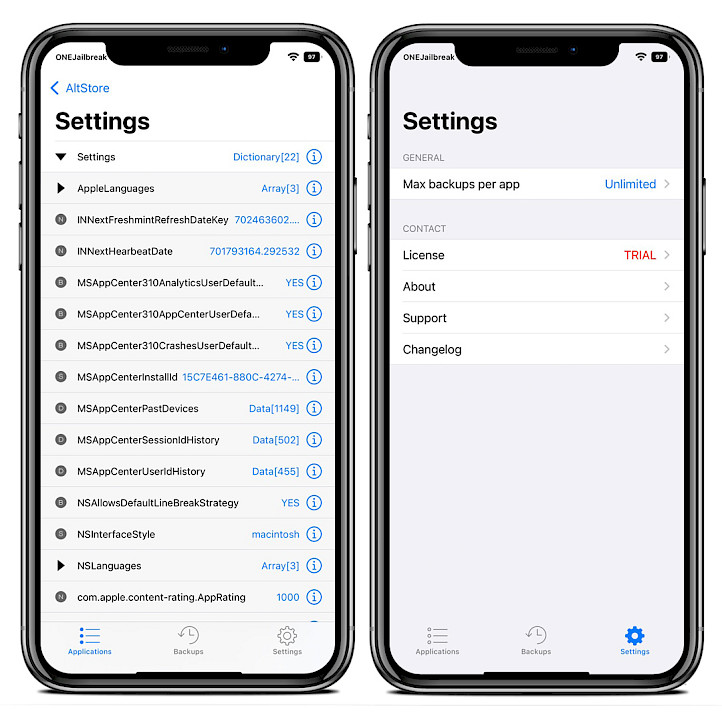 If you find this AppData backup tool useful buy it and support the developer. Alternatively, you can try the free AppIndex. This modern App Explorer and Manager lets you effortlessly back up and restore your preferred iOS app data. This mobile application is specially designed for jailbroken devices, with a separate TIPA package available for TrollStore.
How to install Apps Manager on iOS 15 – iOS 16
The application is designed for devices running jailbreak on iOS 6 up to iOS 14. Recently, the developer released an IPA package with an option to install the tool on non-jailbreak devices running on iOS 15.0 – iOS 16. thanks to the TrollStore permanent IPA installer.
Step 1. Install TrollStore for iOS 15 – iOS 16 on your iPhone.
Step 2. Download Apps Manager IPA for iOS 15 – iOS 16 in the mobile Safari.
Step 3. Open the downloaded file in the Files app.
Step 4. Send the Apps Manager IPA to the TrollStore app.
Step 5. Access the installed Apps Manager for iOS 15 – iOS 16 from the Home Screen.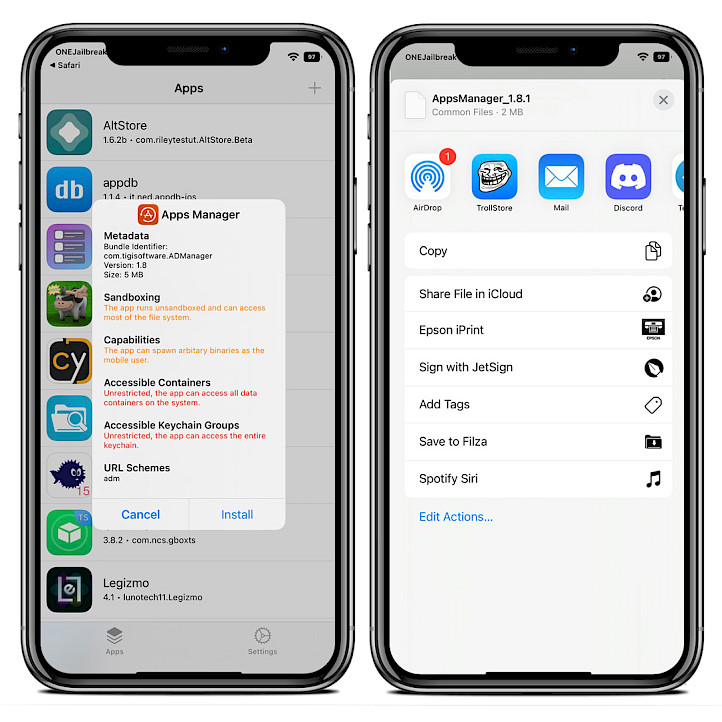 Add Repository
Apps Manager was released as a trial package through the BigBoss Repo, but I would recommend installing the tool from the Tigi Software development branch. Add the official Apps Manager Repo to your package manager and install the app on jailbroken devices.
To install Apps Manager app using Sileo, follow the steps:
Open the Sileo app from the Home Screen.
Tap on the Sources tab, then select Edit button.
Add the following repository URL: http://tigisoftware.com/cydia/
Install the Apps Manager package from the newly added repository.
To apply all changes respiring your iPhone.
Access the Apps Manager Installer from the Home Screen.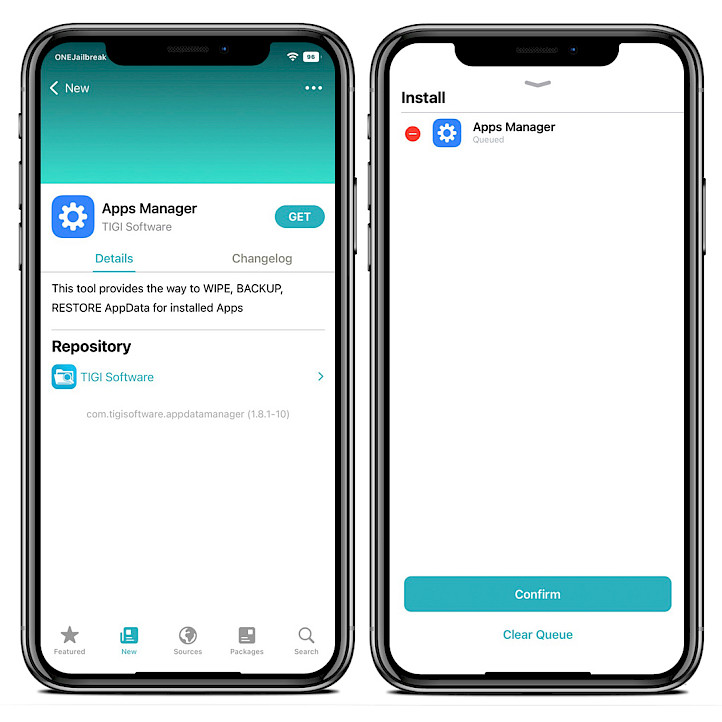 For added convenience, you can quickly add the repository to your preferred package managers (Cydia, Sileo, Installer, Zebra) by using the convenient quick links provided below. With just one click, you can easily add the repository and download the package.
What's new
Updated Apps Manager to version 1.8.3.
Supported iOS 16 (install via TrollStore).
Added rootless support.
Supported user apps installed via TrollStore (only sandboxed app).
Support for iOS 15 (installed via TrollStore).
Added more app info.
Added backup date to the backup file name.
Full support for iOS 14 (iOS 7 – iOS 14).
Fixed issue on launch on iOS 14.
Added support for Odyssey jailbreak.
Fixed keychain access issues on iOS 13.5.
Full support for iOS 13.5.
Added dark mode to the app interface.
Fixed issue with uninstalling the app.
Sponsored links
Post a comment