Add BigBoss Repository to a package manger with one tap

qbap |
Cydia Tweaks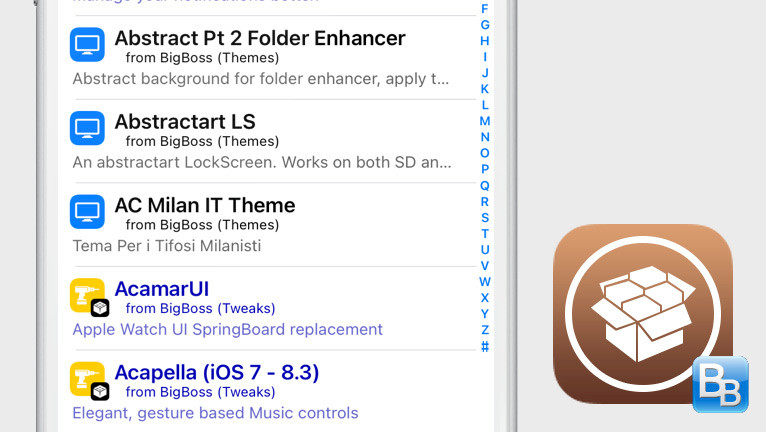 BigBoss repo is one of the oldest and most legendary Cydia sources with access to tweaks, packages, themes, and amazing apps for your jailbroken iPhone and iPad. Add the repository to access apps not available in the official App Store. Recently BigBoss Repo was updated to support packages for rootless jailbreaks such as Fugu15 Max.
Add BigBoss Repo to your package manager.
What is BigBoss Repo?
By default with Cydia the BigBoss Repository is installed on all jailbroken devices. All packages are listed in categories. Navigate with ease through all add-ons, carrier bundles, data storage, development, education, entertainment, fonts, games, keyboard, messaging, multimedia, navigation, productivity, ringtones, security, terminal support, themes, utilities, widgets, etc.
BigBoss offers tweaks and apps compatible with iOS 4 up to the latest iOS 15. Download and install thousands of add-ons for iPhone including components like Siri, DreamBoard, ControlCenter, Spotlight, themes for SpringBoard, NotificationCenter, SBSetings, tweaks to block ads, backup apps settings, and even more. It is still up and running in 2022!
Add a new repo to Cydia Sources, like BigBoss Repository URL to access new applications and amazing iOS tweaks. Be aware that the BigBoss repo is installed by default when using popular jailbreak tools including unc0ver or checkra1n tool.
BigBoss Repository URL:
http://apt.thebigboss.org/repofiles/cydia/
How to add BigBoss repo to Cydia
You are just a few steps from adding a new repository to Cydia Sources. Add BigBoss Repository to your list of Cydia Sources.
Step 1. Launch Cydia from the home screen.
Step 2. Tap Sources → Edit → Add the BigBoss Repository URL.
Step 3. Cydia will automatically refresh packages available in the repository.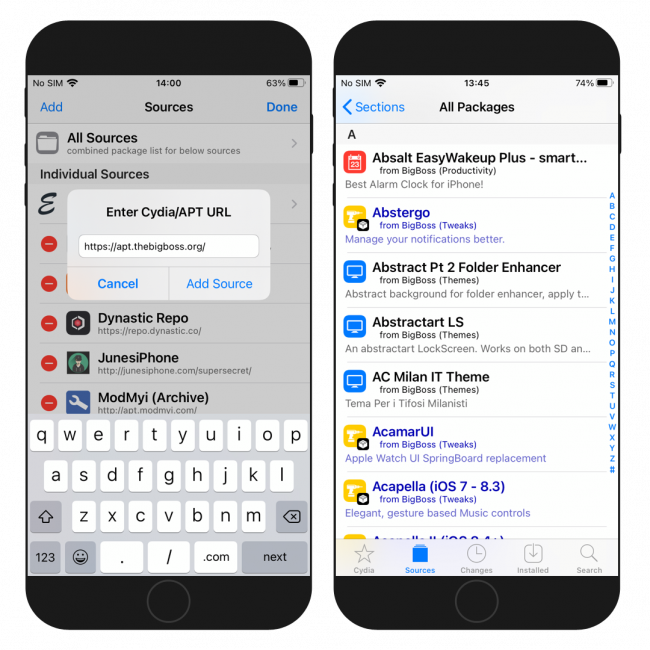 Access BigBoss from Installer
Installer is one of the most advanced package managers with more than 100 features and a couple of thousand options to configure.
Step 1. Open AppTapp Installer.
Step 2. Tap Sources → Edit → Add the BigBoss URL.
Step 3. AppTapp Installer will now refresh the repository.
How to install BigBoss to Silleo
Sileo is an APT Package Manager installed with the Chimera and Taurin jailbreak tools. Here is how to add the repository BigBoss to the app.
Step 1. Open the Sileo app from the home screen.
Step 2. Tap Sources → Edit → Add the BigBoss Repo URL.
Step 3. Sileo will now install the repository.
Add the new repo to Zebra
Zebra is an amazing Cydia alternative package manager for iPhone, iPad, and iPod. You can add new repositories easily.
Step 1. Open the Zebra app from iOS device.
Step 2. Tap Sources → + → Add and enter the BigBoss URL.
Step 3. Zebra will add your repository.
Latest Apps
酸果 - SG WX美化增强工具 v5.3.5-1
开心消消乐助手 v1.121.168-1
Keyboard Controller v1.2.3
Choicy v1.4.9-3
FlixRatings for Netflix (Legacy) v3.0.1
Fake GPS Pro(定位修改器)-FAKE your iPhone's location as you wish v4.6
Date Picker - Wheels v1.0.1
App Library Disabler v1.1.1
361一键新机(MultiAccount Master)-全系统(iOS 7/8/9/10/11/12/13/14/15/16)一键改串 v2.3.1-1
Respring Helper(重启桌面)-restart SpringBoard v1.5.2
PauseOnMute v1.2.4
虚拟定位助手 - 系统GPS定位修改器,GPS Faker,模拟全球天下游, v5.6.8
Notif v1.1.3
LowPowerDND v1.1.5
IPonCC v1.6
FakeQRCode(二维码替换)-scan pseudo barcode v1.2.8
IPDisabledTextAddress v1.0.0
Color3DIcons v1.0.2
GPS Manager(GPS定位管家) v2.2.5
WiFiQR v1.1.1
HotspotQR v1.1.3
UninstallGuard(卸载守护者) - forbid removing Apps v1.5.6
定位修改大师(Fake GPS)-模拟地理位置,虚拟地图天下任我行 v3.9.7
MyCCStatusLabel v1.0.1
网页视频下载器Web Video Downloader-缓存网站视频 v2.7.1
CCVPN v1.0.6
CCVibration v1.0.4
CCLessStatusBAR v1.0.4
FastDeleteKey v1.0.3
虚拟定位专家(GPS Faker Expert)-模拟导航,扫街 v3.2.9
Post a comment