BigBoss Repository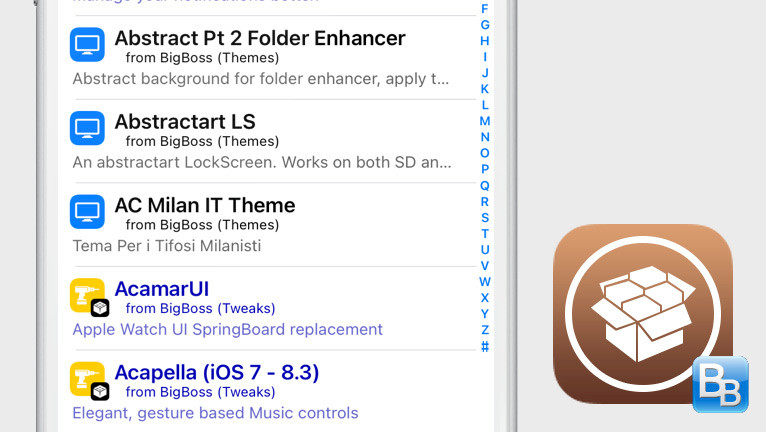 BigBoss repo is one of the oldest and most legendary Cydia sources with access to tweaks, packages, themes, and amazing apps for your jailbroken iPhone and iPad. Add the repository to access apps not available in the official App Store. Recently, BigBoss Repo was updated to support packages for rootless jailbreaks such as Dopamine.
Add BigBoss Repo
What is BigBoss Repo?
By default, with Cydia the BigBoss Repository is installed on all jailbroken devices. All packages are listed in categories. Navigate with ease through all add-ons, carrier bundles, data storage, development, education, entertainment, fonts, games, keyboard, messaging, multimedia, navigation, productivity, ringtones, security, terminal support, themes, utilities, widgets, etc.
BigBoss offers tweaks and apps compatible with iOS 4 up to the latest iOS 15 – iOS 16. Download and install thousands of add-ons for iPhone including components like Siri, DreamBoard, ControlCenter, Spotlight, themes for SpringBoard, NotificationCenter, SBSetings, tweaks to block ads, backup app settings, and even more. It is still up and running in 2023!
Great news! The BigBoss Repository has recently received an update, now providing support for rootless packages. This means you can not only download packages for traditional jailbreaks but also enjoy rootless options like Dopamine, XinaA15, and Palera1n. Embrace the newfound flexibility and possibilities with the latest repository update!
Rootless packages available in the BigBoss Repository are only visible in a rootless environment. If you try to view a rootless package on rootful jailbreak, it will be not listed in your package manager. The BigBoss Repository URL is the same for rootless and non-rootless jailbreaks.
Add a new repo to Cydia Sources, like BigBoss Repository URL to access new applications and amazing iOS tweaks. Be aware that the BigBoss repo is installed by default when using popular jailbreak tools, including the unc0ver or checkra1n tool.
BigBoss Repository URL:

http://apt.thebigboss.org/repofiles/cydia/
How to add BigBoss repo to Cydia
You're just a few simple steps away from adding the new BigBoss Repository to your Cydia Sources. The process is straightforward. All you need to do is follow these steps:
Open the Cydia app on your jailbroken device.
Go to the "Sources" tab.
Tap on "Edit" in the top right corner.
Select "Add" in the top left corner.
A pop-up will appear asking for the repository URL.
Enter the following URL for the BigBoss Repository: http://apt.thebigboss.org/repofiles/cydia/
Tap on "Add Source" to proceed.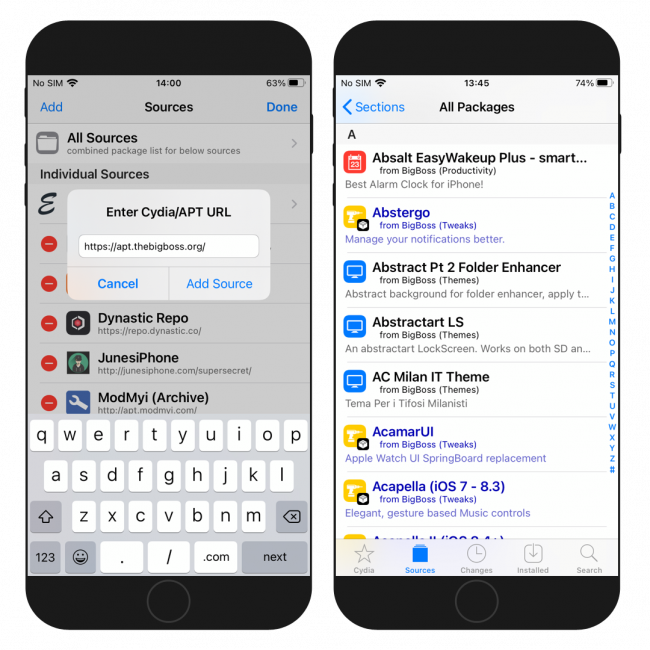 Access BigBoss Repo from Installer

Installer is an incredibly sophisticated package manager, boasting over 100 advanced features and thousands of configuration options. To enhance your experience even further, you can easily add the BigBoss Repository to the package manager by following these simple steps:
Launch AppTapp Installer from the Home Screen.
Navigate to the "Sources" section, then tap on "Edit".
Finally, select "Add" to input the BigBoss URL: http://apt.thebigboss.org/repofiles/cydia/
Sit back and relax as AppTapp Installer promptly refreshes the repository for you.
How to install BigBoss Repo to Sileo
Sileo, a powerful APT Package Manager included with the Chimera and Taurine jailbreak tools, serves as the default package manager for rootless jailbreaks like Palera1n and Dopamine. To access the BigBoss Repo through Sileo, simply follow these straightforward steps:
Launch the Sileo app from your Home Screen.
Navigate to the "Sources" section, then tap on "Edit".
Select "Add" to input the BigBoss Repo URL: http://apt.thebigboss.org/repofiles/cydia/
Sileo seamlessly installs the BigBoss Repository for you.
Add the BigBoss Repository to Zebra
Zebra is an outstanding alternative to Cydia, serving as a package manager for iPhone, iPad, and iPod devices. Whether you have a rootless or non-rootless jailbreak, Zebra caters to both, offering a seamless experience. By adding the BigBoss Repository to Zebra, you gain access to a plethora of tweaks and packages curated for your specific jailbreak.
Launch the Zebra app on your iOS device.
Navigate to the "Sources" section and tap on the "+" symbol to add a new repository.
Enter the BigBoss URL in the provided field and tap "Add" to proceed.
Zebra handles the rest. It will seamlessly add the BigBoss Repository to your list.
Sponsored links
Post a comment