Download PPSSPP for iOS 15

qbap |
Emulators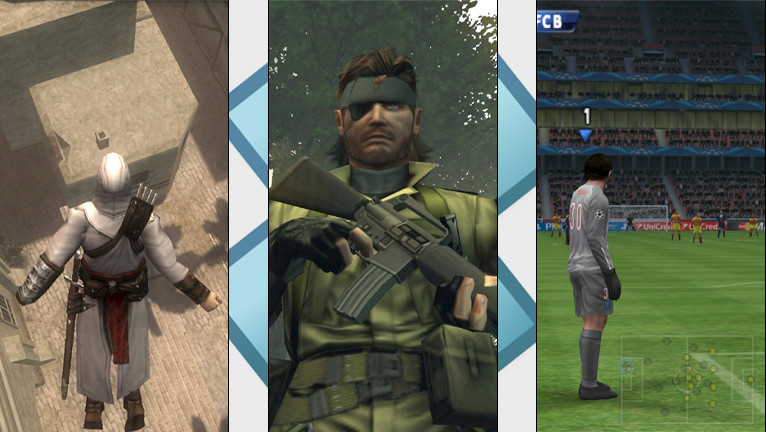 Modern mobile devices such as iPhones run a fast CPU and GPU. By installing the PPSSPP for iOS you can easily convert your mobile phone into a PSP console. Emulate the legendary PSP and play your favorite PlayStation Portable games on iOS devices.
Download PPSSPP for iOS v1.13.1
What is PPSSPP?
PPSSPP is a free PSP emulator for iOS allowing you to play your favorite PlayStation Portable games on the screen of your iPhone. It runs almost all popular PSP games in high definition and has extra features. PPSSPP for iOS supports all devices running iOS 6 up to iOS 15.
Depending on your device type and power, not all PSP games will run at full speed. On modern iPhones, you can play all games without any limitations. PPSSPP for iOS works on both, non-jailbreak and jailbroken devices. For better performance use a jailbroken device.
Once installed, PPSSPP requires you to import PSP game images. There is no need to download additional files allowing you to play your games files because the app simulates the BIOS and the internal OS. Customize on-screen touch controls or use an external controller or keyboard.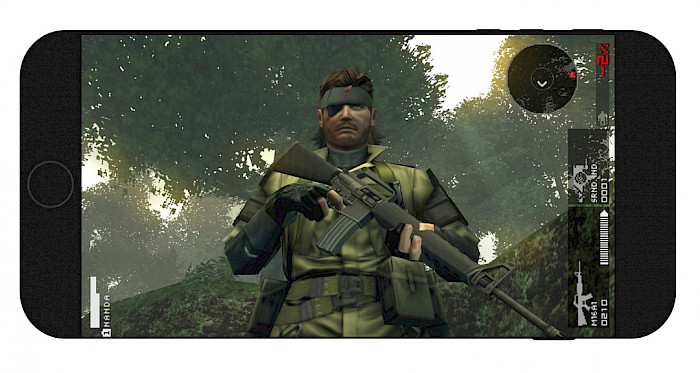 The main features of the PPSSPP for iOS app include support to play PSP games in HD resolutions, play on a tablet for big-screen mobile gaming, use an external controller, save and restore game state anytime, crank up the anisotropic filtering and texture scaling, and continue where you left off by transferring saves from your real PSP console.
PPSSPP works on iOS 6, iOS 7, iOS 8, iOS 9, iOS 10, iOS 11, iOS 12, iOS 13, iOS 14, and iOS 15. For the best game experience and most importantly performance, you should run one of the newest Apple devices. To run games at full speed it's recommended to jailbreak your device.
It comes with a built-in PPSSPP Homebrew store allowing you to install some indie games such as Cave Story, Ozone, Kosmodrones, Webfest, Battlegrounds 3, Mega Drops, rROOTAGE, Chuckie Egg, Attack of the Mutants, and some demonstration apps.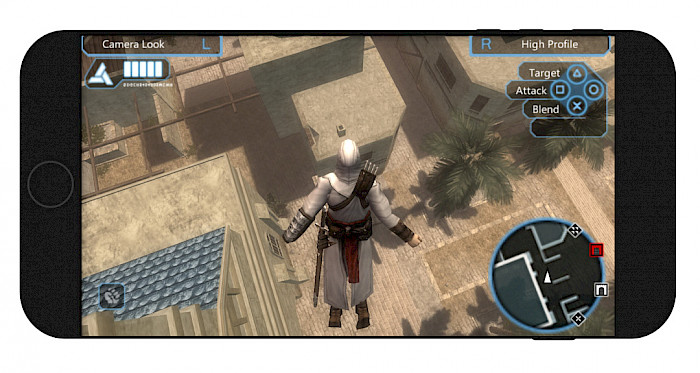 Of course, PPSSPP for iOS supports almost all PSP games including God of War: Ghost of Sparta, Persona 3, Tekken 6, Metal Gear Solid: Peace Walker, Grand Theft Auto: Vice City Stories, Assassin's Creed: Bloodlines, Final Fantasy Tactics: The War of the Lions, Spider-Man 3, LEGO Batman - The Video Game, or Grand Theft Auto: Liberty City Stories.
PPSSPP for iOS is a very advanced PSP emulator. By default, it uses the OpenGL rendering engine but you can also switch it to the Vulkan backend. On top of that, you can enable to show FPS counter, upscale textures for better quality, set render resolution or skip frames. There is also an option to enable remote disc streaming and manage all saved data.
To start playing games on your iDevice you must install PPSSPP and import games to the game library. PPSSPP displays on-screen touch controls with support for haptic feedback that allows you to play games. You can edit the control layout and customize all buttons. PPSSPP for iOS allows you also to define touch gestures for specific actions and define buttons opacity.
If you are not a fan of on-screen touch controls PPSSPP works also with pads or a keyboard. What's more, the emulations supports also networking. You can use this feature to play PSP games with friends on your iPhone or iPad. PPSSPP comes in multiple languages.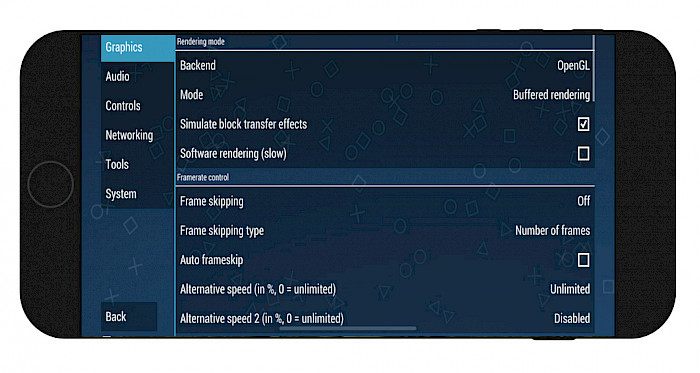 The PPSSPP for iOS System settings offers some more advanced features. From here you can enable cheats in games, select the PSP model (PSP-1000 or PSP-3000),save screenshots in PNG format, cache full ISO in RAM, autoload save states, restore settings to default, enable PSP Memory Stick and stick size, disable UI background animations, change app themes, and more.
Be aware, that playing PSP games on your iPhone or iPad using PPSSPP for iOS will drain your battery quickly. Playing Sony PlayStation Portable on your iOS device is really resource-consuming. Still, you can have one multifunctional device in your pocket.
Download PPSSPP for iOS
PPSSPP for iOS 15 was released as an IPA package that can be sideloaded on your iPhone using a computer or you can try to install the PSP emulator for iOS directly with a web link. The no PC version is signed with a globally available certificate that gets often revoked by Apple and may not work. We also provide jailbreak users an option to download PPSSPP for iOS via Cydia.
Sign and install the IPA file
PPSSPP for iOS 15 can be installed on all supported iDevices running iOS 9+ using Sideloadly, the best working Cydia Impactor alternative. For purpose of this article, we will use Sideloadly as the IPA installation tool. It works on macOS and Windows. Linux users can try instead AltStore.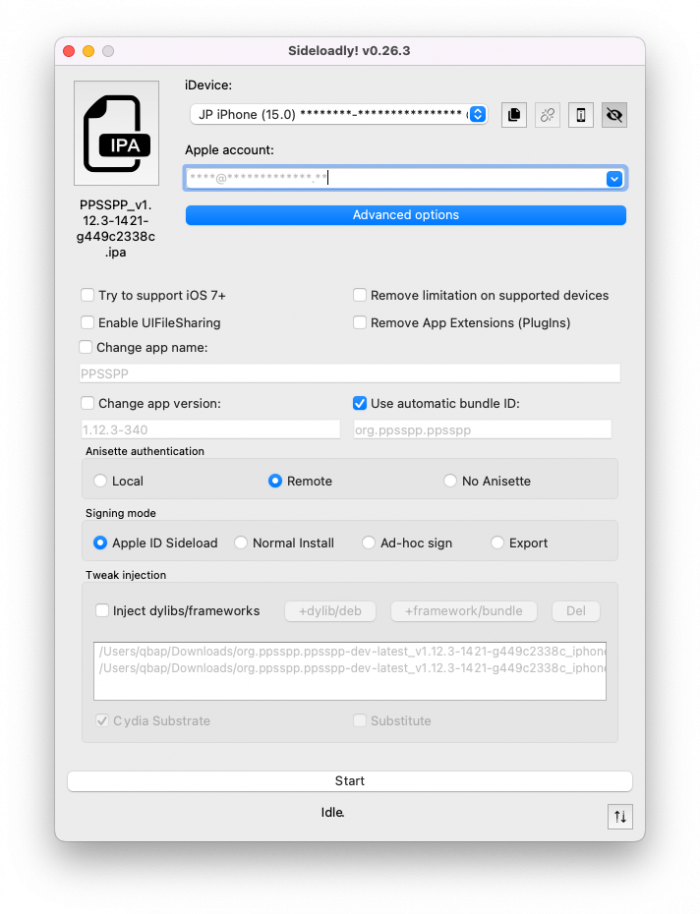 Step 1. Download PPSSPP for iOS 15 (link available at top of this page).
Step 2. Open the installed Sideloadly app.
Step 3. Connect your iDevice through a USB cable or Wi-Fi.
Step 4. Click on the IPA icon and from the Open dialog box select the PPSSPP IPA.
Step 5. Click on Advanced Options and select Remote in Anisette authentication.
Step 6. Enter your Apple ID required to sign the IPA file.
Step 7. Click the Start button to install the IPA file on your iPhone.
Step 8. Provide the password for your Apple ID.
To make this process even easier we included on top of this page quick links allowing you to download, sign and install the PPSSPP for iOS v1.13 IPA file with just one click through your favorite tools such as Sideloadly, ReProvision, or AltStore. Because PPSSPP IPA was signed with your own certificate it's required to trust it to open app on your device.
Step 9. Open the Settings app from the home screen.
Step 10. Navigate to General → VPN & Device Management.
Step 11. Click on the developer app with your e-mail.
Step 12. Tap on Trust to allow the application to run.
Install PPSSPP without a computer
Recently a lot of services offer an option to install PPSSPP for iOS 15 without using a computer. This method doesn't work all the time due to revokes, but the links are often updated. If you can't install PPSSPP on your iPhone try again later or use a different installation method.
Step 1. Tap on "Install PPSSPP for iOS" from the Safari browser.
Step 2. When the message prompt "would like to install PPSSPP" tap Install.
Step 3. PPSSPP app icon will appear on your Home Screen.
Step 4. When the app will be downloaded correctly no error will appear.
Step 6. Run PPSSPP for iOS and import your games.
When the installation goes well, it's also required to trust the newly added certificate from the Settings app. Follow the instruction from the previous installation guide, starting from Step 9.
Repository
PPSSPP emulator was released as a free package through the private PPSSPP Repository. Add the official PPSSPP Repo to the list of your Cydia Sources and install the latest version of the PSP emulator for iOS (stable or dev version). This method works only on jailbroken devices.
Tap on the Cydia app icon from the Home Screen.
Open the Sources tab and tap Edit → Add.
Insert the https://cydia.ppsspp.org/ repository URL.
Cydia will automatically refresh the packages available in the repo.
Search for PPSSPP package and install the PSP emulator.
Restart the Springboard to complete the installation.
Access the PPSSPP app from your Home Screen.
Alternatively, please use the quick links available below to add the repository to your favorite package manager (Cydia, Sileo, Installer, Zebra) with just one tap.
How to import games
To play PSP games on your iDevice you must import the image to PPSSPP library. When you download PPSSPP for iOS the easiest way to load games is to save them directly on your device in any location. You can also download the images on the Desktop and send them through Fliza's built-in WebDav server or a desktop tool like 3uTools.
Connect your iPhone to your PC using a USB cable and open 3uTools on iDevice Tab.
Select Files to access the iOS file system.
Navigate to File System (User) located in /var/mobile/Media/.
Create New Folder and name it "ROM".
Select the folder and click Import to send the ISO file to your device.
Open PPSSPP on iOS from your Home Screen.
Tap on the Games Tab and navigate to ROM folder location.
Open the imported ISO image to load the game.
Source Code
PPSSPP for iOS was released as an open-source project with all files published through a private GitHub Repository. The emulator is licensed under the GPL 2.0 (or later) and anyone is welcome to contribute improvements to the code. PPSSPP was also released for Windows, Linux, macOS, and Android devices. PPSSPP was written in C++ and C languages.
To build the project yourself first install Python 3. The iOS versions require you to run OS X 10.10+ with Xcode 6+ installed. If compiling a fakesigned binary intended for jailbroken iOS, you also need iOSOpenDev installed with a patched iPhoneOS SDK.
What's new
Lots of updated UI (new joystick calibration system, many new touch control options).
Built-in CRC calculator, to be able to check with others that your ISO is valid.
Many, many multiplayer fixes.
Numerous game fixes.
Savestate Undo for both load and save.
Many graphical glitches were fixed.
New texture filtering option Auto Max Quality.
New audio options, like choosing whether to switch to newly plugged-in devices.
Workaround for rendering bugs with flat shading in iOS 14.
Multiple fixes to the IR interpreter.
UI: New fullscreen button on desktop platforms, optional navigation sounds.
Audio and multiple hang fixes in the UWP version.
Partial microphone support.
Workaround for wacky action mirroring bug in Hitman Reborn Battle Arena 2.
Hardware texture upscaling for Vulkan, mipmap generation.
Allow rewind on mobile.
Added option to disable on-screen messages.
Added "Lower resolution for effects" on libretro.
Support for loading game-specific plugins.
Post a comment