Download PPSSPP for iOS 15 - iOS 16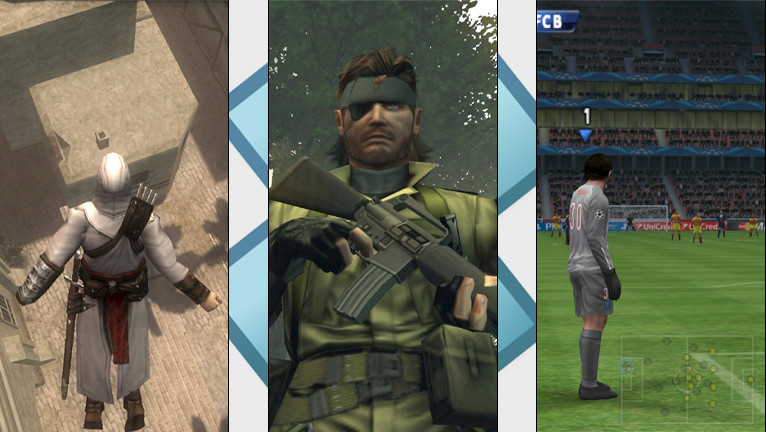 Turn your iPhone into a PSP console with PPSSPP for iOS 9 – iOS 15. Modern iPhones run a fast CPU and GPU. PPSSPP for iOS lets you easily convert your mobile phone into a console with access to your favorite PlayStation Portable games on the go. Download the latest release of PPSSPP for iOS 15 - iOS 16 and play PSP games on your iPhone.
Download PPSSPP IPA for iOS 15 – iOS 16 [v1.15.4]:
What is PPSSPP?
PPSSPP for iOS is a powerful and free PSP emulator that lets you play your favorite PlayStation Portable games on your iPhone's screen. With high-definition graphics and additional features, PPSSPP can run almost all popular PSP games smoothly. It supports all devices running iOS 6 up to the latest iOS 15, although the emulator performs best on the latest version.
PSP game performance on PPSSPP for iOS may vary depending on device type and power. Most games run smoothly on modern iPhones without limitations. PPSSPP for iOS 15 works on both jailbroken and non-jailbroken devices, but better performance is achieved with jailbreak. Recently, PPSSPP was updated also to support the latest releases of iOS 16.
After installation, PPSSPP requires you to import PSP game images. The app simulates the PSP BIOS and internal OS, eliminating the need to download additional files for game playback. You can easily customize on-screen touch controls to suit your preferences or use an external controller or keyboard for a more immersive gaming experience. With PPSSPP, you have complete control over your PSP gameplay setup on your iPhone mobile device.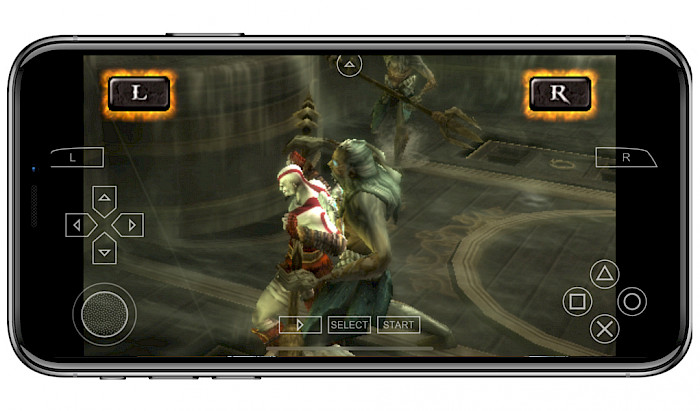 PPSSPP for iOS 16 comes with a range of powerful features that cater to the needs of avid PSP gamers. One of its key features is the ability to play PSP games in high definition (HD) resolutions, which enhances the overall gaming experience. In addition, the app supports big-screen mobile gaming on tablets, allowing for a more immersive experience.
PPSSPP app is compatible with a range of iOS operating systems, iOS 6 up to iOS 15. To ensure the best gaming experience with optimal performance, it's recommended to use the latest Apple device. Furthermore, to run games at maximum speed and efficiency, it's recommended to jailbreak your device. This provides access to the full potential of the hardware, resulting in a smoother and more enjoyable gaming experience.
For gamers who prefer a traditional gaming setup, PPSSPP for iOS also supports the use of external controllers (Xbox, PlayStation, Razer, Logitech),providing a familiar and comfortable gaming experience. The app also allows gamers to save and restore game state at any time, making it easy to pick up where they left off without losing progress. For those who demand the highest level of graphical quality there are some settings available.
PPSSPP features adjustable anisotropic filtering and texture scaling, allowing gamers to tweak these settings to achieve the best visual experience and highest level of graphical quality. Furthermore, the PSP emulator makes it possible to transfer saves from a real PSP console, allowing gamers to continue their progress on their mobile device.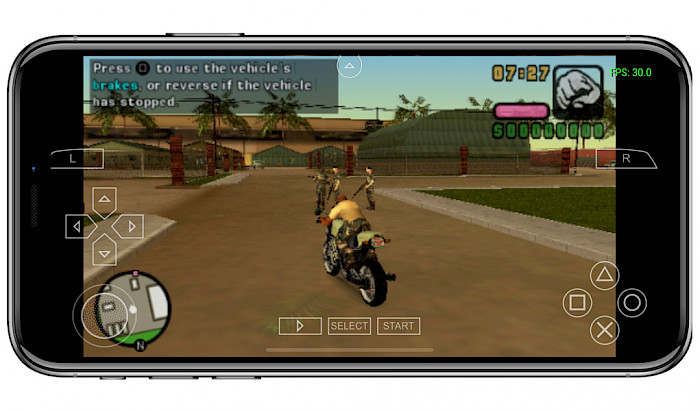 What's more, it features a convenient built-in Homebrew store, offering access to a diverse range of indie games. This includes popular titles such as Cave Story, Ozone, Kosmodrones, Webfest, Battlegrounds 3, Mega Drops, rROOTAGE, Chuckie Egg, and Attack of the Mutants.
PPSSPP for iOS 16 is designed to provide a seamless gaming experience, supporting a wide range of PSP games. This includes popular titles such as God of War: Ghost of Sparta, Persona 3, Tekken 6, Metal Gear Solid: Peace Walker, Grand Theft Auto: Vice City Stories, Assassin's Creed: Bloodlines, Final Fantasy Tactics: The War of the Lions, Spider-Man 3, LEGO Batman - The Video Game, and Grand Theft Auto: Liberty City Stories.
This PSP emulator offers advanced customization options for a truly personalized gaming experience. PPSSPP for iOS utilizes the OpenGL rendering engine by default, however, it also offers the option to switch to the more powerful Vulkan backend. Additionally, users have the ability to enable an FPS counter, upscale textures for improved quality, set render resolution, and skip frames for optimal performance.
PPSSPP also provides the option for remote disc streaming, allowing users to play games directly from a remote source. To enjoy PSP games on your iDevice, all you need to do is install PPSSPP and import your games to the game library. The app features intuitive on-screen touch controls, complete with support for haptic feedback for an immersive gaming experience. Users have the ability to edit the control layout and customize all buttons to their preference.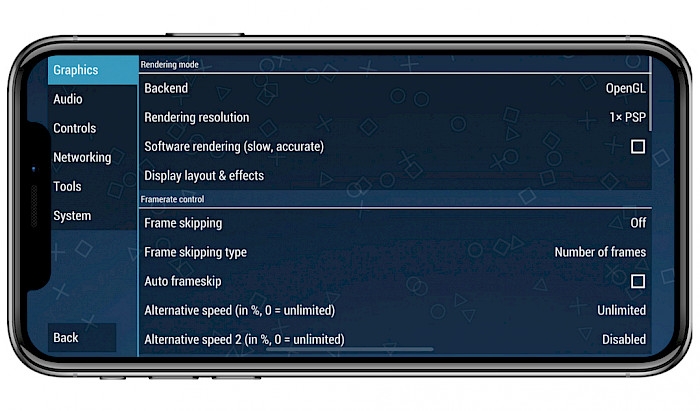 PPSSPP for iOS goes even further in providing a personalized experience by offering the option to define touch gestures for specific actions, as well as adjust the opacity of the buttons. With these customizable options, users can create a unique and comfortable control setup.
For those who prefer traditional gaming controllers, PPSSPP is compatible with pads and keyboards, providing a familiar and comfortable gaming experience. Moreover, the emulator also supports networking, allowing you to play PSP games with friends on your iPhone or iPad. The app is available in multiple languages, catering to a diverse range of users.
The PPSSPP for iOS System settings offers some more advanced features. From here you can enable cheats in games, select the PSP model (PSP-1000 or PSP-3000),save screenshots in PNG format, cache full ISO in RAM, autoload save states, restore settings to default, enable PSP Memory Stick and stick size, disable UI background animations, change app themes, and more.
Please note that playing PSP games on your iPhone or iPad using PPSSPP for iOS can be quite demanding on your device's battery. As emulating PSP games is a resource-intensive task, it can drain your battery quickly. However, the convenience of having a multifunctional device in your pocket is unmatched, making it a small price to pay to access all games.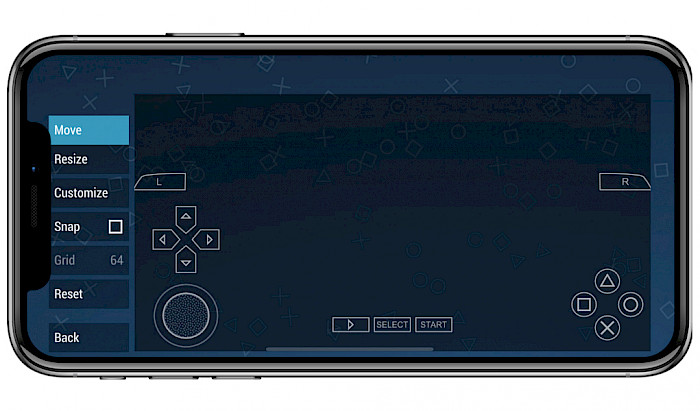 PPSSPP, a popular open-source PSP emulator, is available for multiple platforms including iOS, Windows, Linux, macOS, and Android. The project's source code is hosted on a private GitHub Repository and licensed under GPL, allowing anyone to contribute and improve the code.
The PSP for iOS was developed using C++ and C programming languages and its source code is easily accessible to the public. To build PPSSPP for iOS, you need a Mac running OS X 10.10 or higher and Xcode 6+ installed, along with Python 3. To compile a fakesigned binary for a jailbroken iOS device, iOSOpenDev and a patched iPhoneOS SDK are also required.
Explore features of PPSSPP for iOS
Are you curious about what makes PPSSPP for iOS 15 and PPSSPP for iOS 16 truly exceptional? Let me take you on a journey through highlights of its remarkable features.
PSP Game Support – Experience your cherished PSP games in stunning high definition with the power of PPSSPP iOS download – the emulator that elevates your gaming to full HD resolution and beyond!
Increase Game Quaility – With PPSSPP's PSP emulator for iOS, textures are ingeniously upscaled, unveiling a level of sharpness and detail you've never witnessed before!
Tune Games Visualas – Tailor your PPSSPP emulator iOS gaming adventure to your liking by harnessing post-processing shaders. Modify color, brightness, and apply captivating special effects to truly immerse yourself!
Save Games – Elevate your iOS PSP emulator gaming with the convenience of saving and restoring your game state at your leisure, no matter where you are!
Change Resolution – Unleash the true potential of your PPSSPP iOS emulator games with breathtaking high-definition resolutions and beyond, promising an unparalleled gaming journey!
Customize UI – Craft your perfect gaming interface: whether it's customizing on-screen touch controls or seamlessly integrating an external controller or keyboard – PPSSPP emulator iOS adapts to your every preference!
Enable Filters – Elevate the visual grandeur of your beloved PSP games by employing anisotropic filtering and texture scaling through PPSSPP app download iOS, delivering unrivaled sharpness and intricate detail!
Transfer Games Saves – Transcend the boundaries of your gaming world by transferring saved games from your physical PSP emulator iOS and seamlessly continuing your adventures on your PC or Android device, all thanks to PPSSPP!
Open Slource – The cherry on top? PPSSPP app download iOS is a gift to the gaming community, absolutely free and open-source. Join the ranks of contributors and help shape the future of this incredible emulator!
Thanks to the tireless contributions of the open-source community, PPSSPP for iOS download remains in constant evolution, expanding its compatibility with PSP games. Now, everyone can relish their favorite games on any device they desire!
Download PPSSPP IPA for iOS
PPSSPP IPA can be sideloaded on your iOS device with a tool like AltStore (for macOS and Windows) or SideStore, the on-device IPA installer that doesn't require a computer to sign apps. If you want to run the emulator at full speed without jailbreak use AltStore and enable AltJIT.
To install PPSSPP IPA on your iOS 15 / iOS 16 using AltStore app, follow these steps:
Download the PPSSPP IPA from the links at top of this page.
Run AltServer application on your PC or Mac.
Connect your iPhone or iPad to the computer via USB.
Click on system tray icon with Alt or Option key to sideload the IPA.
Enter your Apple ID and password to sign the PPSSPP IPA file.
Open the Settings app from the Home Screen.
Navigate to "General" → "VPN & Device Management".
Click on the developer app associated with your email.
Tap "Trust" to allow the app to run.
Click on AltServer system tray icon and enable JIT.
Note: If you don't have a developer certificate, you can use your free Apple account to sign and install PPSSPP IPA and use it for up to 7 days before it needs to be re-signed.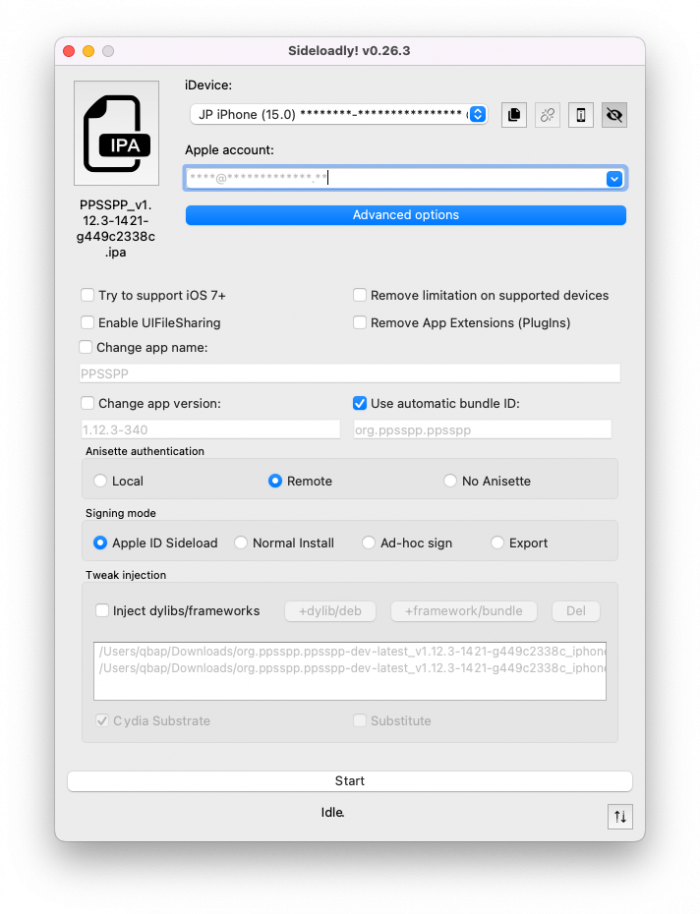 Install PPSSPP without a computer
Recently, many services offer the option to install PPSSPP for iOS 15 – iOS 16 without a PC. However, this method may not always be successful due to revokes. If you encounter difficulty installing PPSSPP on your iPhone, try again later or consider alternative installation methods.
PPSSPP for iOS 16 features:
This PPSSPP iOS 16 app supports a range of consoles, including PPSSPP, PlayStation, PSP, and more, on compatible iOS devices.
Enjoy online multiplayer gaming with PPSSPP for iOS 16, complete with robust support for gameplay recording and sharing over Wi-Fi and Bluetooth.
Explore local server play for select games in the PPSSPP iOS 16 download, eliminating the need for a Wi-Fi connection.
Experience hassle-free gaming with one-click-play, eliminating the need to install separate emulators for each console.
Customize game maps and controls with ease using PPSSPP for iOS 16, enhancing your overall gaming experience on iOS 16.
Add Repository
PPSSPP for iOS 15 can be installed on your jailbroken iDevice by adding the official PPSSPP Repo to your Cydia Sources. The latest stable and dev version are available for free download through the private repository. This version of PPSSPP is optimized for jailbroken devices.
To get started with the PPSSPP for iOS, simply follow these steps:
Open the Sileo app from the Home Screen.
Tap on the Sources tab, then select Edit.
Add the following repository URL:


https://cydia.ppsspp.org/

Install PPSSPP package from the new repository.
To apply all changes, respiring your iPhone.
Once installed, PPSSPP icon will be added to the Home Screen.
For added convenience, you can quickly add the repository to your preferred package managers (Cydia, Sileo, Installer, Zebra) by using the quick links provided below. With just one click, you can easily add the repo to purchase PPSSPP for iOS 15 – iOS 16.
How to import games
To play PlayStation Portable games on your iPhone using PPSSPP for iOS, you must import the game image (ISO file) into the PPSSPP library. The easiest way to load games is to save them directly on your device. You can also download the images to your desktop and transfer them using Fliza File Manager built-in WebDav server or a desktop tool like 3uTools.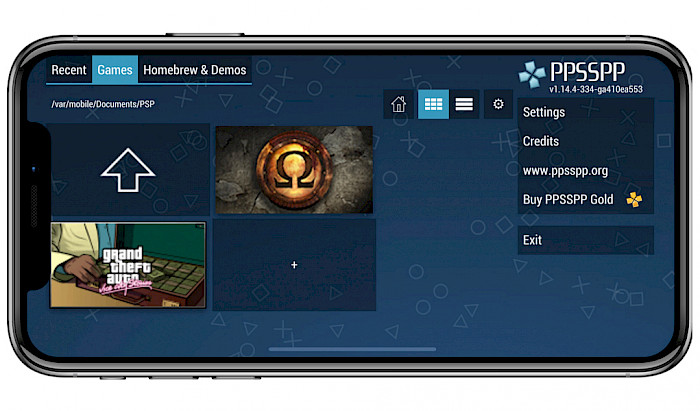 Here's how to use 3uTools to transfer the game image:
Connect your iPhone to your PC using a USB cable and open 3uTools.
Go to the iDevice Tab and select Files.
Navigate to the File System (User) folder located in /var/mobile/Media/.
Create a new folder named "ROM".
Select the folder and click Import to send the ISO file to your device.
Launch PPSSPP from your iOS Home Screen.
Tap on the Games Tab and find the ROM folder location.
Open the imported ISO image to load the game.
What's new
Updated PPSSPP for iOS to version 1.15.4.
Massive number of rendering fixes.
Software renderer performance and accuracy improvements.
Initial VR support added.
New API for plugins to access aspect ratio.
Read texture replacement packs directly from ZIP files.
UI improvements and stability fixes.
Vulkan bandwidth and synchronization optimizations.
HLE/CPU accuracy improvements.
Optional memory alignment validation in IR mode.
Post a comment