Download ZiniTevi IPA for iOS

qbap |
IPA Files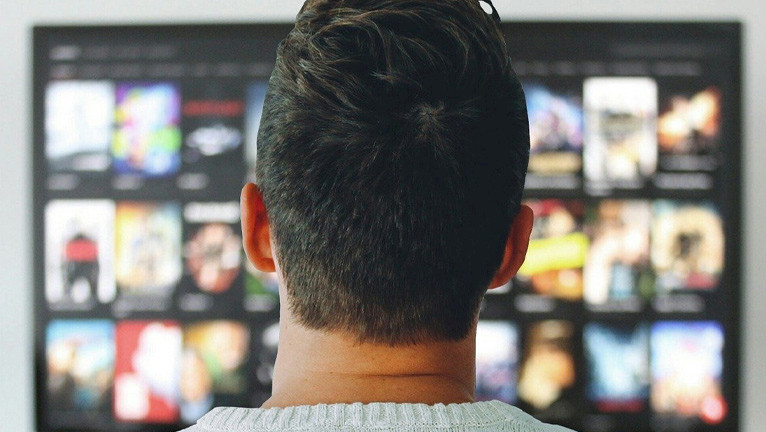 In the past, various apps for iPhone allowed users to watch movies and TV shows on their mobile devices. However, apps such as PopcornTime and MovieBox were closed due to legal issues. Despite this, alternative solutions like ZiniTevi for iOS still exist.
What is ZiniTevi?
ZiniTevi is a top-performing iOS app that enables you to watch the latest TV shows and movies for free from your iPhone screens. The app is compatible with both jailbreaks and can also be sideloaded on any other iDevice. Users have the option to either download or stream videos.
Once sideloaded, the ZiniTevi IPA for iOS provides access to a vast database of movies and TV shows that can be enjoyed for free. The app offers a wide range of copyrighted material, catering to a variety of interests. Additionally, ZiniTevi also grants access to content from streaming services like Netflix, Hulu, HBO GO, Amazon Prime Video, Apple TV+, and Disney+.
ZiniTevi for iOS is widely available in a variety of popular languages, ensuring accessibility for users of all backgrounds. The app also offers a useful feature that automatically downloads subtitles for watched movies, making it a great option for non-native speakers. The app offers a range of customizable options for subtitles as the text is not embedded in the movies.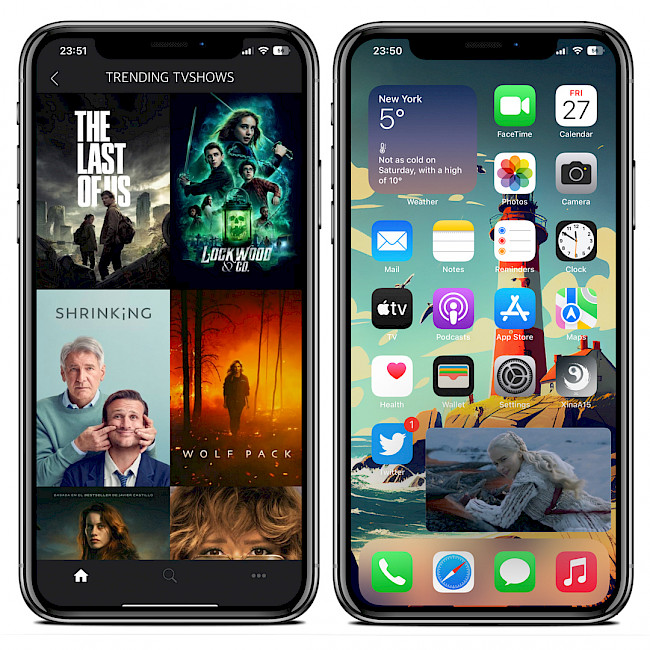 This allows you to adjust your subtitle preferences to your liking, such as adjusting the font size, selecting the desired language, synchronizing the subtitle timing with the audio, and even choosing a different subtitle source based on ratings. New subtitles are regularly updated.
ZiniTevi app for iOS offers a user-friendly interface with easy navigation. From the home screen, you can browse through the most streamed movies, recently added content, popular TV shows, trending shows, and various basic categories such as animations, action, drama, and kids. The app also includes a search engine feature that allows you to filter results by category, release date, or search for specific movies, TV shows, or your favorite actors/actresses.
It's important to note that by using the ZiniTevi app, users are accessing copyrighted materials. It is important to keep in mind that using such apps may be illegal in certain countries and it is recommended to use legal streaming services to access movies.
One of the standout features of ZiniTevi is its support for tracking favorite TV shows, ensuring that users never miss an episode. Additionally, the app also allows for integration with third-party services like Trakt for TV show tracking and Real-Debrid for file sharing.
This way, you can easily track upcoming episodes of your favorite TV shows. Track what you're watching, add to lists, discover, find where to watch, see what's up next.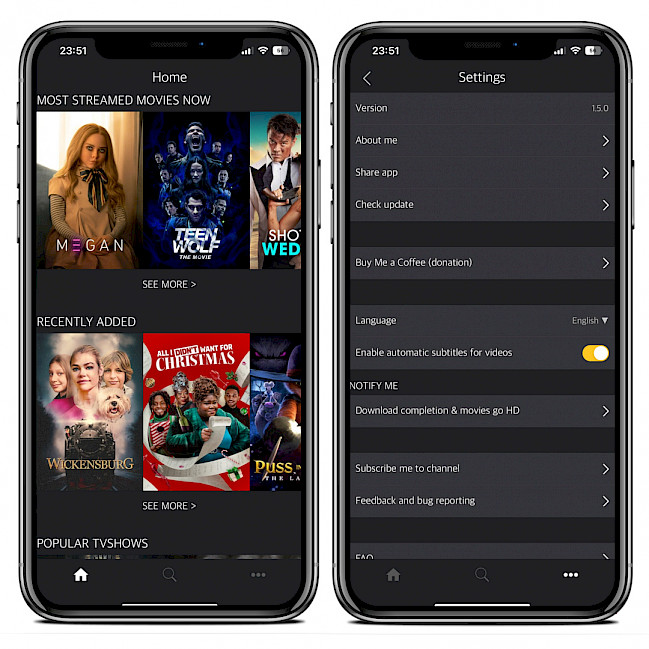 When browsing through the available content, you have the option to add movies or TV shows to favorites for quick access. Each video includes a small description with information about the genres, release status, and an option to play a trailer. The app also offers recommendations for other movies based on the current selection. With this functionality, you can easily browse and explore a wide range of movies and TV shows that you may enjoy.
From the movie description page, you can easily tap on "watch now" to play the stream or use the download button to save the file directly on your iPhone for offline playback. Additionally, the ZiniTevi Player is packed with various features that help you to watch movies.
ZiniTevi Player allows you to select and configure subtitles, switch between streaming quality, pause and resume videos, and download movies for offline viewing. Additionally, it offers a feature to cast videos on big screen to various devices such as Apple TV, Google's Chromecast, Airplay, Smart TVs, Android TV Boxes, Fire Sticks, web browsers (PCs, laptops, smart TVs),UPnP and DLNA compatible devices such as smartphones, tablets, and TVs.
Furthermore, the player supports the picture-in-picture mode on iOS, allowing you to watch TV shows or movies while accessing other apps on your device. A small video window is displayed on the screen with basic controls, and can be moved freely on the Home Screen.
ZiniTevi works on all devices running iOS 12 – iOS 16, no matter if you have a jailed or jailbroken iPhone or iPad. Recently, the ZiniTevi IPA was removed from GitHub, but you can still download ZiniTevi++ IPA versions that removes ads, analytics, from the app etc.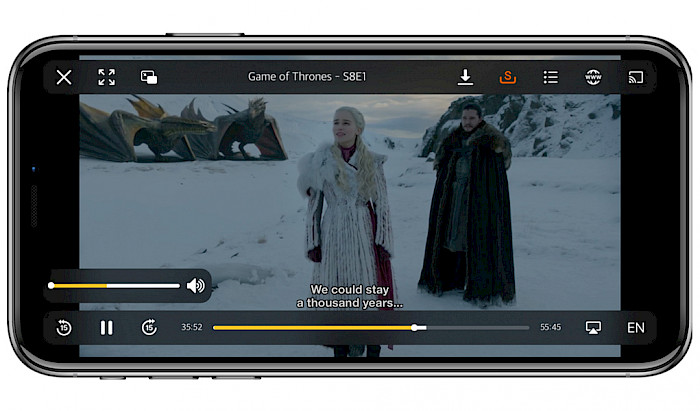 Download ZiniTevi IPA
ZiniTevi IPA can be sideloaded onto your iPhone using an IPA installer like Sideloadly (available for Windows and macOS) or SideStore the on-device IPA signing tool for iOS 14 – iOS 16. Both methods allow you to install ZiniTevi IPA on your non-jailbreak devices.
ZiniTevi++ is a modified version of the video streaming app. The ++ hack features blocking all ads, blocking analytics, privacy mod, and subtitle autoplay disabled. If you want to go with your privacy to the next level, download ZiniTevi++ IPA hacked by DXcool223.
To install ZiniTevi IPA on your iOS device using Sideloadly app, follow these steps:
Download the ZiniTevi IPA from the link below.

Run Sideloadly application on your PC or Mac.
Connect your iPhone or iPad to the computer via USB.
Load the IPA file into the app to begin the installation process.
Enter your Apple ID to sign the ZiniTevi IPA file.
Click the "Start" button to begin sideloading the IPA file onto your device.
When prompted, enter the password for your Apple ID.
Open the Settings app from the Home Screen.
Navigate to "General" → "VPN & Device Management".
Click on the developer app associated with your email.
Tap "Trust" to allow the app to run.
Note: If you don't have a developer certificate, you can use your free Apple account to sign and install ZiniTevi IPA and use it for up to 7 days before it needs to be re-signed. What's more, you can sideload the IPA also with TrollStore on iOS 14 – iOS 15.4.1.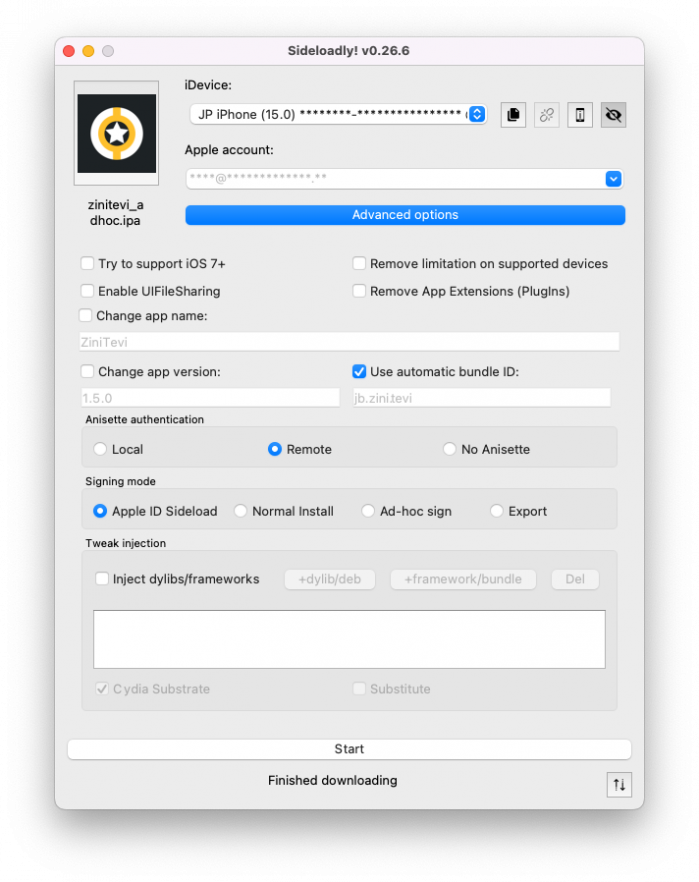 ZiniTevi for iOS can be installed through various methods, including third-party app stores such as iOSGods or Panda Helper If the app store provides a valid certificate, the installation process can be done without the use of a computer. However, if the certificate is not valid, the app must be signed manually in order to be installed on an iPhone or iPad.
Another option is to use TutuApp for PC, which allows for the signing and installation of ZiniTevi on an iDevice. This method requires the connection of an Apple ID to sign and sideload the movie and TV show player. All of these solutions are available at no cost.
Add Repository
With the jailbreak version of ZiniTevi, users can enjoy seamless access to a wide range of movies and TV shows on their iOS devices. To install the app, simply add the official ZiniTevi repository to your package manager and download the app for iOS 12 – iOS 16.
To install ZiniTevi on your jailbroken iOS device with Cydia, follow these steps:
Open the Cydia app from the Home Screen.
Tap on the Sources tab, then select Edit button.
Add the following repository URL: https://ziniteviapp.github.io/repo
Install ZiniTevi app mode from the newly added repository.
To apply all changes, respiring your iPhone.
Open the ZiniTevi app from your Home Screen.
Alternatively, please use the quick links available below to add the repository to your favorite package manager (Cydia, Sileo, Installer, Zebra) with just one tap.
What's new
Updated ZiniTevi IPA to version 1.5.0.
Performance enhancements were implemented.
Trakt integration was fixed to ensure smooth functionality.
Additional streaming servers were added to increase options.
Crash issues were resolved to prevent unexpected interruptions.
The player load time was improved to reduce waiting times.
The media library includes Bollywood movies and TV shows section.
A search suggestion feature was added to afind desired content.
The player was optimized for faster streaming.
The UI of the player was modified to allow for greater flexibility.
Airplay screen mirroring was fixed to work seamlessly.
The app now automatically updates to the latest seasons and episodes.
RealDebrid service was integrated.
App problems on iOS 14 were resolved.
Subtitle translation was added in 150 languages.
Post a comment