Channels Pro with playlist URL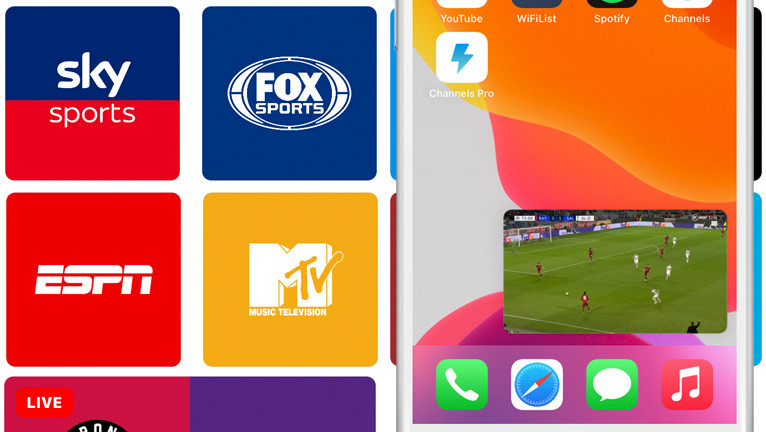 To watch IPTV on iPhone or iPad, download an app like Channels Pro. Watch live TV and live sports events for free on a mobile device in every place where Internet connection is available. Get the app from the App Store and add working playlist URLs. Channels Pro with working IPTV playlist URL works on iOS 15 , iOS 16, and the latest iOS 17.
Channels Pro Download
What is Channels Pro?
Channels Pro is a free iOS application allowing you to watch internet television (IPTV) on your iPhone. Stream live NBA, NFL, UFC, UEFA Champions League, Premier League, Bundesliga, LaLiga games, and more. Add any IPTV list in m3u8 format and access all channels. This IPTV playlist URL is compatible with all IPTV players, including the latest version of Channels Pro.
What's more, when you add a channels playlist you can also access live TV including: BT Sports 1, BT Sports 2, BT Sports 3, BT Sports ESPN, Sky Sports, Fox Sports 1, ESPN, MTV, CBSN, CBS News, BBC News, France 24, Bloomberg, Red Bull TV, TMZ, ET Live, Show TV, TRF 1, NTV, etc.
The list of available channels is limited only by the installed playlist. Below, we provide the most actual and working playlist URL for Channels Pro app. The latest release of the IPTV software requires iOS 15.0 or later. To use it on older devices, sideload the Channels IPA.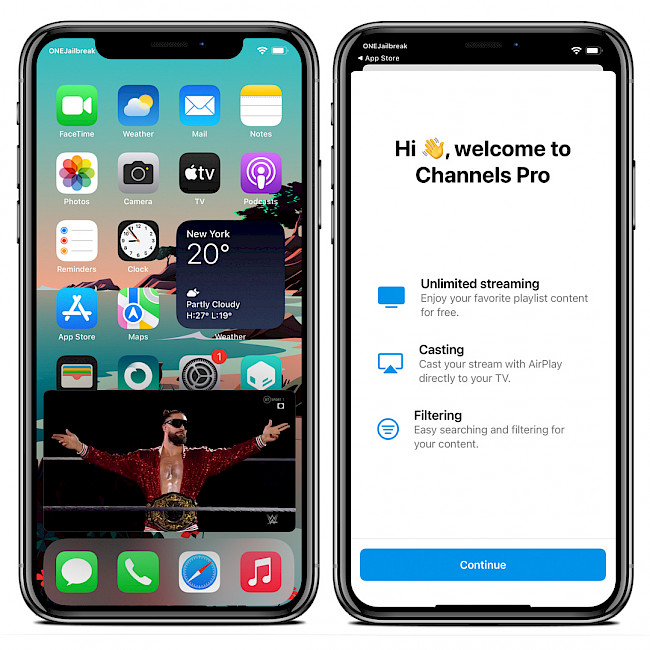 Every sport's event added to the app offers access to a few streaming. If one is not working, you can always try the next one. Usually, all streams are up and running when they are available.
Channels Pro can play streams in full-screen mode, but it also supports Picture in Picture on iOS devices. Watch any channel and access all other functions of your device when needed.
The App supports AirPlay, allowing you to cast your stream directly to your TV. If you have VLC installed, you can also send the stream to the video player and also use Chromecast.
Channels Pro allows you also to manage multiple playlists, add channels to favorites for quick access, filter categories, and also watch popular movies. Channels App displays ads before playing the stream. To remove the advertising, you can buy a premium version of the app.
Recently, the application was also released for Apple TV and macOS. Alternatively, try StrymTV the popular IPTV app to watch live TV streams on an iPhone and Apple TV. With a working StrymTV URL playlist, you can watch live sports events and access over 50 TV channels.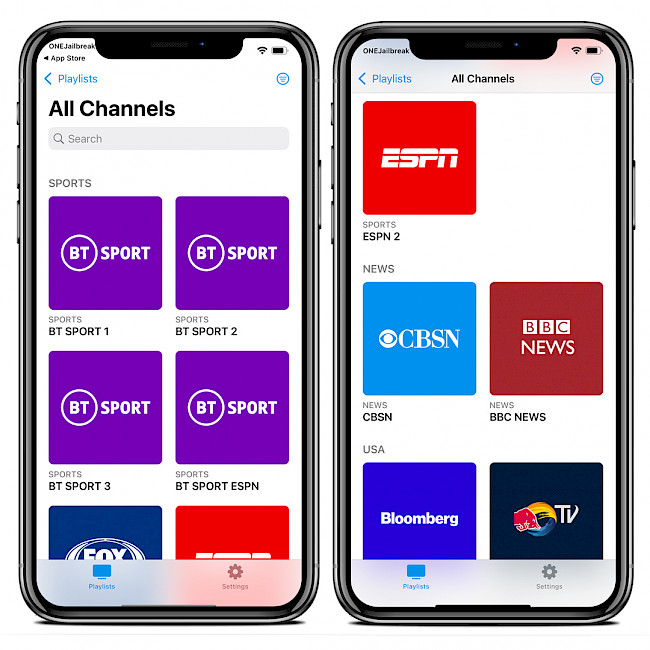 How to install Channels IPA
When for some reason you don't have access to App Store, there is also a possibility to install Channels IPA on your device. Use Sideloadly app available for macOS or Windows.
Download Channels IPA
Step 1. Navigate to the top of the page and tap on "Install via Sideloadly".
Step 2. Sideloadly will download and load Channels IPA.
Step 3. Provide your Apple ID to sign IPA file.
Step 4. Click the Start button to install the IPA file on your iDevice.
Step 5. Enter the password for your Apple ID.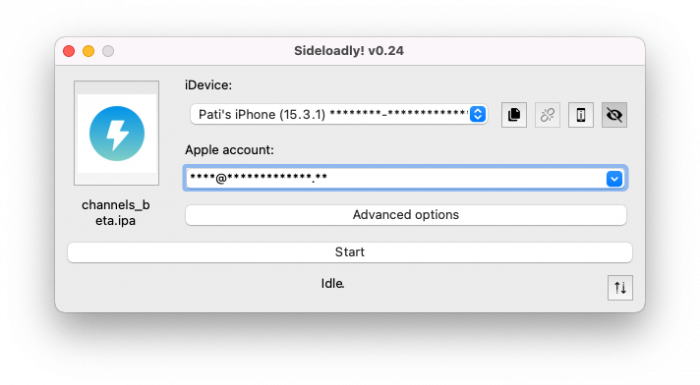 After the file is verified and installed on your iPhone or iPad, it's required to allow using apps from a developer account connected with your Apple ID. To allow the app to run go to Settings.
Step 6. Open Settings app from the home screen.
Step 7. Navigate to General → Profiles & Device Management.
Step 8. Click on the developer app with your e-mail.
Step 9. Tap on Trust to allow the application to run.
Channels playlists
By default, the Channels Pro App doesn't come with any pre-installed playlists that are considered useful. However, you have the option to add new playlists by following these simple steps. In the main window of the app, locate the + button situated in the top right corner and tap on it. From there, you can enter the Playlist URL. Once you've entered the URL, submit it to load all available channels to the app, including top-quality IPTV sports channels.
https://pastebin.com/raw/uPre5AFb
Example Channels playlist

#EXTM3U

#EXTINF:-1 is-regex="false" open-browser="false" referer="http://sportsnest.co" tvg-logo="https://i.imgur.com/Nkm9111.png" group-title="Live Events",F1
http://185.51.00.152/abr/f1.m3u8

#EXTINF:-1 is-regex="false" open-browser="false" referer="http://sportinglive.co" tvg-logo="https://i.imgur.com/Nzm9111.png" group-title="Live Events",F1
http://185.35.89.122/hls/f1.m3u8

#EXTINF:-1 is-regex="true" open-browser="true" referer="http://motornews.live" tvg-logo="https://i.imgur.com/NZm9111.png" group-title="Live sports ULR",F1
http://motornews.live/novo/bite/f8-monaco2/?sport=motorsport

#EXTINF:-1 is-regex="true" open-browser="true" tvg-logo="https://i.imgur.com/NAm9111.png" group-title="Live sports ULR",F1
http://givemenbastreams.com/f8.php?g=f8
What's new
Updated Channels Pro to version 1.7.2.
Overall improvements and bug fixes.
VideoPlayer improvements.
The IPTV app was completely rewritten.
The app should feel smoother, faster and more bug free.
New channel detail screen.
Identical channels will now be grouped.
Streams will load up to 30% faster.
Sponsored links
Post a comment