Joutai tweak for Status Bar on iOS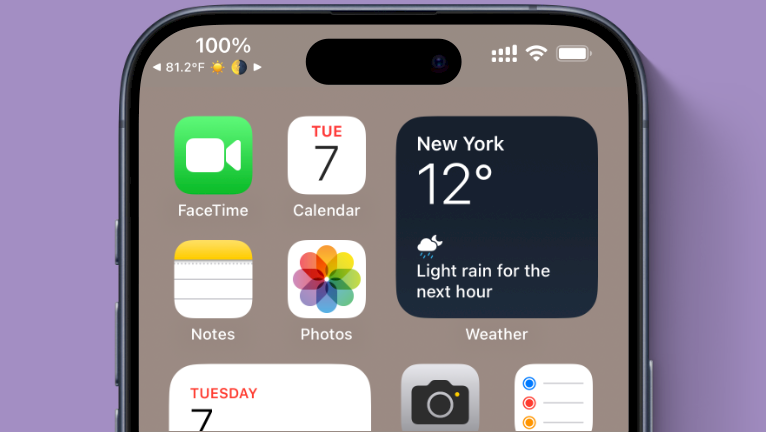 Joutai tweak harnesses the capabilities of the Misaka v3 API to modify the Status Bar on non-jailbroken devices. It offers a remarkably customizable preference pane, providing a user experience akin to a native jailbreak tweak. This marks a significant advancement in delivering tweaks for non-jailbroken devices, showcasing the potential of innovative modifications. I look forward to witnessing more developments of this kind in the future.
What is Joutai?
Joutai is a new tweak for Miska that takes advantage of the v3 release with upgraded API. Developed by Roeegh, this innovative tweak is designed to activate essential modules and provide additional information beneath the Status Bar on the Home Screen and Lock Screen, specifically tailored for KFD and MDC devices. Joutai tweak supports iOS 15 – iOS 16.1.2.
What makes Joutai truly remarkable is its ability to implement these modifications without the need for a jailbreak. Installing the new Status Bar tweak is effortless; just locate it within the Misaka for iOS. Upon installation, activating Joutai is a simple process, involving a swift tweak activation and a device respring, seamlessly applying all the desired changes automatically.
By enabling the Advanced Mode within the Joutai settings pane, users gain access to the tweak's complete array of module features. The developer meticulously crafted distinct sections, allowing users to activate modules within supported Status Bar sections and customize each module individually to display a wide range of information.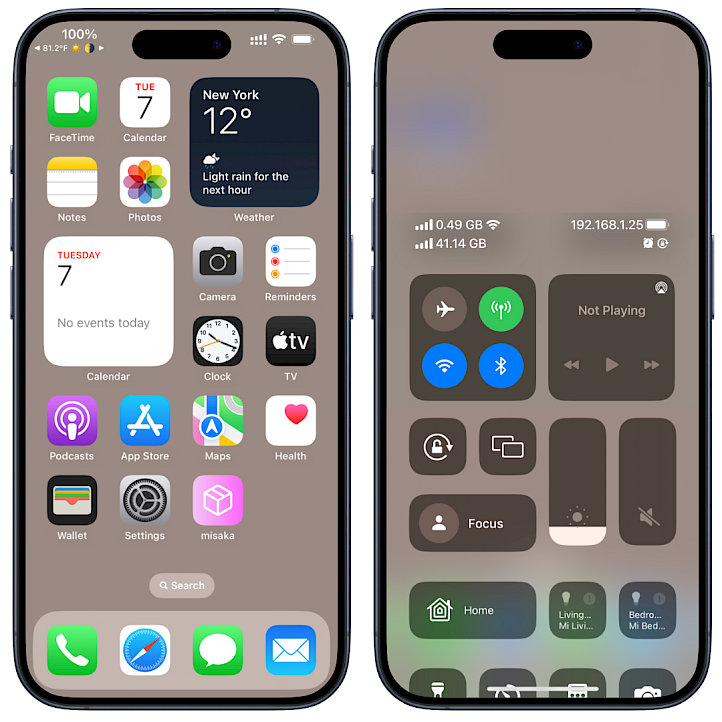 Simply tap and hold on the tweak icon to reveal a range of options, including access to Advanced Settings. Importantly, there's also a convenient option to swiftly revert all colors back to their system default values, ensuring a hassle-free return to the original settings if needed.
Joutai tweak gives users the ability to enable extra modules across different Status Bar sections, such as Time, Battery Detail, Primary Carrier, Secondary Carrier, and Breadcrumbs. Among the available modules, users can choose from Weather, Memory, Storage, and IP Address. Notably, the default setting maintains the Status Bar's original appearance. iOS 17 is not supported.
In the Joutai Advanced Settings, users have the flexibility to individually configure all modules. For instance, within the Weather module, users can choose options such as displaying weather condition emojis, lunar phase emojis, temperature, and the choice between Celsius or Fahrenheit. This level of customization for non-jailbreak devices is impressive.
Other modules also provide individual configuration options. Memory module configurator offers toggles to show free memory, used memory, system memory, and show in GB. Joutai tweak for Misaka can also display the Publick or local IP Address in the Status Bar.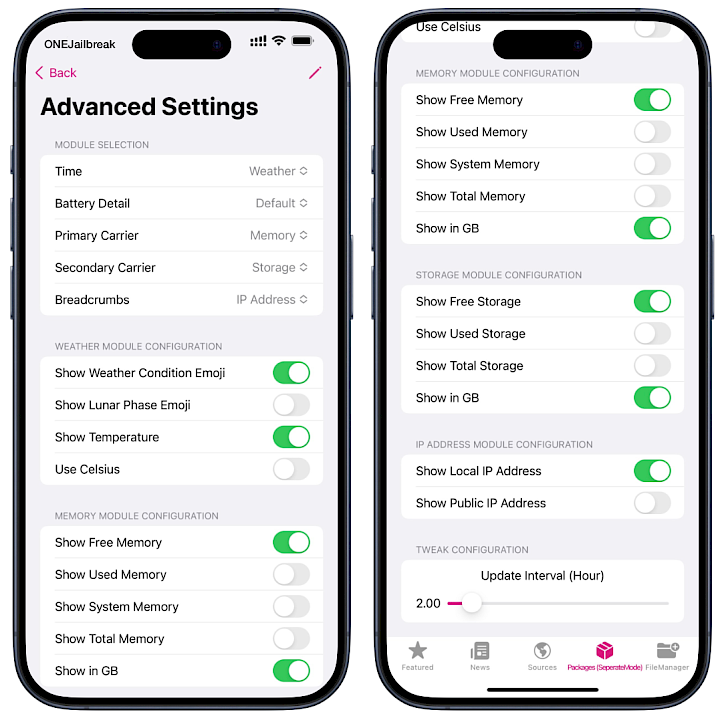 Certainly, the information presented in your Status Bar should always reflect the most relevant data. With Joutai, users have the option to configure how frequently this information gets updated. This feature allows users to stay up-to-date with real-time data, ensuring their Status Bar modules always provide accurate and current information like weather or memory usage.
What's important is that Roeegh has made the Joutai tweak available as an open-source project on GitHub. This approach not only provides access to the tweak's source code but also serves as a valuable resource for developers interested in learning how to create tweaks for Misaka, particularly those focused on modifying Status Bar data.
Supported devices
| | |
| --- | --- |
| SoC | Device |
| A11 | iPhone 8, iPhone 8 Plus, and iPhone X |
| A12 | iPhone XS, iPhone XS Max, iPhone XR |
| A13 | iPhone 11, iPhone 11 Pro, iPhone 11 Pro Max |
| A14 | iPhone 12, iPhone 12 Mini, iPhone 12 Pro, iPhone 12 Pro Max |
| A15 | iPhone 13 and 13 Mini, iPhone 13 Pro and 13 Pro Max, iPhone 14, iPhone 14 Plus |
| A16 | iPhone 14 Pro and iPhone 14 Pro Max |
What's new
Updated Joutai tweak to version 1.3.
Added Gregorian date module.
Added Lunar Date module.
Added Battery module.
Sponsored links
Post a comment