Velaris tweak brings weather and calendar to Home Screen
Widgets have been available on the Home Screen since the release of iOS 14. If you're using an older device, you can still enjoy the convenience of widgets by installing a tweak like Velaris. This tweak allows you to add weather and calendar widgets with smooth animations that seamlessly blend with the native iOS look and feel.
Add Velaris Repo to your package manager to install the tweak:
What is Velaris?
Velaris is a jailbreak tweak that allows you to conveniently access weather and calendar events directly from your Home Screen. This tweak adds a beautifully animated widget at the top of your Home Screen, displaying useful information at a glance. It's compatible with all modern jailbreaks running iOS 13 and iOS 14, and is available for a one-time fee of $1.99.
The calendar is placed right above your icons, showing actual events, reminders, alarms, and birthdays in a beautiful scrolling carousel. There is also an option to swipe on the calendar to view the next 7 days. The weather and calendar info automatically updates throughout your day.
After installing Velaris, a new preference pane will be added to the Settings app, allowing you to customize the tweak to your preferences. You can easily toggle Velaris on or off at your convenience, select your preferred greeting style or turn it off altogether, choose your preferred weather description style, and even decide which type of calendar data to include on the widget. All of these options can be easily configured within the Settings app.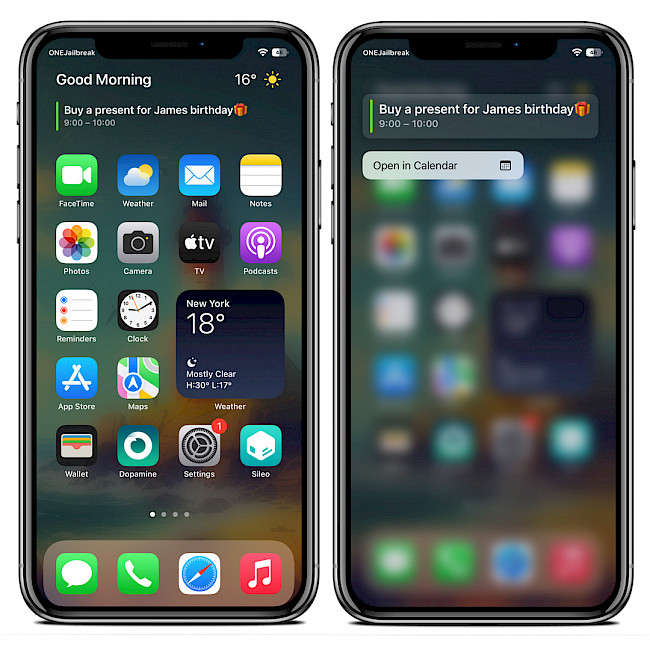 Velaris tweak features smooth transitions and a variety of customization options, ensuring that it looks great on any device. You can easily adjust the text color to auto, black, or white, choose whether to display the "No Events Today" text, and even customize the positioning of the widget on your Home Screen from within the tweak's settings. With these customizable options, you can tailor the Velaris widget to fit your individual preferences and style.
If you don't like the default positioning of the widget, the developer provided some advanced positioning features. Therefore, you can easily set the custom Y position measured in pixels from the top, set custom horizontal padding, custom horizontal margin, and custom icon offset.
The latest version of Velaris was moved from Packxi Repository to Havoc Repository. If you are interested in this kind of widget available for free you can try Xen HTML. This free engine offers access to thousands of widgets for both the Home Screen and Lock Screen.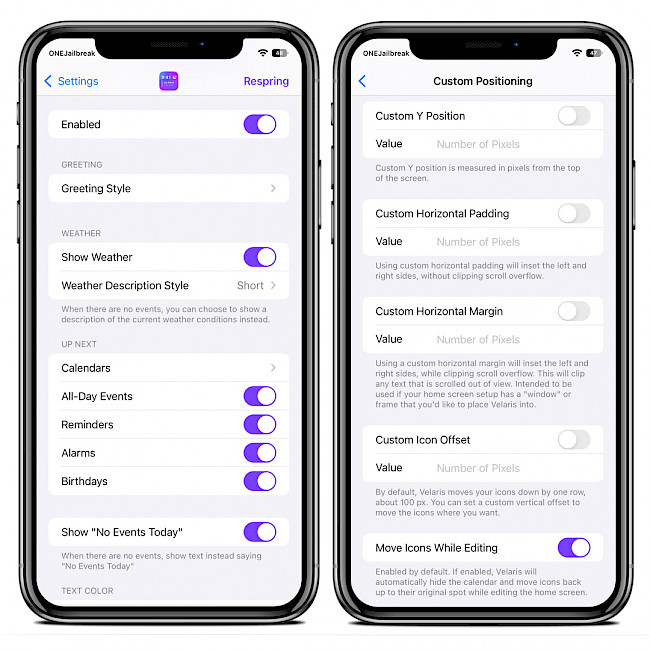 Velaris has been tested to run smoothly with popular jailbreaks such as unc0ver, checkra1n, and Odyssey. However, you may also be able to install the widget on other jailbreak tools for iOS 14 and iOS 13. Give it a try and see if it works with your preferred jailbreak tool.
Add Repository
Velaris tweak was released as a paid package thought the Havoc Repository. To install the latest version of the free tweak add on your jailbroken device the official Velaris Repository. Be aware that the tweak officially support only iOS 13 and iOS 14. It was never updated by the developer to bring support for iOS 15 rootless jailbreaks such as XinaA15, Dopamine or Fugu15 Max.
To install Velaris tweak on iOS with Sileo, follow those steps:
Open the Sileo app from the Home Screen.
Tap on the Sources tab, then select Edit button.
Add the following repository URL: https://havoc.app
From the newly added repo install Velaris tweak.
Respring the device to finish the installation.
A new preference pane is available through the Settings app.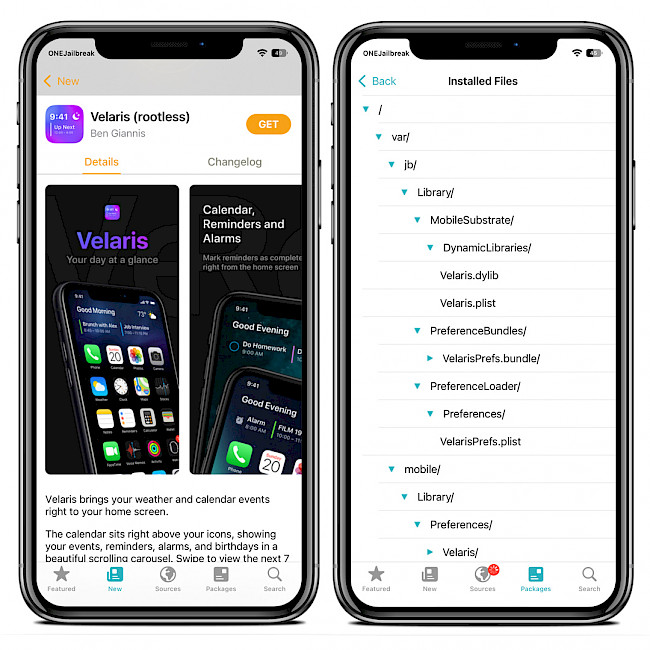 For added convenience, you can quickly add the repository to your preferred package managers (Cydia, Sileo, Installer, Zebra) by using the convenient quick links provided at the top of this page. With just one tap, you can easily download Velaris tweak for iOS 14.
What's new
Updated Velaris to version 1.1.
Hide certain calendars from your preferences.
When there are no events, the scrolling weather description has been replaced.
Added option to hide "No Events Today" text.
Added new localization for English, French, Spanish, German.
Tapping the back button to return to the first page now has a smoother animation.
Overall improvements and bug fixes.
Sponsored links
Post a comment