YTMusicUltimate tweak for YouTube Music

qbap |
Cydia Tweaks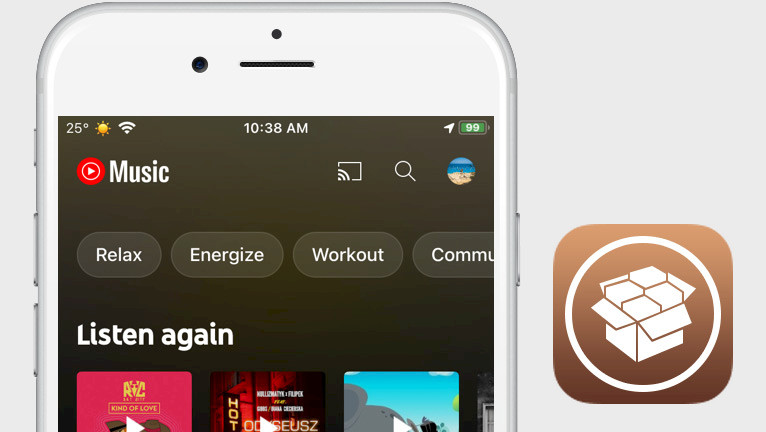 YouTube Music is one of the most popular music platforms offering access to official albums, singles, videos, remixes, and live performances, for all popular artists. With YTMusicUltimate you can enable some premium features of the app for free.
Download YTMusicUltimate IPA
What is YTMusicUltimate?
YTMusicUltimate is a free tweak that enables premium features such as background playback and removing ads in the stock YouTube Music installed from the App Store. The tweak was created in mind for jailbroken devices, but you can also sideload the IPA on iOS 13 - iOS 15.
Once the YTMusicUltimate tweak is installed, it integrates into the YouTube Music app and adds a dedicated preference pane to the Account section. From here, you can enable YouTube Music premium features for free, activate the OLED Dark theme, and OLDE Dark Keyboard.
YTMusicUltimate tweak is really simple to use and all options are enabled when the tweak is installed. You can't specify which premium features should be enabled because everything is hidden behind one toggle. Optionally, you can activate the dark them for the app.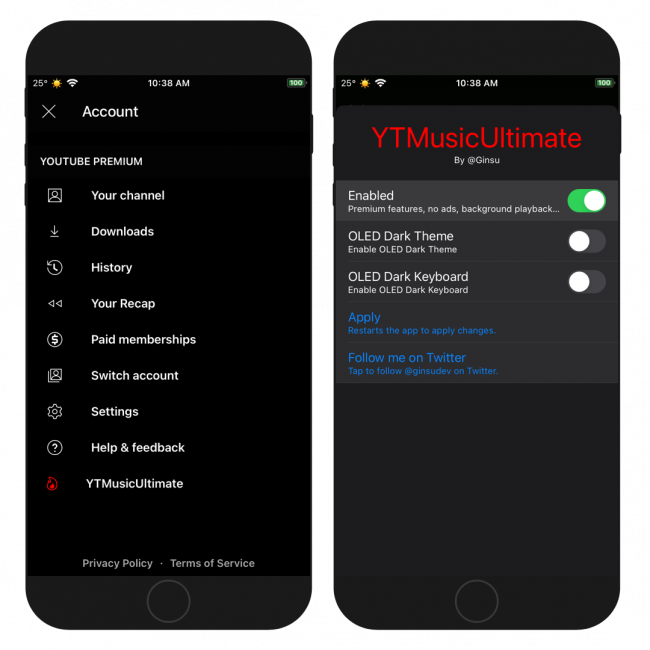 GinsuDev, the developer behind the tweak, prepared also YTMusicUltimate IPA file with the YouTube Music app and the injected tweak. With this package, you can install the tweaked version on all supported iOS devices. No jailbreak is required.
Download YTMusicUltimate IPA
YTMusicUltimate tweak was released as a DEB package that can be installed on all modern jailbreaks running iOS 13, iOS 14, and iOS 15. The developer released also a version of YTMusicUltimate that can be sideloaded on any device without jailbreak.
Sign and install IPA file
YTMusicUltimate can be installed on all supported iOS 13+ devices using Sideloadly, the best working Cydia Impactor alternative. For purpose of this article, we will use Sideloadly as the IPA installation tool. It works on macOS and Windows. Linux users can try instead AltStore.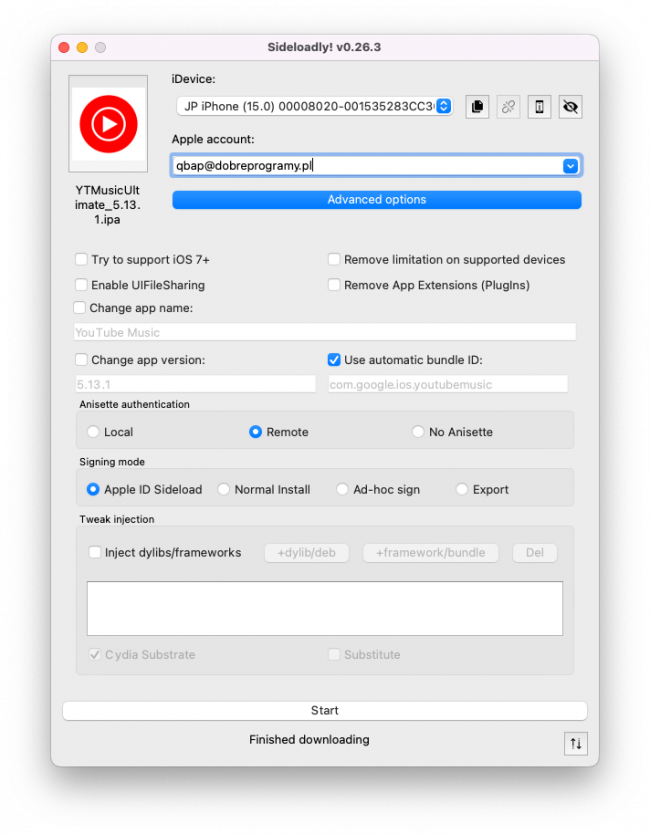 Step 1. Download YTMusicUltimate IPA (link available at top of this page).
Step 2. Open Sideloadly application from the installation folder.
Step 3. Connect your iPhone with Sideloadly through a USB cable or Wi-Fi.
Step 4. Click on the IPA icon and from the Open dialog box select the YTMusicUltimate IPA.
Step 5. Click on Advanced Options and select Remote in Anisette authentication.
Step 6. Enter your Apple ID required to sign the IPA file.
Step 7. Click the Start button to install the IPA file on your iPhone.
Step 8. Provide the password for your Apple ID.
To make this process even easier we included on top of this page quick links allowing you to download, sign and install the YTMusicUltimate v5.13 IPA file with just one click through your favorite tools such as Sideloadly, ReProvision, or AltStore. Because YTMusicUltimate IPA was signed by your own certificate it's required to trust it to open app on your device.
Step 9. Open the Settings app from the home screen.
Step 10. Navigate to General → VPN & Device Management.
Step 11. Click on the developer app with your e-mail.
Step 12. Tap on Trust to allow the application to run.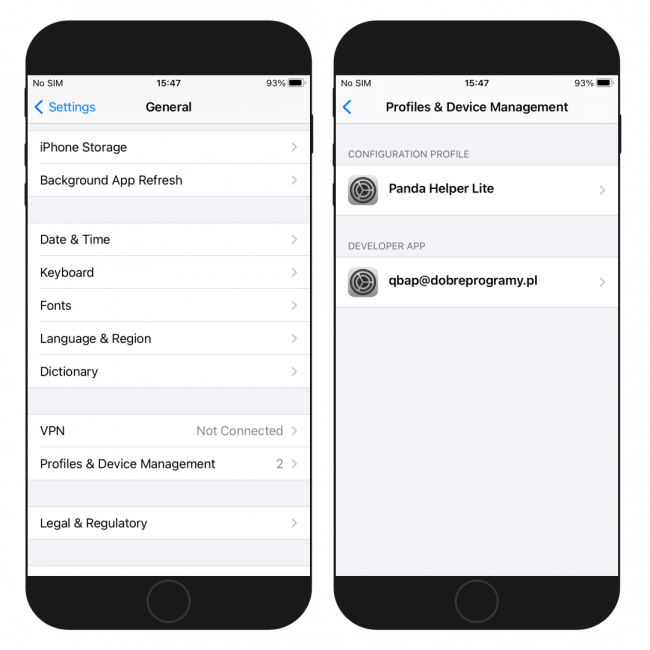 Repository
YTMusicUltimate tweak was released as a free package through the private Ginsu Tweaks Repository. Add the official YTMusicUltimate Repo to the list of your Cydia Sources and install the latest version of the tweak 5.13 enabling premium features on YouTube Music app.
Tap on the Cydia app icon from the Home Screen.
Switch to the Sources tab and tap Edit → Add.
Add the https://repo.ginsu.dev repository URL.
Cydia will automatically refresh packages available in the repo.
Search for YTMusicUltimate tweak and install the package.
Restart the Springboard to complete the installation.
Access YTMusicUltimate tweaks preferences from the YouTube app.
Alternatively, please use the quick links available below to add the repository to your favorite package manager (Cydia, Sileo, Installer, Zebra) with just one tap.
Source Code
YTMusicUltimate was released as an open-source under the GPL-3.0 license through the private GitHub Repository. If you are interested you can pull a request and participate in the tweak development. This is also a great starting point to learn how to create your own tweaks for the YouTube app. Target iOS 12.1.2 up to iOS 14.
The YouTube tweak was written in Objective-C 49.1%, Logos 48.5%, and Makefile 2.4%. To compile YTMusicUltimate tweak by yourself it's required to install theos, the cross-platform suite of tools for building and deploying software for iOS and other platforms.
What's new
Fixed iPad layout issues.
Fixed login issues.
Code maintenance.
Stability improvements.
Added support for the latest YouTube Release.
Included a version for non-jailbreak users.
Added OLED mode.
Support for iOS 12.
Fixed audio/video switching.
Post a comment