YTMusicUltimate IPA: YouTube Music Premium tweak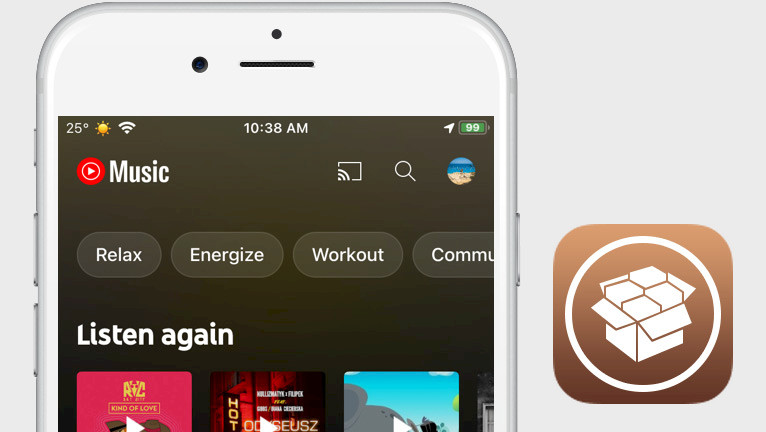 YouTube Music is a widely-used app that provides you with access to official albums, singles, videos, remixes, and live performances from a variety of popular artists. However, some features of the app require a premium subscription. Fortunately, with YTMusicUltimate tweak, you can access some of these premium features for free.
Install YTMusicUltimate IPA on your iPhone:
What is YTMusicUltimate?
YTMusicUltimate is a powerful tweak that unlocks premium features such as background playback and removing ads without paying a penny in the official YouTube Music app downloaded from the App Store. The tweak was created in mind for jailbroken devices, but you can also sideload YTMusicUltimate IPA on iOS 13 – iOS 16 on jailed devices.
Once the YTMusicUltimate tweak is installed, it integrates into the YouTube Music app and adds a dedicated preference pane to the Account section. This tool unlocks several features such as ad-blocking, background playback, OLED dark theme, and offline listening, making it a great choice for music lovers who want to enhance their experience on YouTube Music.
Using YTMusicUltimate is incredibly easy, as all premium features are automatically enabled once the tweak is installed. However, it's worth noting that you can't customize which features you want to enable since they are all hidden behind a single toggle. Additionally, the tweak also provides the option to activate the dark theme for YouTube Music, which can be a great way to reduce eye strain and improve your viewing experience, especially in low-light conditions.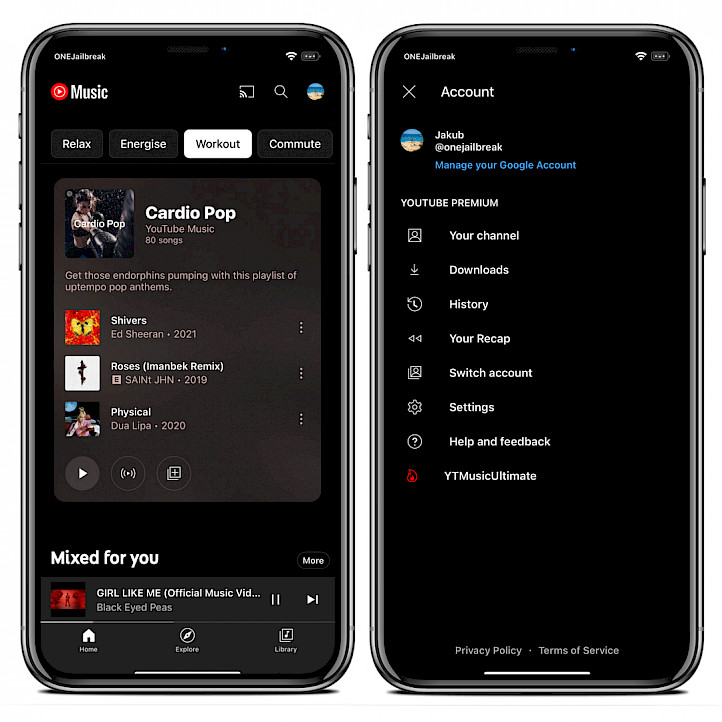 In addition to creating the YTMusicUltimate tweak, the developer GinsuDev has also prepared an IPA file that includes both the YouTube Music app and the injected tweak. This all-in-one package allows you to install the tweak and enable YouTube Music Premium for free on all supported iOS devices, without the need for a jailbreak. This is a great solution for users who can't jailbreak their devices and are interested in removing ads from YouTube Music.
YTMusicUltimate is an open-source tweak released under the GPL-3.0 license, and its source code is available on the private GitHub repository. This is a great opportunity to learn from experienced developers and to gain valuable insights into the world of tweak development for the YouTube Music app. It targets a wide range of iOS devices, supporting iOS 12.1.2 – iOS 16.
The tweak is written in Objective-C (49.1%), Logos (48.5%), and Makefile (2.4%) programming languages. If you want to compile YTMusicUltimate on your own, you will need to install theos, a cross-platform suite of tools that enables you to build and deploy tweaks for iOS apps.
Overall, YTMusicUltimate is an excellent tool that makes it easy to enjoy the best features of YouTube Music without any hassle. Install the tweak on jailbroken devices, or download YTMusicUltimate IPA and sideload the already tweaked YouTube Music app on your iDevice.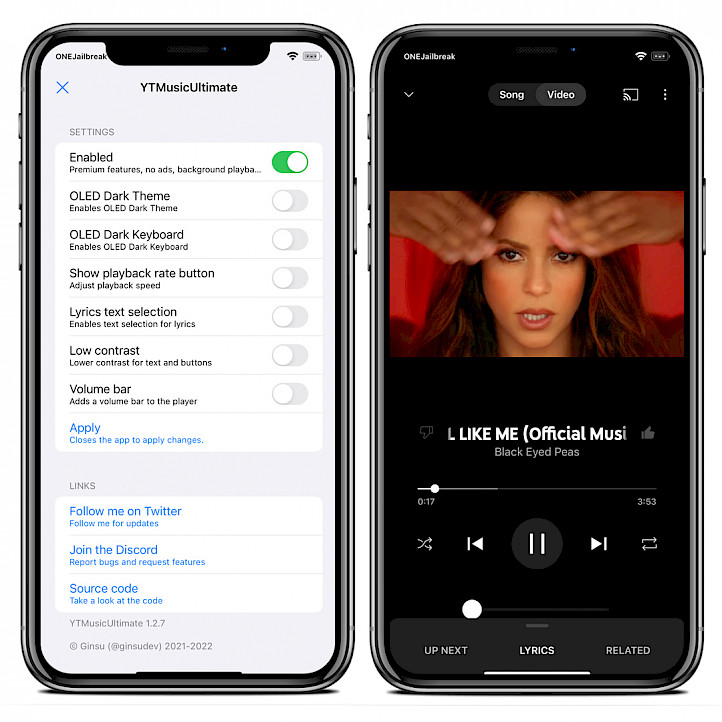 Recently, YTMusicUltimate tweak was updated, which includes several enhancements. Firstly, the audio switch now defaults to the fixed mode. Additionally, the preferences have been improved to accommodate all text in various languages. Rootless support has also been added to the tweak, and now it should work with Fugu15 Max and Dopamine on iOS 15 – iOS 15.4.1.
YTMusicUltimate is currently being maintained by dayanch96, who regularly releases updates of the tweak. He is also responsible for the updated YouTube Music IPA package with the injected hack. These updates include overall improvements, fixed bugs, new features and localizations, and support for the latest version of the YouTube Music app for iOS.
Download YTMusicUltimate IPA
YTMusicUltimate for iOS is also available as an IPA package that can be installed on your iPhone using an IPA installer like Sideloadly (Windows and macOS) or SideStore the on-device IPA signing tool for iOS 12 – iOS 16. Both methods allow you to install the tweaked version of the YouTube app, YTMusicUltimate IPA, and enable YouTube Music Premium for free.
To install YTMusicUltimate IPA on an iOS device using Sideloadly, follow these steps:
Download YTMusicUltimate IPA from the link at the top of this page.
Run Sideloadly application on your PC or Mac.
Connect your iPhone or iPad to the computer via USB.
Load the IPA file into the app to begin the installation process.
Enter your Apple ID to sign the YTMusicUltimate IPA file.
Click the "Start" button to begin sideloading the IPA file onto your device.
When prompted, enter the password for your Apple ID.
On your device, open the Settings app from the Home Screen.
Navigate to "General" → "VPN & Device Management".
Click on the developer app associated with your email.
Tap "Trust" to allow the app to run.
Note: If you don't have a developer certificate, you can use your free Apple account to sign and install YTMusicUltimate IPA and use it for up to 7 days before it needs to be re-signed. What's more, you can sideload the IPA also with TrollStore on iOS 14 – iOS 15.4.1.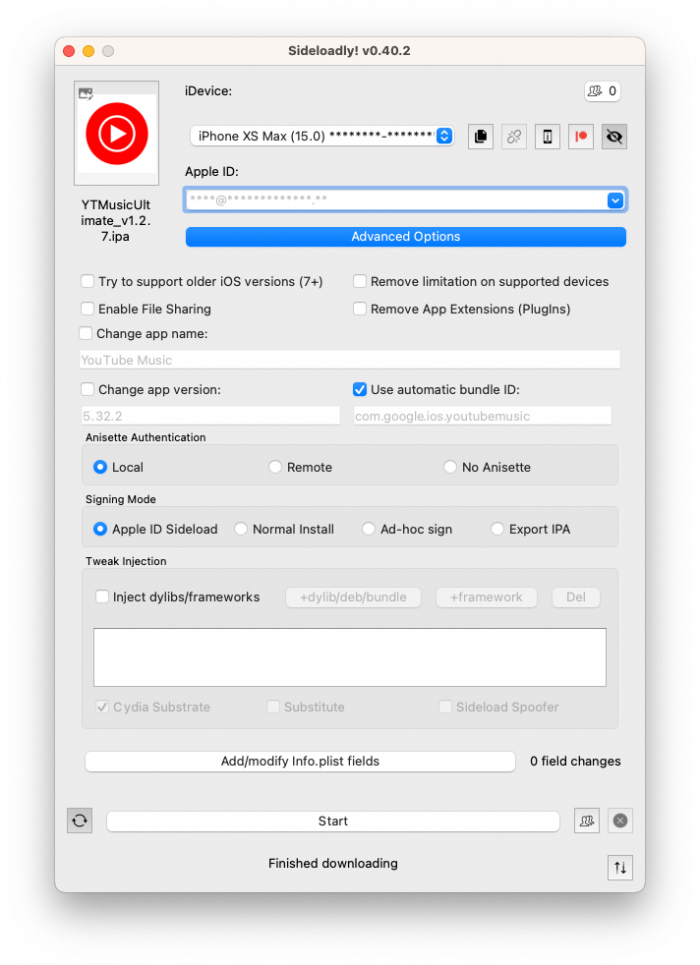 Add YTMusicUltimate Repository
YTMusicUltimate tweak was released as a free package through the private Ginsu Repository. Add the official YTMusicUltimate Repo to the list of your Cydia Sources and install the latest version of the tweak 5.54 enabling all features of YouTube Music Premium for free. In case the tweak hasn't been updated in the official repository yet, you can manually install the DEB file.
To install YTMusicUltimate tweak on your iOS device, follow these steps:
Open the Sileo app from the Home Screen.
Tap on the Sources tab, then select Edit.
Add the following repository URL:


https://ginsu.dev/repo

Cydia will automatically refresh the packages available in the repo.
Search for YTMusicUltimate tweak and install the package.
Restart the Springboard to complete the installation.
Access YTMusicUltimate tweaks preferences from the YouTube app.
For added convenience, you can quickly add the repository to your preferred package managers (Cydia, Sileo, Installer, Zebra) by using the quick links provided below. With just one click, you can easily add the repo to purchase YTMusicUltimate tweak for iOS 15.
What's new
Updated YTMusicUltimate tweak to version 1.5.2.
YouTube Music updated to version 6.20.2.
Improved Preferences menu, added Tab bar section, removed Other section.
Added Samples to Starup Tabs list.
Added options to remove tabs.
Switched to stock icons.
Fixed Volume bar and Playback speed button.
Added support for the latest YouTube Music app.
Added an option to show a volume bar.
Support for iOS 15 – iOS 16.
Overall improvements and bug fixes.
Sponsored links
Post a comment