Xen HTML widgets engine for Lock Screen and Home Screen

qbap |
Cydia Tweaks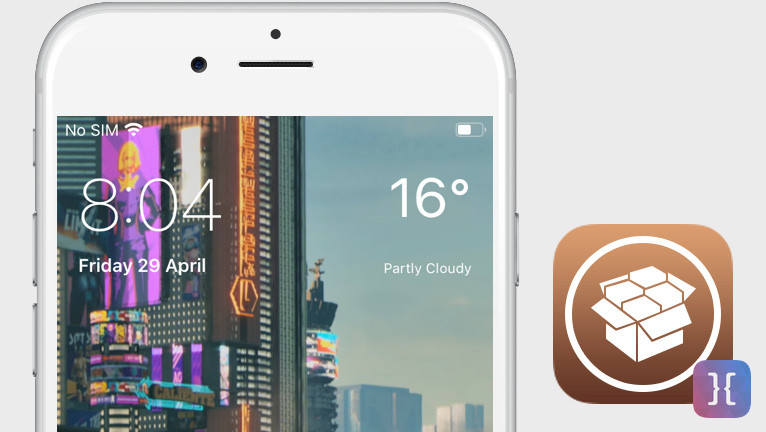 One of the most wanted features on iOS devices was always the possibility to place all kinds of widgets on the Home and Lock Screen. Xen HTML tweak delivers this feature to jailbroken devices running iOS 9 up to iOS 14. XenHTML widgets are web-based.
Add Xen HTML Repo to your package manager.
What is Xen HTML?
Xen HTML is a tweak that delivers support for JavaScript and HTML widgets running on jailbroken iOS devices, on both Home Screen and Lock Screen. What's more, the widget engine supports also widgets designed for tweaks like LockHTML, iWidgets, SBHTML, and Cydget.
When you try to change the stock look of your iPhone, Xen HTML is one of the best tweaks to start with. Adding widgets to the screen will not only make your device more unique but will also deliver useful information like actual weather, used RAM, new clock and date designs, etc.
Once installed, Xen HTML adds a dedicated preference pane to the Settings app. From here you can configure all settings, manage widgets on the Home Screen and Lock Screen, hide some stock elements like the lock screen clock, press home to unlock text, and other elements.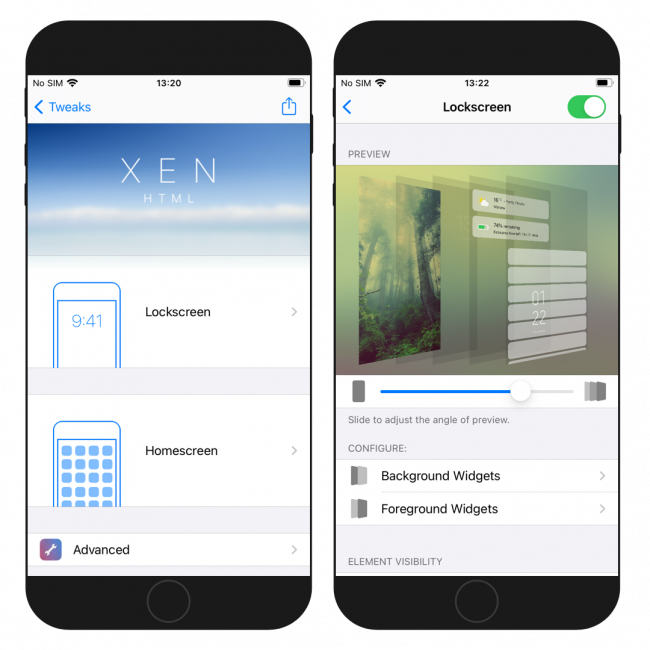 Xen HTML tweak allows managing widgets for Home Screen and Lock Screen separately, but the workflow is the same. You can put widgets in the background and the foreground. Once a widget is selected, you can freely set its position on the screen and configure available options.
With a simple time/date widget and a new wallpaper on the lock screen, you can totally refresh the look of your device. Available widgets offer a predefined setup that way you don't need to configure everything by yourself. But Xen HTML tweak offers a lot more than just time widgets.
Widgets can use frameworks such as React or Vue.js, or transpiled languages such as TypeScript. Developers created already widgets that can display also system information on the screen of your device thanks to XenInfo API. Those include weather, reminders, status bar, etc.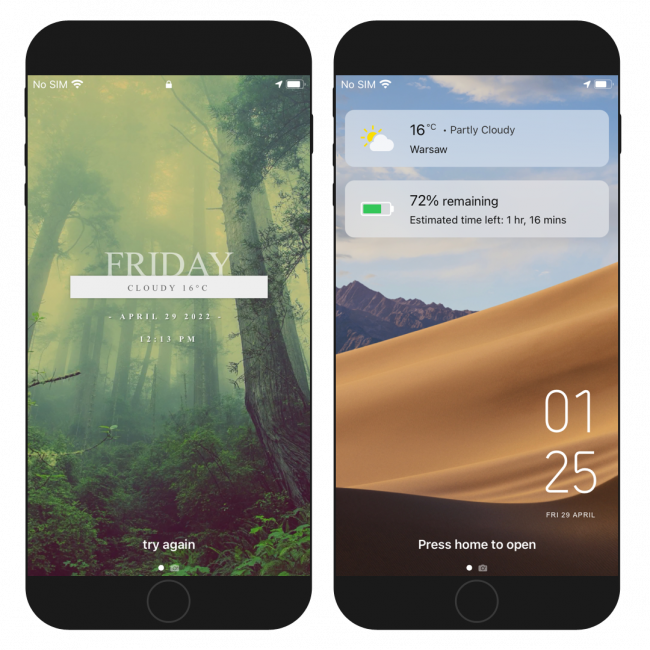 Of course, adding widgets to Lock Screen is only one place where you can enhance the look and features of your device. Xen HTML can also add widgets to the Home Screen to keep your favorite information at your fingertips. Apple copied this feature for iOS 14 and later.
On the Home Screen, Xen HTML can hide element visibility for dock blur, folder icon blur, icon labels, and page indicators. What's more, you can drag and drop widgets to position them on-screen and change the settings of widgets easily with the Integrated Widget Settings Editor.
To add widgets alongside icons enter icons in Edit Home Screen mode and use the + button from the status bar to put Xen HTML widgets on the screen. There are a lot of widgets available through repos. Display clocks, sys info, or Instagram photos feed directly on your screen.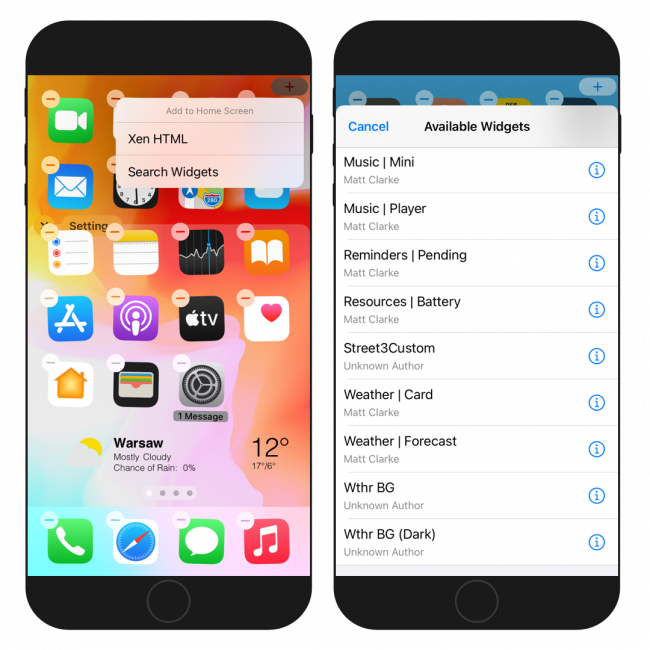 Xen HTML 2.0 uses new WebKit APIs from Apple to improve performance. It also adds optimizations such as pausing widgets to reduce battery usage. It comes with simplified HTML rendering and a brand new API for widgets to access system-level data and functionality.
Version 2.0 is untested on iOS 9. If you experience issues, use the older 1.1.5 version. What's more, it provides full backward compatibility for XenInfo, InfoStats 2, and WidgetWeather. You do not need these tweaks installed now to access the API features.
Repository
Xen HTML tweak is listed on the private incendo repository. To install the latest version of the widget engine for Lock Screen and Home Screen add the official Cydia Repository to your package manager. Xen HTML works on iOS 10, iOS 11, iOS 12, iOS 13, and iOS 14.
Open the Cydia app from the Home Screen.
Add the https://repo.incendo.ws/ Repo URL to Sources → Edit → Add.
From the newly added repo search for Xen HTML tweak.
Respring the device to finish the installation.
Configure Xen HTML through the preference pane in Settings app.
Alternatively, please use the quick links available at the top of this page to add the repository to your favorite package manager (Cydia, Sileo, Installer, Zebra) with just one click.
Xen HTML widgets
The biggest power of the Xen HTML engine are widgets. The tweak itself comes with a few built-in widgets but the most fun ones are available in additional Cydia Repos. Below you can find the list of the official recommended by the developer Xen HTML widget repositories.
Xen HTML widgets can be added on top of the wallpaper in the Lockscreen (no touch support),in line with the original Lock Screen clock and notifications, so that they move when you swipe, on top of the wallpaper in the Home Screen, and inline with app icons on any page.
D-Shin's Repo - https://jose905.github.io
Brian's Repo - https://brianleek.me/repo/
Classicxii's Repository - https://classicxiirepo.github.io
tdmd repo - https://tdmd.github.com
N-I-N-0's Repo - https://n-i-n-0.github.io/repo/
Evelyn's Repo - https://evynw.github.io
RKO1195 Repo - https://rko1195.com/cydia/
dubailive Repo - https://dubailive.github.io
Ocean Repo - https://ocean.webjungle.ch
junesiphone.com - http://junesiphone.com/supersecret/
CodeOne88 - https://codeone.yourepo.com
tdmd repo - https://tdmd.github.io
Source Code
Xen HTML is released as an open-source project with code published under GPL-2.0 License through GitHub Repository. To build the project you must install and setup Xcode and iOSOpenDev third-party libraries. The last changes to the code were added on 20 Mar 2021.
You will also need node.js and yarn installed to build the widget info library and the Setup UI. The master branch is a snapshot of development on each public release. All development efforts occur in the develop branch until they are stable enough for a release.
What's new
Added full support for iOS 13.4 to iOS 14.4 versions.
Built a brand new API for widgets with iOS 10 and up! See the linked documentation for more information.
Added a number of default widgets that take advantage of the new API.
Added Advanced configuration panel; adjust widget battery management, apply developer options, and more.
Various system stability improvements, bug fixes, and quality-of-life updates.
Post a comment