SkyNet Tool Activator
Bypassing iCloud Activation tools tailored for Windows users have been relatively scarce, particularly those offered without charge. SkyNet Tool Activator follows suit in this regard; nevertheless, the tool is presently accessible to all individuals seeking to unlock their iPhones and iPads compatible with the checkm8 exploit.
Download SkyNet Tool Activator for Windows 10 and Windows 11:
What is SkyNet Tool Activator?
SkyNet Tool Activator is a fast iCloud bypass software for Windows, compatible with all checkm8 devices running iOS 12 all the way up to iOS 16. Use to unlock your iPhone or iPad with iPhone Locked to Owner, or the Hello Activation Screen. Before using SkyNet Activator, it's required to jailbreak your device to proceed with the iCloud bypass feature.
Numerous methods claim to bypass iCloud Activation; however, SkyNet stands out by offering not only straightforward solutions for end-users, but also a track record of consistently delivering exceptional software for Windows users over the past years.
Prominent among these offerings are SkyNetTool MDM Bypass, SkyNet Ramdisk, SkyNet Activator, and SkyNet Hello Activator No Jailbreak, each contributing to a suite of solutions for activating and bypassing the iCloud Activation screen on iPhones and iPads.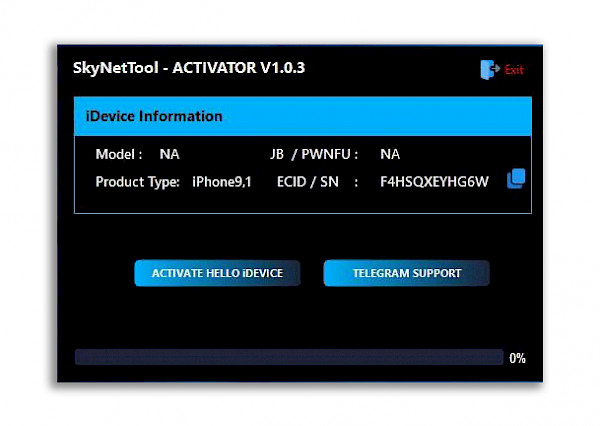 SkyNet Tool Activator for Windows empowers users to activate jailbroken devices operating on iOS 12 through iOS 16.6, effectively bypassing the iCloud screen. It's crucial to note that this tool lacks support for cellular signal functionality, meaning that utilizing a SIM card for internet access or phone calls won't be feasible. Nevertheless, all other features remain fully functional.
Info: SkyNet Tool Activator for Windows doesn't work in virtual machine environment. You must run the tool on a Windows PC to open the app and activate your iDevice.
Lately, all tools introduced by SkyNet are accessible for free download. The cornerstone of SkyNet's iOS bypass solutions is the SkyNet Ultra Jailbreak, which seamlessly integrates the capabilities of checkra1n and Palera1n jailbreak into a one Windows application.
Notably, this jailbreak from SkyNet doesn't come bundled with a package manager or provide tweak support. Its primary purpose revolves around executing the iCloud bypass process effectively. The battery drain is much better optimized than all other jailbreaks have.
Supported devices
The SkyNet Tool Activator for Windows extends its support to encompass all A6 – A11 systems on a chip (SoC) for jailbreaking. Refer to the following list for the precise compilation of compatible iPhones and iPads eligible for utilization with the iCloud bypass removal tool.
A5X – iPad (3rd generation).
A6 – iPhone 5, iPhone 5C.
A6X – iPad (4th generation).
A7 – iPhone 5S, iPad Air, iPad Mini 2, iPad Mini 3.
A8 – Phone 6, iPhone 6 Plus, iPad Mini 4.
A8X – iPad Air 2.
A9 – iPhone 6S, iPhone 6S Plus, iPhone SE, iPad (2017) 5th Generation.
A9X – iPad Pro (12.9 in.) 1st generation, iPad Pro (9.7 in.).
A10 – iPhone 7 and iPhone 7 Plus, iPad (2018, 6th generation),iPad (2019, 7th generation) (iOS 14 not supported).
A10X – iPad Pro 10.5" (2017),iPad Pro 12.9" 2nd Gen (2017).
A11 – iPhone 8, iPhone 8 Plus, and iPhone X.
How to use SkyNet Activator?
Using SkyNet Tool Activator is a straightforward process, and with the latest update It's even more user-friendly and requires fewer steps to complete the iCloud bypass on iPhones and iPads running iOS 12 – iOS 16. Only A5 up to A11 devices are supported (iPhone 6 – iPhone X).
Download SkyNet Ultra Jailbreak, and extract it.
Connect your iDevice to Windows computer in normal mode.
Wait for SkyNet Ultra to detect your device and display its information.
Now register your ECID for free at official website:


https://www.pro-bangla.com/register-ecid.php

After successfully registering your device, click on Start.
Enter your iPhone into DFU mode, and proceed as you would be using checkra1n.
Your device should be exploited and booted into a jailbroken iPhone.
Open SkyNet Tool Activator to detect your iDevice.
Press Activate Hello iDevice to remove iCloud screen.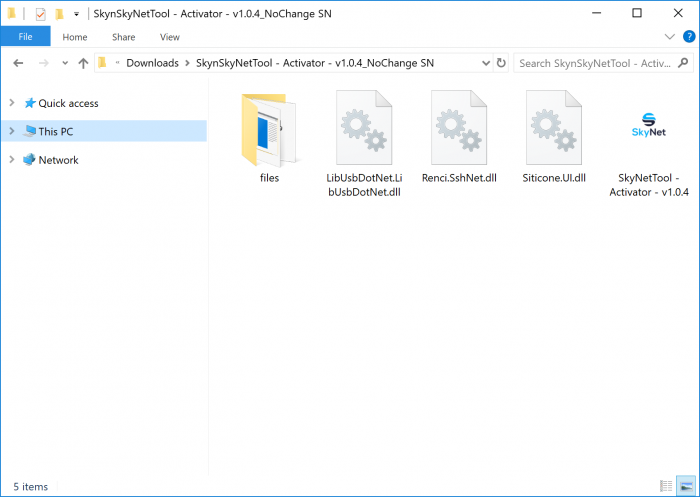 Tip: From now you can activate ECID or Serial Number also directly from Telegram bot. Join https://t.me/GsmiNews and just type for the sake of example /activate 0x00696578.
What's new
Updated SkyNet Tool Activator to version 1.4.
Overall improvements and bug fixes.
Released as a free software.
Comments
h4tesn0w3 weeks ago
Post a comment