SkyNet Ramdisk Tool: iCloud bypass with Signal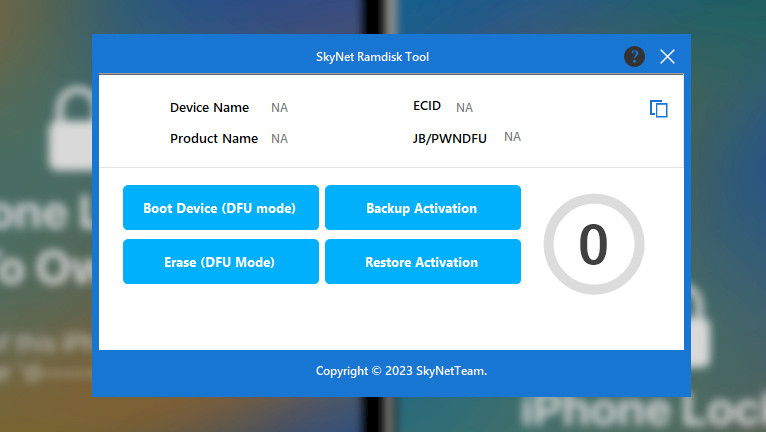 Ramdisk iCloud bypass empowers users to effectively bypass the iCloud Activation Lock on A6-A11 iPhones or iPads. Facilitating this procedure is the SkyNet Ramdisk Tool, a Windows software that encompasses all essential functionalities to unlock your iDevice. Obtain the latest version of the SkyNet Ramdisk tool, and harness the power of iCloud bypass, complete with signal support on both iOS 15.6.1 and iOS 16.6.
Download SkyNet Ramdisk Tool for Windows:
What is SkyNet Ramdisk Tool?
SkyNet Ramdisk Tool is a iCloud bypass solution tailored for checkm8 devices running iOS 15 – iOS 16 on A7-A11 processor. This tool empowers you to seamlessly activate your iPhone or iPad while ensuring signal support. With the free SkyNet Ramdisk tool for Windows, you gain the ability to enable your device's SIM card and access its calling features. It's important to note that all Ramdisk iCloud bypass solutions, while effective, operates on a non-permanent basis.
Ramdisk iCloud Bypass tools necessitate repeating the process after every device restart. While this approach falls short of being a perfect solution, it does provide comprehensive access to all the device's features, even encompassing the ability to make calls. SkyNet Ramdisk Tool requires you to restore the device to latest supported iOS version (iOS 15.6.1 or iOS 16.6).
A Ramdisk in the context of iOS refers to a portion of volatile memory (RAM) that is used as a virtual disk drive. This space is used for temporary storage and can be accessed much faster than traditional storage options. Ramdisk are created in the device's RAM and act as a virtual storage location, providing rapid access speeds for read and write operations.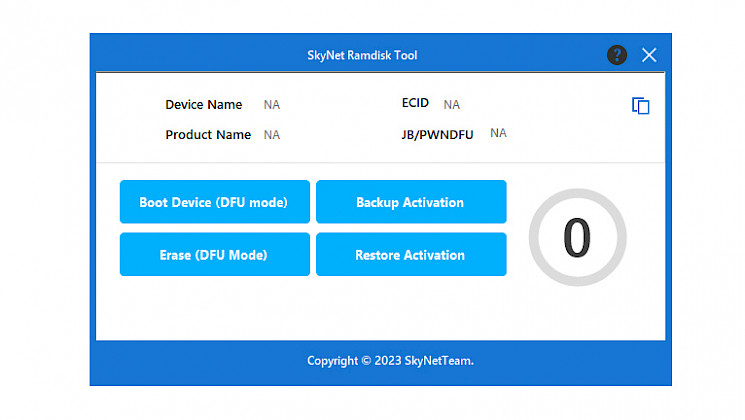 In the context of iOS security or jailbreaking, a "Ramdisk iCloud Bypass" tool typically refers to a software method used to bypass the iCloud Activation Lock on iOS devices. The iCloud Activation Lock is a security feature implemented by Apple to prevent unauthorized access to a lost or stolen iOS device. It requires the original owner's Apple ID to unlock the device.
SkyNet is known for releasing some amazing and solid iCloud Bypass and Activation solutions for iOS devices. SkyNet Ultra Jailbreak Tool for iOS 15 and iOS 16, SkyNetTool MDM Bypass, SkyNet Activator, and SkyNet Hello Activator No Jailbreak. SkyNet Ramdisk Tool is another tool to activate (without jailbreak requirement) the iDevice with all features including working signal.
In a recent development, the SkyNet Ramdisk Tool has undergone a noteworthy update, particularly in relation to the USB driver necessary for establishing a connection between the iDevice and a Windows PC via a USB cable. The entire procedure has now been significantly streamlined, eliminating the need to repeatedly address driver issues throughout the process.
Please be aware that all Ramdisk iCloud bypass tools, even those paid, work the same way. This solution isn't permanent, and it's not the most user-friendly approach to activate the device. Most important, it doesn't require purchase of a special cable, or changing the S/N.
Supported devices
SkyNet Ramdisk Tool for Windows extends its support to encompass all A6 – A11 systems on a chip (SoC). Refer to the following list for the precise compilation of compatible iPhones and iPads eligible for utilization with the iCloud bypass removal tool.
A6 – iPhone 5, iPhone 5C.
A6X – iPad (4th generation).
A7 – iPhone 5S, iPad Air, iPad Mini 2, iPad Mini 3.
A8 – Phone 6, iPhone 6 Plus, iPad Mini 4.
A8X – iPad Air 2.
A9 – iPhone 6S, iPhone 6S Plus, iPhone SE, iPad (2017) 5th Generation.
A9X – iPad Pro (12.9 in.) 1st generation, iPad Pro (9.7 in.).
A10 – iPhone 7 and iPhone 7 Plus, iPad (2018, 6th generation),iPad (2019, 7th generation) (iOS 14 not supported).
A10X – iPad Pro 10.5" (2017),iPad Pro 12.9" 2nd Gen (2017).
A11 – iPhone 8, iPhone 8 Plus, and iPhone X.
How to use SkyNet Ramdisk
Leveraging the SkyNet Ramdisk Tool for bypassing the iCloud Activation Screen is a streamlined procedure. It's essential to recognize that this tool exclusively caters to earlier devices, encompassing those ranging from iPhone 5S up to iPhone X. Regrettably, devices from iPhone XS onwards and operating on an iOS version below 15 are not compatible with this tool.
To unlock your iDevice with SkyNet Ramdisk, follow these steps:
Download SkyNet Ramdisk from top of this page.
Download 3uTools and install the app on Windows PC.
Extract the ZIP archive to drive C.
Connect your iPhone to PC using USB cable.
Launch SkyNet Ramdisk for Windows from drive C.
Copy ECID and register it at SkyNet:


https://pro-bangla.com/register-ecid.php

Enter your iPhone into DFU mode.
Press on "Erase (DFU Mode)".
Open 3uTools and wait for iPhone detection.
Press in SkyNet Backup Activation.
Press on "Activate Now" and wait for the Apple ID login prompt.
Close the log in window, requiring your credentials.
Launch again the SkyNet Ramdisk Tool.
Enter into DFU mode, your iDevice once again.
Press in SkyNet Ramdisk on Boot Device (DFU Mode).
Once Ramdisk is booted, navigate to DIR:


C:\Ramdisk\liblary\activation\

Remove all files from this folder.
Go back to SkyNet Ramdisk and press on Restore Activation.
Your iDevice should be now activated.
Below, you can find the official video tutorial:
Tip: 3uTools serves the dual purpose of flashing your device, activating, and providing insights into its current status. This tool proves invaluable in assessing your device's activities in conjunction with the utilization of SkyNet Ramdisk Tool for Windows PC.
What's new
Updated SkyNet Ramdisk Tool to version 1.4.
Overall improvements and bug fixes.
Better management of USB drivers for Windows.
Post a comment