SkyNet Ultra Jailbreak Tool 1.5 for iOS 12 - iOS 16.6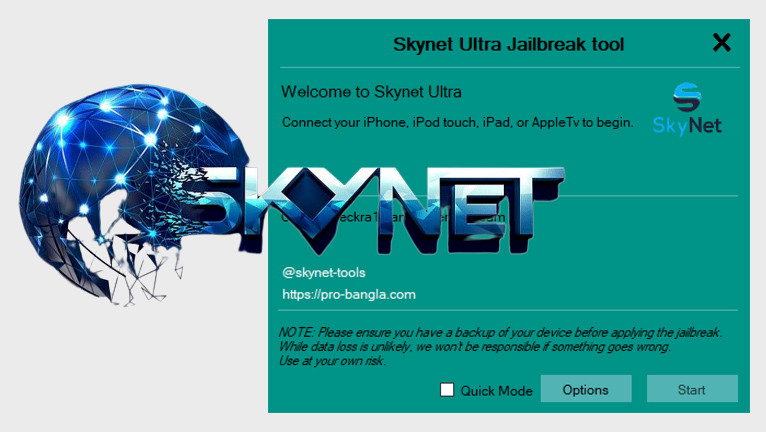 The majority of iCloud bypass tools offer a jailbreak approach, exploiting iOS to enable device activation. SkyNet Ultra Jailbreak stands among these tools, seamlessly integrating with the SkyNet Activation software for Windows users. This versatile tool is adept at jailbreaking A5 to A11 devices, spanning from iOS 12 to iOS 16 and even extending its compatibility to iOS 17. SkyNet Ultra Jailbreak is released for free.
Download SkyNet Ultra Jailbreak for Windows 10 and Windows 11:
What is SkyNet Ultra Jailbreak?
SkyNet Ultra Jailbreak is a checkra1n version for Windows PC to exploit iPhone SE, iPhone 6s, iPhone 6s Plus, iPhone 7, iPhone 7 Plus, iPhone 8, iPhone 8 Plus, and iPhone X. It uses the checkm8 exploit to jailbreak supported devices therefore it's required to connect the device to a PC. Once jailbroken, you can bypass iCloud on iOS 12 – iOS 16.6 using SkyNetTool Activator.
This jailbreak serves as the core driving force behind all SkyNet iCloud bypass tools, enabling seamless activation of your iPhone or iPad, complete with signal support. All the innovative tools introduced by SkyNet are conveniently accessible without any cost. The SkyNet Ultra Jailbreak goes a step further by granting comprehensive read and write access to iOS iDevices, empowering users to effortlessly navigate past the iCloud Activation Hello Screen.
Because SkyNet Ultra Jailbreak uses the checkm8 exploit, it will never support newer devices released between iPhone XR and iPhone 14 Pro Max. Checkm8 is a bootrom exploit with a CVE ID of CVE-2019-8900 used to run unsigned code on iOS, iPadOS, tvOS, watchOS, with processors between an A5 and an A11. SoC A12 up to A16 are not compatible.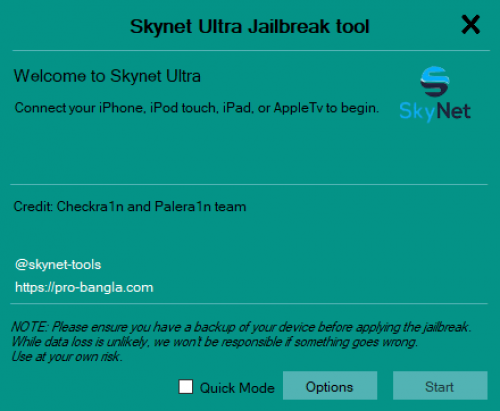 As mentioned previously, SkyNet Ultra Jailbreak is developed for other SkyNet tools, meaning it doesn't offer tweak support etc. Instead, it provides access to device allowing to remove the Hello Screen, and bypass iCloud Activation Lock Screen. The jailbreak itself offers a familiar interface known from checkra1n. To jailbreak, it's required to enter DFU mode.
For A11 devices running iOS 16, there is an additional requirement to consider. If you have previously set a passcode on your device, you must erase all content and settings before proceeding with the jailbreak. This step ensures a smooth jailbreaking process on A11 devices.
Note: This is a jailbreak created only to bypass iCloud Activation screen on iOS 12 – iOS 16. No tweaks or a package manager is installed on the jailbroken device.
The most recent release of SkyNet Ultra Jailbreak brings support for Windows 11. Furthermore, it fixes some bugs and adds support for a verity of iPads including iPad Mini 2-4 (WiFi + Cellular),iPad Air 2 (WiFi + Cellular),iPad Pro 9.7" (Wi-Fi + Cellular),iPad Pro 12.9" (Wi-Fi + Cellular),iPad 9.7" 5th Gen (Wi-Fi + Cellular) iPad 10.2" 7th Gen (Wi-Fi + Cellular),iPad Pro 12.9" (Wi-Fi + Cellular),iPad Pro 10.5" (Wi-Fi + Cellular),and iPad 9.7" 6th Gen (Wi-Fi + Cellular).
If you're in search of a jailbreak solution rooted in checkra1n for Windows, you have several alternatives at your disposal. Both of these solutions not only provide the ability to install tweaks, but also include a package manager, enhancing the customization and functionality of iOS.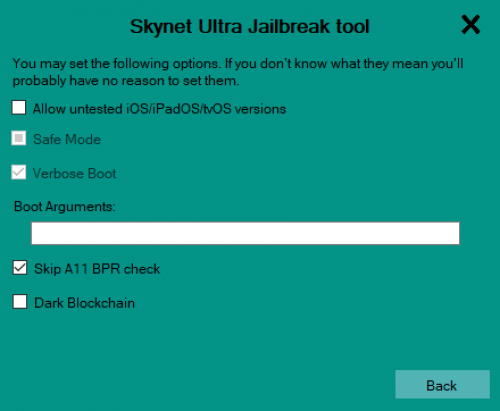 While iRa1n stands out as a widely recognized option, it is important to note that it exclusively covers iOS 12 – iOS 14. However, for a more encompassing choice, turning to WinRa1n is highly recommended, as it extends its compatibility to iOS versions spanning from 12 up to 16.
SkyNet Ultra Jailbreak Tool is brought to you by SkyNet, the developer behind tools such as SkyNetTool MDM Bypass, SkyNet Ramdisk, SkyNet Activator, and SkyNet Hello Activator No Jailbreak. It's worth nothing that SkyNet Ramdisk supports SIM signal after jailbreak.
How to use SkyNet Ultra Jailbreak
Utilizing the SkyNet Ultra Jailbreak Tool on a Windows PC necessitates a fundamental understanding of the application's operation. A crucial initial step involves the deactivation of driver signature enforcement to facilitate a successful booting process. No need for concern, as I will guide you through a series of steps to seamlessly execute the jailbreak on Windows.
To jailbreak your device using SkyNet Ultra Jailbreak, follow those steps:
Download SkyNet Ultra Jailbreak from the links at the top of this page.
Extract the downloaded Skynet Ultra v1.3.zip archive to Desktop.
Open the new folder and launch Skynet Ultra.exe.
Connect your iPhone or iPad to the PC via USB cable.
SkyNet Ultra Jailbreak should detect your iDevice.
Click on the Start button from SkyNet Ultra Jailbreak.
Copy ECID and register it at SkyNet:


https://pro-bangla.com/register-ecid.php

Enter your iPhone into DFU mode.
Continue with the jailbreak process with on-screen instructions.
Below, you can find the official video tutorial:
Tip: From now you can activate ECID or Serial Number also directly from Telegram bot. Join https://t.me/GsmiNews and just type for the sake of example /activate 0x00696578.
What's new
Updated SkyNet Ultra Jailbreak to version 1.5.
Improved the jailbroken process and driver issues.
Added support for Windows 10 and Windows 11 64bit.
Add register ECID system option for activation.
Post a comment