QuitAll tweak can close all apps with one tap on iOS 15

qbap |
Cydia Tweaks
When you use a lot of apps on iOS those will be opened in the app grid switcher. To close an app you must use on each window the slide up gesture. QuitAll tweak can close all apps with one tap on iOS 13 – iOS 15 by adding a useful close button to the grid switcher.
Add QuitAll Repo to your package manager.
What is QuitAll?
QuitAll is a simple, but useful tweak that adds a button on top of your app/grid switcher, once pressed it closes all apps from the switcher. This tweak supports iPhone, iPad, and iPod touch running iOS 13 to iOS 14, but it also works fine on iOS 15 jailbreaks released recently.
After installation, QuitAll tweak adds a dedicated preference pane to the Settings app from where you can configure all options to your liking. From here you can toggle the tweak on and off, select displayed mode and positioning. There is also an option to add apps to a blacklist.
QuitAll tweak allows you to kill all apps running in the background with one tap directly from the grid switcher. It also supports third party grid-switcher tweaks, including CastSwitcher. The close button can be placed on the right or left side or even at the bottom of app switcher.
One of the most exiting features of the tweak is the option to add apps to the excluded list. When an app is listed there it will be not closed by QuitAll. This is very useful when you listen to music or podcast, and you like to have those apps running in the background all the time.
Dave van Wijk released the tweak as an open source project with QuitAll source code available through GitHub Repository. The tweak was written in Objective-C and Logos programming languages, and it uses LibSparkApplist to support rootless jailbreaks. Theos libraries are used.
Recently, the tweak was updated to version 3.1. Since this release you can install and use QuitAll tweak to close all apps with one tap also on iOS 15. XinaA15 Jailbreak for iOS 15.0 – iOS 15.1.1 (A12-A15),and Palera1n Jailbreak for iOS 15.0 – iOS 15.7.2 (A9-A11) are supported.
Alternatively, you can try Kill All Apps tweak that adds also an option to close all running apps in the background with one swipe down gesture from the app switcher. Additionally, it enables the iPad-style grid switcher for apps on iPhones without the need to use third party tweaks.
Add Repository
QuitAll tweak was released as a free package that can be downloaded from Chariz Store. Add the QuitAll Repository to your list of Cydia Sources and install the tweak to enable the option to close all apps running in background. The latest version works on iOS 13 – iOS 15.
Run Cydia app from your Home Screen.
Tap Sources → Edit → Add the https://repo.chariz.com Repository URL.
Sileo will automatically refresh packages available in the repo.
Search for QuitAll tweak and install the package.
Restart the Springboard to save changes.
Configure the tweak from the preference pane in the Settings app.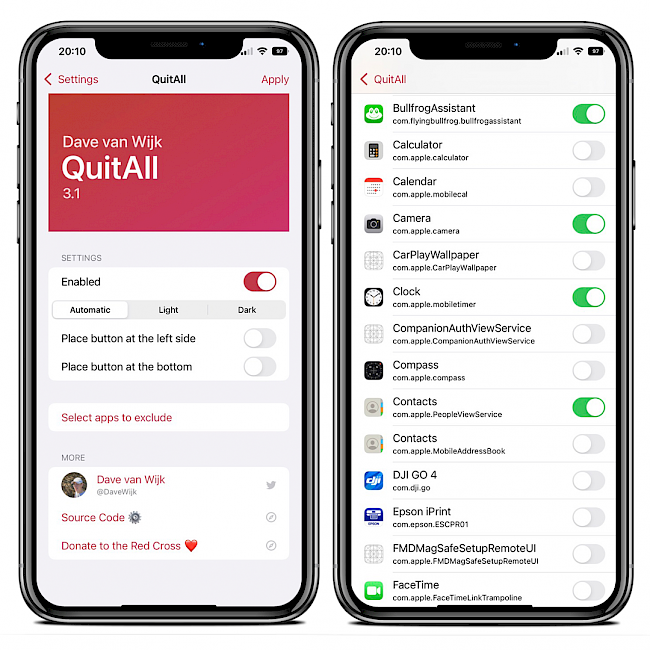 Alternatively, please use the quick links available at the top of this page to add the repository to your favorite package manager (Cydia, Sileo, Installer, Zebra) with just one tap.
What's new
Updated QuitAll to version 3.1.
Moved to LibSparkApplist for proper iOS 15 XinaA15 support.
Code reformatting and performance improvements.
Added support for grid switcher.
Cleaned up the code quite a bit.
Smoother transition from switcher to app.
Full iOS 14 support.
Toggle apps that you never want to be quit trough app list.
Comments
Sunil John2 weeks ago
Post a comment