Kill All Apps

qbap |
Cydia Tweaks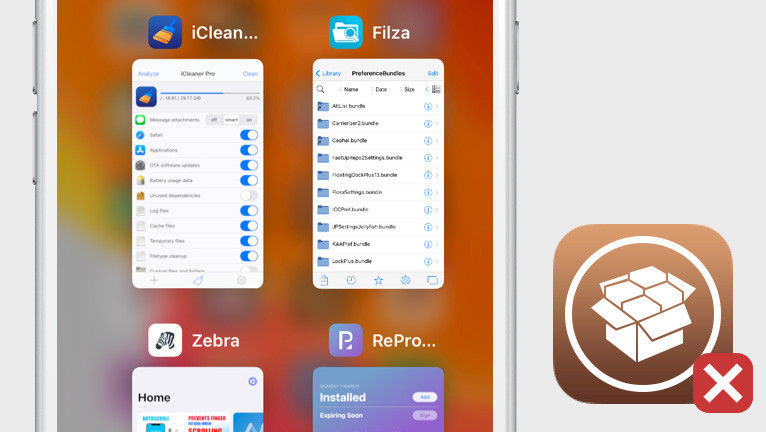 To close all apps on iOS it's required to activate the grid swither and swipe up on every app window to kill it. Kill All Apps tweak is a useful jailbreak hack that allows closing all apps with just one swipe motion. It was released by cemck as a free package.
Add Kill All Apps to your package manager.
What is Kill All Apps?
Kill All Apps is a jailbreak tweak that adds an option to close all running apps in the background with one gesture. Swipe down in the app switcher to kill all background apps.
By default, iOS allows you to close only one app at a time. Once installed, a new preference pane is added to the Settings app from where you can configure Kill All Apps tweak.
From here you can enable the tweak, set custom UI Effect (fade or blur),and Haptic Feedback when killing all apps. What's important, Kill All Apps tweak supports also exceptions allowing you to not kill Now Playing, Navigation Apps, or Swiped Down App and Except Apps.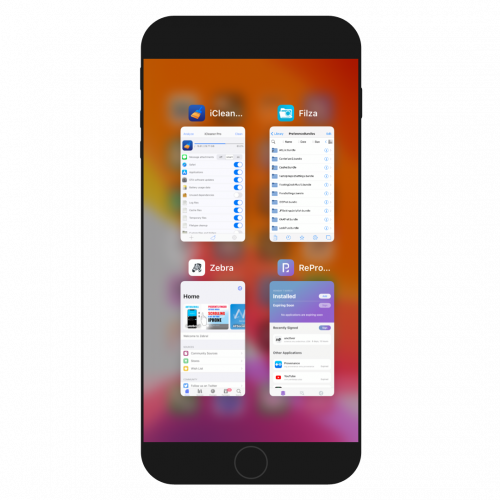 This way you can easily prevent the tweak from closing selected apps. KillAllApps tweak supports all modern jailbreaks running iOS 12 to iOS 15.
Besides, there is an option to add Clear Button and style it, to kill all apps but keep the current app alive, and to kill all apps and restart the current app. On the main settings page, the developer provided a quick button to reset all settings to default values.
What's more, it can also activate the iPad app switcher style on any iPhone. This feature allows you to display 4 apps at once in a row on your mobile device screen. Switcher Style is fully customizable. Change card scale, spacing, hide app name or app icon.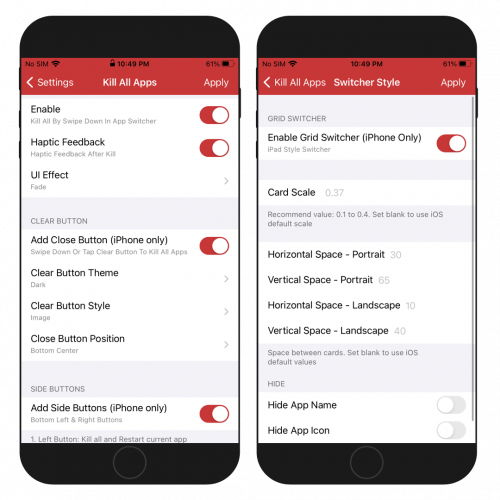 Kill All Apps is one of the most useful tweaks for iOS bringing not only the option to easily and quickly close all apps but also an amazing iPad-style grid switcher for apps.
Repository
To install Kill All Apps tweak on your iOS device it's required to add the repository to Cydia Sources. Add the official Repo (via Haoict repository) to your list of Cydia and install the tweak.
Open Cydia app from the home screen.
Tap Sources → Edit → Add the https://haoict.github.io/cydia/ Repo URL.
Search for the Kill All Apps package and install it.
Cydia will ask you to respring the Springboard.
When installed you can configure the tweak from Settings app.
Alternatively, please use the quick links available at the top of this page to add the repository to your favorite package managers (Cydia, Sileo, Installer, Zebra) with just one click.
Post a comment