Kill All Apps tweak for iOS 12 - iOS 15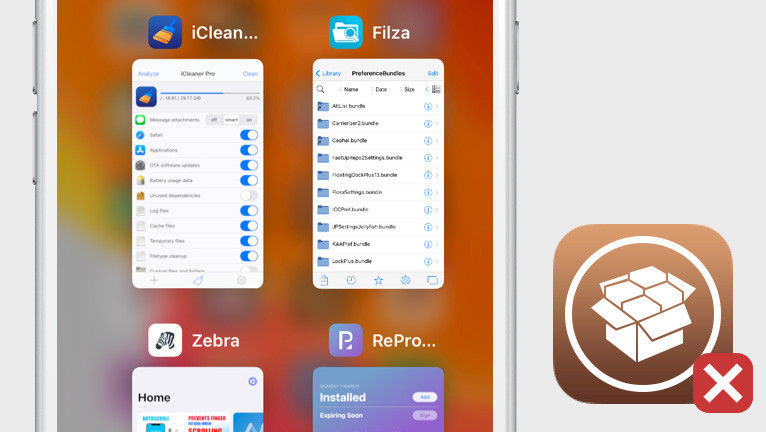 To close all apps on iOS it's required to activate the grid switcher and swipe up on every app window to kill it. Kill All Apps tweak is a useful jailbreak hack that allows closing all apps with just one swipe motion. It was released by cemck as a free package.
Add Kill All Apps to your package manager.
What is Kill All Apps?
Kill All Apps is a powerful jailbreak tweak that streamlines the process of closing multiple background apps with a single gesture. Instead of manually closing each app individually, you can now swipe down in the app switcher to terminate all background apps simultaneously.
In addition to the convenient new feature, Kill All Apps also offers customizable options through its integration with the iOS Settings app. After installation, a new preference pane will appear in the Settings app, allowing you to configure the tweak to suit your specific needs.
Kill All Apps tweak offers a range of customization options to enhance your experience. From the preference pane in the Settings app, you can easily enable or disable the tweak, select a preferred UI effect (fade or blur), and configure haptic feedback when killing all apps.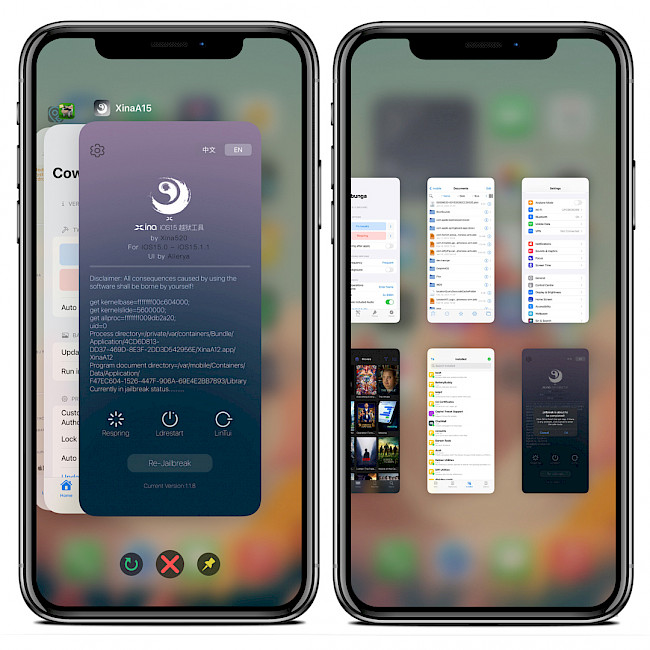 One of the most important features of Kill All Apps is its support for exceptions. This allows you to exclude certain apps from being closed when using the swipe-down gesture. For example, you can choose to keep navigation apps, now-playing apps, or apps that have been manually closed running in the background. This level of control gives you the power to optimize your device's performance while still having access to the apps you require.
The compatibility of Kill All Apps is extensive, supporting all modern jailbreaks on iOS 12 to iOS 15. In addition to the main functionality, the tweak also includes an option to add a clear button that can be styled to your liking. This allows you to kill all background apps while keeping the current app alive, or to kill all apps and restart the current app for a fresh start.
Kill All Apps also provides a unique and exciting feature for iPhone users. The tweak allows you to activate the iPad app switcher style on any iPhone, offering a more intuitive and efficient way to switch between apps. With this feature, you can display up to four apps at once in a row on your mobile device screen, providing a more comprehensive view of your open apps.
Kill All Apps is one of the most useful tweaks for iOS bringing not only the option to easily and quickly close all apps but also an amazing iPad-style grid switcher for apps. The tweak was not updated for some time, and unfortunately it doesn't work with XinaA15 rootless iOS 15 jailbreak.
To manage the App Switcher on XinaA15 try to install the KillApps tweak. It offers similar features, and it runs without issues on mentioned jailbreak running iOS 15 – iOS 15.1.1.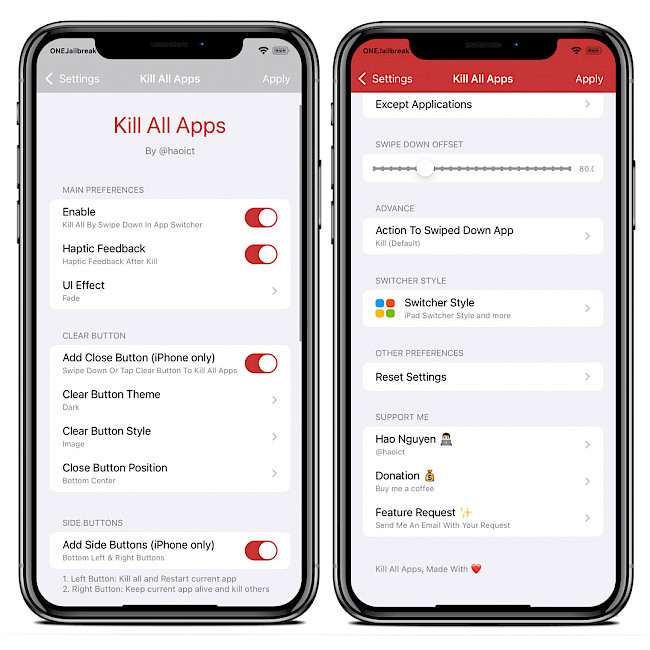 Add Repository
Kill All Apps tweak was released as a free package that can be downloaded from the private Haoict Repository. Add Kill All Apps to your favorite package manager and gain control over the App Switcher on iOS 12 up to iOS 15. Palera1n jailbreak is also supported.
To install Kill All Apps tweak on your iOS with Cydia, follow those steps:
Open the Cydia app from the Home Screen.
Tap on the Sources tab, then select Edit button.
Add the following repository URL: https://haoict.github.io/cydia/
Search for the Kill All Apps package and install it.
Cydia will ask you to respring the Springboard.
When installed you can configure the tweak from Settings app.
Alternatively, please use the quick links available at the top of this page to add the repository to your favorite package managers (Cydia, Sileo, Installer, Zebra) with just one click.
What new
Updated Kill All Apps tweak to version 3.2.0.
Added support for iOS 14.
Bug fix release with code improvements.
Sponsored links
Post a comment