IAmLazy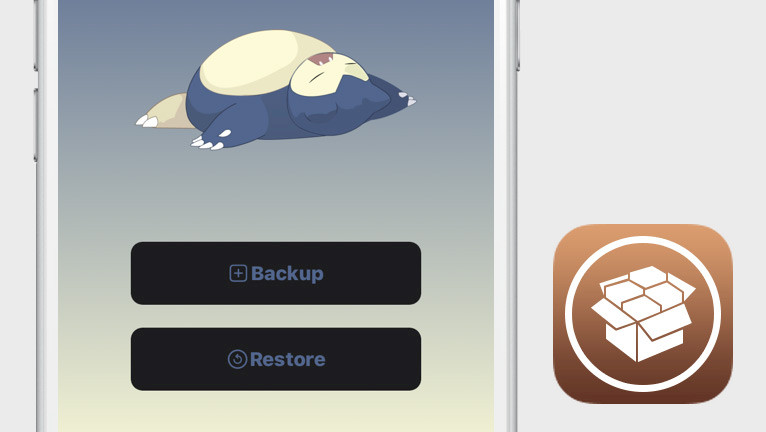 When you use a lot of tweaks on a jailbroken environment, it can be hard to switch to a new jailbreak tool once released. IAmLazy can help you to back up all tweaks and move them from one jailbreak to another with one tap, as long as it works on iOS 13 – iOS 16. Please note that this tweak supports now also iOS 15 rootless jailbreaks.
Add IAmLazy Repo to your package manager and install the tweak:
What is IAmLazy?
IAmLazy is a free app for jailbroken devices, allowing you to easily back up and restore all installed tweaks. It works in one of two modes: standard that backups' user packages and developer that take care of all packages. Jailbreak is required on iOS 13.0 to iOS 16. Recently, the tweak was updated to support the most popular rootless environments on iOS 15 – iOS 16, such as XinaA15 Jailbreak, Dopamine Jailbreak, and Palera1n Jailbreak.
Once installed, the IAmLazy app will be accessible from the Home Screen. The backup utility tool interface is straightforward. It was recently modified, but it looks more polished than ever before. From the main screen, you can back up or restore all tweaks with just two taps.
IAmLazy can be used to quickly switch between jailbreaks without the need to manually install all your favorite tweaks. Moving between jailbreaks with different bootstraps (e.g., unc0ver and Taurine) is supported only via standard backups. Tweak preferences are not backed up!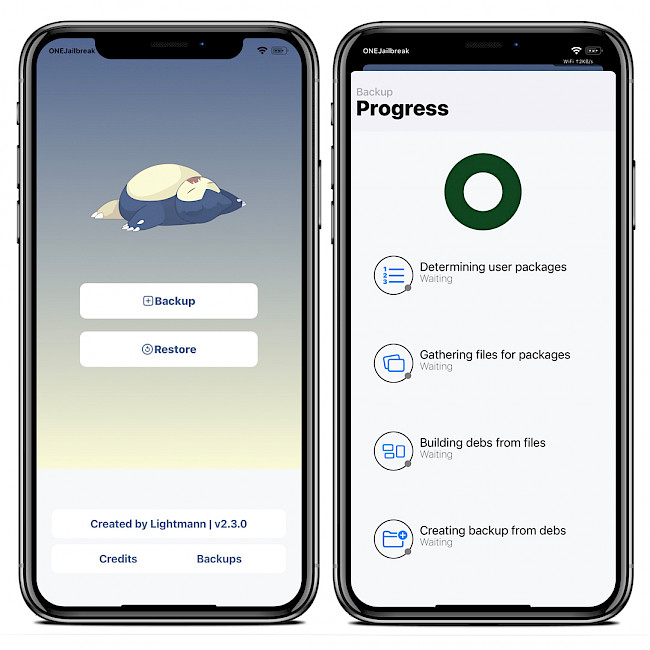 The restore feature of the IAmLazy tweak offers two options to choose from. You can select to restore the most recent backup or a specific backup chosen from a list. On top of that, there is also an option to Import a backup, Export a backup, and Delete a backup.
IAmLazy promises to streamline the switching process from checkra1n to unc0ver, checkra1n to Taurine, Taurine to checkra1n, Taurine to unc0ver, unc0ver to checkra1n, or unc0ver to Taurine.
Whether you're restoring to a fresh iOS or using the rootFS restore feature to un-jailbreak your device, you will still need to reinstall all your jailbreak tweaks to get up and running again. This process can be painful by doing it manually when you use a lot of Cydia tweaks.
Save yourself a ton of time and frustration installing the new IAmLazy backing up and restoring tool for your jailbreak packages. IAmLazy was created by iOS developer Lightmann.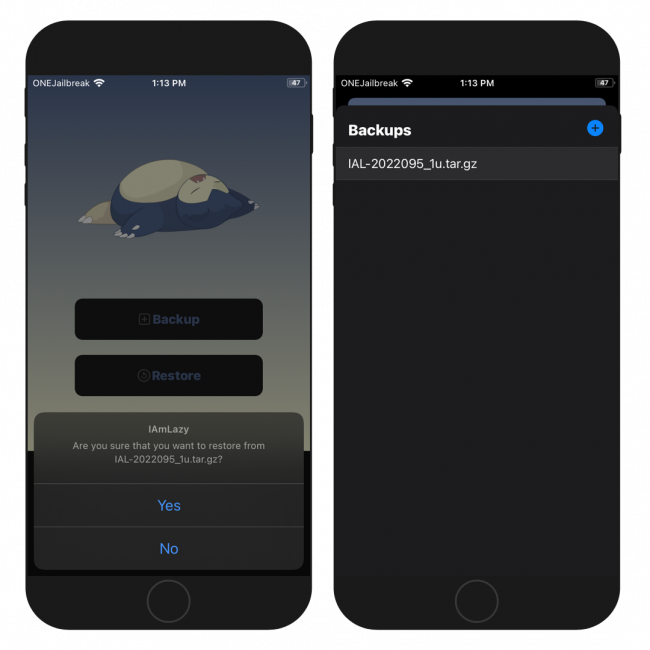 The backup process by IAmLazy tasks for a while. Alternatively, you can try SnapBack. This is an iOS jailbreak app that takes the advantage of Apple's new feature APFS filesystem allowing to make and restore the Snapshots of the full file system, including installed tweaks preferences.
SnapBack works on jailbroken devices running iOS 10.3, iOS 11, iOS 12, iOS 13, and iOS 14. As long as you are jailbroken, you can jump back to the moment after you created a root snapshot. It works like TimeMachine. IAmLazy doesn't touch the APFS filesystem or restore rootFS.
IAmLazy tweak was released as an open-source project with source code published through the GitHub Repository. The tweak backup and restore app was released under the ISC License with permission to use, copy, modify, and/or distribute this software.
The tweak source code is still under active development and was created in Objective-C language. As with almost all tweaks also IAmLazy is using those libraries that are required to compile the project yourself. Recently, the app was moved from BigBoss Repo to Chariz Repo.
The latest update of IAmLazy brings command line execution support via the command line binary, empowering users to effortlessly perform backup, restoration, and display operations directly from a terminal application. However, rootless jailbreaks are still not supported.

Usage: ial [options]
Options:
  [-b|--backup]   Create a backup
  [-r|--restore]  Restore from a backup
  [-l|--list]     List of available backups
  [-h|--help]     Display this page
Add Repository
IAmLazy was released as a free package through the Chariz Repository. Add the official IAmLazy Repo to your package manager and install this great and easy-to-use backup and restore utility for jailbreak tweaks. Supports iPhone, and. iPad running iOS 13.0 to iOS 16.
To install IAmLazy on your jailbroken device, follow those steps:
Open the Sileo app from the Home Screen.
Tap on the Sources tab, then select Edit button.
Add the following repository URL:


​​​​​​​https://repo.chariz.com

Search for and install the IAmLazy tweak from Chariz Repo.
Respring the device to finish the installation.
The IAmLazy app icon will be added to Home Screen.​​​​​​​
For added convenience, you can quickly add the repo to your preferred package managers (Cydia, Sileo, Installer, Zebra) by using the convenient quick links provided at the top of this page. With just one click, you can easily add the repo and download IAmLazy for iOS 16.
What's new?
Updated tweak to version 2.5.1.
Now works with XinaA15 jailbreak.
Added rootless support.
Added maintainer script permissions validation.
Overall improvements and bug fixes.
Fixed copying symlinks during backup.
Scrapped list backups entirely.
Added CLI counterpart.
Added light mode support to the app.
Removed unnecessary arm64e app arch.
Debs are now deleted as they're added to the backup archive to save space.
Fixed issue where apt update may have exited non-zero due to unsigned repos.
Implemented list backups and restores.
Greatly improved security.
Fixed tweaks that were disabled with iCleaner not working upon restoration.
Post a comment