DebtoIPA is an on-device DEB to IPA converter for iOS

qbap |
iOS Apps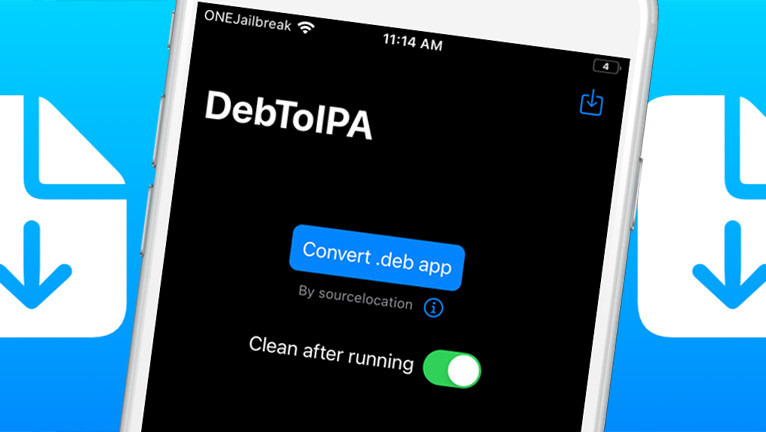 There are a few apps released for jailbroken devices as a DEB files that can't be easily installed on jailed devices. With DebtoIPA app, you can convert DEB to IPA directly on your device and install them with TrollStore. Converted Cydia tweaks will not work!
What is DebtoIPA?
DebtoIPA to a simple application allowing you to convert DEB files to IPA format for easier sideloading on iOS devices. DEB packages are used to distribute Cydia tweaks, and apps used on jailbroken environment. DebtoIPA can convert those files to TrollStore compatible IPA files.
Once installed with TrollStore, the DebtoIPA app will be available from your Home Screen. The app interface is simple and converting DEB files to IPA is straightforward. Download .deb that contains .app file and use this tool to convert it to an IPA package.
Be aware that using this on-device DEB to IPA converter for iOS will not magically make Cydia tweaks or themes work on not jailbroken devices. This tool may work with some apps or tweaked apps released thought Cydia Repositories. If an app requires tweaked libraries, it will most likely not work on your device. The converted app may install, but it will not open.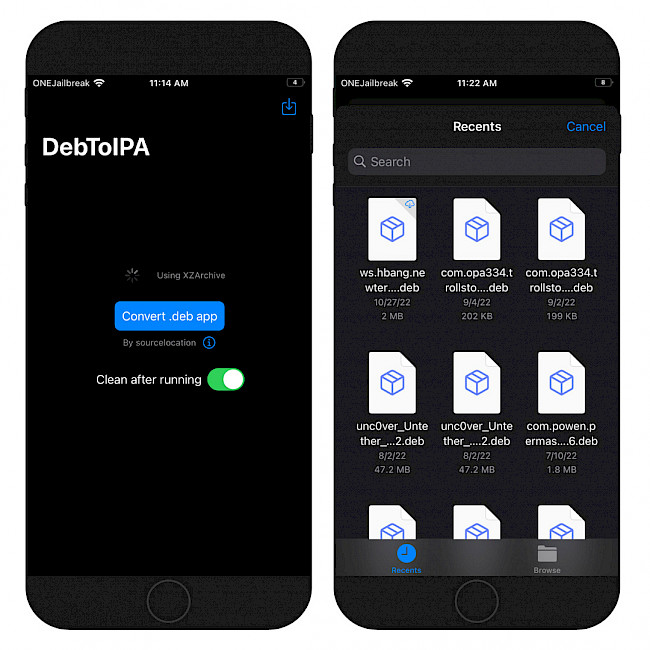 DebtoIPA supports only .deb packages that contain .app file. You will get an error if you try importing other files. Matthew Anisovich released the DEB to IPA converter as an open source project under GPL-3 license through GitHub Repository. The app was written in Swift language.
This app should support apps released for jailbroken devices such as CocoaTop, screenshotX, tsssaver, WifiScanner, or Zebra. To find more DEB packages, use PostBox package manager, allowing you to view Cydia Repositories and download DEB packages without a jailbreak.
The latest release of DebtoIPA app offers now support for bzip2 and XZ archives, making it possible to extract more DEB packages and this way adding support for even more apps released for jailbroken devices. The DEB to IPA converter also supports TAR and LZMA archives.
Note: DebtoIPA can't convert jailbreak tweaks, themes, or Cydia apps that depend on tweak injection libraries or other jailbreak libraries. DebtoIPA supports iOS 15.
Matthew Anisovich is also the developer behind PinAnim tweak and TrollTools for TrollStore the iOS customization tool, allowing you among others to use jailbreak themes on stock iOS.
How to install DebtoIPA
DebtoIPA was released as an IPA package that can be installed with TrollStore on compatible iOS 15 devices. You can't install this DEB to IPA conversion tool with regular sideloading apps because it uses a system bug to modify some iOS settings.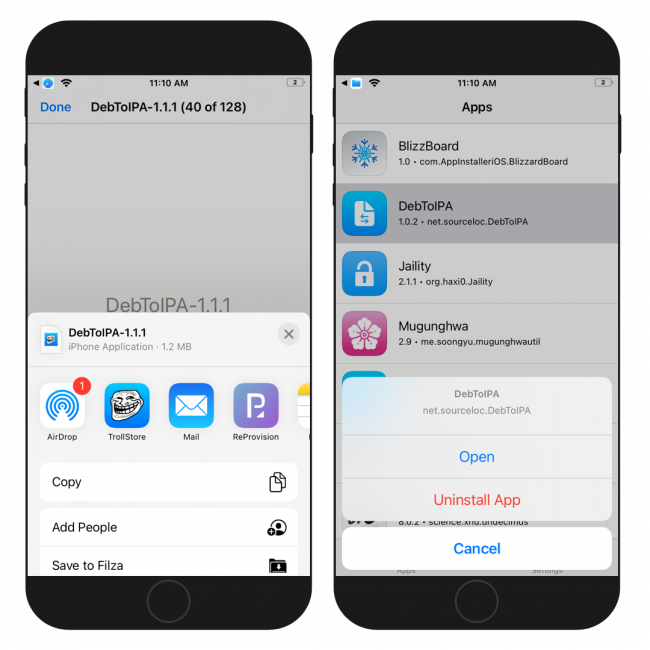 Install TrollStore on firmware between iOS 15 up to iOS 15.4.1.
Download DebtoIPA IPA and save it on iCloud.
Share the downloaded IPA file with the TrollStore app.
TrollStore will install TrollTools automatically when loaded.
Access the DebtoIPA app from the Home Screen.
Compatibility: iOS 15.0 – iOS 15.4.1, iOS 15.5 beta 1 – iOS 15.5 beta 4, iOS 15.6 beta 1 – 15.6 beta 5. No other firmware releases are or will be supported. No support for iOS 15.5, no support for iOS 15.6, and no support for iOS 16. This app is possible because there is a bug in iOS.
What's new
Updated the DebtoIPA to version 1.1.1.
IPA files are now saved to app storage.
Added support for parallel file processing.
A lot of known UI bugs.
Add support for symbolic links.
More helpful error & info messages.
Added support for bzip2 and xz archives, so more apps are now supported.
Added progress label to indicate at what stage the app is currently on.
New switch to toggle cleanup on and off.
Massive refactoring and reorganizing.
Renamed the project to avoid confusion with nebula's deb-to-ipa.
Added descriptions to errors.
Add .tar .lzma support.
Post a comment