WifiScanner app is a free WiFi Analyzer for iOS 15

qbap |
IPA Files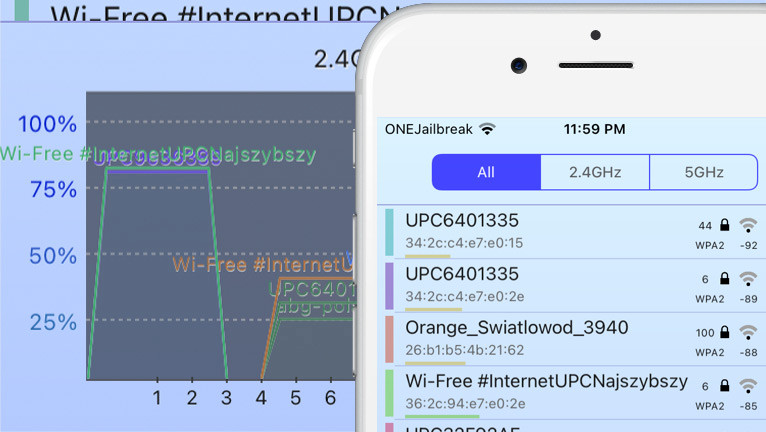 When TrollStore was released, it opened new possibilities for iOS developers, making it possible to run unauthorized apps on iOS 14 and iOS 15 by bypassing the official App Store. WiFi Analyzer is a jailbreak app that can run on stock iOS.
What is WifiScanner?
WifiScanner is a very useful jailbreak tool, allowing you to analyze all Wi-Fi networks in range of your iPhone. It can also be installed on TrollStore compatible devices running on iOS 14 and iOS 15. Use it to scan and monitor signals in the air and see what wireless networks are around.
Once installed with TrollStore, the WifiScanner app will display all available Wi-Fi with detailed information about each network. This Wi-Fi scanner features a clean, intuitive interface and user experience. What's more, it offers full support for both 2.4 GHz and 5 GHz networks.
The application was converted from DEB to IPA, making it possible to install the Wi-Fi scanner for iOS on jailed devices. Unfortunately, this isn't a native port of the tool and there is no access to app settings on devices running without jailbreak. But the main feature of the app works fine.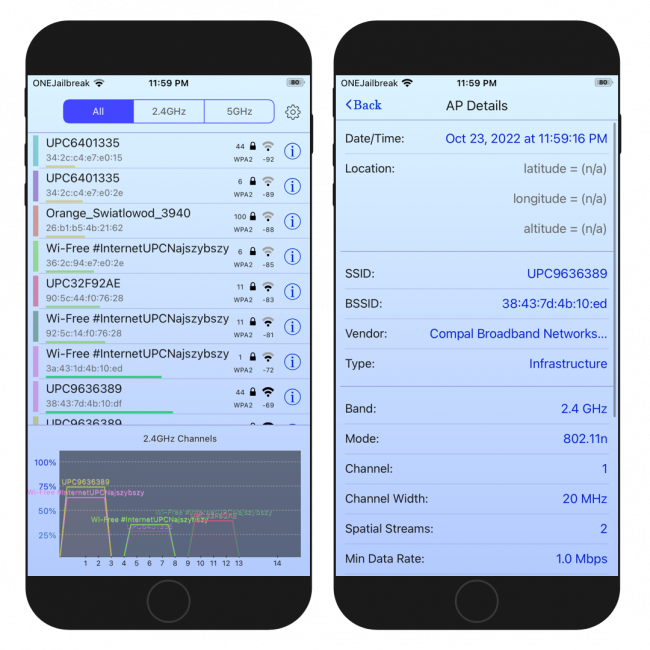 WifiScanner is packed with a lot of useful features. There is an option to filter Wi-Fi networks by 2.4 GHz and 5 GHz, view Wi-Fi straight, Wi-Fi channel, Security Model, and network noise. On the lower part of the screen there is a useful map showing all networks over lapin each other.
On top of that, WifiScanner displays detailed wireless network parameters: network name (SSID),signal level (RSSI),MAC address (BSSID),signal quality, channel, maximum data rate, encryption, band, mode, SNR, country code, security model, noise level, etc.
When you have issues with your Wi-Fi network like slow network speed or uncontrolled disconnections, you should definitely configure the rooter to use a free channel. This allows to use your network without any disturbances. There is an option to view all or selected band.
How to install WifiScanner
WifiScanner was released as an IPA package, but to access those restricted iOS system settings, it's required to sideload the app using TrollStore. This works on iOS 14 and iOS 15 only. When you try to install it using Sideloadly will not allow you to access all app features.
Install TrollStore on iOS 14 up to iOS 15.4.1 (or some iOS betas).
Download WifiScanner IPA in mobile Safari and save it on iCloud.
Share the downloaded IPA file with the TrollStore app.
TrollStore will install WifiScanner automatically.
Access the WifiScanner app from the Home Screen.
Compatibility: iOS 14.0 – iOS 15.4.1, iOS 15.5 beta 1 – iOS 15.5 beta 4, iOS 15.6 beta 1 – 15.6 beta 5. No other firmware releases are or will be supported. No support for iOS 15.5, no support for iOS 15.6, and no support for iOS 16. This app is possible because there is a bug in iOS.
Repository
WifiScanner was released a free package that can be installed on jailbroken environment running on iOS 14 and iOS 15. The jailbreak version allows you additionally to configure some settings such as scan intervals, set signal RSSI or %, use location service, and filter results.
Open the Cydia app from Home Screen and tap on the Sources tab.
Tap on Edit → Add buttons and enter http://m156nrkvv.g2.xrea.com/repo/ Repo URL.
Install WifiScanner app from the newly added repository.
To apply all changes, respiring your iPhone.
Open the WifiScanner app from the Home Screen.
Alternatively, please use the quick links available below to add the repository to your favorite package manager (Cydia, Sileo, Installer, Zebra) with just one tap.
What's new
Updated to version 0.1.3.
Initial release.
Post a comment