WifiScanner app is a WiFi Analyzer for iOS 15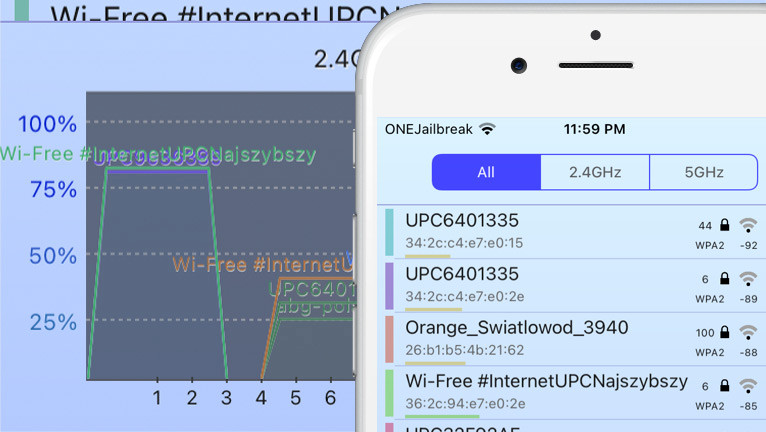 When TrollStore was introduced, it revolutionized the iOS development landscape, ushering in a new era of possibilities for developers. It provided an alternative route to running apps on iOS 14 and iOS 15 outside the official App Store, albeit without authorization. It's worth noting that WiFi Analyzer, a jailbreak app, has also emerged as a powerful tool, capable of functioning on stock iOS devices.
What is WifiScanner?
WifiScanner proves to be an immensely valuable jailbreak tool, enabling iPhone users to comprehensively analyze all Wi-Fi networks within the vicinity. Notably, it can be conveniently installed on TrollStore compatible devices operating on iOS 14 - iOS 15. By utilizing this tool, users can scan and monitor wireless signals, gaining insight into the various networks.
Once installed via TrollStore, WifiScanner app provides a comprehensive display of all available Wi-Fi networks, offering detailed information about each one. The app boasts a intuitive interface, ensuring a seamless user experience. Furthermore, users can enjoy full support for both 2.4 GHz & 5 GHz networks, enhancing the versatility of the Wi-Fi scanning process.
The application underwent a conversion process from DEB to IPA, enabling users to install the Wi-Fi scanner on jailed iOS devices. It's essential to note that this is not a native port of the tool, which means there are limitations, particularly the unavailability of app settings on non-jailbroken devices. However, the main feature of the app functions flawlessly, allowing users to effectively scan and analyze Wi-Fi networks despite the aforementioned restrictions.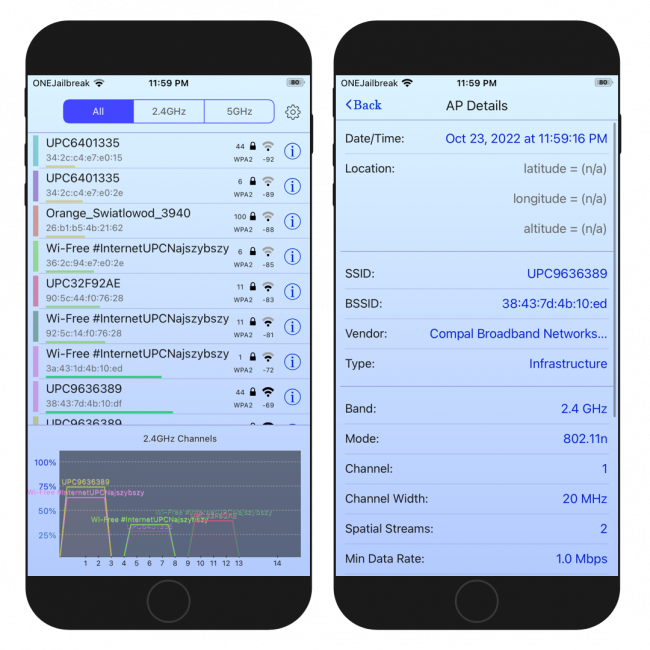 WifiScanner boasts an impressive array of highly useful features. Users can conveniently filter Wi-Fi networks based on 2.4 GHz and 5 GHz frequencies, while also accessing valuable information such as Wi-Fi strength, Wi-Fi channel, Security Model, and network noise. Notably, a user-friendly map is provided on the lower part of the screen, visually displaying the overlapping of all networks, offering a clear and comprehensive view of the Wi-Fi landscape.
On top of that, WifiScanner displays detailed wireless network parameters: network name (SSID), signal level (RSSI), MAC address (BSSID), signal quality, channel, maximum data rate, encryption, band, mode, SNR, country code, security model, noise level, etc.
When experiencing issues with your WiFi network, such as slow speed or frequent disconnections, it's crucial to configure the router to utilize a free channel. This optimization ensures a seamless and uninterrupted network experience. With the option to view all or select specific bands, users can easily identify and allocate channels that offer minimal interference, enabling them to enjoy their network without any disturbances.
How to install WifiScanner
WifiScanner was released as an IPA package, but to access those restricted iOS system settings, it's required to sideload the app using TrollStore. This works on iOS 14 and iOS 15 only. When you try to install it using Sideloadly will not allow you to access all app features.
Install TrollStore on iOS 14 up to iOS 15.4.1 (or some iOS betas).
Download WifiScanner IPA in mobile Safari and save it on iCloud:

Share the downloaded IPA file with the TrollStore app.
TrollStore will install WifiScanner automatically.
Access the WifiScanner app from the Home Screen.
Compatibility: iOS 14.0 – iOS 15.4.1, iOS 15.5 beta 1 – iOS 15.5 beta 4, iOS 15.6 beta 1 – 15.6 beta 5. No other firmware releases are or will be supported. No support for iOS 15.5, no support for iOS 15.6, and no support for iOS 16. This app is possible because there is a bug in iOS.
Add Repository
WifiScanner was released a free package that can be installed on jailbroken environment running on iOS 14 and iOS 15. The jailbreak version allows you additionally to configure some settings such as scan intervals, set signal RSSI or %, use location service, and filter results.
To install WifiScanner tweak on your device, follow those steps:
Open the Sileo app from the Home Screen.
Tap on the Sources tab, then select Edit.
Add the following repositories URLs:


​http://m156nrkvv.g2.xrea.com/repo/

Install WifiScanner app from the newly added repository.
To apply all changes, respiring your iPhone.
Open the WifiScanner app from the Home Screen.
For added convenience, you can quickly add the repository to your preferred package managers (Cydia, Sileo, Installer, Zebra) by using the convenient links provided below. With just one tap, you can easily add the repo and download WifiScanner WiFi Analyzer for iOS 15.
What's new
Updated to version 0.1.3.
Initial release.
Sponsored links
Post a comment