Cowabunga Lite for iOS 15 and iOS 16

qbap |
Research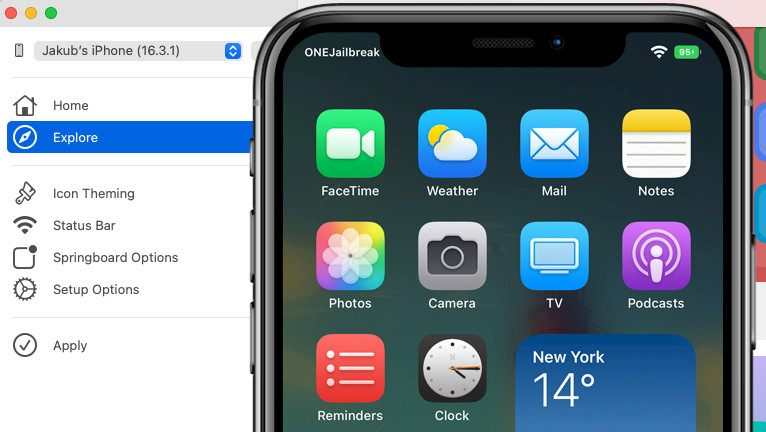 Cowabunga Lite is a jailed customization Toolbox designed for iOS 15 and above, compatible with all iOS devices. Access to a range of customization options for your iOS device including icon themes, carrier name changer, disable OTA Updates. Best of all, all customizations are available without the need to jailbreak, including on iOS 16.
What is Cowabunga Lite?
Cowabunga Lite, developed by the same creator of Cowabunga Toolbox for iOS, introduces a new software to modify select iOS preferences directly from a computer. With this software, you have the ability to customize various aspects such as the Status Bar, enable icon theming, adjust specific Springboard preferences, and even disable OTA updates or enable supervision.
Cowabunga Lite Toolbox offers a standout feature that allows you to effortlessly theme system icons on your iOS device, eliminating the need for jailbreaking. This incredible capability is compatible with all devices running iOS 15 – iOS 16.6. Additionally, the software provides a convenient built-in explorer, enabling you to discover and download free themes.
Note: It's important to mention that Cowabunga Lite for macOS 11-13 is not compatible with virtual machines. Don't use it if you running virtualization from Windows or Linux.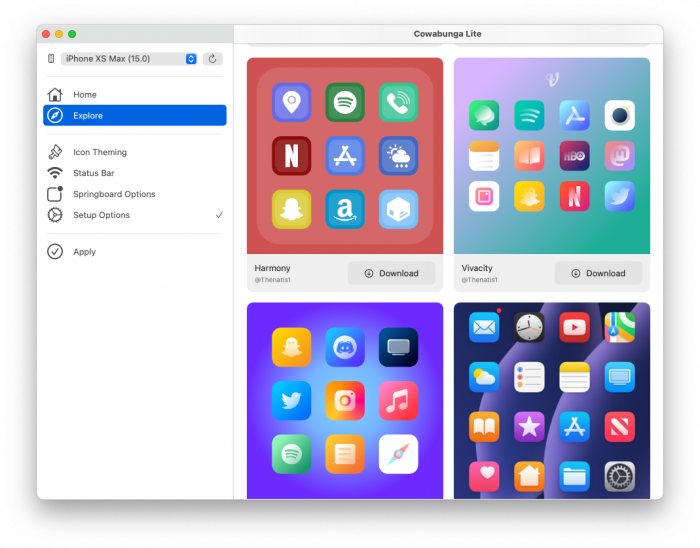 The theming engine in Cowabunga Lite does come with a few limitations. Firstly, it does not support the customization of banners or redirects. However, it excels in other areas, such as allowing users to import folders of app icons for a comprehensive theming experience.
Additionally, it provides the option to hide app labels, giving your Home Screen a cleaner and more minimalist look. Furthermore, Cowabunga Lite for macOS offers individual app settings, giving the ability to set custom app labels and choose personalized icons for specific apps. Moreover, the software enables you to import .png files as icons to theme applications.
Cowabunga Lite features a dedicated section designed for modifying the Status Bar. With this tool, you can customize various elements, including the carrier name, secondary carrier name, battery display details, time text, and date text (iPad only). Furthermore, you can also make adjustments to the breadcrumb text and select to display numeric Wi-Fi/Cellular strength.
The software offers the option to hide numerous icons within the Status Bar, granting you a cleaner and more personalized interface. Some of the icons that can be hidden to include Do Not Disturb, Airplane Mode, Cellular, Wi-Fi, Battery, Bluetooth, Alarm, Location, Rotation Lock, AirPlay, CarPlay, and VPN. These extensive customization options ensure that you can tailor the Status Bar to suit your preferences and create a truly unique user experience.
Cowabunga Lite provides the ability to customize various Springboard Options, allowing for a more personalized iOS experience. Among these options, you will discover features such as adjusting the UI animation speed and setting the lock screen footnote.
Additionally, the software offers toggles that enable you to fine-tune specific functionalities. For instance, you can set Airdrop to be accessible to everyone, enable the accessory developer mode, display known Wi-Fi networks (iOS 15),and show the Wi-Fi debugger.
Other options include disabling the lock after a respring, preventing screen dimming while charging, silencing low battery alerts, enabling Control Center on the lock screen, muting the module in Control Center, and even displaying the build version in the Status Bar.
Last but certainly not least, Cowabunga Lite offers essential functionalities that go beyond customization. These features include the ability to Skip Restore Setup, eliminating the tedious process of going through the initial setup steps. Furthermore, you can disable over-the-air (OTA) updates, ensuring that your device won't unexpectedly update without your consent.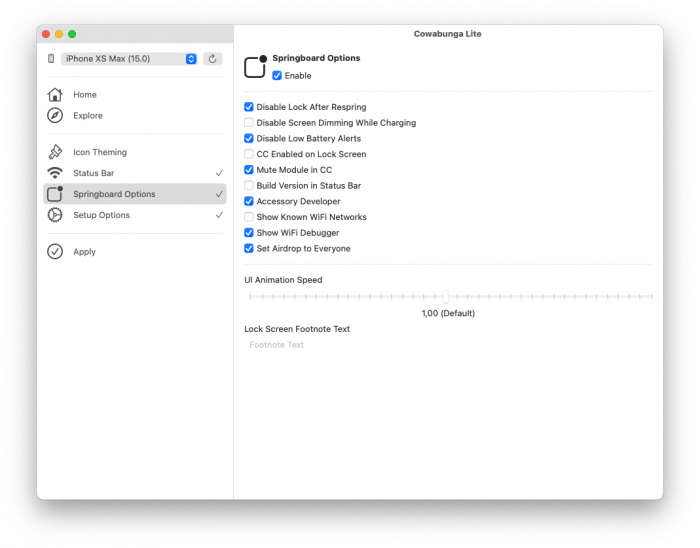 Additionally, Cowabunga Lite allows you to enable supervision, granting you enhanced control and management capabilities over your iOS device. You can even set the supervision and organization name to reflect your preferences or organizational needs.
Cowabunga Lite was introduced to the world as an open-source project, embracing the principles of transparency and collaboration. It is licensed under GPL-3.0, ensuring that the software remains accessible and customizable for all. All files associated with Cowabunga Lite are readily available on its dedicated GitHub Repository, allowing developers and enthusiasts alike to explore, contribute, and learn from the source code.
The source code itself has been written in various programming languages, including Swift, Objective-C, and C. This diverse blend of languages showcases the technical expertise and commitment behind Cowabunga Lite, making it a truly collaborative effort.
Cowabunga Lite Download
Cowabunga Lite is exclusively available for macOS versions 11 through macOS 13. In order to make any changes to your device, a cable connection to your iPhone is necessary. Additionally, disabling Find My iPhone is a prerequisite for applying all modifications. Cowabunga Lite for Windows is currently under development, with no specific release date announced yet.
Download Cowabunga Lite for macOS, from the links provided below:
To enable tweaks using Cowabunga Lite, please follow these instructions:
It is highly recommended to create a backup of your device before proceeding, just as a precautionary measure.
Before applying any changes, disable Find My iPhone on your device. You can re-enable it once the modifications have been made.
After making the desired tweaks, remember to check the log to ensure that everything has been applied correctly.
What's new
Updated Cowabunga Lite to version 1.1.
Added Control Center layout customization and presets on the explore page.
Added ability to enable secondary carrier.
Added ability to change secondary carrier data type.
Added ability to change battery percentage.
Added ability to change Wi-Fi bar strength.
Added ability to change the primary and secondary GSM bar strength.
Added a button that displays when an update is available.
Support for iOS 16.6 beta.
Update certain symbols.
Post a comment