Zebra package manager for iOS 9 – iOS 16 jailbreak

qbap |
iOS Apps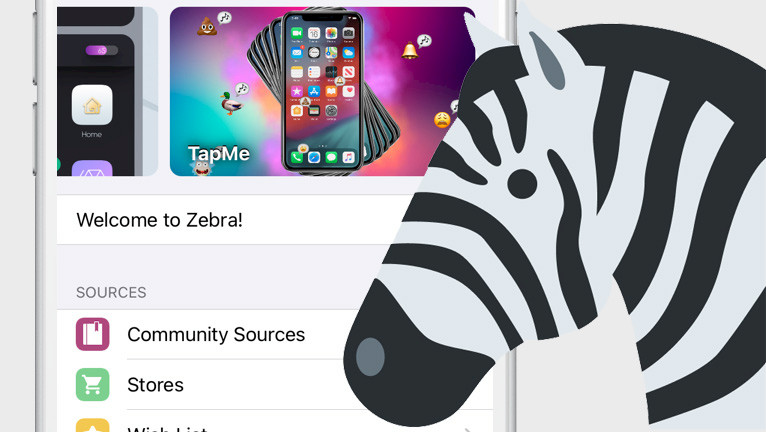 There is no doubt that Cydia is the most popular package manager for iOS devices. It's installed by default by many jailbreak tools. Zebra is a modern APT that offers a lot of useful features not provided by Cydia to manage all repositories on your iPhone or iPad.
Add Zebra Repo to your package manager.
What is Zebra?
Zebra is a fast package manager for jailbroken iOS devices, packed with amazing features. It works extremely fast, compared to Cydia when refreshing repositories or installing tweaks. It supports all devices running iOS 9 up to iOS 16 and was updated to support Palera1n.
Once installed, you can easily transfer community sources from popular package managers. Zebra can import repositories from Cydia, Sileo, and Installer with one tap. What's more, it recognizes tweak stores, allowing you to log in and access all purchased tweaks and apps.
This feature is provided by the Sileo API. The latest release also includes support for payment vendors on iOS 9 and iOS 10. Signing in to sources allows for the purchase of paid tweaks and themes. Zebra Package Manager can also export and import the list of all repositories and save the list of all installed packages on your device to a text file.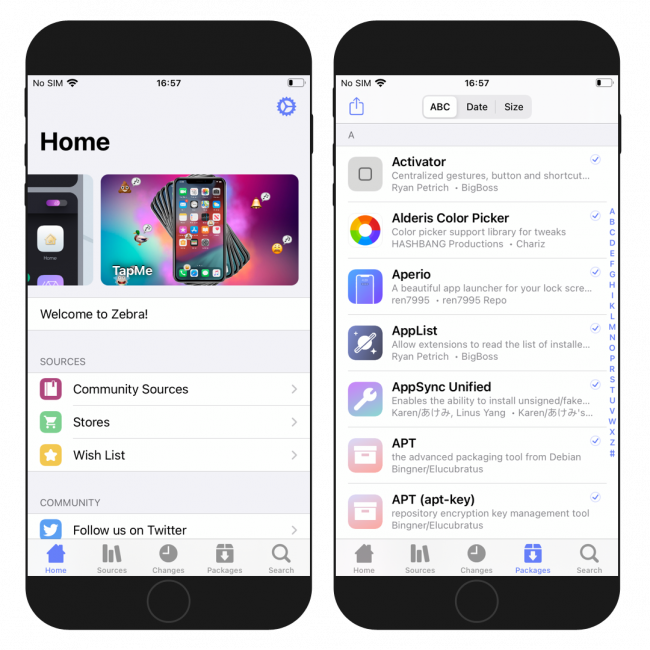 Zebra app is released as an open-source project. Managing repositories with this package manager was never easier. You can add multiple sources with a single tap and view all packages listed in repositories by categories. This will speed setting up the app for the first time.
By default, Zebra displays recent jailbreak community news posted on Reddit and featured packages (from repos with Featured Package API support) on the home page. You can disable those functions from app Settings or switch to random to view packages from all repositories.
From there, you can also switch the accent color, change the app icon (9 icon styles available),enable the pure dark mode, change package manager interface language, automatically dismiss the console when all tasks are completed, or reset the configuration. Filtering is also available. This option is useful to hide packages in sections you are not interested in.
To speed up Zebra, you can change the download timeout. It's for how long the Package Manage will wait for a source to respond before timing out. I would recommend using the 10-second option. All repositories are automatically refreshed when you open Zebra app.
After sources will be refreshed, you can view all changes from the Changes page. The app displays a clear list with all new and updated tweaks with dates and some basic descriptions. If a tweak is paid, there is an informative $ icon displayed on the tweak list.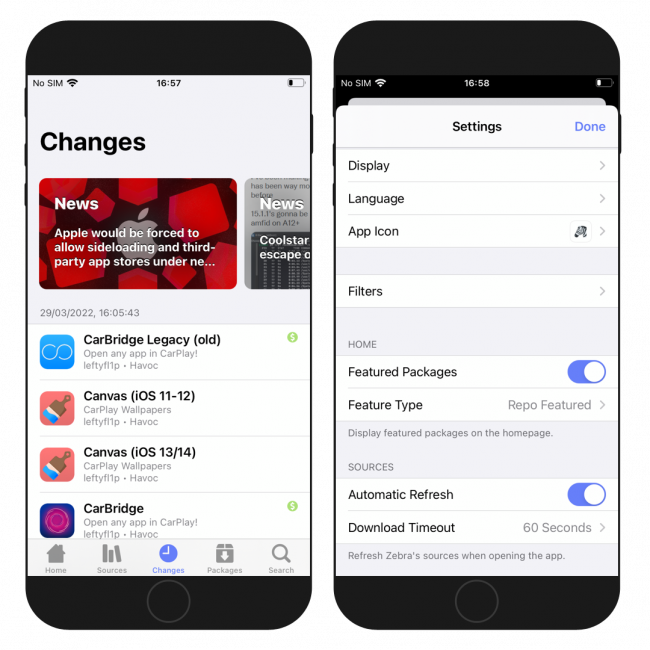 The packages page contains the list of all installed tweaks, apps, and libraries. There is an option to sort the list by Date, Size, and ABC. With Zebra, you can also view all installed files by a tweak, and search tab for packages while typing (can be disabled on older devices).
One of the most useful features provided by Zebra package manager is the Wish list. The jailbreak community is releasing thousands of tweaks, and it can be a challenge to remember everything that is released. With Wish list, you can add new tweaks to the list for quick access.
Recently, Zebra package manager was updated to support the latest Palera1n Jailbreak released for iOS 15.0 – 15.7.1, and iOS 16 – 16.2 on iPhone 6S up to iPhone X. Zebra is now aware of rootless jailbreak packages, but XinaA15 jailbreak for iOS 15 – 15.1.1 is not yet supported.
Starting with Zebra 1.1.29 the package manager is spited into 2 packages. Depending on jailnbreak you should install iphoneos-arm for traditional "root filesystem" including Palera1n for iOS 15 – iOS 16, and iphoneos-arm64 for new "rootless" jailbreaks, on iOS 15 and later.
The app recognizes multiple versions of a package available through different repositories, allowing you to "Always Install the Latest" version. Zebra is probably the best package manager that can replace Cydia. Use it to manage repositories, and install/uninstall jailbreak tweaks.
Zebra package manager was published as an open-source project, with source code available through GitHub Repository. It was released under GPL-3.0 License. The last changes to the code were added on 13 Dec 2022. The project is still under active maintenance.
To compile Zebra by yourself it's required to use a macOS with installed Xcode, and libraries like theos, fakeroot, and xcpretty. Zebra was written in 95.1% Objective-C and 4.6% in C language. You are very welcome to pull requests to fix bugs, add new features, and fix awful code.
If you don't feel that Zebra is the right APT for you, there are also some other package managers that you try. Sileo is one of the most popular ones, but there are also AppTapp Installer with a clean and modern interface or Saily, a simple and fast package manager for iOS.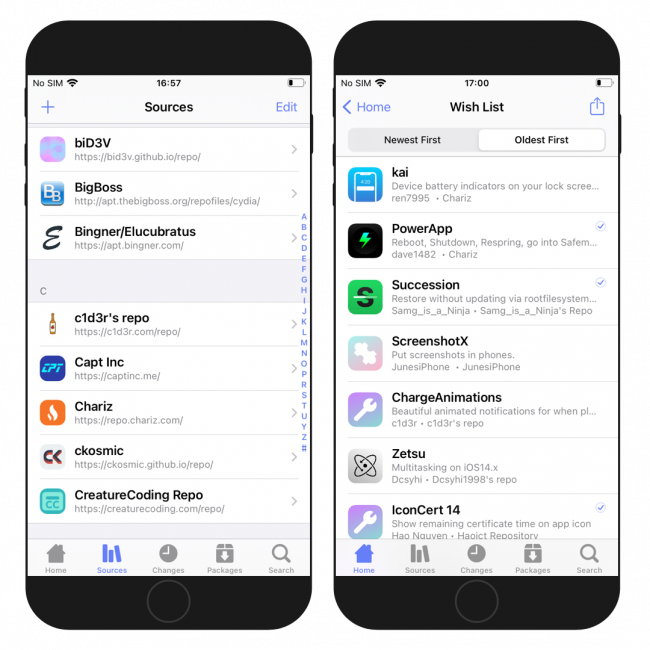 Zebra 2.0
Zebra 2.0 is going to be a completely redesigned from the ground-up, with the primary initiative being to condense the Feature page layout to make navigation easier and more user-friendly. There will also be a dedicated edition for iPadOS, making it even more fun to use on bigger screens. On top of that, Zebra will support rootless jailbreaks developed for iOS 15 like Fugu15.
Upcoming features include a more intelligent search function that provides relevant search results based on where in the app the query was first initiated, and a more detailed installer interface that provides a concise information display about what's being installed.
Zebra 2.0 will also offer a new Dependency Tree in the queue to show which packages dependencies belong to, so users will have a better idea of what requires what.
All new jailbreaks for iOS 15 such as Cheyote Jailbreak or Blizzard Jailbreak promised to provide support for Zebra 2.0 package manager when released from day one. Definitely, the era of Cydia package manager did pass, and now it's time for Zebra to take the steering wheel.
Add Repository
To download Zebra on your jailbroken device, it's required to add the official Repository to Cydia Sources. Add Zebra Repo and install the package manager on your iPhone now. The developer also provides access to Zebra's beta repo, located at https://getzbra.com/beta.
Open the Sources tab in the Cydia app.
Tap on Edit → Add buttons and enter https://getzbra.com/repo/ Repo URL.
Install Zebra from the newly added Repo.
Respiring your iPhone to apply changes.
The Zebra package manager icon will be added to the Home Screen.
Alternatively, please use the quick links available at the top of this page to add the repository to your favorite package manager (Cydia, Sileo, Installer, Zebra) with just one tap.
What's new?
Updated Zebra to version 1.1.30.
Bug fix release.
Added support to search queries of only one character in some languages.
Adds support for the Palera1n iOS 15 – 16 jailbreak.
Fixes Zebra crashing on launch on iOS 12 and earlier.
Adds support for payment vendors on iOS 9 and 10.
Adds an error reporting feature.
More all-around optimization of Zebra to reduce the overall package size.
Fixes a crash on iOS 9 – iOS 13 when tapping the Add Source button.
Fixes the sorting of the package list export feature to be alphabetical.
Tweaks the icons used for swipe actions for better UI consistency.
Reduced the Zebra package size by 8.5%.
Re-add the ability to open .deb files in Zebra.
Adds a handy feature to copy device info.
Payment API support implemented.
New option to ignore package updates.
Post a comment