Titan tweak enables PiP mode on iOS 13 and iOS 14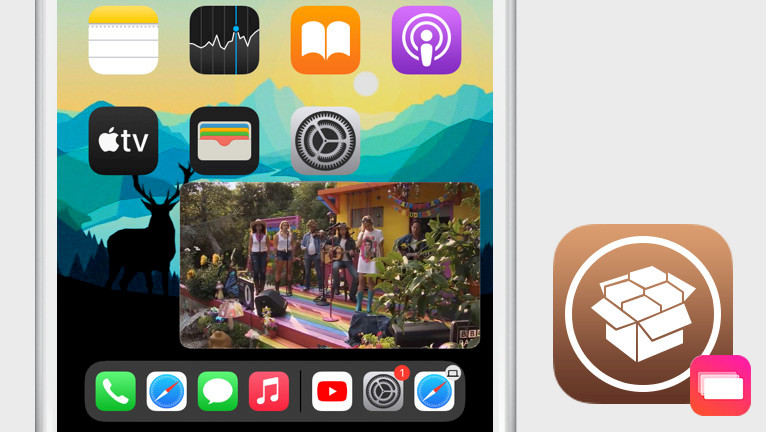 iOS 13 doesn't support PiP mode, but with jailbreak, you can install an excellent tweak like Titan to add true picture-in-picture support for all of your favorite iOS apps. Titan tweak works with iOS 13 and iOS 14 and can enable PiP in not supported apps.
Add Titan Repo to your package manager.
What is Titan?
Titan is a paid jailbreak tweak that enables your device to activate true picture-in-picture mode for all your favorite apps on iOS devices. It supports Netflix, YouTube, Hulu, Twitch, Disnay+, Prime Video, EPSN, and Plex. What's more, you can play video clips from Safari in PiP mode.
The tweak is officially compatible with iPhone, iPad, and iPod touch running iOS 13.0 to iOS 13.7, but it was also tested to work on modern jailbreaks running iOS 14 with unc0ver. Once installed, Titan adds a new preference pane to the Settings app from where you can configure all options.
Titan tweak comes with some useful features including Auto PiP introduced only to iPads. When enabled, Picture in Picture will be started with animation when exiting an app, opening a notification, etc. This option can be set to None, When Playing, or Always.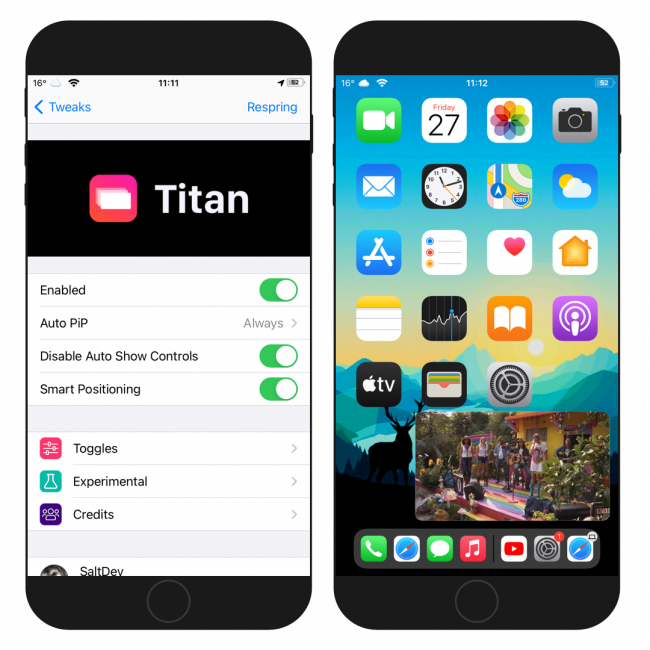 Smart Positioning feature will automatically try to figure out where navigation and tab bars are and then moves the PiP window to not get in the way. On top of that, Titan tweak also supports Toggles/Activator allowing you to set any activator action to toggle PiP.
This option is really handy for all apps that do not include a button to toggle PiP mode. Titan also comes with two similar toggles included if you don't wish to use an activator. Open the PiP window in any app by shaking your device or pressing both volume buttons.
Titan tweak is also packed with some experimental features. From the tweaks' preference page, you can enable support for FaceTime PiP mode (in beta state), gestures animations, YouTube background playback, and YouTube AVPlayer, and always force PiP mode.
This picture-in-picture tweak for iOS is mostly useful on iOS 13 where PiP mode is not available. With Titan, you can easily enable this feature globally in the system.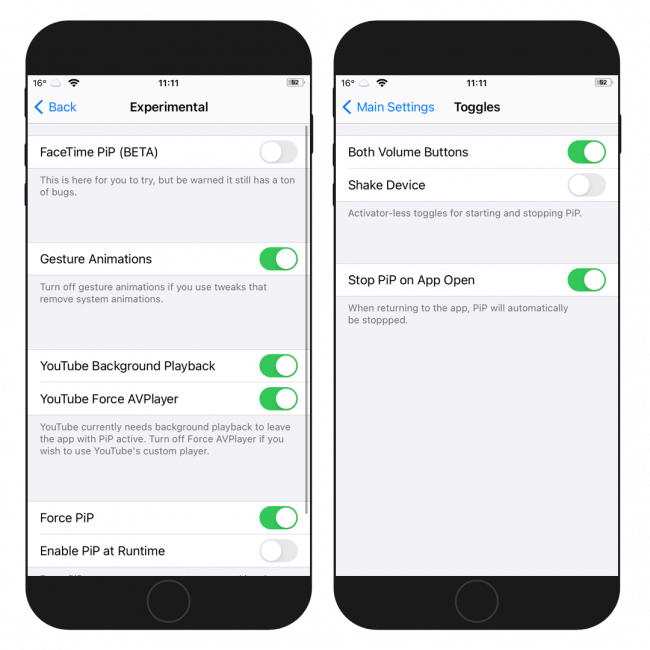 Titan is available for purchase at $1.99, but if you need to activate simple PiP mode on iOS 13 and older you can try free alternative tweaks like 14PiP (iOS 13), FreePiP (iOS 9+), or PictureInPicture. On iOS 14 and iOS 15 PiP feature is built into the system.
Repository
Titan tweak was released as a DEB package that can be downloaded through the Chariz Repository. Add Titan Repository to your list of Cydia Repos and enable true picture-in-picture support for all of your favorite apps running on iOS 13 and iOS 14.
Open the Cydia app from your home screen.
Tap Sources → Edit → Add the https://repo.chariz.com/ Repository URL.
Cydia will automatically refresh packages available in the repository.
Search for Titan package and install the tweak.
Restart the Springboard to apply changes.
Configure the tweak from the preference pane in the Settings app.
Alternatively, please use the quick links available at the top of this page to add the repository to your favorite package manager (Cydia, Sileo, Installer, Zebra) with just one tap.
What's new
Removes conflict with Gesto tweak.
Stopped PiP from activating when air playing a video.
Removed plutil as a dependency.
Fixed some conflicts with jailbreak detection bypasses.
Fixed some bugs that could cause YouTube videos to be black-screened.
Fixed massive stability issues on newer phones.
Added options in settings to disable forcing YouTube to use the AVPlayer so YTHDUnlocker works.
Fixed a few bugs that could cause apps and springboard to crash.
Fixed podcasts app from crashing if a podcast was playing when the app was closed.
Added option in settings to disable animations, so tweaks that speed up or remove animations can be used.
Sponsored links
Post a comment