iRemovalRa1n Jailbreak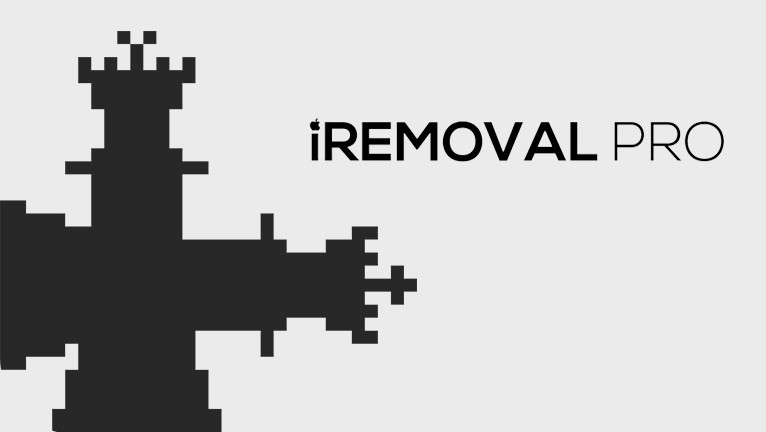 checkra1n for Windows is finally here created by the developer behind the iRemoval PRO app and released under iRemovalRa1n name. So far the only option to jailbreak your iPhone with checkra1n on Windows was to use a Linux distribution. Today it changes.
Download iRemovalRa1n (iRa1n v4.5), the checkra1n for Windows
What is iRemovalRa1n?
iRemovalRa1n (iRa1n) is basically the checkra1n for Windows released inside iRemoval PRO 5 app. Siguza and many other checkra1n developers are aware of this project and have given permission to release it under a different name. iRemovalRa1n works with iOS 12.0 to iOS 14.8.1.
This Windows port of checkra1n and checkm8 exploit allows you to jailbreak iPhone 5s through iPhone X running on iOS 12 up to iOS 14. When checkra1n developers will make it possible to jailbreak iOS 15, iRemovalRa1n will also add support for the latest firmware.
checkra1n for Windows was never officially released due to a lack of proper kernel driver. iRemovalRa1n is a brand new jailbreak for Windows taking the advantage of the same methods to exploit iOS firmware via USB port by installing UsbDK Runtime Libraries.
iRemovalRa1n cloned the look of the original checkra1n application for macOS and Linux. Therefore, if you are familiar with the interface of checkra1n you will immediately know what to expect and how to jailbreak iOS on Windows. The heart of this jailbreak is checkm8 exploit.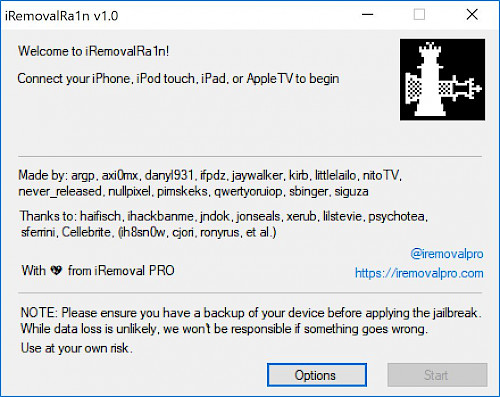 axi0mX created this permanent unpatchable bootrom exploit that potentially ensured lifetime jailbreak ability for A5-A11 devices. It means every future iOS release should be vulnerable.
The exploit was released as an open-source project, and now it's also the engine behind iRemovalRa1n created for Windows. To install Cydia on your device with checkra1n for Windows it's required to connect your iPhone, iPad, or Apple TV via a USB cable (USB-A) to proceed.
iRemovalRa1n jailbreak is not working with the latest devices including iPhone 13 Mini, iPhone 13, iPhone 13 Pro, iPhone 13 Pro Max, iPhone 12, iPhone 12 Pro, iPhone 12 Mini, iPhone 12 Pro Max iPhone 11 Pro, iPhone 11, iPhone 11 Pro Max, iPhone XR, iPhone XS Max, and iPhone XS.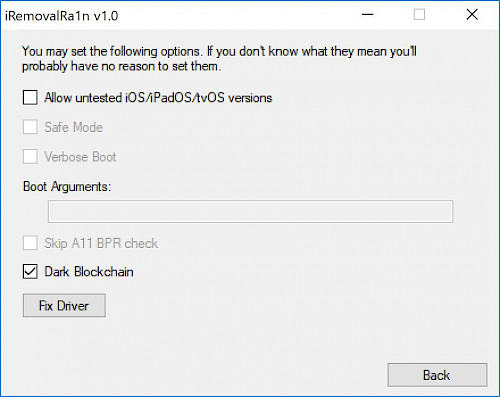 The jailbreak tool exploits the system and installs the Cydia app with access to thousands of tweaks and apps not available in the official App Store. As the original project, iRemovalRa1n uses Substrate, the powerful code injection library behind Cydia.
checkn1x was so far the only workaround to jailbreak iOS devices using checkra1n on a Windows PC. This Linux system (Light image, about 29 MB) could run from a USB drive, allowing you to jailbreak the iPhone from a PC. iRemovalRa1n runs as a native application for Windows.
checkra1n for Windows works on Windows 7, Windows 8, Windows 8.1, Windows 10, and Windows 11. 32-bit and 64-bit platforms are supported. The jailbreak tool requires installing UsbDK Runtime Libraries by RedHat (support for Windows 7 – 10).
Download iRemovalRa1n jailbreak for free.
iRemovalRa1n features
First world Windows jailbreak from iOS 12 to iOS 14.8.1.
Supported devices: A8/A8X/A9/A10/A10X/A11.
To be added: A7/A9X/T2 (soon).
Free for everyone.
How to use iRemovalRa1n for Windows
iRemovalRa1n (checkra1n for Windows) exactly as the original jailbreak tool requires you to connect your device with a USB-A cable to the computer and enter DFU mode. If your device and iOS version are supported, you are ready to jailbreak and install Cydia.
Before starting, you must download and install the latest version of iTunes for Windows from the official Apple website. iTunesMobileDevice.dll is required.
Step 1. Download and install iRemoval PRO v5 on your Windows machine.
Step 2. Open iRemoval PRO app.
Step 3. Click on the jailbreak button to lunch iRemovalRa1n app.
Step 4. Connect your iPhone or iPad to your PC using a USB-A cable.
Step 5. Click start to jailbreak your device.
Step 6. iRemovalRa1n will enter the Recovery Mode.
Step 7. Proceed with the onscreen instruction to enter DFU mode.
Step 8. checkm8 will exploit the system and boot into jailbreak mode.
Step 9. Open the Cydia app to access tweaks and apps from Repositories.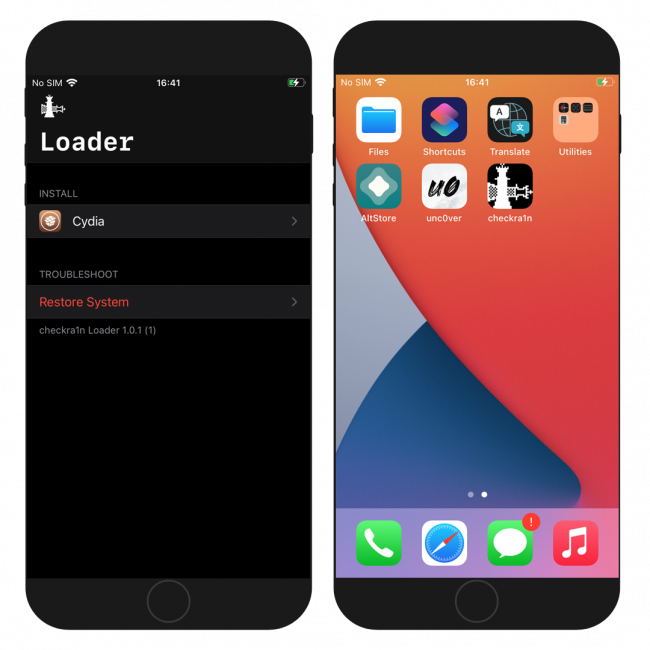 Supported devices
iRemovalRa1n jailbreak supports all A5-A11 systems on a chip (SoC). The compatibility reaches millions of Apple devices. Below, you can find the actual list of compatible iPhones and iPads.
A11 – iPhone 8, iPhone 8 Plus, and iPhone X
A10X – iPad Pro 10.5" (2017), iPad Pro 12.9" 2nd Gen (2017)
A10 – iPhone 7 and iPhone 7 Plus, iPad (2018, 6th generation), iPad (2019, 7th generation) (iOS 14 not supported)
A9X – iPad Pro (12.9 in.) 1st generation, iPad Pro (9.7 in.)
A9 – iPhone 6S, iPhone 6S Plus, iPhone SE, iPad (2017) 5th Generation
A8X – iPad Air 2
A8 – Phone 6, iPhone 6 Plus, iPad Mini 4
A7 – iPhone 5S, iPad Air, iPad Mini 2, iPad Mini 3
A6X – iPad (4th generation)
A6 – iPhone 5, iPhone 5C
A5X – iPad (3rd generation)
A5 – iPad 2, iPhone 4S, iPad Mini (1st generation)
What's new
Updated iRa1n v4.5 with support for iOS 12 – iOS 17.
Updated iRemoval PRO 6.6.1 that contains iOS 16 full support with signal bypass.
These updates contain A9 bug fixes and improvements.
Now all A9 devices should be Jailbroken without any issue.
No more crashes with iRa1n.
Updates contain mostly bug fixes.
Renamed iRemovalRa1n to iRa1n.
Added option to boot your iOS 15.5/15.6 device into "iRa1n mode".
Added support for Windows 7/11 Release build.
Added full support for x86 (32 bits) devices.
Fixed random crashes when the software started.
Fixed "iTunesMobileDevice.dll" missing error!
Fixed many bugs and improved the jailbreak process.
Added A9X support! (iPad Pro 9.7, iPad Pro 12.9 1st gen).
first initial release of iRemovalRa1n, the checkra1n for Windows.
iRemoval PRO 5 adds support to jailbreak iOS 12 – iOS 14.
Sponsored links
Post a comment